Why Our Brains Love Colorful Interiors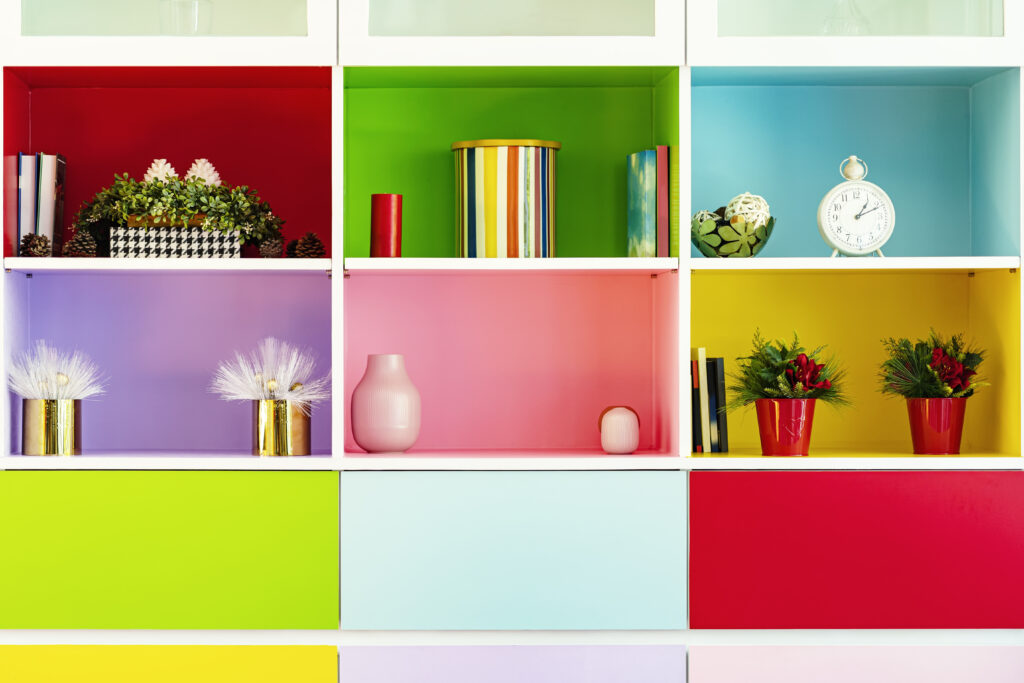 The colors we use in our designs have an effect on our perceptions. What's the first thing you notice when you walk into a new room? The colors. Whether your reaction is positive enough to make you think, "I have to remember to ask her what palette she used" or negative enough to have you leave you saying, "I don't know what he was thinking", we're bound to form an opinion.
It's because our brains are truly amazing. They pick up on thousands of tiny details per second, most of which we aren't even consciously aware. We then form perceptions based on these details and often act accordingly. Color gives our brain plenty of information to process.
Read on to find out all off the reasons our brains can't get enough of colorful interiors. By the end, you'll be giving your rooms an extra glance or two.
Though color and kid's rooms go hand-in-hand, don't stop there.
Colors Show Our Personalities
When you really think about, our interior design choices say a lot about who we are as people. Every home needs the same basic elements: floor coverings, furniture and lighting. That would be enough to survive, but we go the extra mile to find décor items that we like and are aesthetically pleasing to us. It's not a stretch hear to he colors we choose say a lot our personality.
Researchers at the University of Westminster have found a link between color preference and personality traits. They found that individuals who preferred the same colors tended to share some of the same characteristics:
Red: Goal-oriented, determined
Orange: Energetic, happy
Yellow: Outgoing but well-controlled, persuasive
Green: Caring and helpful
Blue: Analytical, cautious
Purple: Comforting, values dignity
White: Peaceful, often good at organization
Black: Conservative, but also creative
Brown: Practical, excels at accomplishing tasks
Take a look around your home. Look to see if any the same shades that keep popping up again and again in your design. How do those colors match up to your personality? While this research is certainly not the sole determining factor when it comes to personality type, it's fun to think about. Anyone who needs to relax their morning routine should consider adding a pop of green to their kitchen.
Colors Affect Our Moods
As much as interior design is about how a room looks visually, it's also about creating an overall tone for the space. The majority of us would prefer that our bedrooms have a calming feel to them so that we can get a good night's rest. Conversely, our dining rooms and other spaces where we do most of our entertaining should feel lively.
As far as the field of color psychology is concerned, color is the simplest way to get your desired mood across Keep these hints in mind as you decorate your interiors:
If you want the space to feel energetic: Warm colors are key – red, yellow, and orange.
If you want the space to be calming: Opt for cool colors like blue, green, or a light purple
Regardless of what colors you choose, remember that balance is key. Too much of any one shade is going to seem overwhelming. Remember to add pops of neutral colors like black, white, brown, or gray every space. If you're not sure which colors go together, spend some time on design websites like Freshome to find your inspiration or reach out to an interior designer.
Bring red into your dining spaces to get people talking.
Colors Can Alter Our Perceptions
We're willing to bet that at some point you've wished your house had a bit more useable space. It's okay, so have we. Luckily, even when our budgets prevent us from moving into the luxurious interiors that we crave, the right colors can trick our eyes into believing that our rooms are quite spacious.
When decorating a small space, paint the walls in a lighter color like a pastel. Stay with a light shade on the ceiling as well. For those looking for the most dramatic impact, consider painting your furniture a similar color to the walls. The similarity will cause the two elements to blend visually, which will create a more open look.
Conversely, if you're lucky enough to have plenty of room to roam, but are concerned that your space may come across as cold and standoffish, go bold with color. Bright colors draw the eye, so place them on opposite walls to help tie the room together visually. Use similar colors for the walls and furniture to make a small space appear larger.
Colors Make Rooms Appear Finished
We all know the feeling of walking into a room that's unfinished: The walls are largely blank, there isn't that much furniture, and it just feels like some unifying element is missing. If you're one of Freshome's readers, you're probably also familiar with the feeling of having your breath taken away by gorgeous interior design, where every piece seems to play a part in tying the room together.
Color is that unifying force. By choosing a few shades that work well together and incorporating them throughout the room's design, you will create spaces that appear well rounded. If you're not naturally gifted at matching colors together, accessories are a great place to start. Pick a throw pillow or wall hanging that you love and use it as inspiration. Pull out three varying shades from that item and then incorporate them into your walls, furniture, floor coverings, and décor items. 
A note on choosing white: White does reflect light the best out of all the colors on the spectrum, so it's a great choice for rooms that don't get a whole lot of sunlight. But, again, it's all about balance. If you make white a dominant shade, keep the other colors as bright as possible. Choose a statement red couch for your living space or paint your kitchen island a bright blue to keep things from looking stark.
Focus on three colors per room that work well together. When it comes to interior design, color is a hot topic. People either love a shade or they hate it, there's rarely much in between. On the surface it seems strange that one of the easiest design elements to fix would be so polarizing, but when you look at the psychology behind it, a strong reaction makes since. The post above outlines why our brains love colorful interiors. Take these hints into account on your next design project.
What are your feelings on color and the psychology behind it? Which shades do you find yourself drawn tin your interiors?