How to Choose an Exterior Paint Color for your Home
Your home has character with its style, ornamentation and color.  While the adornment comes with the house, choosing an exterior paint color is up to you! For some this is an exciting chore, while others the thought is daunting. Unlike the interior of your home, the exterior should compliment neighboring homes but still retain its character.  Here are tips on how to choose an exterior paint color and keep your neighbors happy!
Alba Perez Enriquez / Getty Images
Let your geography be your guide: If your home is located in the tropics, colors are usually bright, playful and cheery. While homes that are located in the rustic mountains will take color cues from nature in browns, greens, and burgundy.  Before you get your heart set on an exterior color, observe the color palette of the geographic area for which you live.  Straying too far away will make your house stand out, and not for the better.
Adhere to the architectural time period of your area: In historic neighborhoods the colors have been predetermined and should be adhered to as close as possible. Similarly, for newer modern homes and older Victorian homes, the architectural style and time period will also help you define exterior colors to choose from.  If you need assistance in choosing, the majority of paint stores will carry paint manufacturer lines of varying architectural periods for you to choose from.  If you know of your specific architectural period, research palettes online.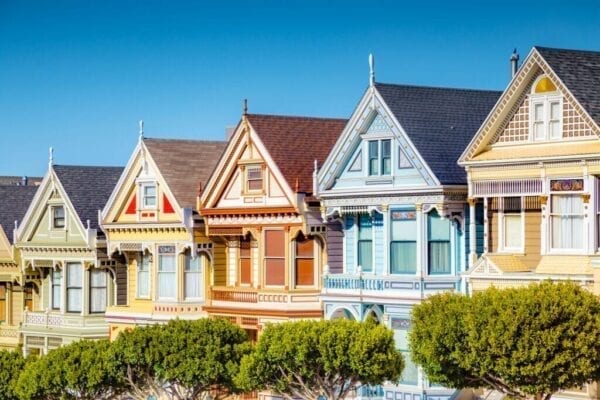 bluejayphoto / Getty Images
Walk through your neighborhood: Depending on your rural or urban setting, your neighborhood has a big affect on your home's exterior. Take a look at colors palettes, trim colors and accent features. Although you don't have to match your neighbors, staying in the same color family is a good idea. For those who want to go against the grain of the neighborhood – your property value and buyer appeal will go down when selling your home.  Above all, a neighborhood that looks unified is a more pleasant one to live in.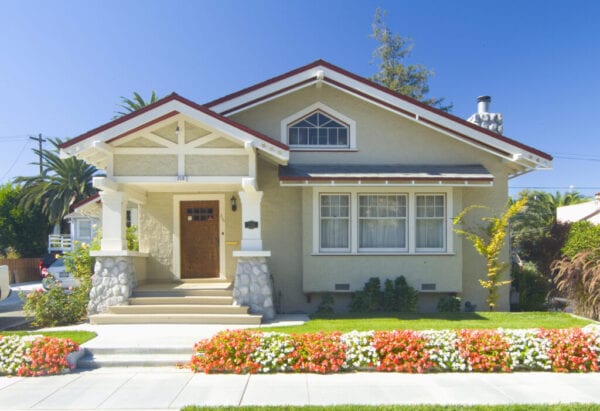 Douglas Keister / Getty Images
Don't forget your roof: Believe it or not, your roof color and material needs to be considered with the exterior color. Choose your overall field color of your home and then choose a roof color that compliments it.   Darker house colors may choose a contrasting lighter roof and vice versa.  Also consider the sun reflectance where you live.  Hotter climates should opt for lighter roofs, even terra cotta tiles or standing seam metal roofs will reflect more light.  Colder climates can opt for darker roofs in slate, copper or asphalt shingles.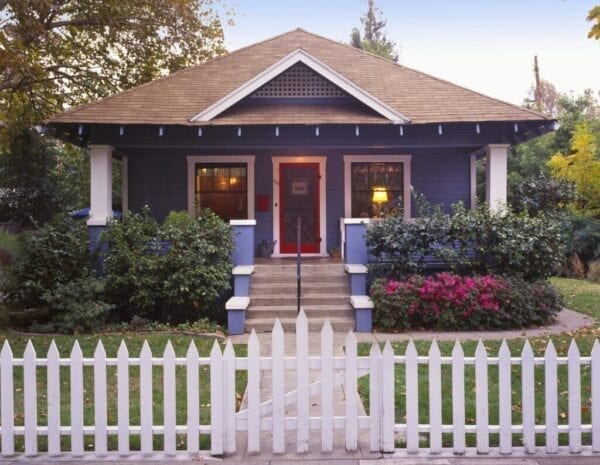 Douglas Keister / Getty Images
Get inspiration: Look online, through magazines or other neighborhoods in your city for inspiration.  Snap photographs, tear out pictures and then bring to your home to see how it will fit in your surroundings.  Once you've decided on a color palette ask the paint store for smaller samples to bring home and try out on a small section of your exterior.  Let dry 24 hours and see if you like it!
The exterior of your home is extremely versatile in color selection, but needs home owners to be mindful of their surroundings.  Choose colors that compliment your neighbors, geographic location and architectural time period.  Don't be afraid! Try out some new colors – your home and family deserve a change!
Freshome reader's have you considered changing the exterior color of your home? If so, how dyou go about choosing the colors? We love hearing from you!