National Kitchen + Bath Association Reveals Key Design Trends in U.S. Kitchens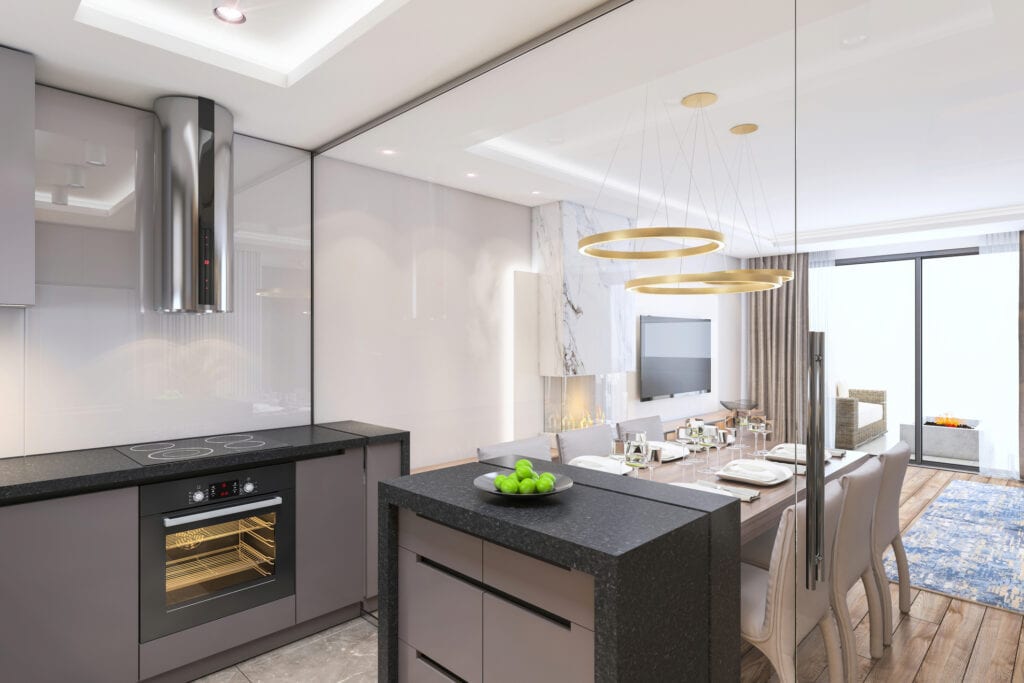 Want to know the trendiest styles, colors, materials, finishes, appliances and lighting fixtures in U.S. kitchens? Sure, you do! The National Kitchen + Bath Association (NKBA) queried hundreds of designers, remodelers, architects, manufacturers and dealers to discover the most dominant preferences and the biggest kitchen design trends.
Freshome asked trend spotter Elle H-Millard, Certified Kitchen Designer and Industry Relations Manager at the NKBA, for photos and insights regarding the key U.S. kitchen design trends.
The 3 Most Popular Kitchen Design Styles
Farmhouse kitchens have emerged as the most popular style. "A signature statement in a farmhouse-style kitchen is the apron-front sink," says H-Millard. "But let's not leave out the rugged wood beams and large dining table that give the space its charm," she says. "Farmhouse style lends itself to a cozy atmosphere with a nostalgic flair."
The second most trendy kitchen style is transitional. "The transitional-style kitchen presents a juxtaposition of contemporary and traditional styles. You might see a mix of sharp lines and soft and delicate curves," H-Millard explains. "The transitional kitchen evokes both charm and edginess."
The third most trendy kitchen style is contemporary. "Contemporary lends itself to a minimalistic look," says H-Millard. "Often, contemporary includes frameless cabinetry with slab front faces and stark, contrasting colors." She explains that contemporary kitchens have larger surfaces and are more sculptural in shape and appearance. "Your eye absorbs the entire space as one unit."
Trends in Cabinetry
Paint is the most popular choice for cabinet facing, followed by wood. Glass cabinet facing lags far behind in popularity. Full overlay doors are vastly more popular than inset or partial overlay door types.
Trends in Surfaces
The preferred choice for kitchen countertops is quartz, which is far more popular than granite and marble. Among backsplash choices, H-Millard says ceramic or porcelain tile is the runaway favorite, followed by glass, natural stone tile and quartz.
Regarding flooring, hardwood floors continue to reign. However, ceramic and porcelain tile are also popular choices. Engineered wood is the third most popular choice.
Trends in Sinks and Faucets
While farmhouse may be the most popular kitchen style, a simple, stainless steel undermount is the preferred sink style. "Stainless steel is almost twice as popular as composite and fireclay materials," H-Millard says.
Single handle and pull-down kitchen faucets are almost neck-and-neck, followed by gooseneck styles (no pun intended). According to H-Millard, "Stainless steel and brushed nickel are the most popular finishes, with satin nickel being the third most popular choice."
Trends in Appliance
While there is no runaway favorite in types of refrigerator/freezers, refrigerator column/freezer column combos are most popular, followed by single-door refrigerators and single-door freezers.
The French door style is the overwhelming favorite, followed by under-counter and bottom-mount styles.
Gas cooktops, convection ovens and microwave drawers are the most popular cooking appliances. In second place: induction cooktops, gas ranges and warming drawers. Double wall ovens are also popular.
Trends in Color Schemes
"The hottest kitchen colors are white and gray," H-Millard says. These colors are almost twice as popular as the other kitchen colors listed by respondents: blue, black and beige/bone.
Emerging Trends
Several kitchen design trends are gaining traction, according to H-Millard. Some of them include space-within-a-space concepts, such as a homework station or a desk area in the kitchen. "Other emerging trends include custom hoods, island prep stations and French door ovens that open horizontally instead of vertically." She says that appliances are taking center stage. "We are seeing jolts of color and varied metals and finishes."
Technology will also play a larger role in the kitchen, thanks to the increasing ease of wirelessly connecting to smart devices via apps.