Choosing Your Next TV Service Provider Made Easy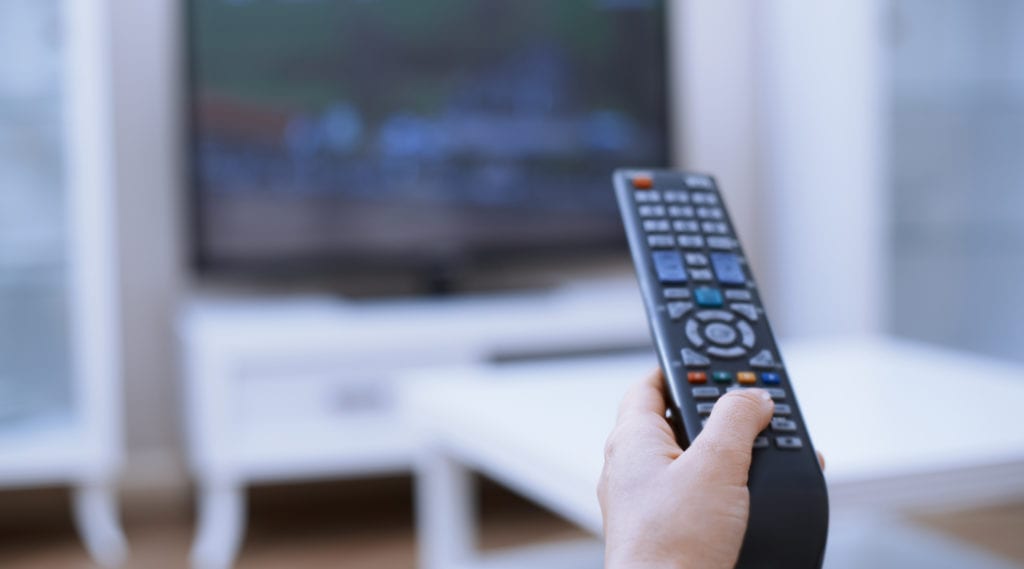 Whether you've left your previous TV service provider's area or you're shopping around for something new, moving is the perfect time to consider your options. And with the range of services provided by cable and satellite companies, not to mention the variety of video streaming platforms out there, TV lovers have more options than ever.
We know — the sheer volume of choices is overwhelming. Not to mention the varying fees and industry jargon. But don't scream into that couch cushion just yet! MYMOVE's here to help you sift through those options so you can find the best TV service provider for you and your family.
Know Your Types of TV Service 
The first step to choosing the right TV service provider for your viewing needs is to know the types of service out there. The main TV providers fall into four general categories: cable, satellite, fiber, and streaming.
1. Cable
Cable TV delivers programming to subscribers via coaxial cables that transmit radio frequency signals. This requires a cable box, a remote, and — most likely — a professional technician to come and install the equipment into your home.
Cable TV is still the most popular service type due to its reliability (unlike satellite, it won't go out during a storm) and its availability (roughly 89% of U.S. residents have access). Plus, most cable companies also offer internet and home phone services, making bundling internet and tv a breeze.
Despite cable's wide reach, you have to make sure there are providers in your area. Rural areas are less likely to be within a cable provider's service area.
Cost:
Basic cable packages run at $20/month, while premium packages with tons of channels can cost over $100/month.
Remember: There's potential to save money by bundling your TV service with your phone, internet, or even your cell phone.
Number of Channels:
The number of channels you can access with cable TV depends on your provider and your service package — which will both vary by location.
Channel ranges offered by some of the top cable companies:
Here are some of the best cable companies of 2021:
Xfinity: Chosen for "lots of channel packages"
Spectrum: Chosen for "flexible bundle deals"
Cox: Chosen for "high customer satisfaction"
2. Satellite
Satellite TV delivers programs to subscribers wirelessly via broadcast signals that are transmitted from satellites in orbit and received by antennas called "satellite dishes." This form of service requires professional installation of the dish, which sits on your roof, and a receiver, which is placed inside your home.
This type of service is known for its availability with services offered nearly everywhere. It's a great choice for residents in rural areas, who may not have access to a cable connection or reliable internet for streaming. Satellite is also likely to offer more HD and 4K programming (meaning programming with higher picture quality) due to the technology, which supports a higher bandwidth.
Bad weather can impact satellite TV as storms, heavy cloud coverage, and the like can result in signal loss.
Cost
When it comes to Satellite TV, there are only two main providers in the market: DIRECTV and DISH. DIRECTV's starting prices range from $64.99/month to $134.99/month and DISH's starting packages range from $64.99/month to $99.99/month.
Number of Channels
DIRECTV's packages include channel offerings that range from 155 to 330+ channels. DISH offers packages with 190 to 290+ channels.
3. Fiber-optic
Like fiber internet, fiber-optic TV uses thin glass or plastic cables to transmit programming via infrared light. This relatively new technology is popular for its high bandwidth, which can support lots of channels in HD picture quality. It's also known for its reliable signal.
The downside to fiber-optic TV is its availability. Also like fiber internet, fiber TV is still limited to certain areas — mainly cities.
AT&T offers fiber TV in select cities 21 states, Frontier in seven states, and Verizon in nine states and Washington D.C.
Cost:
Remember, fiber TV plans vary by location due to its limited availability. Know that there's an opportunity to bundle fiber TV with fiber internet for a lower monthly cost. Make sure to look at your bundling options when shopping around.
Here are what starting packages from lead fiber providers cost:
Number of Channels:
With fiber's generally larger bandwidth comes greater channel options. Here are some of the channel ranges:
4. Digital Streaming
Digital streaming delivers shows, movies, and — with some platforms — live TV to viewers through internet services like Netflix, Amazon Prime, and Hulu. Streaming requires a reliable internet connection and TV services can be accessed over a web browser, with a smart TV, or with a streaming stick (like Sling's Roku or Amazon Fire TV).
The ability to personally curate which channels you want is a benefit of streaming. Consumers are able to subscribe to broad streaming platforms — like Netflix and Hulu — for a wide array of movies and TV shows, while also paying for monthly access to their favorite TV networks — like HBO and Starz.
But this a la carte approach can add up when you're paying separate monthly fees for your favorite channels and add-on features.
Cost: 
Here are the monthly subscription costs for some of the most popular streaming services: 
Number of channels
Here are some of the most popular live TV streaming options and their channel selections:
Here are some of the best streaming services and their top selling points
How to Make the Right TV Choice
Consider Your TV Habits
An important step in choosing your TV service provider is to sit down and really think about what you need. Consider every member of your household and their TV habits.
Are you a local news junkie? If you are, you may want to find a cable or satellite provider that highlights local programming in its package.
Are you a sports fanatic who needs to keep up with all of your favorite teams? You'll want to shell out a little bit of extra money for that deluxe sports channel package (like NFL SUNDAY TICKET or a sports add-on to a streaming service).
Maybe you don't have time to watch your favorite shows when they air during the week but have set aside time to catch up on the weekends. You definitely need robust DVR capabilities on whatever platform you choose. You can also catch them a few days later when they come to a streaming platform like Hulu.
So, sit down and make a list of your TV must-haves. Keep that list with you when you shop around. With all of the different services and packages out there, you have the power to customize what you watch and how you want to watch it.
Examine Your Budget 
Do you have your must-haves list in mind? Good, now think about your wallet. Consider those TV habits and what they're going to cost you. Look at the prices of starting packages listed above — click on the links and see what channels are offered. Some of the sports and entertainment channels you want may already be listed in that basic package.
But some of those channels may require an additional fee. Maybe you splurge for that sports package and hold back from premium channel add-ons.
Again, keep bundling in mind. The money you save from combining your TV and internet service could go to splurging for that premium channel.
Don't be afraid to take a hybrid approach with a traditional pay-TV service and digital streaming. If you made a list of all of the channels you need and see that all except a few falls into that basic or mid-level cable or satellite package, look at the specific shows you want. Some premium channels run their own streaming services — like HBO NOW (for $14.99/month) and Starz (for $8.99/month). Or maybe you know your favorite show will end up on Netflix when the season ends and you're willing to wait.
Do the math on the channels you want. This will help you choose the TV service provider that's right for you.
A Few More Tips
Ask About Deals
Service providers often run deals for new customers — like the first month free, or free access to movie channels for a set amount of time. Make sure to ask a customer service representative about deals in your area.
Don't Be Afraid to Negotiate
You may not feel like you have the stomach for haggling, but trust us, you can't be afraid to ask for what you want when talking to TV providers. You've done the research about what you could get elsewhere, so show that TV service provider exactly what you know.
You could trim your monthly cost or get additional channels at no cost if you're willing to negotiate.
The Bottom Line
The plethora of TV service options and providers can be overwhelming, especially when you've just moved. You probably feel like you've made so many decisions and you're hesitant to make one more. However, taking a look at your TV service provider and analyzing your watch habits could help make a decision that better fits your family in your new home.
Did someone say, "family movie night?"