Your Guide for Moving Internationally from the U.S.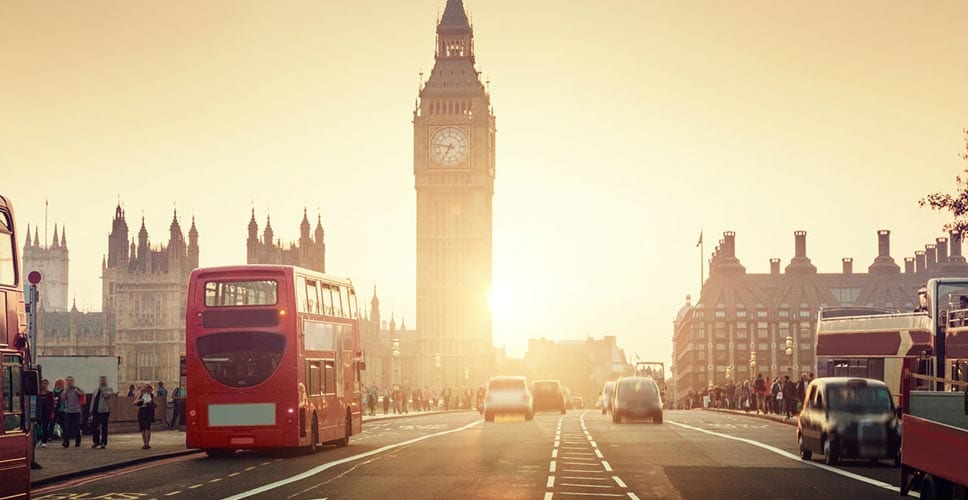 Whether you're going across the border to Canada or all the way around the world, any move that takes you outside the United States is considered an international move, and requires a lot of advanced planning.
The U.S. Census Bureau doesn't track the number of native-born Americans who live outside the U.S., so there are only estimates for international moving. Those estimates for moving to another country vary widely, ranging from 3 million current expatriates to 10 million.
Also varying widely are the reasons people move overseas. Many do it for work. Some want to see the world. Some just need a fresh start. Chances are that after the pandemic, the number of Americans moving to another country will grow. More than 340,000 U.S. students studied abroad in the 2017-2018 school year — a number that was cut in half during the pandemic.
Whatever your reason for moving abroad, one thing everyone can agree on is that international moves are complicated. Fortunately, there are a number of international moving companies that specialize in navigating these challenges. Following is a guide on how to move to another country, complete with tips from experts and veteran international movers.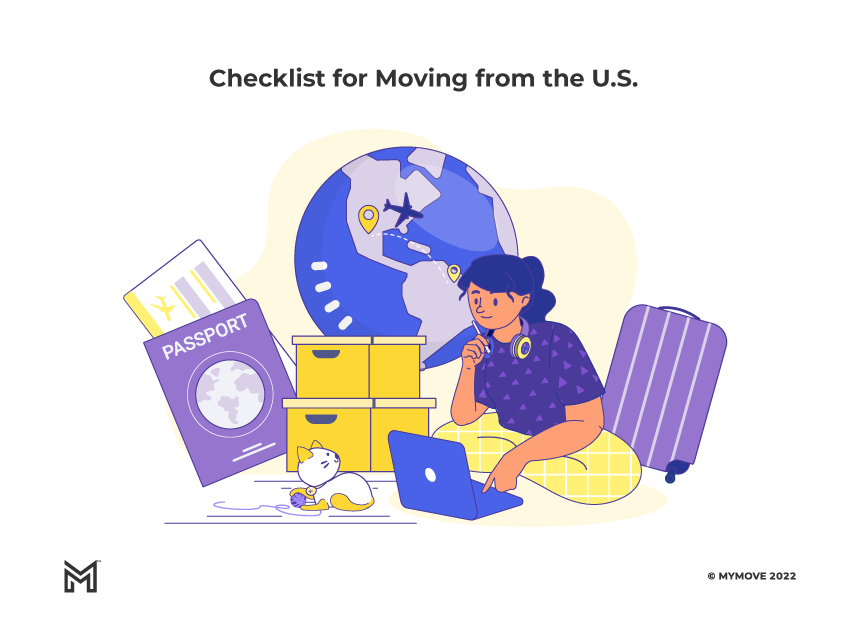 Click here to download the complete checklist for moving internationally.
---
Jump to:
Tips from people who've been there, done that
---
What to do before your move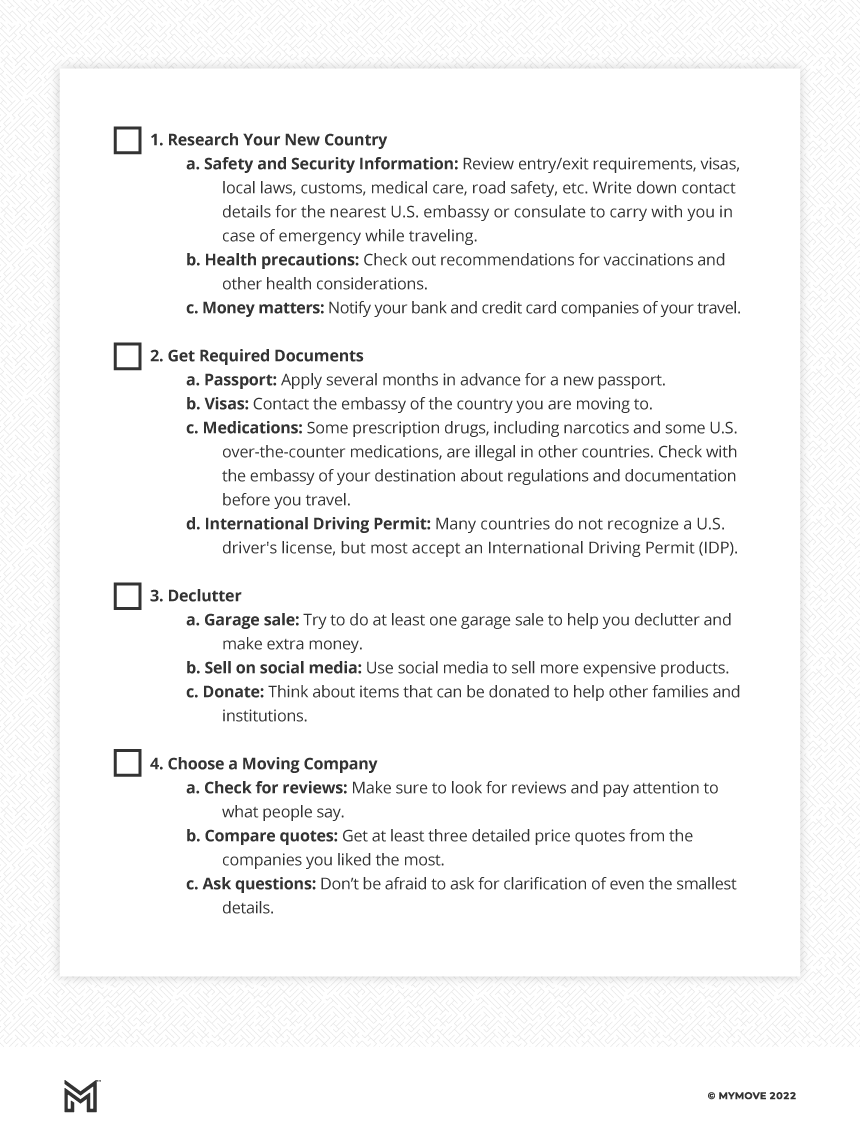 When you're moving out of the country, you'll need to do a lot more prep work than the average move down the street. But each situation is different, and there's no one-size-fits-all approach that will work for everyone. That said, there are some guidelines you can follow to help with your international move.
Get you documentation in order
One of the most challenging aspects of an international move is planning for the necessary visas and documentation needed to live in another country. For some short-term moves, a visitor visa will be enough; for others, you may need a work or student visa. Here's how you can approach each type of move:
Studying abroad: Check with the school you're attending to see what documents are needed for your application and enrollment. Every country has its own requirements for student visas, but at a minimum, you'll need a valid passport and proof of your enrollment. If you're participating in a study abroad program through an American university, they'll be able to assist you with your visa application.
Moving for work: When you apply for a job in another country, you typically have to answer some questions about your visa status. Once you've gotten the job, you may need to apply ask your new company to sponsor your work permit. If you're being transferred abroad for a new position with your current company, get in touch with your HR representative to ensure you have all the necessary documentation for the moving process.
Moving without a job: If you don't have a job lined up before your move, you can often stay in a new country for a period of time while you look for work. '
Before you start preparing, you can search for the country you're moving to on the State Department's website to find important information like passport details, visas needed, vaccinations, and currency restrictions for entry and exit. You can also find helpful information on safety and security, local laws, health, and transportation.
It's also a good idea to check out the State Department's list of American Embassies and Consulates. Take note of the one closest to your future residency in case of an emergency.
You can also enroll in the US Department of State's Smart Traveler Enrollment Program (STEP). This will put your move in the US embassy's records, and in an emergency, you'll receive safety updates from the embassy.
Make a healthcare plan
Ensuring you have access to necessary medications and healthcare in your new country may require some extra planning. Drugs like pain medication, birth control, and supplements may be unavailable or lower in strength overseas, so it's always a good idea to make a plan with your doctor before you leave the country. In many countries, you can get an extended prescription to bring abroad. The International Narcotics Control Board has a helpful database of medications that are restricted in each country.
You'll also need to think about health insurance in your new country. Not all American insurance plans travel with you out of the country, and Medicare and Medicaid don't cover medical costs overseas. You can learn more about healthcare when moving to a different country on the State Department's website.
Get a driver's license
The best way to find out what you need to drive a vehicle abroad is to check with your new country's embassy directly. Many countries don't recognize a U.S. driver's license, but most accept an International Driving Permit (IDP). They may not be valid the whole time you stay abroad but can work as an alternative until you get a local driver's license.
You can get an IDP through these automobile associations:
Notify government agencies
Before you leave the country, you'll need to notify some American agencies that you'll be moving abroad.
In addition to these government agencies, you'll also need to notify your current landlord and utility providers. Use this checklist to see everywhere you'll need to update your address when you move.
Find a home
The sooner you can get started on your housing search, the better. One of the best ways to do this is to simply Google "long term rentals [the city you're moving to]." Create a list of places you'd like to see once you arrive, and if possible, schedule some tours. But no matter how much you like a place, you should never put down a deposit until you've seen the apartment in person.
Renting a short-term home through sites like Airbnb while you look for housing is also a good option. Local newspapers and magazines are one of the best ways to find quality housing abroad. Remember: your first home is not necessarily your permanent home. You can start with a shorter-term lease until you find the perfect home for you and your family.
Plan out the little things
Do an in-depth search of your intended overseas location. What is the weather like where you're moving? Will you need four seasons' worth of clothes, or will the temperature not vary much? Will you have access to some essential supplies and comforts?
Shampoos and body wash also differ, as hair textures and skin types are also different. But liquids are tricky to transport, so if you're attached to your brand, try to wean yourself onto an overseas alternative in the months before you leave.
Budget your move
If you intend to stay long-term, taking a look at your budget and needs will play a bigger determination in what you can take with you when moving to another country. Companies sending their employees and their families overseas usually include a relocation budget, which takes much of the financial burden of moving abroad off the employee and his or her family.
If this is the case for you, you will have a lot more freedom in packing and sending things. If you are looking for work abroad of your own accord, you will have to make a budget and decide how much you want to spend when moving abroad, what items you will need to feel comfortable, and what will be cheaper to just buy there.
In both cases, you can get quotes from an international moving company on how much a relocation will cost depending on your situation, so you can accurately budget and plan well before your actual moving date.
Don't forget to exchange some cash
You'll also want to have some cash on hand to pay for things like taxis, hotels, and food in case debit cards get frozen—a fairly common occurrence when you travel abroad, even if you notify your bank of your move. It's also important to exchange some money for the currency the destination country uses.
Apply for school
Finding a new school is one of the biggest challenges to moving with kids. If you or your kids are going to be attending school in your new country, you'll want to apply and get everyone registered as soon as you can. Otherwise, you might end up homeschooling your kids for a few months.
In general, you have two options when it comes to finding a school for your kids in a new country: Enroll them in a local school or an international one. A local school will help them learn the local language and culture, but it may be more difficult for children over 10 to adapt to. For older kids, an international school where they can learn in their native language may be a better option.
How to ship your items when moving abroad
With so many people moving out of the country, there is the question of what you should pack and send. The truth is, there is no simple answer. Each situation is different; so is what is appropriate or necessary to pack. But, there are some guidelines you can follow depending on why you are moving.
Shipping items when moving internationally
When resolving to send packages and items to your new location, moving expert Ali Wenzke has this advice: "Divide belongings by what can wait six weeks. On most airlines, the suitcase weight limit is 23 kilograms or 50 pounds. For international flights, you can take two suitcases with you. Everything else you own will take about six weeks to arrive at your new home. When you start packing, imagine what you can't live without for the first month or two. Now keep those must-haves to under 100 pounds."
With moving to another country being so expensive, it is a good opportunity to really analyze your belongings and get rid of some unnecessary items by selling them in garage sales, Craigslist, or social media. You can also think about donating items like furniture, books, toys and clothing.
Getting rid of unnecessary items that you haven't used or don't hold any value will help downsize things a lot. Also, make sure to take plenty of time going through things, so that you can be efficient and objective. Make an inventory of your belongings to track what you do keep, which holds the international movers you choose accountable for anything lost in transit.
Naomi Hattaway, a former expatriate and current owner of 8th & Home real estate company in Reston, Va., says, "A lot depends on what to move when you work abroad. The biggest difference will be in the new location — do you have access to the things you cannot live without?"
The amount of time you spend in your new home abroad will have the most impact on what you pack and send. While it will be a little different for each individual's situation, researching your new country and your moving and living options will be vital to your packing success.
Choosing an international mover
Many well-known U.S. moving companies also will take on your international move. Look for one with lots of experience; it matters when it's your stuff that has to navigate customs. Plus, in most cases, you'll be shipping your possessions overseas. Ask the movers you consider whether they offer real-time tracking. You'll feel a lot better when you know where your things are at all times.
Remember: The mover with the lowest price might not be the best choice. Research several movers, check reviews carefully, and make sure you're comfortable with your mover's claims and dispute resolution processes. Here are some best practices to follow when researching international movers:
Check the reviews: For the most part, international moving companies provide similar services. One of the best ways to find out if you'll have a good experience is to dig into user reviews. If a lot of the same complaints come up about customer service, late deliveries, damaged items, or insurance, you may want to skip that mover.
Get multiple quotes: Get at least three detailed price quotes from the companies you liked the most. Make sure you know if the estimate is binding or non-binding, whether it includes extra fees, and what type of insurance is included. While the prices might be very different, it's important that you compare the same type of quotes to get the best idea of the final cost.
Don't hesitate to ask: Hiring international movers can be extremely expensive, and you likely won't have much experience with it, so it's normal to have questions. Don't be afraid to ask for clarification on even the smallest details. If you notice any hesitation by a moving company to provide detailed answers, simply move on to the next one.
Top international moving companies
There are a number of American moving companies that can handle your international moves. Here are a few good options you can start your search with:
Other services international movers offer
International moves may require more than simply shipping your goods to your new address. Here are some additional services you can look into with your moving company:
Interim storage and custom shipping: If you have items that need special shipping attention like cars, boats, and large equipment, some international shipping companies offer interim storage and the ability to ship items other than those that'll fit into a shipping container.
International moving consultation: Many international movers can also be a resource for information on planning and to ensure that you're taking appropriate steps to meet your destination country's customs requirements. Some companies supply assistance with aspects of relocation like driver's license information, immunization, health insurance, and other essential help items.
Insurance: Basic insurance is sometimes, but not always, included in a moving quote. All reputable international moving companies should be able to provide more options than just basic insurance. Depending on your possessions, their dollar value, and how important they are to you, you'll want to choose an insurance plan that helps keep your stress level as low as possible.
What to do after your move
Getting there is the hard part, but there's still a number of things you'll need to take care of once you move abroad.
Open a new bank account
You'll likely be able to use your American credit and debit cards abroad, but you may want to open a bank account in your new country if you plan on spending a significant amount of time there. Many banks charge fees for international transactions, which could add up over time.
Get your new driver's license
Every country has its own laws and regulations for driving, so find out what it will take to get on the road. Many countries accept an International Driving Permit (IDP) that can get you on the road temporarily while you secure a driver's license in your new country.
Healthcare providers
Locate a primary care physician and healthcare provider as soon as you can after you move abroad. If you can, it's also a good idea to get your health insurance in order before you make your move.
Subscriptions
Update your address on all of your subscription and delivery services like Amazon and Netflix. If any of your current services aren't available in your destination country, cancel them before your move so you aren't paying for services you can't use anymore.
Moving to Canada
Canada is one of the most common countries for Americans to move to and one of the easiest — around 80% of the applications for permanent residency submitted through the Express Entry process are processed within six months. There are a number of things that draw movers to Canada: nature, attractive cities, publicly funded health care, diversity, and lower crime rates.
But there are some downsides: Canada's cost of living is higher than the U.S., and the more money you make, the more income tax you will pay. It's also colder than much of the U.S.
How to immigrate to Canada
Canada's Citizenship and Immigration website has an online tool that helps you find out what immigration programs you can apply for. Canada has more than 100 immigration visas and programs.
Here's a list of a few programs that people might qualify for:
Healthcare
Citizens and permanent residents of Canada are provided with free healthcare. That said, new or temporary residents will need to purchase a private health insurance plan until they are able to receive a public health insurance card. You can find more information on accessing Canada's health insurance here.
Taxes
U.S. citizens living as permanent residents of Canada will still have to file their taxes with the United States government. Canada and the U.S. have a Tax Treaty that prevents double taxation, so people won't have to pay duplicate taxes to both countries. Permanent residents of Canada, however, must also pay required federal, provincial and municipal taxes. More information about the United States-Canada Income Tax Treaty can be found here.
Moving to Mexico
Moving to Mexico brings a number of attractive benefits: rich culture, great weather, beautiful landscapes, and delicious food. Mexico does face some challenges such as environmental problems, overly bureaucratic government institutions, and safety in some areas.
How to immigrate to Mexico
Apply at a Mexican Consulate near your home in the United States; the consulate will provide the appropriate forms. Keep in mind, the form will be in Spanish, so you may need an interpreter. You have to prove you have enough funds to cover your cost of living and pass an immigration interview done at the Mexican Consulate.
There are two types of residency visas in Mexico: permanent and temporary.
Temporary resident visa: This visa is for foreign nationals who want to live in Mexico for more than 180 days. In addition to the Mexico work permit, people with a temporary resident visa can live and work in the country for up to four years with a Mexico work visa.
Permanent resident visa: Foreigners looking to live and work in Mexico permanently need a permanent resident visa. People with close family ties in the country or those who have lived in Mexico for a long time can also apply for a permanent resident visa.
Healthcare
There are a couple options for healthcare in Mexico. You can apply for the Mexican public healthcare insurance system known an IMSS, or purchase a private medical insurance plan. Most foreign residents in Mexico choose to carry personal health insurance. Here is a helpful guide on how to get medical coverage in Mexico.
Taxes
If you live in Mexico full-time but still retain U.S. citizenship, you'll have to file a U.S. and Mexican tax return. In addition, you may have to pay income tax, VAT tax, property taxes, and more in Mexico. Mexican residents pay income tax on all of their income, regardless of where they earned it, but non-residents living in Mexico are only taxed on the income they earn in Mexico. For more information on what taxes you can expect to pay, check out this helpful guide.
Tips from people who've been there, done that
Following are tips — things to do and things to avoid — from people who've either had experience moving to another country themselves or who help others adjust once they arrive in another country:
Kelly McClenahan of PriceSelfStorage.com:
"Pack your travel documents in your carry-on so you do not lose them in the move. This includes passports, tax documents, Visa information, Immunization and medical records, pet medical records, travel insurance. You'll want easy access to these papers."
Tim Leffel, author of A Better Life for Half the Price: How to Prosper on Less Money in the Cheapest Places to Live:
"Among the biggest mistakes: Thinking a place you loved on vacation is going to thrill you 365 days a year. Just because you had a blast in Cancun on vacation doesn't mean you're going to enjoy living there. … Being hot and sweaty felt great when you had just been shoveling snow that week, but maybe you'd really prefer "eternal spring" weather in a house you have to live in instead of cranking the air conditioning 12 months a year. … [S]ome soul-searching will help avoid mistakes."
Natasha Rachel Smith of TopCashback.com:
"Before moving, check to make sure your cellphone provider offers international calling. If your provider doesn't have international coverage, consider switching to another carrier. If you have an iPhone, remember you can use FaceTime, FaceTime Audio, and iMessage to stay in touch with other iPhone users free."
Mike Glanz, CEO of HireAHelper:
"Most people moving internationally have access to online banking accounts that allows them to manage finances from overseas. If you haven't migrated to online banking and are moving internationally, it's time to make the leap."
Kate Hart of Fantastic Removals in London:
"Always insist on a pre-visit (if you are with a company), and check out all the different areas before you commit to a house. Don't agree to a blind audition, you put too much into this. Go online and see some photos of the house/apartment, use google street view for a virtual walk around the neighborhood, check opportunities for grocery stores, shopping centers, school or kindergarten, sports centers or anything else that is in your circle of interests."
Ewan Jarvis of A to Z Cleaning in London:
"You can't go abroad with most of your stuff without knowing the actual dimensions of your new place. What if that sofa is too large? Or what if the armchairs are not going through the door? So, measure your furniture and any larger pieces before you start the relocation process. This will save you the hassles from having moved a really expensive sofa that you can't fit in your new place."
Max Robinson of Removal Services in Scotland:
"Moving abroad with your pet is actually relatively straightforward, provided that you keep a few things in mind. Firstly, you'll only be able to take your pet abroad with you if you can prove that they're healthy and free from a disease like rabies, so one of the first things that you'll need to do is get a blood test by a laboratory approved by the country that you're moving to. You'll also need to have your pet vaccinated, and ensure that they've been treated for ticks and tapeworm at least 24 hours before the move abroad."
The bottom line
Moving to another country takes advance planning. Knowing how to move out of the country and what the most important steps are will make the process hassle-free. Known in advance how long you're planning on moving out of the country so you know what to pack and what arrangements you'll need to make. Moving countries could be one of the most important things you do in your life — make sure you do your research before you go.
Frequently asked questions
Moving countries is easier if the new country shares your same language. Thes easiest country to move to is a country where English is widely spoken, such as Panama, Australia or the United Kingdom.

It's best to weigh the cost of moving abroad and shipping your furniture vs. buying everything you need there. Get an international moving quote to have an idea of the cost of moving to another country and compare it to how much it would cost you to buy all the items you'd need after you move.

Although there aren't specific items that are not allowed when you're moving abroad, there are things that aren't worth taking with you. Taking your vehicle abroad could create a bunch of bureaucratic issues and tax implications. Electronics and household appliances may not be electrically compatible and should be left behind.