4 Simple Steps To Packing Liquids For a Move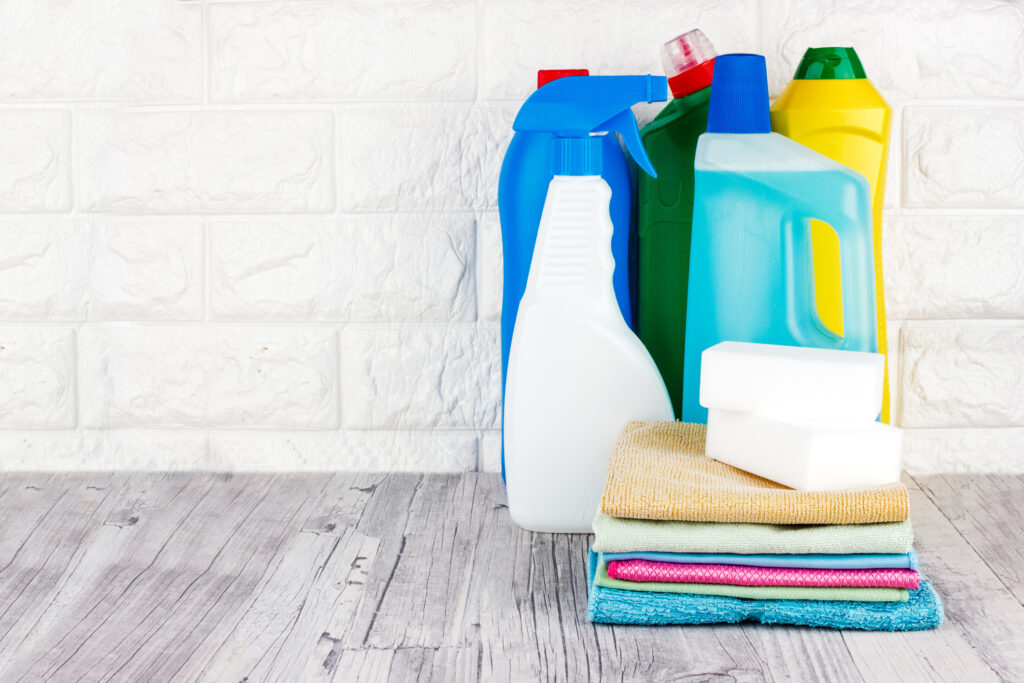 Whether using a professional moving company or doing a DIY move, knowing how to pack every item is daunting. Packing liquids is particularly difficult, and failure to properly do so can make for a messy arrival to your new home. From food items, cleaning supplies, hobby paints, or even a fine wine collection, there's a lot of things that you don't want to simply throw away.
In this guide, you'll learn some of the best pro tips for packing liquids safely and efficiently. Plus, you'll find recommendations and links for essential products to help you get the job done right.
How to pack your liquids in 4 simple steps
Dispose of anything not worth bringing
Sort liquids in by room
Get your liquid packing materials together
Secure, pack, and label liquids appropriately
Step 1: Disposing of anything not worth bringing
Some things are just not worth moving. Many movers include a list of items that they prohibit their drivers from transporting. Common items like ammonia, old car batteries, and fuel are on these lists for a reason, so it's wise to dispose of them properly before heading to your new home.
When it comes to packing liquids, disposing of drinks is another time-consuming task that should be done well before moving day. Take a look at your fridge and pantry and evaluate which liquids need to be thrown away and which you'll need to account for in packing. You may have specialty items that are worth keeping in a cooler – like juices for the kids, or your almond milk — but the vast majority are going to just get in the way as you unpack.
Step 2: Sort liquids by each room
After you have thrown away or disposed of the unnecessary liquids, be sure to put all the remaining liquids with everything else that is being moved to a particular room in your new home. For example, put all the cleaning supplies that you keep in your garage in a pile within the garage. This will help you determine how many containers you need for each room.
Remember to also sort liquids by importance. Separating items that could ruin others will keep any mishaps from turning into a disastrous mess. For example, avoid putting a bottle of shampoo in the same container as expensive perfume, or putting your cleaning chemicals near your unrefrigerated juice boxes
What you'll need for this step:
Masking tape – This is handy for securing lids and temporarily labeling bins.
Sharpie – For labeling containers
Locking plastic bags – Use to contain liquid spills; put like items in plastic bags before stowing in moving containers.
Step 3: Get your liquid-packing materials together
Make sure that you get all the liquid-specific packing materials you need well before your move. These specialty packing supplies will help keep containers from breaking and prevent spills from ruining other items during the move.
You'll also want to get some packing material to cushion containers. You can use commercially available packing paper and bubble wrap, but you can also use your old T-shirts; think twice before you donate them if you can repurpose them for packing.
What you'll need for this step:
Bubble wrap – Useful on glass containers or for packing liquids that are valuable
Packing paper – This material can fill negative spaces in containers to prevent bottles from moving around
Old T-shirts, towels, or other recycled packing material
Step 4: Secure, pack, and label your liquids appropriately
This is where the real work begins. Going room by room, wrap your designated liquids in newspapers, old T-shirts, terry cloths, kitchen towels, or whatever you decide to protect containers from breaking. For valuable items or particularly delicate glass containers, be sure to use bubble wrap. Use masking tape liberally around lids to keep anything from coming loose and to keep wrapping materials in place.
Place your items in each designated container or plastic bin for the move. Fill in negative space with packing paper or material to keep items from shifting around, and use masking tape and a Sharpie to label both the contents and what room it's going to.
What you'll need for this step: 
Plastic bins – If anything spills or breaks, a plastic bin will keep it contained
Cooler – If packing food or drink items that are temperature sensitive, a hard-sided cooler will protect these liquids during transit and keep them from getting too hot or cold.
Packing pro tips:
Pro-tip #1:  Put smaller, related items into gallon plastic bags. This will further reduce the likelihood of spills affecting the items around it and make it easier to organize while unpacking.
Pro-tip #2: Don't skip on using plastic bins over boxes. It might be tempting to just use plastic bags and throw liquids in a box labeled "this side up," but with a plastic bin that stacks there's no chance that it will accidentally be packed upside down.
Pro-tip #3: Put a piece of plastic wrap over screw-top bottles to prevent leaking. For shampoo, lotion, or other bottles that have a snap dispenser at the top, this little bit of plastic will keep the liquid from getting through any caps that may jostle open in transit.
Pro-tip #4: Keep most of your toiletries accessible. The unpacking process may take several days, but you and your family will need all of your toiletries as soon as you arrive.
The bottom line
Packing liquids takes a little more effort, but can be done in a way that keeps them secure and limits opportunities for messes. Just remember that most liquids are probably not worth taking with you, and those that are may face restrictions if you're employing professional movers. Do your best to mitigate damage from accidents, and keep your liquids upright.
Frequently asked questions
How do you pack toiletries for a move? 
Secure the tops of bottles with a little plastic wrap and combine them into plastic bags that can be sealed. Make sure daily toiletries are easily accessible for when you get to your new home.
Will movers take liquids? 
Generally, most liquids will not be transported by moving professionals. There are exceptions, so be sure to ask for a list of prohibited items before you begin packing.
How do you pack perfume for moving? 
Wrap the whole bottle in plastic wrap, and securely pack into sturdy containers with bubble wrap to protect the bottles. Pack in your personal vehicle or away from the rest of your moving items.
How do you pack liquids so they don't spill?
Use plastic bins with lids so that it is abundantly clear which side is up. Pack liquid bottles and containers upright, and fill in any negative space with soft material like newspapers, towels, T-shirts, or packing paper.