Ask an Expert: Everything You Need to Know About Hiring a Mover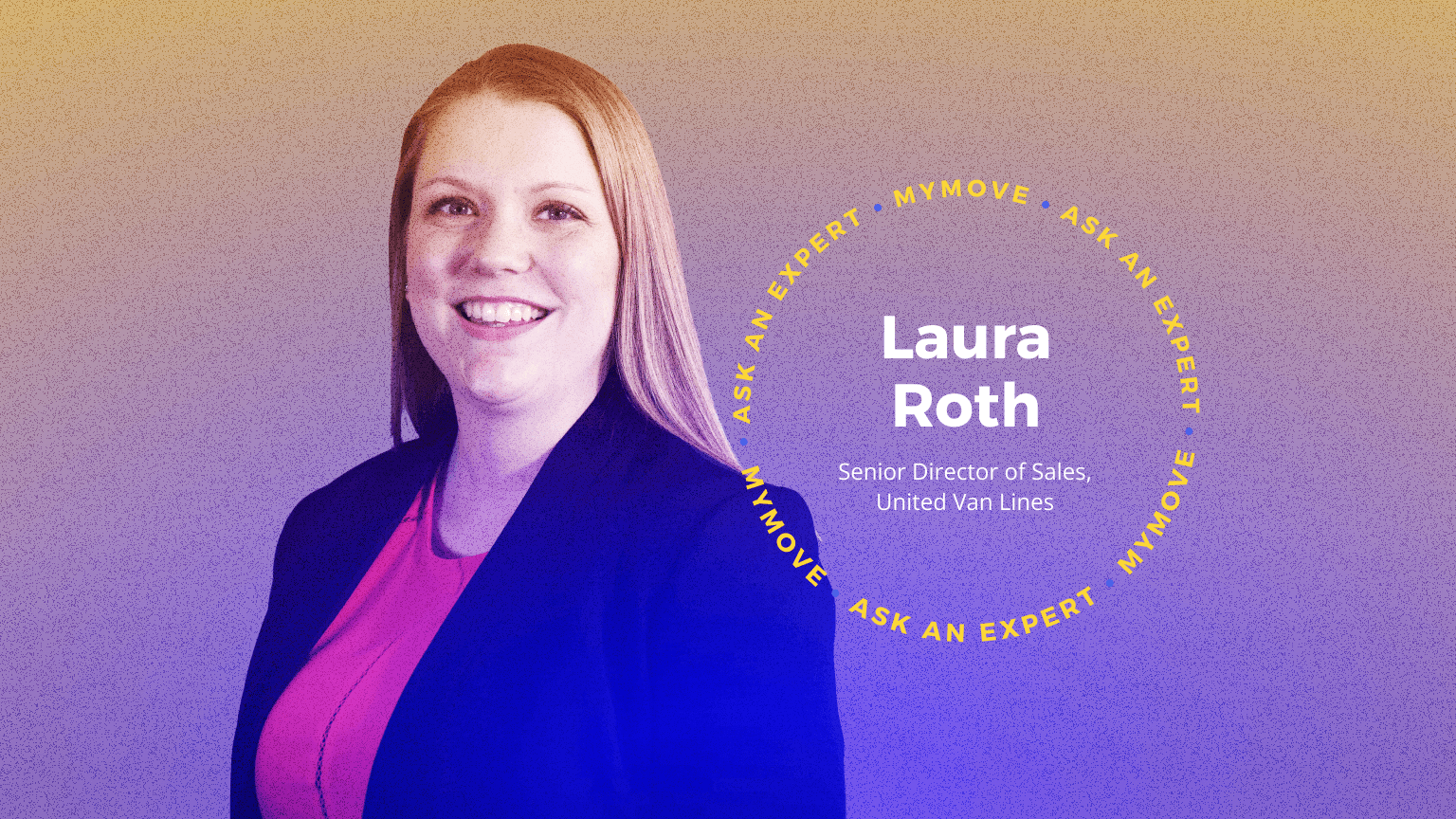 Here at MYMOVE, we like to think we know a thing or two about moving. But being a moving expert is a tricky thing — it means being a mortgage expert, an organizing expert, a selling-stuff-on-Craigslist expert.
That's a lot of expertise for one website, and sometimes we need a little help. Every month, we'll interview experts in different moving-related fields to help us answer some of the more specific questions that come up during the moving process.
First up is Laura Roth, the Senior Director of Sales at United Van Lines. She spoke to us over the phone about all things related to hiring movers. Below is a lightly edited transcript of our conversation.
MYMOVE: When should you hire a mover?
Laura Roth: We recommend that customers be looking 30 to 60 days out. The sooner you can plan the better because it will give you access to the most competitive pricing, and will also give us the opportunity to come and do a comprehensive visual inspection of what you plan to ship. It's even better if you have some optionality in what your load date is going to be so that you can have different options in pricing and services available.
MYMOVE: What goes into a moving quote?
Roth: Early on in the process when we first are in contact with customers we do have the ability to offer a ballpark quote. And it's just based on historical averages of what a two bedroom apartment or a four bedroom home in your area typically weighs, because shipping costs for household goods are calculated based on the weight and volume of your household goods and then how far you're moving it.
But we won't offer a binding estimate until we can actually see what you're shipping, because we want to make sure that we're counting for the unique qualities of what you own. If I said it costs you this much to ship a sofa, that's not fair because it could be a futon, or it could be a large overstuffed sectional sofa. So there are just wide ranges within household goods that we want to account for through a visual inspection.
MYMOVE: Are there times of the year that are more expensive to move than others?
Roth: Yeah, so I don't think it'll be very shocking to learn that the majority of people want to move in the summer when kids are out of school. So between May and September, is what we refer to as our peak season. It's the busiest time of year. And just like a lot of other service carriers, we have demand based pricing. So we have a finite number of van operators and tractor trailers to ship the goods. So when there's high demand the price tends to be a bit higher. So, broadly speaking, shipping in the summer is going to be more expensive than the winter or the fall.
But at the same time, if you drill down even a little deeper, moving at the end of the month can be a bit more expensive than moving in the middle of the month, for example, because at the end of the month, there's sort of a rush of everyone whose leases are coming up.
Moving on a Friday could also be more expensive than moving on a Tuesday or Wednesday because people like to move at the end of the week when they have the weekend to clear up some loose ends and things like that.
MYMOVE: How much do movers usually cost?
Roth: It will vary depending on the size of the shipment and the distance. There are also some factors that have to be considered like, is the area hard to service? Is it very remote? Does it require a ferry to get there? When you get into metro areas, sometimes our large 53-foot trailers can't access them so we have to do what we call a shuttle and offload your goods into a smaller truck to make that final delivery. So there are lots of factors around access and things like that. It's typically in the thousands of dollars, but it just really depends on how much you're shipping and how far you're going.
MYMOVE: Are there any common issues that customers don't think about when they're looking for quotes and talking to movers?
Roth: What we refer to as the shuttle is something that comes up with regularity. There are a lot of reasons that a customer's home can be difficult to access that might not readily occur to them. So maybe there are low hanging power lines or maybe you're on a street that dead ends and a tractor trailer can't turn around. Maybe it's just a local ordinance that doesn't allow trucks of a certain size onto residential streets. So it can be a lot of different things.
But that's another reason that the visual inspection upfront is so important, because we're not just looking at what do you plan to ship. We're looking at how's the access to your residence, you know, how can we get in here? Things like that. So that we can prepare you ahead of time for what that may entail.
MYMOVE: Is it up to the customer to be aware of things like the roads coming into their residence or is that something that's handled by the mover?
Roth: We do rely on the customer for information on that. And a lot of times, the customer will be asked, "Do you see large trucks around here a lot like when you moved into this area, did you use a large truck?" So we'll rely on the knowledge of the customer in that way, but a lot of times too, because we are comprised of hundreds of locally owned and operated moving companies, there's a lot of good local knowledge. Chances are they've moved somebody in or out of your neighborhood or your apartment building before and they have the resources to plan for that.
MYMOVE: How much should you tip movers?
Roth: This is a question we get a lot. I can tell you from personal experience when I've moved, I would have some bagels or doughnuts for the guys when they got there in the morning for breakfast or I'd grab some lunch for them, sandwiches or something. But I think, in our culture, tipping is customary for good service. And so it's always up to the customer's discretion. There's no expectation that amongst the movers that they're going to get tipped, but again, it's just sort of customary to tip for good service. And I think that makes sense in this situation. We don't really offer guidance on percentages or dollar amounts. Just whatever the customer feels is suitable.
MYMOVE: Are there any things that customers could do to make the whole process go more smoothly?
Roth: I think communication is always key. And that's from our end and from the customers. Nobody likes surprises, especially when it comes to one of the most stressful times in your life like moving. So as the circumstances change, just be open and honest with your move coordinator so that we can adequately prepare. And we do the same. We like to tell our customers, here's what you can expect at your home, here's what time you can expect from the movers, this is what the process is going to be like. So open communication, I think, is critical for success on both sides.
MYMOVE: Are there any kind of hidden fees that customers should be on the lookout for?
Roth: I think if a customer is shopping around at different carriers I think you always want to ask about that. Like what exactly does this price include? And can I expect any surcharges at the end? Are there any possible additional charges associated with delivery? Those are good questions for the customer to ask, because you may be dealing with a carrier that does not bind their quotes. So always asking those questions upfront about what costs are not included in this estimate that has been provided to me is a good way to elicit those hidden fees.
MYMOVE: What kind of prep work should a customer do before moving?
Roth: I think it's always a good time when you're moving to go through and do a little bit of purging. You pay for the weight and volume that you're moving. So going down into the basement and figuring out what hasn't been used in a couple of years. Does it make sense to pay to move that with you or not? So, you know, cleaning, disposing of items, donating to charity, things like that.
Another thing is just being conscious of items that cannot be shipped. Typically that's things like aerosol cleaners, alcohol, houseplants, paint, things like that mostly for safety reasons. So make arrangements for how to alternatively transport or dispose of those things as well.
MYMOVE: On moving day, should the customer just kind of get out of the way or do movers like them to be around to answer questions?
Roth: When the crew arrives on moving day, they'll have a copy of the estimate and everything that the customer wants moved. They'll want to meet with the customer just to validate certain things. And I think there will be times when they'll ask for your direction, especially if it's a large shipment and it's multiple days of packing and loading. They'll probably ask you to prioritize what things are you still going to need tonight that we should hold off until tomorrow, things like that. But the other way is like, have a seat, sit back, and let the professionals do what you're paying them to do.
MYMOVE: What's the worst item to move?
Roth: I don't know if there's a worst item to move. There are difficult items to move. Extension ladders are very difficult to move because they take up a lot of space, but they don't weigh very much. So we find a lot of people leaving extension ladders behind. Gun safes can be very difficult, especially if they're in a basement and it's not a walkout basement, getting those up (the stairs). Canoes or kayaks for the same reason as extension ladders. They take up a lot of space. They're just kind of bulky and awkward.
MYMOVE: Are there any things that movers won't move or won't do that they often get asked to?
Roth: A lot of times people will want us to go down in like crawl spaces, under homes, or go up in attics. We don't typically do that for safety reasons. So we asked customers who want things moved from that area, please bring them out, put them in the garage, whatever. But otherwise we have creative solutions for almost everything.
MYMOVE: Are there any moving myths that you want to dispel?
Roth: Moving is challenging because if you're a customer moving from St. Louis to Chicago for example, it might take you six hours to make that drive. So a lot of times customers will have the expectation that their shipment will load up and they'll follow the truck to destination. But then operators and interstate carriers have much different rules in terms of hours of service — it's all very heavily regulated. They can only work for a certain number of hours before they have to rest and for obvious reasons. You don't want an overtired driver of a 53-foot trailer on the road. So the transit times can be slightly longer than people expect because we have to adhere to those hours of service.
MYMOVE: Any other things that customers usually ask about?
Roth: A tip that I always like to give people is to be careful of what you pack on the moving truck during specific times of the year. So if you're moving around the holidays, I don't recommend packing Christmas gifts or other holiday gifts on the truck. Because you never know what unanticipated delays may arise. Or I've seen brides packing their bridal gown on the truck, relocating ahead of their wedding, so I don't recommend things like that. I think if things are valuable to you for whatever reason or are super time sensitive, that you'll probably want to take those with you either in your car or on the plane.
---
Got a moving question you need answered? Reach out to us at social@mymove.com.