Your Move, Millennial: 5 Decor Hacks for You and Your New Place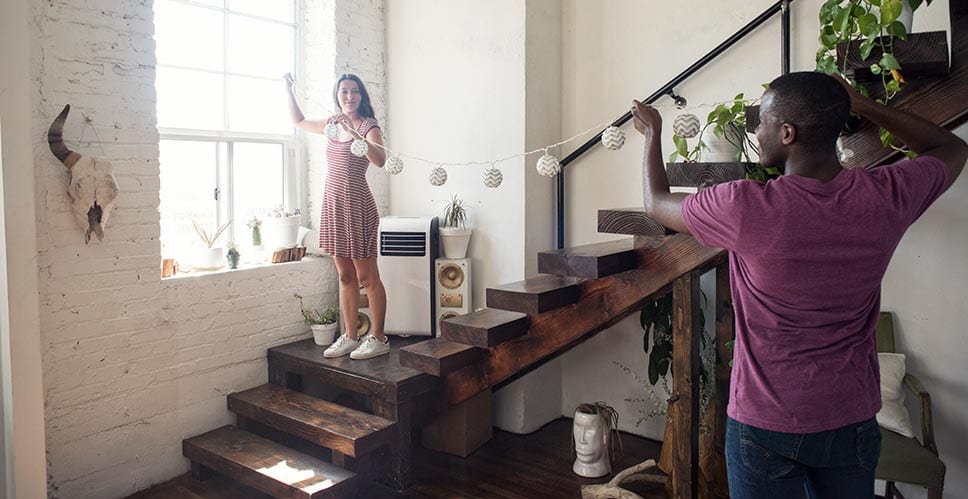 Millennial: Lover of modern furniture, savvy upgrades, and minimalistic decor — all on a low budget, of course. Speaking your language? That's what we thought.
If you're among the crowd of millennials who prefer to live in high-cost cities, you may be now embracing a smaller space — with less income actually going toward decorating it. But you may still crave some interior touches in your new home that'll showcase your millennial soul.
We've got five decor hacks for your new home with one thing in mind: You. Your move, millennial.
Just because your new pad isn't brimming with blatant space doesn't mean there aren't crannies to be capitalized on. First space saver: The coffee table. Store extra pillows, seating, poufs, and chests under it for aesthetically pleasing organization. Not feeling the under-the-table concept? Hide stuff within it. The keywords "coffee table with hidden storage" will yield some winners.
In the bedroom, ditch under-the-bed bins for a sleek, functional built-in storage design. We've only scratched the surface, but we've got to keep moving. Search "floating" and "fold-down" tables for more space-saving furniture you can multipurpose as dining tables, desks, and nightstands.
2. Support Other Millennials
Can we agree that millennials are current on trends? It takes one to know one, so lean on the design prowess of other millennials when it comes to selecting some conversation-provoking pieces for your own home. Many of their brands are predicated on innovative, affordable stylishness. Proof? These 13 Millennial-Founded Design Brands boast some seriously chic decor statements ranging from candles to peel-and-stick paint swatches.
3. Keep your Friends in Mind
Let's face it: Your friends are chomping at the bit to visit your place, and signs point to many house crashers in your future. If big-city, small-space living has a guest room currently out of reach, look to your living room for extra crash space. Before making new seating purchases, consider those that can double as bedding. Pull-out sofas and futons have come a long way in comfort, but a convertible sleeper chair could be right up your alley, too. Sectional couches offer makeshift sleeping arrangements for the low maintenance house guest, but if its use will be frequent, make sure it's equipped with durable, high-performance fabric.
4. Choose Blackout (Not That Kind)
No, this isn't specific to a late night out, but it won't hurt the next morning if that is on your docket. Blackout curtains keep the sunlight out — and thermal curtains reduce the amount of heat transferred through windows. That translates into cooler summers, warmer winters, and year-long energy savings. And they're no longer the low-end styles they were once relegated to. Blackout shades are now boasting a variety of colors, textures, qualities, and prices.
Already attached to your drapes? Simply add blackout liners (even to white). If your interest is piqued, read everything you need to know about blackout and thermal curtains.
5. Save Energy with a Finger
If we're getting technical — this one isn't decor per se, but an energy-saving wall fixture to match those efficient curtains deserves an honorable mention. Regardless of your home size or type, it'll benefit from the Nest thermostat. The innovative product learns and adapts to your schedule, automatically saving energy when you're not using it. You can remotely change the temperature when you're not home — or even if you're in the next room and too enthralled with Netflix to get up. That's a sustainable idea we can get behind.
---
Everything for your move, all in one place
Curate your personalized moving checklist, set up TV & Internet, and more with a free MYMOVE account.
Save on your move and tackle upcoming to-dos with your free MYMOVE account.