How to Move Into Your First College Apartment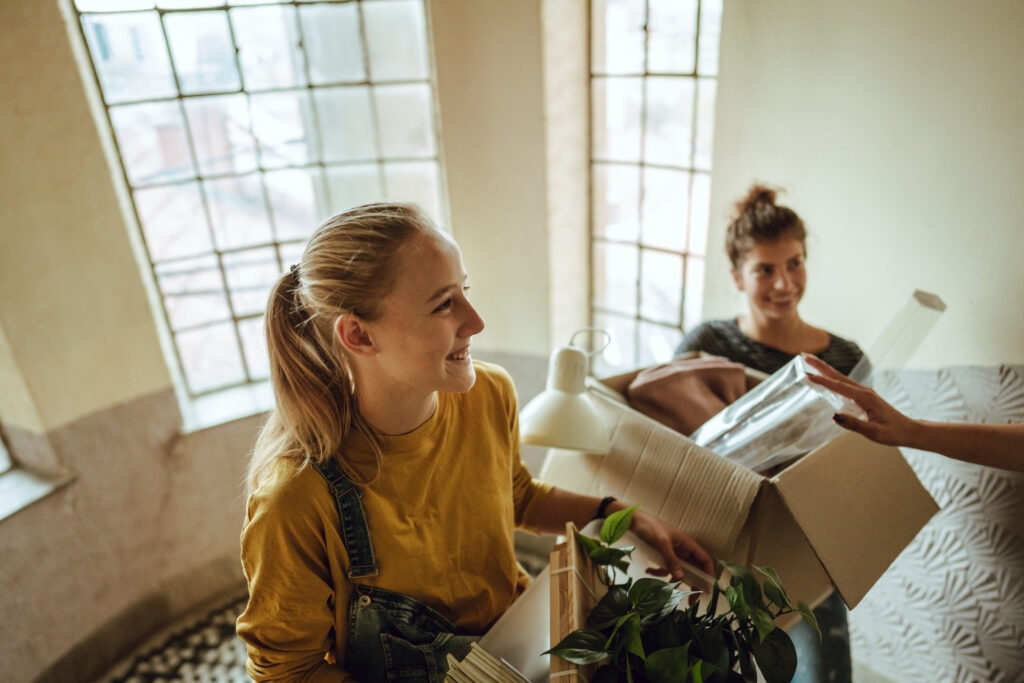 Unlike living in on-campus housing, moving off-campus means you are on your own regarding many things. This college student's first apartment guide outlines what you need to do to prepare and prioritize.
Prepping for your first apartment as a college student
Locate apartment complexes close to campus: Finding an apartment that is close to where you go to school and work helps cut down on expenses like parking and gas. Choosing complexes is also safer because they tend to have more security or locked buildings or gates like college campuses do.
Determine which complexes let you have a cosigner: As a college student, first apartment financing can be tricky. You're not going to be making three times your rent while a full-time student. So, look for complexes that allow cosigners on the lease or rental agreement.
Budgeting what you can afford as a student: Can you find an apartment that is affordable enough to live in on your own? Answering this question, plus factoring in utilities and your commute is the first step toward developing a budget.
Picking a move-in date: Make sure you pick a date to move that gives you breathing room before classes start. You'll save yourself a significant amount of stress by moving in early and getting settled ahead of time so you can then focus on school.
Finding internet providers, roommates, and more: Before moving in, set up services like internet and electricity. If you cannot afford to live in the apartment alone, now is also the time to look for dependable roommates who can potentially share those costs.
Make a list of apartment essentials: Prepping for a college student's first apartment means making sure you have the necessities, including furniture for each room, small appliances, dishes, utensils, cookware, and more ahead of time. Start packing or purchasing these items, or see if your family has any they can donate to you. Or you can use our handy college apartment essentials checklist.
Stock up on supplies: Before moving in, shop at discount stores (like Walmart or Sam's Club) for non-perishable food and cleaning supplies so you'll have a foundation to work from after moving day.
Pick up packing supplies and book a moving truck: Look at what you want to move into your apartment versus what you can store. Depending on the size of the new apartment, you might need to store some items. Pick up boxes and rent a moving truck or ask friends and family to help with pickup trucks for the day of the move.
How to move into your first college apartment in eight easy steps
Step 1
Renting a moving truck.  If the college you are attending is out of state, you'll need a truck if you're moving large items. You can complete many in-state moves with the help of friends or family in their pickup trucks. However, longer-haul moves require preplanning with a moving truck.
Step 2
Making sure utilities are set up before you move in: Finding providers is one thing, but ensuring these services are available on moving day is another. When setting up your services, make sure everything will be up and running on day one. 
Step 3
Do you have the furniture you'll need? For a college student, first apartment furniture budgets are usually low. Look to thrift stores, family donations, and discount furniture stores to pick up everything you need before move-in day. If you have a roommate, find out what they plan to bring to use in communal spaces.
Step 4
Making sure you have time to get parking passes from your leasing office. Make sure you arrive on moving day before the leasing office closes. That way, they can answer any last-minute questions you have. They may also give you a parking pass so you don't get towed on your first night
Step 5
If you are moving in with a roommate, make sure your communal stuff is marked. Communal items might include books, glassware, decorations, and more. Marking these items ensures you know what belongs to you when it is time to move out. And talk ahead of time – do you both really need to bring your Keurig?
Step 6
Going through the apartment before moving anything in. Take photos of each living space and, if there are any discrepancies, make a list. Documenting issues like scratches on baseboards or stains on carpeting using photographs prevents you from getting charged for them when you move out.
Step 7
Locate laundry services. Some apartment complexes have laundry services on the property. Find out where they are, when they are open, how much they cost, and how to pay (e.g., coins, card). If no laundry room is available, locate a laundromat nearest to the complex or your college.
Step 8
Filling out a change-of-address form. Even though you are hooking up services with your new address, other mail might still go to your college campus or your parent's home. Filling out a change-of-address ensures everything comes and, if you forget to alert businesses or other individuals of your move, you'll receive mail with yellow tags from your previous address alerting you as to where you need to update your address.
The bottom line
A college student's first apartment is a liberating milestone. You are going to be on your own for the first time, so that involves planning and preparation. Starting with looking for apartment complexes close to campus and on to packing your items, there are a lot of moving parts. You'll need to set up services and determine if you need a roommate, for example. Following this guide is an excellent way to help you stay organized and not forget those all-important details.
Frequently asked questions
What are some cool things for a college apartment?
Look for bedroom decor that reflects your style, like bedding, throw pillows, and area rugs. In communal spaces, find space-saving options like coffee tables or ottomans with built-in storage. Use removable wallpaper, photo collages, and window decals to dress up shared spaces.
Is having a cosigner bad?
Rental payments are typically not reported to credit agencies so, if you co-sign or need a cosigner, that is not going to reflect badly on your credit. When full-time college students have a cosigner, that means it is the cosigner's responsibility to pay the rent if the student can't. That assurance helps give landlords peace of mind.
How do I find affordable apartments?
Finding an affordable apartment is more than looking for the lowest rental rate. You should also factor in commute time to your school and work, if laundry services are available, and if you'll share with a roommate(s). Then, contact a real estate agent for the area you are interested in and ask them if they have any affordable listings. There are also a wide variety of websites available where you can search for affordable apartments.