College Apartment Checklist: All the Essentials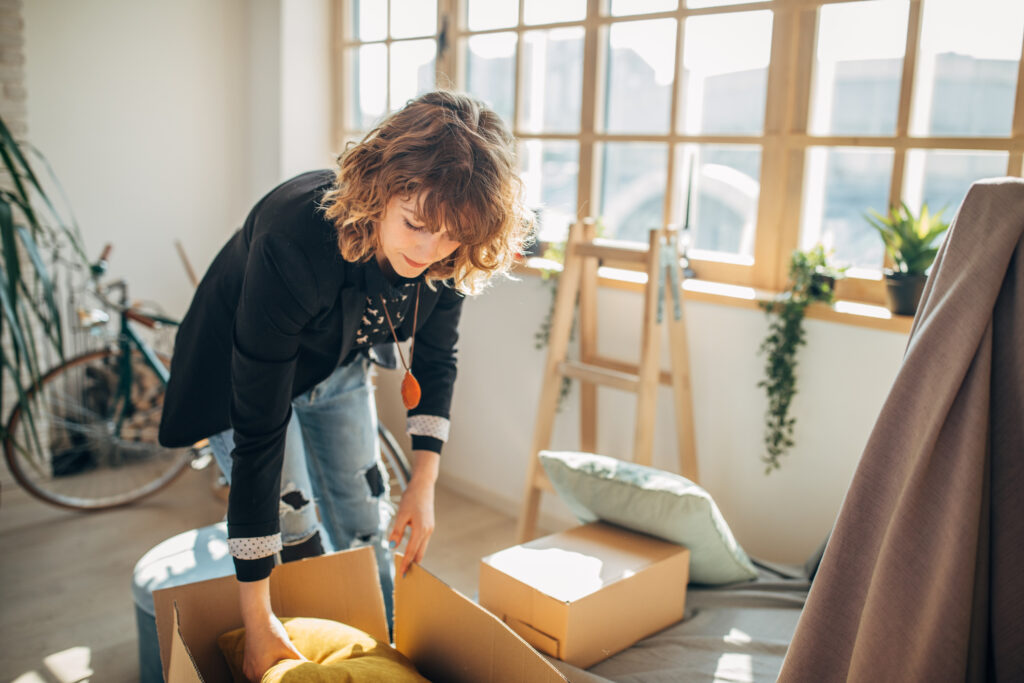 Moving from your dorm into your college apartment is a major milestone. As you prepare for the next chapter in your life, creating a college apartment checklist will help you stay realistic about college apartment essentials. After all, do you really need a $500 juice maker? We have you covered with a complete list of must-have items for both function and style.
College apartment checklist: 50 essentials
Gather all of your essentials with our Printable College Apartment Checklist!
Bedroom
Bathroom
First true kitchen
Living room
Study space
Small-space storage
Decoration
Miscellaneous things you won't know to buy until you need them
How to set up your first college apartment, step by step
Step 1: Confirm with your landlord which utilities you are responsible for paying.
Set up whatever is not included with the rent, such as electricity, gas, water, internet, and cable services. Schedule utilities to be turned on either the day of or a few days before your move-in because unpacking in the dark is never fun.
Step 2: Celebrate! You now have the keys to your castle.
Speaking of keys, be sure to make an extra set for a trustworthy friend or family member. No one wants to be locked out of their new digs. Depending on where you're renting, changing the locks may also be an option.
Step 3: Once the moving day has arrived, remember to stay organized.
Before bringing in your moving boxes and furniture, have a clear plan of where everything will be placed. Double-check that boxes are labeled clearly so your moving helpers will know which room the boxes belong in.
Step 4: Plan the living room.
Assess your living room layout before bringing in your sofa, TV stand, and TV. Decide how you want your living room furniture laid out and have your tape measure handy to double-check it will fit in the proper spaces. You'll likely have to position the TV where the cable hookup is located, and set up your coffee and side tables to complement your overall room layout.
Step 5: Set up your bedroom.
A major part of your college apartment essentials is your bedroom. This is your opportunity to create your very own sanctuary. Since your mattress will play center stage, set that up first. If you've purchased a new mattress, bed-in-a-box style, be sure to unbox your mattress in your bedroom so you don't have to haul it across your new apartment. Mattresses are heavy and difficult to relocate. Have your toolkit handy to hang your curtains for privacy.
Step 6: Unpack the kitchen.
It is said the kitchen is the heart of the home and your college apartment checklist will certainly have quite a few kitchen essentials. Take time to unpack and store your kitchen items including tableware, dishes, glasses, and pans. However, don't overstress about where it will all be located. Once you get comfortable moving around in your new kitchen, you'll realize what works best for you.
Step 7: Organize the bathroom.
Get your bathroom in tip-top shape by organizing your toiletries, hanging the shower curtain and liner, putting out your bath towels, and taking advantage of any under-the-sink-storage for necessities such as toilet paper, tissues, and cleaning products.
Step 8: Get to work (literally) on your study space.
Now that you're in your first college apartment, you can create a designated study and work area. No more cramming for finals in the cramped library! Everyone works and studies differently, so decide what will work for you. Do you study best with a view of the outdoors or tucked in the corner of a room? No matter where you set up your study space, be sure it has access to plenty of outlets (or a power strip) to plug in necessities such as laptops, charging stations, printers, and lighting.
Step 9: Add the finishing touches.
Spruce up your walls with photos, a mirror or two, shelving, and a hanging plant. The personal touches will make your college apartment feel like home.
Step 10: Consider storage options for smaller spaces.
When preparing your college apartment checklist, multipurpose and space-saving items are a fantastic option. Think about items like ottomans that serve as both seating and a place to tuck away books or blankets.
The bottom line
Move-in day will be a huge success as long as you create a college apartment checklist to guide you along the way. Avoid letting these big changes and decisions overwhelm you. This new chapter of your life will be filled with many happy memories.
Frequently asked questions
Where can I get college apartment furniture for cheap?
College is expensive and adding an apartment shouldn't be a budget buster. Shop for gently used, cheap furniture at second-hand stores such as Goodwill or Habitat for Humanity. Yard and estate sales are other ideal places to snag a discount.
What should I bring to a furnished apartment?
 The great news about a furnished apartment is all of the large furniture and key pieces are already set up. Bring items such as a mattress protector, a comforter and sheet set, and towels. Charging cables, clothes hangers, and food storage for your personal food items are other must-haves.
When and how do I pay rent? 
In today's digital age, online rent payments are the norm. However, paying online may include a service charge. Speak with your landlord about the best way to make your monthly payment and avoid any late fees.
Where will I park my car? 
This is a detail that should be clarified before you lock into a rental agreement. Some apartments include a designated parking spot, while others may only have on-street parking. If you'll be parking in a lot, inquire if there are security cameras or a guard on duty to ensure safety.
Can I paint the walls? 
Before purchasing several gallons of the perfect shade, speak with your landlord about permission to paint. Some landlords will allow tenants to paint their apartments as long as the walls are repainted white before moving out.