Find Satellite Internet for Your Home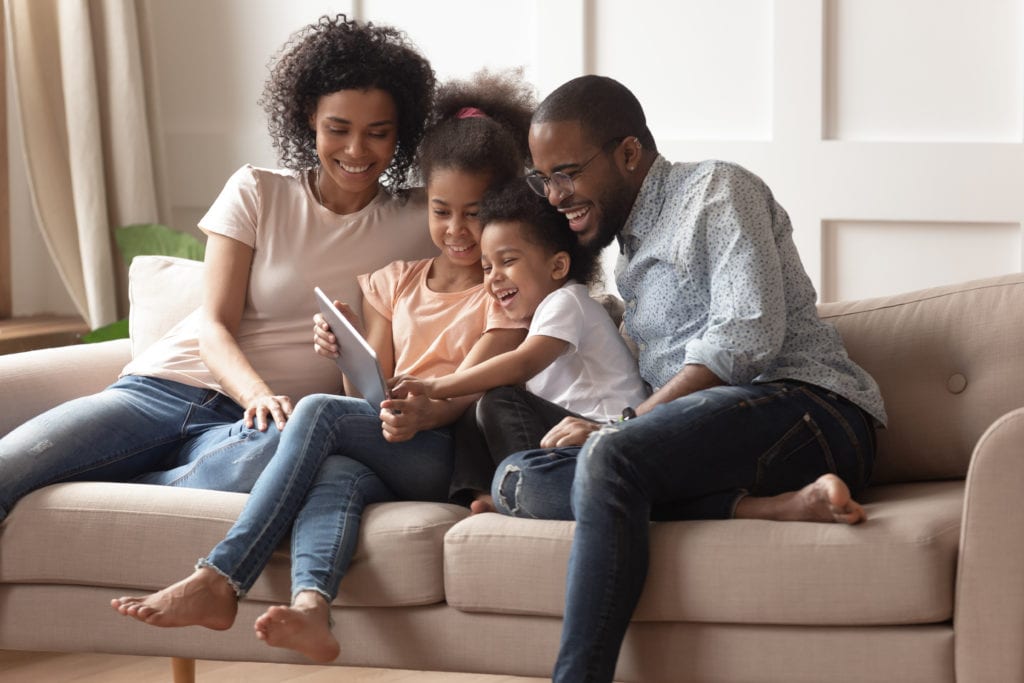 If you're relocating to a remote area of the United States, satellite internet may be your only option. It's available almost everywhere in the country, but it's generally a lot slower and more expensive than other types of internet, and you'll have to deal with restrictive data caps. There are three main satellite internet providers: HughesNet, Viasat, and, more recently, Starlink. On this page, we'll go over how satellite internet works, the pros and cons of each provider, and some ways to save on your bill.
What is satellite internet?
As the name suggests, satellite internet providers connect you to the internet through dedicated satellites that transmit and receive data while orbiting in space.
Internet satellites are geostationary, which means that they maintain their location relative to Earth by orbiting the planet exactly once every 24 hours. ISPs using these geostationary satellites are able to provide coverage almost everywhere in the country, offering service to rural areas that might have previously been limited to dial-up internet.
Despite the signals beaming into and back from space, the experience of using satellite internet is the same as using any other type of connection. However, you will need different hardware to connect to service.
How does satellite internet work?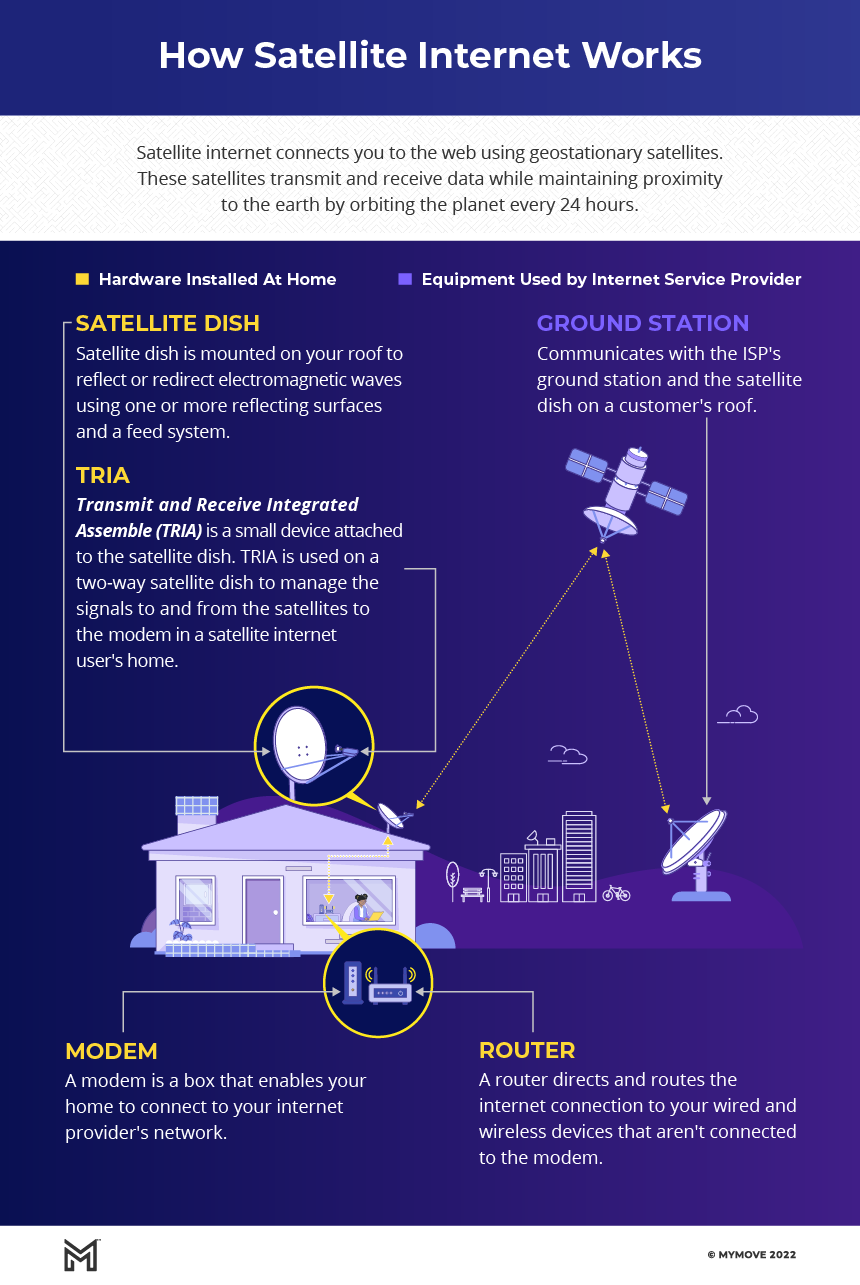 In addition to your modem and router (or combination device that does both), you'll also need a satellite dish. Internet satellites use spot beams to transmit signals to specific parts of the country, and your satellite dish must be carefully positioned to bring in the proper signal. In most cases, satellite internet providers will send a technician to position your dish for you.
When you connect to the internet, data is transmitted back and forth between your dish, the satellite orbiting the Earth, and your provider's network operations center (NOC). The NOC uses a much larger dish to support its customers, and it also connects to the backbone of the internet to send and receive the data you request.
Note that satellite internet speeds are not high when compared to options such as fiber-optic or cable. High-speed satellite internet, offered through Viasat, goes up to 100 Mbps. By comparison, HughesNet offers 25 Mbps service. Satellite speeds tend to be faster than those of traditional DSL, which hover around 15 Mbps. But wired connections can reach internet speeds of 1,000 Mbps (cable) and 5,000 Mbps (fiber).
Satellite internet near me
There are only three satellite internet providers in the United States: HughesNet, Viasat, and Starlink. HughesNet and Viasat are available almost everywhere throughout the country, while Starlink is still expanding its service.
| | | | | |
| --- | --- | --- | --- | --- |
| Provider | Starting price* | Speeds | Data Caps | Contract |
| HughesNet | $64.99/mo. | Up to 25 Mbps | 15 – 75 GB | Two years |
| Viasat | $64.99/mo. | Up to 100 Mbps | 40 – 150 GB | Two years |
| Starlink | $110.00/mo. | Up to 200 Mbps | None | None |
*Prices updated 09/08/22
A deeper look at HughesNet satellite internet
Pros
Available almost everywhere
Extra 50GB of data available each month available from 2 – 8 a.m.
Speeds are close to what's advertised, according to FCC report
Discounted pricing for first six months
Cons
Data caps start at just 15 GB, making streaming or video calls impractical
Only one speed to choose from — 25 Mbps
Two year contract required
$99 activation fee
Every HughesNet plan gets you 25 Mbps download speed and 3 Mbps upload. HughesNet lets you choose the amount of data you need, with plans varying by data allowance. The basic plan starts at $64.99/mo. for 15 GB of data and the plan with the largest amount of data (100 GB) goes for $149.99/mo.
If you do exceed your data limit, you have the option to buy more or continue using the internet at reduced speeds. HughesNet also includes a "bonus zone" — an extra 50 GB/mo. to use between 2 a.m. and 8 a.m. local time at no additional cost.
A drawback to HughesNet is its cost. If you only need a small amount of data each month, the 15 GB base plan is a decent deal. But for those who need more data, the 50 GB plan costs well over $100/mo. Another potential problem for those who like flexibility is the 24-month contract requirement.
A deeper look at Viasat satellite internet
Pros
Available almost everywhere
Discounted pricing for first three months
Speeds up to 100 Mbps in some areas
Cons
Two-year contract required for best price
$99.95 professional installation fee
Speeds max out at 30 Mbps in some areas
Viasat offers unlimited satellite internet, which can be a huge benefit for power users. However, the company does reserve the right to drop your data to lower priority during times of network congestion once you reach 40 to 300 GB in a month, depending on your plan. Plans vary by internet speed, with offerings ranging from 12 Mbps to 100 Mbps.
Those who prioritize flexibility will love the no-contract option, which costs $300 upfront and lets you cancel anytime. But if you don't choose the no-contract option, there is a 24-month contract requirement.
Prices, plans, and even speeds may vary by geographic region, which may be an issue if you want to take service with you when you move. In addition, the advertised starter prices are valid for just three months, after which time your bill will go up. But once your promotional price ends, you'll receive a two-year price lock guarantee.
A deeper look at Starlink satellite internet
Pros
Speeds up to 200 Mbps — much faster than other satellite internet options
No data caps
Easy self-installation
Cons
Equipment costs $599 upfront
Availability limited to northern U.S. states
New customers are on a wait list until 2023
Starlink is the newest satellite internet provider on the market, and it's a major improvement from HughesNet and Viasat. Unfortunately, it's not nearly as widely available as HughesNet or Viasat. Part of Elon Musk's SpaceX company, Starlink uses low-orbit satellites 60 times closer to Earth than the kind used by HughesNet and Viasat. This allows them to provide much faster speeds, and they don't hamper you with any data caps.
If you want Starlink, you'll have to put down a $99 deposit and get on the waiting list. In most areas, Starlink says it expects to expand service in 2023, but there's no specific timeframe. You'll also have to $599 for the satellite itself, which you can install on your own. There's only one Starlink plan available: $110/mo. for 100 – 200 Mbps.
According to Ookla, Starlink provided median download speeds of 91 Mbps and upload speeds of 9 Mbps in the first quarter of 2022. That's significantly faster than you would get with HughesNet or Viasat.
Pros and cons of satellite internet
Pros of satellite internet
Availability
All you need is a clear view of the southern sky and a roof to place your dish on. Even if you live somewhere that running lines would be difficult, such as a valley surrounded by mountains, satellite internet can reach you.
Nationwide coverage
Other forms of internet service are based on your location, as you can only connect to a service provider that has lines in your neighborhood. Satellite internet is available nationwide. If you plan to move, this can be a huge benefit, since you won't need to change service providers.
Cons of satellite internet
Cost
Satellites cost money, and satellite internet is among the most expensive options. If you're only a light user, you can find a plan that is comparably priced to other service types. However, those who need a lot of data can quickly see costs skyrocket.
Speed and latency
Though it's faster than dial-up and comparable to higher-end DSL, satellite internet is significantly slower than cable and fiber-optic. In addition, because your signals have to bounce off a satellite more than 22,000 miles above the Earth, there's some latency — or lag time. You may not notice it in casual use, but gamers might get frustrated with a bit of delay between actions.
Dish issues
Conditions on the ground can affect your internet connection. Severe weather or a mispositioned dish can cause your satellite internet to slow down or disconnect.
Ways to save on satellite internet after you move
Moving isn't cheap, so it's important to save money when possible. Here are a few ways to cut costs on your satellite internet:
Consider bundling your satellite internet and TV services for additional monthly savings
Look for new-customer discounts and promotions
Take advantage of off-peak hours for large downloads
Satellite internet FAQs
HughesNet offers speeds of 25 Mbps, Viasat speeds range from 12 Mbps and 100 Mbps, and Starlink provides 100 to 200 Mbps.

Yes. Just keep an eye on your data usage, as exceeding your limit may lead to a slowdown of service speed. Also, consider downloading video overnight during off-peak hours to watch the next day.

A huge advantage of satellite internet service is that it's available nationwide. If you're happy with your provider, there's no need to change just because you move, even if you're relocating across the country.

It depends. Connection speeds are generally fast enough for most games. However, you will need to keep a close watch on your data usage to avoid exceeding your limit. You may also experience latency (or lag time) that could cause frustrating delays.