Can Climate Change Kill the Internet?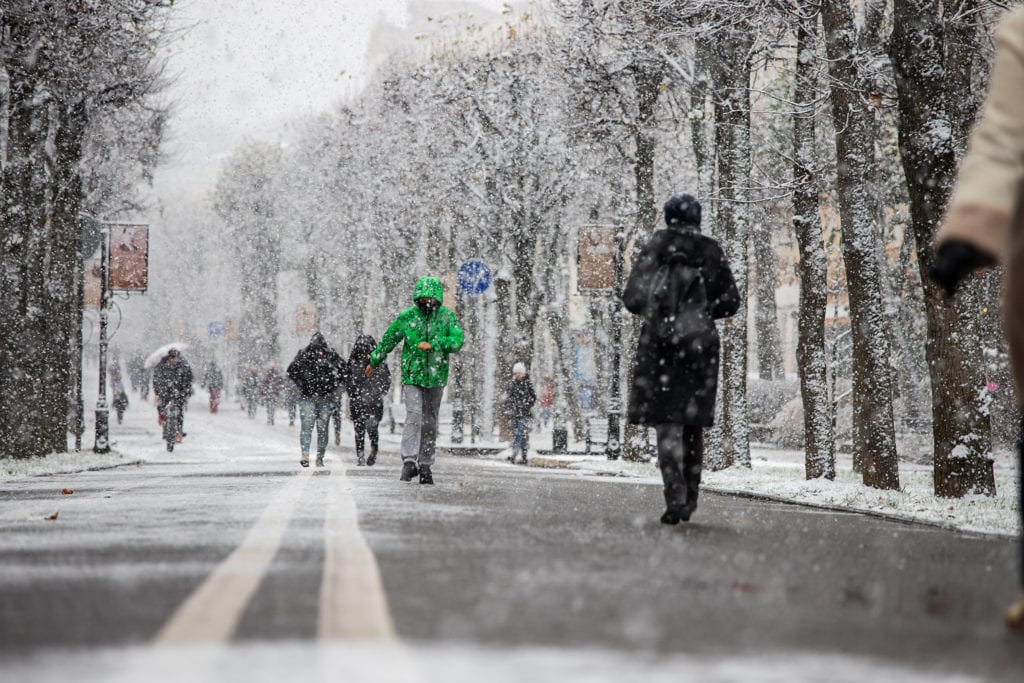 We live in a connected world. At any point in time, each of us likely has access to multiple screens — and that means multiple connections to the internet. In an instant, however, Mother Nature could disrupt those connections.
The recent California wildfires, for example, wiped out all utility infrastructure, including electrical and internet, in parts of the state. In 2018, Hurricane Michael caused similar outages on the Florida Panhandle, and Hurricane Maria caused the world's second-largest blackout in Puerto Rico. And in countless parts of the U.S., every time tornadoes, high winds, heavy snowfall, ice storms, and even dust storms occur, the utility infrastructure that modern life depends on has the potential of being taken down — not just for hours, but for days and weeks at a time.
In fact, researchers mapped out the existing internet infrastructure in the U.S. and anticipate the rising sea levels from global warming to become a significant threat, eventually impacting internet connectivity across the entire U.S.
Since we see the internet as a personal lifeline, it's essential to understand the outage threats near you. This way, you can make sure you're using the best (and most reliable) internet service provider in your area and can be prepared if you lose connection during or after a severe weather event.
How to know what types of weather events can impact your area
One of the hallmarks of emergency preparedness is to be aware of the type of disasters you should anticipate when it comes to protecting your home, your family, and your business. First, determine what types of extreme weather are most common in your area:
Flooding
Earthquakes
Wildfires
Hurricanes
Severe storms (lightning, tornadoes, snow, ice, dust)
Extreme temperatures (cold and hot)
Then, use the resources available on Ready.gov to familiarize yourself with what to do if a particular extreme weather emergency hits. Think ahead of time about the disruptive things that could happen and how your internet connection may be vulnerable.
How is telecommunications/internet impacted by weather events?
When damage to the power and telecommunications infrastructure affects a small area and is not devastating, services usually return quickly. But if you have small children, are a caregiver for the elderly, or if you have a medical condition that necessitates continuous power and/or internet connectivity, even minor outages are significant. As you plan your personal emergency response, try to find a shelter with power, water, and internet resources that you could use to wait out the storm.
Once the weather event has passed, service restoration can begin. In the meantime, if you do venture out of your home, be on the lookout for downed lines. In areas with above-ground electrical and internet lines, be aware that electrical and cable/phone/internet lines can be indistinguishable to the untrained eye. Contact the electric company immediately if you spot downed lines anywhere, and stay away.
What to do if internet stops working during a storm
Electric and internet operate on different lines, so it's important to note that utilities may not be able to restore the two services at the same time after a weather event.
If you have power, but your internet is still not working, use the following checklist to attempt to restore connectivity:
Power up your connected devices to see if they automatically reconnect to the internet.
If no internet connectivity is found, reset your router and modem.
If you're still experiencing connectivity issues with your wireless devices, move closer to the router.
Test a few websites (particularly ones you do not regularly visit, so they are not in your device's cache) to see if they load. You can also test your connectivity speed.
If you're still having trouble connecting, contact your internet provider for assistance. In some cases, they might be able to resolve your issue over the phone. If it's a harder-to-solve problem, a technician may need to visit the property to restore services manually.
Prepare your family for when weather events interfere with telecommunications
It's important to create an emergency communication plan for your family in case phones and internet go down during a storm. Make sure everyone in your family is on the same page when it comes to what your emergency plan is and how to execute it:
Determine an agreed-upon physical meeting spot, both in your immediate area and further away.
Establish emergency contacts outside of the immediate area.
Store at least one emergency contact under the name "In Case of Emergency" on all mobile phones and devices.
Create a group list on all mobile phones and devices of the people you would need to communicate with if an emergency or disaster occurred (like doctors, employers, caregivers, neighbors, utility providers, etc.).
Compile a list of all possible contact information for each emergency contact, including phone numbers, emails, and social media handles.
Ensure all family members have physical copies of all contact information, as well as any necessary maps (which may prove indispensable if GPS data is unavailable)
Types of internet and their resilience to weather events
There are four main types of internet available for your home and/or business today. These are:
Fiber-optic
Cable
DSL
Satellite
Let's take a look at how each type of service may (or may not) hold up in severe weather:
Fiber-optic
What is it?
Fiber internet connections are one of the fastest home internet options available. Instead of traditional cable, they use light to transmit information. At the originating end, a transmitter converts electrical signals to light. This light then bounces along a special cable made out of glass or plastic. When it reaches its destination, the receiving end converts the light back into data that your computer (and all your other connected devices) can use.
How weather resistant is fiber internet?
Because fiber optic cable is buried, it's extremely resistant to weather events. It can be considered one of the most weather-resistant connectivity options for consumers.
Cable
What is it?
Cable internet uses the same technology as cable television. It uses a coaxial cable (coax) to transmit data. The coax cable contains a copper core that is insulated with aluminum, a copper shield, and an outer plastic layer. Coax cable can supply both the internet connection and television network at the same time. This allows the service provider to bundle the two services together, but to access cable internet, you need a cable modem and a cable modem termination system.
How weather resistant is cable internet?
As with electricity providers, cable companies face a significant choice in terms of deciding to "underground" their transmission wires. As outlined in a recent Popular Science article, there's a trade-off between the high cost of burying transmission lines for the companies and the increase in reliability. In areas where wind, wildfire and/or extreme cold weather events are common, you should take the structure of the provider's system into account. When considering providers, it's worth asking if their cables are below ground or above ground.
DSL
What is it?
DSL, short for Digital Subscriber Line, is a type of internet connection that transmits via a telephone network at speeds that are much faster than dial-up connections. Since our nation's telephone infrastructure is already pretty established, DSL has a larger coverage area than cable internet. DSL connection speeds can vary based on your distance from a telephone exchange.
How weather resistant is DSL internet?
DSL-based connectivity suffers from the same above-ground/below-ground issues as cable-based connectivity. Because of this, it's important to know if your phone company's lines are underground, as this will make a significant difference in the ability to keep service up and working during weather-related events. Also, as highlighted by CNET, there's a belief that because DSL uses copper wiring, it may be especially susceptible to rain-based interruptions of service.
Satellite
What is it?
Satellite internet works by using a satellite dish that receives a signal and then carries this internet signal into the home to a modem or router. The modem or router then relays this connection to your internet devices, such as computers, gaming consoles, smartphones, and more. Satellite internet is high speed, but typically not as fast as cable internet. Additionally, you may experience a data transmission limit with satellite internet, so you won't be able to stream as much video as you like.
How weather resistant is Satellite internet?
As with the more common satellite-based TV services, such as DIRECTV and Dish Network, the signal reception is based on an uninterrupted, line-of-sight connection between the space-based satellite and the dish mounted to your roof. Because of this, rain can disrupt the signal for minutes, or even hours, at a time. If the dish itself gets damaged by wind, or covered in ice or snow, internet connectivity will likely be unavailable to you.
Moving considerations
If you're planning a move and are moving within the same basic geographic area, you may be able to stay with your current internet provider. However, moving provides an opportunity to reevaluate the service options available to you.
According to the most recent American Customer Satisfaction Index report on telecommunications services, Americans remain only marginally satisfied (62%) with their own internet service providers. ISPs, in general, receive a 69% satisfaction rating of their connectivity under "normal" circumstances.
Certainly, your own experiences with outages — as well as those of people you know — may carry significant weight in your personal decision to transfer your existing service or to go with a different provider.
To get a better understanding of what the weather will be like before moving, Weather Underground provides historical weather data by city, state, airport code, or ZIP Code™.
Want to go more in-depth? Then check out the portal run by the National Centers for Environmental Information (NCEI). Get answers to almost any weather question you have about a specific area of the country — from temperatures and precipitation levels, to average snowfall and storm activity.
Once you've read up on typical weather patterns in your new area, use that information to research how local internet providers have responded to severe weather events in the past. When you get a customer representative on the phone, ask about the company's typical outage protocol and how quickly the ISP is generally able to get an internet connection up and running after a storm.
Corporate social responsibility on climate change
A recent report found that seven in 10 consumers will spend more money at a particular business if that company's social or environmental positions align with their own.
While factors like coverage area and cost may be at the forefront of consumers' minds when choosing a phone and/or internet provider, what these competing companies are doing on the corporate social responsibility front can be a deciding factor for some consumers.
Furthermore, some of a company's actions and positions on environmental issues like climate change can directly impact how resilient that service provider might be in the event of a weather catastrophe in your area. For example, you may want to take into account the efforts providers are making in areas such as research on global warming and the impact of climate change. You can also look at the provider's stated abilities to call additional human and equipment resources into areas impacted by extreme weather events.
Check out the pages below as a handy starting point for investigating the social responsibility of various internet providers:
Choose your "modern lifeline" carefully in the age of climate change
As we have seen in recent years, severe weather can impact almost everyone. Because of this, weather concerns should be a part of your decision-making process when it comes to choosing how to connect your home or your business to the internet. Our ability to conduct business and to connect with friends and family is increasingly dependent on the reliability of our internet connection.
Taking the time to choose the best internet service in your area and making sure that your family has an emergency communications plan in place is becoming vital. Experts predict threats from wildfires, rising sea levels, and other forms of extreme weather will have increasingly dire effects on every aspect of life — including the modern lifeline that is our internet connection. Are you prepared?