How to Set Up Trash Pick-Up and Recycling at Your New Home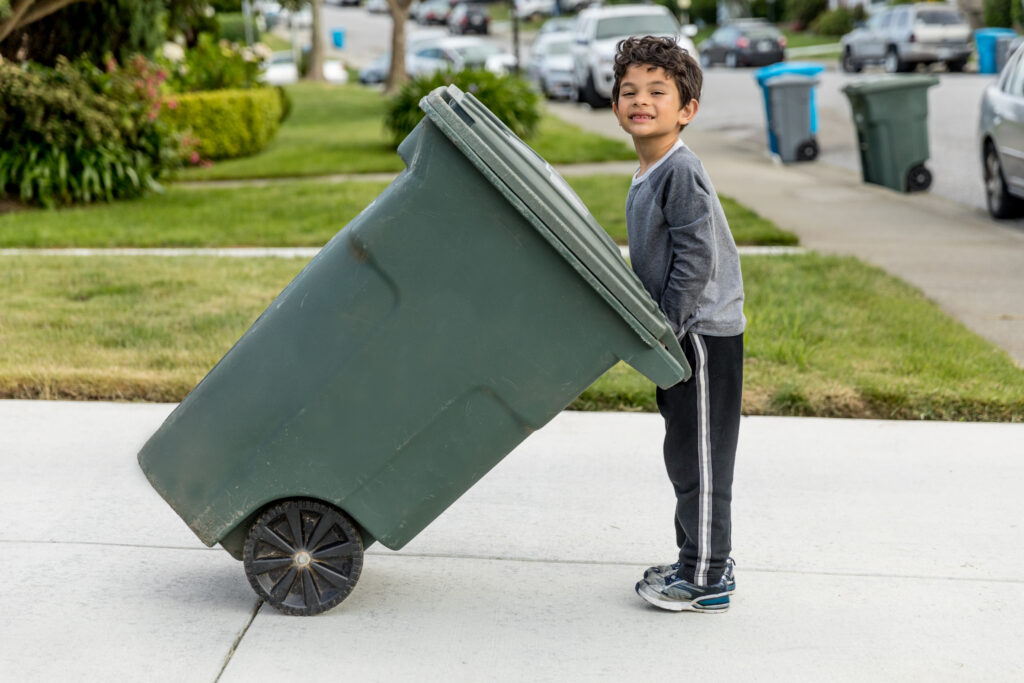 Moving into a new home involves a lot of planning and preparation, including setting up trash removal services. No one wants to deal with heaps of trash, especially after a move. In this guide, you'll learn more about what garbage pickup service to look for, how to set up your garbage collection service, and what all of your trash pickup service options are.
Research trash removal in your area
Before moving to a new neighborhood, spend some time researching trash removal in your area. In many localities, setting up trash pickup also includes recycling pickup. If you're moving where there's a Homeowners Association your HOA might take care of garbage collection service fees. Research if you or the HOA is responsible for trash removal payment.
During your research, visit your future municipality's website. Many municipalities also list trash removal companies, and whether or not Waste Management pickup is available in your area. If you're moving to a rural area, that municipality's website should provide information on local transfer stations and recycling options. For example, some local fire departments let residents use their dumpsters for recycling, others may have roadside stations where you bring your waste and recyclables in yourself.
A step-by-step guide to setting up trash pickup
Step one: Compile information. Setting up service involves including the address where you need service, your move-in date, and – if you had collection service previously – that address.
Step two: Pick out your services. If you need recycling, some companies don't charge a fee.  Pick out the size of the carts you'll need for trash removal. For example, a 64-gallon cart is optimal for small to medium-sized families. Some companies charge a per-use fee for each cart.
Step three: Set up your service. This usually involves using an online application or printing and filling out a paper form. You can also set up services in-person or over the phone. Prepare to pay ahead for the trash removal services you'll need. If you use the online method, typically, after the company sets up your trash pickup services, they'll contact you about setting up a payment arrangement.
Step four: Review and verification. The company reviews your information. If trash removal is already set up at your new address, they'll see if you want to continue with that same garbage pickup service.
Step five: Begin services. If you've set up a brand-new service, the provider will deliver the carts you'll need to start trash pickup service. If a cart is already available at your new address, you can start using services on the next business day.
Consider your household's needs
There are numerous points that you must consider when determining your family's garbage pickup needs. For example, if you plan to run a business like carpentry or welding out of your new home that produces a significant amount of waste. Or, after Moving Day, you might need extra recycling pickups to dispose of all your moving boxes. You can facilitate these extra pickups with Waste Management.
Consider the following bin sizes when determining your household's needs:
32-gallon bin: Can hold up to two bags of trash and is ideal for between one and two people
64-gallon bin: Has a three trash bag capacity and is optimal for between three and four people
96-gallon bin: Holds up to seven trash bags and is best for between five and seven people
Think about the circumstances surrounding the reason behind your move — both where you're moving from and to. For example, perhaps you're moving into a deceased relative's home. You may need to dispose of copious amounts of furniture and other debris. Or maybe you're renovating right away and need a way to dispose of the demolition debris. No matter the situation, you have several options:
Scheduled trash pickup services
Trash removal companies understand that no two households are the same in their waste removal needs. Most municipalities offer multiple types of trash pickup services to meet different needs.
Curbside recycling pickup services
Having curbside recycling pickup services means participating regularly in eco-friendly practices with minimal effort. Use the designated recycling bin, and the trash pickup service handles the rest. Be sure to check your individual recyclables for their class number; your town may only handle certain classes of recyclables.
Renting a temporary dumpster
This option is ideal for those who generate more waste than their designated bin can handle. You can rent dumpsters from trash collection companies in a variety of sizes to help you get rid of large-scale clutter, debris, and other waste.
Scheduling large trash pickup
If you need to throw away bulky items, like furniture from a house clean-out, some might be too large for a dumpster or trash bin. Most trash companies will only pick up big things like furniture, wood, appliances, and mattresses if you call ahead. Before putting anything outside for pickup, call your local 311 to see what you can and cannot put out for curbside pickup, and what day of the week to do so.
The bottom line
Planning for a move into a new home involves several steps, from sourcing boxes to researching trash removal and recycling services in your area. Before setting up services, figure out your overall household needs so you get the right size and number of bins. Many options should be available, whether you just need basic service or to rent a big dumpster.
Frequently asked questions
What will Waste Management not pick up?
Waste Management does not pick up hazardous waste items including batteries, electronics, fluorescent light bulbs, paint, paint cans, prescription medications, and used motor oil and filters. You also cannot put aerosol cans, ammunition, dead animals, firearms, fire extinguishers, gardening products, household items containing ammonia or bleach, propane tanks, sharp items, or thermostats out for curbside pickup.
How do I set up recycling?
Start by checking with your future municipality to see if they offer curbside recycling pickup. If they don't, then the website should contain lists of local companies offering this service. Pick out a service and, if they offer trash removal, then set up recycling services at the same time. If not, then set up your recycling pickup with a local company or see if you can drop your items off at the refuse department or local dump.
What if my neighborhood doesn't have a waste management pickup?
You can call Waste Management services to schedule trash pickup at your future home. However, Waste Management services aren't available in all neighborhoods or rural areas. In that case, research where your local transfer station or dump is and its operating hours.