6 Ways to Get in on the Spiral Staircase Trend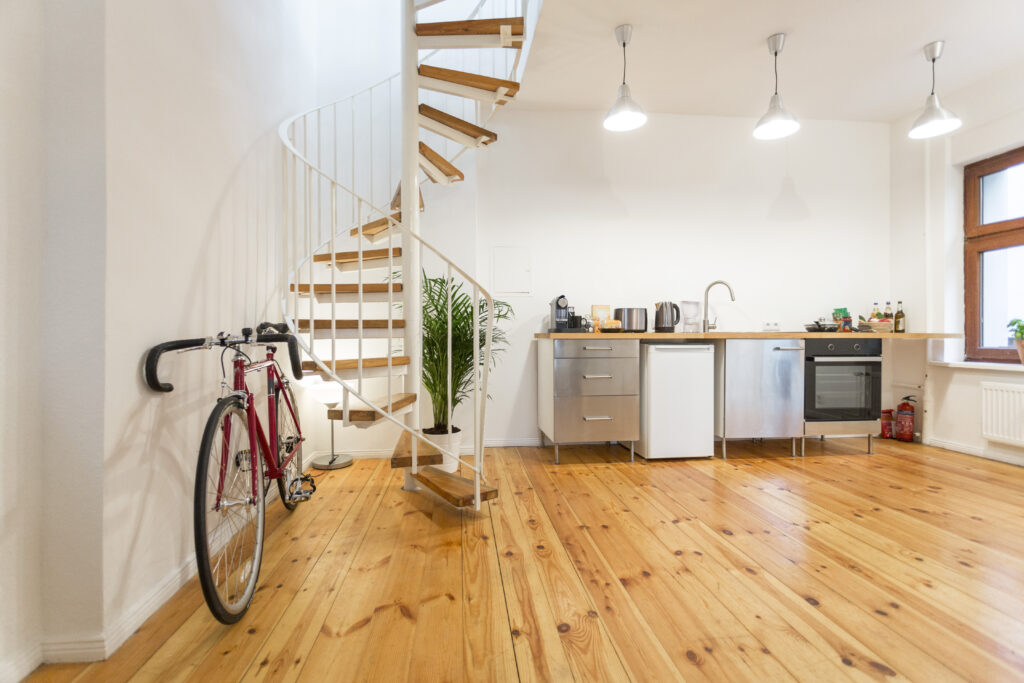 If you're looking for a literal unique twist on a space, you'll want to look into a spiral staircase. Thanks, in part, to universal design and more basic, open floorplans, you just don't see a lot of spiral staircases worked into homes these days.
However, if you want a look that's visually interesting with a touch of a classic and romantic feel, you may want to think about putting in a spiral staircase. Below are some of the top spiral staircase designs. From natural looks to industrial styles, a spiral staircase is a customizable option that fits surprisingly well into almost any home.
Open design spiral staircase
Just because things are going more open plan these days doesn't mean you have to forget about spiral staircases. They've come a long way from being the main mode of access to higher floors in old castle towers. Spiral staircases can have an open, minimalistic feel, like in the photo above. When combined with an open loft design, spiral staircases do anything but close off a space visually.
And the photo above proves that spiral staircases can even work in smaller spaces like a studio apartment. It's a fun way to add some geometric interest to an otherwise clean, white space, too.
Closed design spiral staircase
Of course, spiral staircases can still take on a more classic design. They don't all have to be open and modern. The photo above shows a closed design concept in which the spiral staircase is surrounded by stone texture walls. It gets back to the classic castle design many people think of when they picture a spiral staircase. It's a great option for classic or romantic styles.
Alcoves with candles in them along the stairs can add ambiance and a sense of classical appeal, too. Textured wood is an attractive option for this natural style. Potted plants can add to the natural feel.
Functional space spiral staircase
Unless you build a wacky home where the stairs intentionally lead nowhere, all staircases are functional. The photo above shows how a spiral staircase can combine two stories of the same room. In this case, it opens up another level for a library space. The staircase takes on a new dimension of function by combining these two levels in one space.
Other ideas for a hyper-functional spiral staircase include combining two levels in one guest bedroom or designing a spiral staircase to access additional decorative shelving. Spiral staircases are all about a unique take on a place, so you can get extra creative with these designs.
Industrial spiral staircase
Spiral staircases are a favorite in industrial designs. A stark staircase design gives a more austere aesthetic, often a hallmark of industrial looks. For instance, the minimalistic staircase above shows a lot of exposed metal, which fits right in with the distressed cabinetry and exposed copper piping on the wall.
The mixed material of the black metal and warm wood also gives the piece visual interest. It proves that spiral staircases can be a work of art unto themselves and can add to the style of the space.
As a side note, a tight spiral design like this also works well in smaller spaces.
Square spiral staircase
While not a perfect spiral, this style is still labeled as a spiral staircase. It shows that you can get creative with the geometry a little and still keep the main concept intact. A squared design with added wider platforms makes this a good option for something to go over a first level of traditional stairs.
It's also a good way to get the spiral staircase feel, even if you have a more square or rectangular floor layout or home design. A design like the one above can also keep a tight space looking more open thanks to the glass paneling along the stairs themselves.
Embellished spiral staircase
The embellishments you choose to add to spiral staircases can become their key feature. The photo above shows some leaf designs added to the stairs themselves. It proves even a minimalistic staircase design can still have some more style added in. Little details like this are an easy addition and give a punch to the design.
You can choose a wide variety of embellishment options. Some styles add complicated designs to the handrails or to the outside of the stairs. For instance, spiral staircases in foyers or other key focal points of the home often have complicated, attractive twisting designs on the outside of the stairs for a romantic feel.
Which of the spiral sircase trends above are you most attracted to?