The Art of Wall Art: Modern Wall Decor Ideas and How to Hang Pictures Like a Pro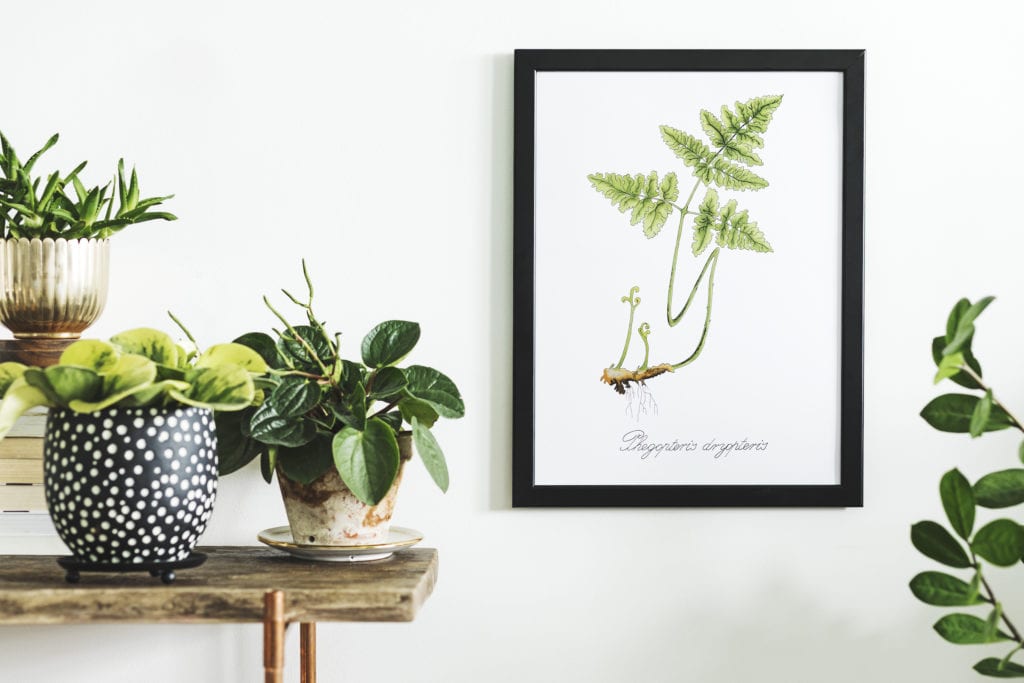 We hope you like the products we recommend. Just so you are aware, Freshome may collect a share of sales from the links on this page.

Shop These Products Now: Wall Painting – Flower Pots – Wall Shelves

[deals-hub-ad]

Is your space all set up with the perfect furniture, but still feels kind of vanilla? Do you live in a modern tract home with big, impossible walls to fill? Are you having trouble deciding what size or type of wall decor to choose or how to hang pictures? These wall decor ideas and tips are going to help you conquer those problems.
How to pick wall decor
First of all, take a look at the wall you're going to fill to decide what size art you should pick. There are many ways to determine this and you'll see different ideas throughout this post.
A good rule of thumb is to choose wall art that takes up the width of the wall, minus 6-12 inches on each side, so it looks like it's centered, like the image above. For example, you have a 36 inch wall. Leave about 6 inches on each side of the piece of art, which means you should choose something around 24 inches wide.
What if you are hanging wall art over a sofa, bed or table?
Choose a piece of art (or a series) that is the same length as the furniture piece or smaller. Avoid wall decor that is wider than the furniture piece; it looks totally weird.
What if you have a gigantic wall?
Large canvas wall art can be very expensive or hard to get into your apartment. Instead, choose smaller pieces that can be laid like a collage or gallery wall like the contemporary living room above.
Shop These Products Now: Tripod Floor Lamp – Shelf Ladder – Throw Pillow – Flower Pots
Hang wall art in a diptych or triptych pattern, which is basically two, three or more panels of art that flow. Be sure to leave at least 2 inches between the pieces. You can do bigger spacing if you have a huge wall, just keep it consistent.
There are also large format canvases or removable wallpaper murals you can use to create a big, dramatic focal point.
Last thing, choose art that is vibrant or graphic or powerful. Otherwise, what's the point?
How to hang wall art
Next, decide how high to hang your wall art. Wall art height is the concept that goes wrong the most. The general rule of thumb is to hang wall art at your sight line, so you don't have to look up too high or too low at it. That means the center of your wall art area is about 60 inches from the ground.
Once you have an idea of a general spot, frame out the area with painter's tape to visualize the spot. Stand back a few feet and see if you like where it sits on the wall. Get artsy with this; maybe you want to hang your wall art slightly off center because there's a plant in the corner or a chair that will block some of it. Create a vignette, or setting, like the image above, where the art is part of the grouping and slightly off center.
There are many ways you can hang wall art and, depending on the weight of the art, you may be able to avoid putting holes in the walls by using adhesive removable mounting tabs.
What if you're hanging living room wall art over furniture like a sofa or sofa table?
Hang the artwork so the bottom edge is 6-8 inches from where the table or sofa back ends.
Shop These Products Now: Sofa – Table Clock – Plants – Center Table
Wall decor ideas
Wall decor comes in all shapes and sizes. There's traditional framed art, lightweight and unframed canvases, object collages, metal wall sculptures and more. Check out these great examples of wall decor ideas for inspiration:
Freeform wall decor ideas
Shop These Products Now: Round Table – Throw Pillow – Tree Plants
Shop These Products Now: Macrame Wall Decor – Wallpapers – Wall Decor Lights
Shop These Products Now: Planter Pots – Wall Shelves – Key Holder
Wall panels
Shop for wall panels: Wall Panels – Diptych Panels
Gallery wall art ideas
Shop for wall art: Photography – Watercolor Art
Living room wall decor ideas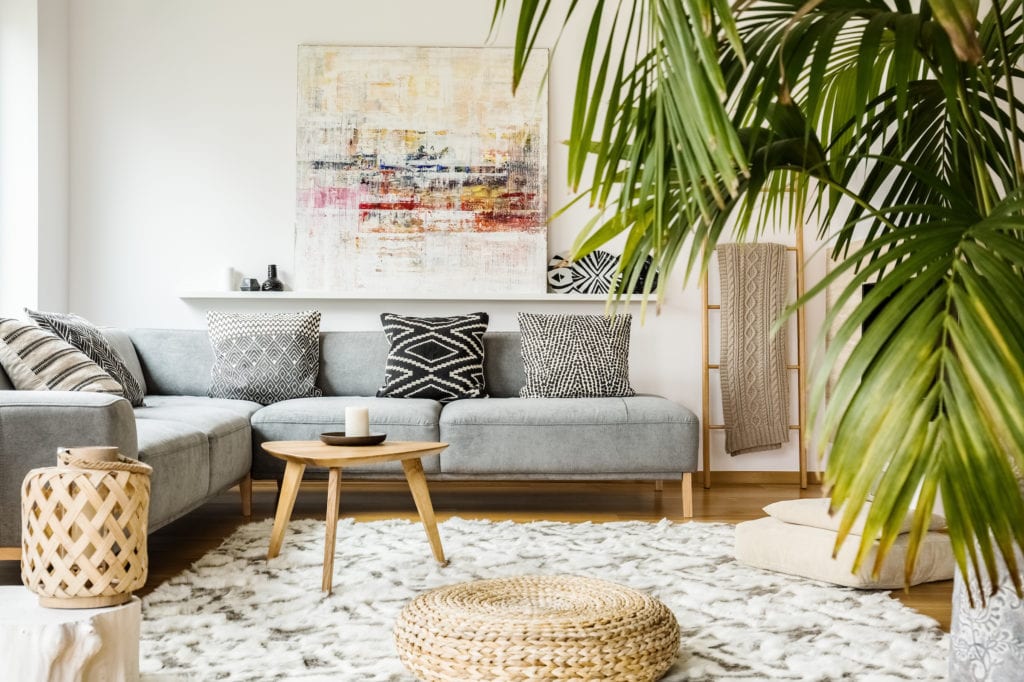 Shop These Products Now: L-Shape Sofa – Towel Ladder – Wall Painting – Throw Pillow
Shop for wall decor: Wall Art – Framed Wall Art
Bold dining room wall decor
The bottom line
You're officially ready to choose and hang wall art like a pro. Turn those boring white or beige walls into a thing of beauty by choosing large, colorful or textural pieces that add life to your space.