What You Need to Know About Pot Fillers Before You Install One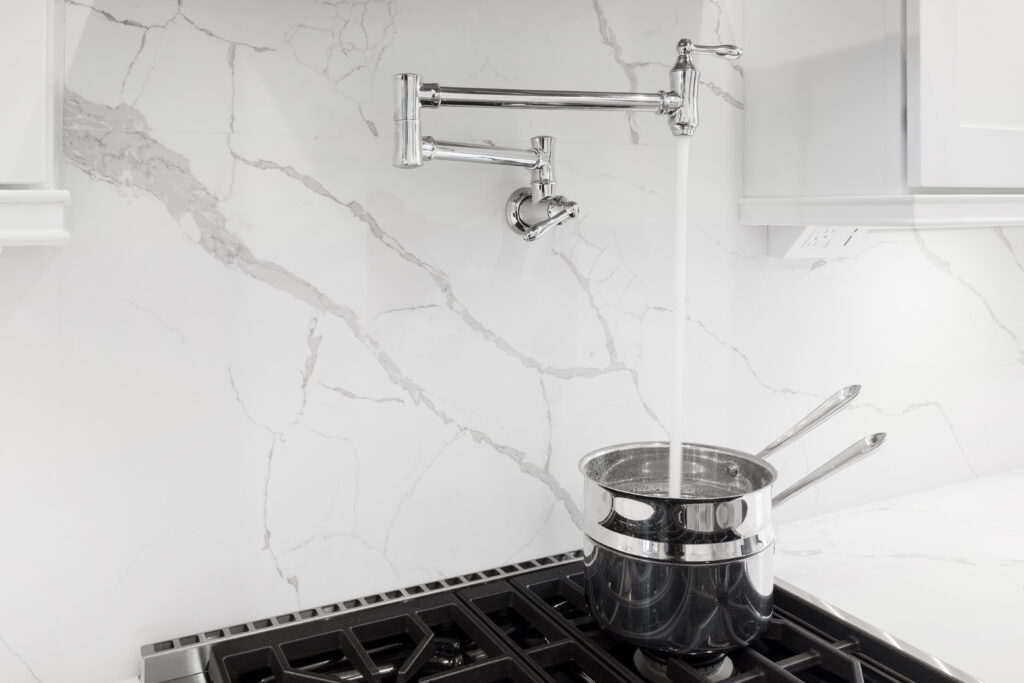 Pot fillers are beautiful to look at, and they're all the rage — in fact, they've been a mainstay in many homes for years. There's a lot to know about pot filler faucets before diving into installing one in your home, though. There are pros and cons to having one in your kitchen, so we spoke with a few experts to get their take on why you might want to install one or why you can maybe live without it. We'll also give you our own pot filler recommendations if you decide it's time to install one in your kitchen.
Understanding the pot filler kitchen trend:
According to Sandra L. Steiner-Houck, President and Senior Designer at Steiner-Houck & Associates in Mount Joy, Pennsylvania, pot fillers aren't a new trend.
"We've been incorporating them into our kitchen designs for many years," Steiner-Houck says. In fact, she recalled installing a pot filler behind a range approximately 15 to 18 years ago.
However, as kitchens are getting bigger, Christine Ramos, Senior Product Manager of Kitchen Faucets at Kohler, believes pot fillers are a growing trend.
"Homeowners are incorporating pot fillers into their kitchens for maximum convenience," Ramos says. She believes it's part of a larger home chef trend.
"Consumers are creating spaces that make them feel and act like a chef," Ramos says, even if they don't have an industrial kitchen. "Farm-to-table and a greater awareness of what one is consuming are also driving the chef trend in the kitchen. The pot filler is another tool in this chef space."
Katie Hayes, Senior Product Manager for Faucets at Gerber Plumbing Fixtures, says pot fillers are right at home if you're looking to create an open-concept and professionally inspired kitchen.
"Kitchen design trends influence all elements and details in the space," Hayes says. "Soft modern and farmhouse styles resonate with homeowners in kitchen designs, including pot filler styles."
In fact, Hayes sees an increase in finishes like Satin Black in the kitchen. "A black pot filler is so striking against a white tile or a marbled wall and makes an impactful design statement," she says.
Dan Worst, Product Manager at Elkay, agrees that pot fillers are definitely growing in popularity.
"We find homeowners are especially drawn to the timeless element of pot fillers but appreciate a more modern, sleek, and clean look that can match their kitchen style, whatever that may be," Worst says.
And because pot fillers have a classic style, he says they can work in a variety of settings, from industrial chic to farmhouse.
Advantages of installing a pot filler faucet
Pot fillers can add a lot of style to your kitchen, but are they practical?
"The French culinary concept of 'mise en place' dictates that everything has a place. It's a mantra for organization in professional kitchens that can be applied to home kitchens," explains Ramos. "The humble pot filler has a very specific role in the kitchen: it must always be located above the stove, and its call to action is to fill pots with water."
Ramos says there are certain advantages to this.
"Pot fillers are tools for efficiency," she says. "They flow at a rate of 4.0 gallons per minute compared to a standard kitchen faucet, which flows at 1.5 gallons per minute. This means you can fill a pot almost three times faster than using your other faucet in the kitchen."
Pot fillers also leave your kitchen sink free for other uses, according to Ramos.
"A pot filler frees up the sink area for other tasks, so you can turn your pot filler on to boil some water while you're simultaneously scrubbing veggies or washing kitchen tools," she says. "A free sink also makes cooking with a partner or friend easier — and, truly, what's better than communal cooking?"
Possible disadvantages of a pot filler
If you're not someone who spends a lot of time in the kitchen, investing in and a pot filler might not be necessary. But for those who love to cook, a gadget like a pot filler can make the experience even more enjoyable.
Shop our favorite pot fillers
Pot fillers come in all shapes, sizes, and colors, so you should have no trouble finding the right one for you. They also come in a variety of prices, which can be super helpful if you're on a budget. Check out three of our absolute favorite pot fillers.
Delta offers really solid pot filler options, but the 1177LF-AR is top-notch. This one comes in with a mid-range price tag (around $300-$500 on Amazon), and it's made to last. It comes in a variety of finishes so you can match it to your kitchen and has dual knobs to make it even easier to fill your pots. It has a 24-inch reach, which should give you a wide variety of access once installed, and it'll fill your pots in no time — it fills at a rate of four gallons per minute. Delta also offers its Lifetime Limited Warranty on this pot filler.
The Sumerain Pot Filler is a great budget buy. It clocks in under $100 on Amazon, which should make it attractive to those who might be on the fence about a pot filler because of the price tag. This one in particular comes in three different finishes so you can match your kitchen and has a 24-inch reach. It also rotates 360 degrees should you need it and fills pots at a rate of four gallons per minute.
The Moen S665SRS is your top-of-the-line pot filler if you have the budget for it. These can cost up to $1,000 or more, but they're very high quality and beautiful to look at. This one specifically comes in a variety of finishes to match your kitchen and has a 24 ⅜-inch reach. It fills your pots lightning fast too — five and a half gallons per minute, to be exact. It's also backed by Moen's Lifetime Limited Warranty so you can rest assured you've got good quality.
What you should know when installing a pot filler in your kitchen:
Our experts had several tips to help homeowners make the right decision regarding pot fillers.
"It's important to ensure your pot filler has a spout with 360-degree rotation for maximum convenience," says Ramos. She also recommends at least a 22-inch extended spout to reach each burner on your cooktop.
If you make the decision to add a pot filler during the design stage of a kitchen remodel, Worst says you'll have the smoothest installation process.
"I would advise homeowners to do their research first so they can ensure the design fits the style and functionality of their kitchen," Worst says.
If you're thinking about installing a pot filler after the design stage or you want to add a pot filler to your existing kitchen layout, Worst recommends contacting a local plumber to see if there will be any installation challenges and to also discuss your options.
You should also measure your cooktop, as well as the height of your tallest pot when determining where to install your pot filler.
The bottom line
Pot fillers can be a very useful tool in your kitchen as long as you do a little homework beforehand. They'll make it much quicker and easier to fill your pots while cooking. Take our expert advice into consideration if you're thinking about getting your own pot filler — measure your space, check your budget, and see what's available to you.
Frequently asked questions
Q:
What is a pot filler used for?
A:
Pot fillers are installed behind the range to more easily fill pots with water for cooking. They also fill faster than your typical sink faucet to make it quicker to fill a pot.
Q:
Are pot fillers dangerous?
A:
While not necessarily dangerous, pot fillers, like any form of plumbing, can leak and the leak can damage your stove or kitchen.
Q:
Is a pot filler a good idea?
A:
Pot fillers can be useful if you cook a lot, if you have a large kitchen, or just if you have the budget to add it to your kitchen. However, they aren't a necessity, merely a perk.
Q:
Where can I buy a pot filler?
A:
You can buy pot fillers at your favorite home improvement stores, as well as order them online from various retailers including Amazon.
Hedy Phillips contributed to this post.