What you Need to Know About Industrial Kitchens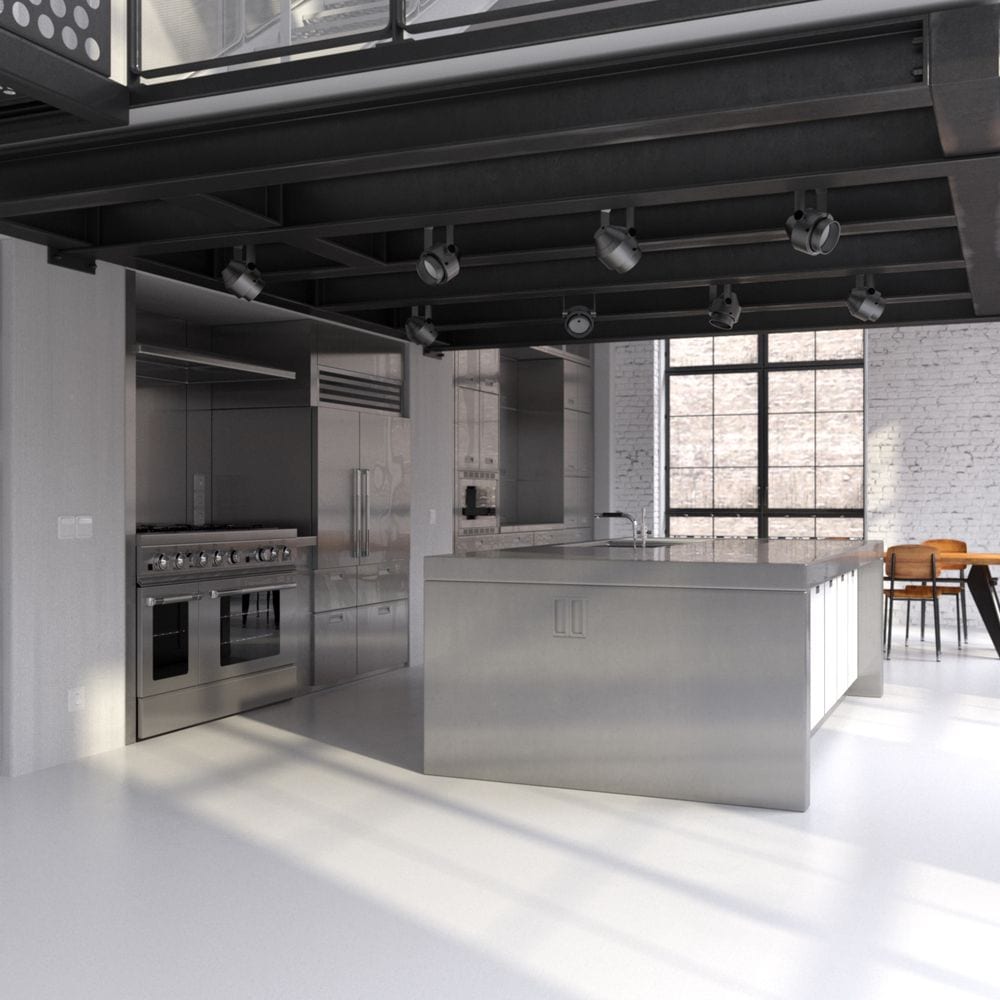 Industrial kitchens are sleek and stylish, although they may not be for everyone.  Some people prefer farmhouse or transitional kitchens, and the debate rages on regarding the kitchen work triangle and whether you should use hardwood floors in kitchens.  However, we can all agree that the industrial style is perfect for homeowners who want to cook like the pros. It's also great for people who want to mimic the utilitarianism of a commercial kitchen — especially in a loft setting. Bertrand Benoit/Shutterstock "Industrial kitchens in homes first arrived in the 80s and 90s when it became fashionable to have a professional-looking kitchen in your home," explains Michael Schienke, Director and Chartered Architect at VORBILD Architecture in London. "If you cook a lot, these kitchens are great. They are modeled on kitchens where professional chefs cook delicious meals all day long."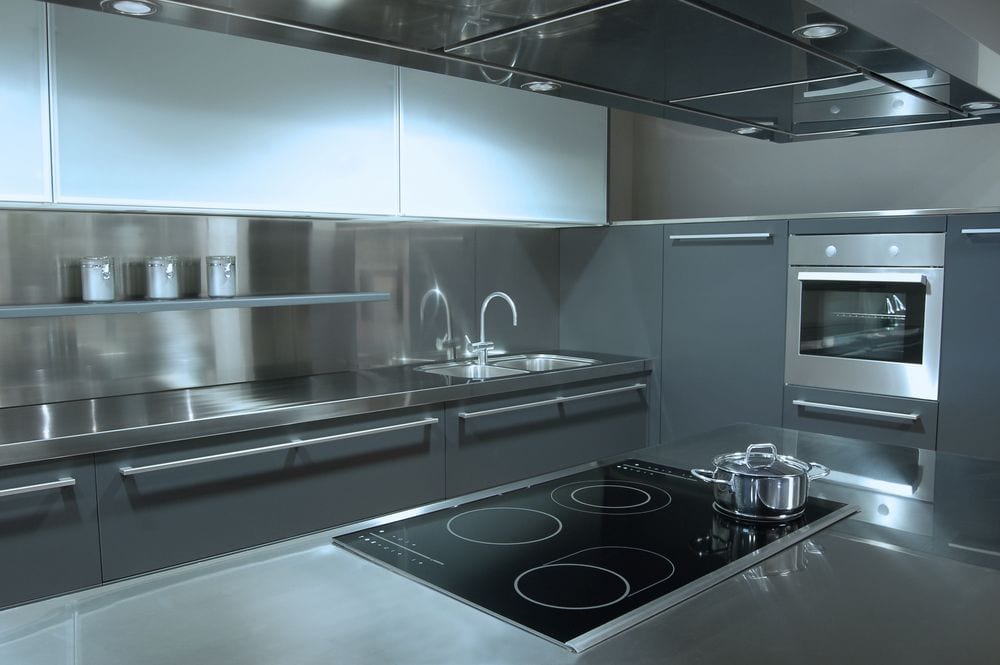 Micimakin/Shutterstock
Features of an industrial kitchen
pics721/Shutterstock Schienke says a professional kitchen is contemporary, with surfaces that are easy to clean. "Most worktops would be stainless steel, which gives them that 'professional' look," he explains. Updraft range hoods are also a common fixture. So, does this mean that you couldn't have an industrial kitchen in a more traditional home? "In traditional properties where you would create an ultra-modern decor [style] — think of old vaulted ceilings and not-quite-fully painted and restored properties with slick Italian-style sofas and minimalist interiors," Schienke says. "In these cases, to create a stark contrast, an all stainless steel 'chef' kitchen would look great."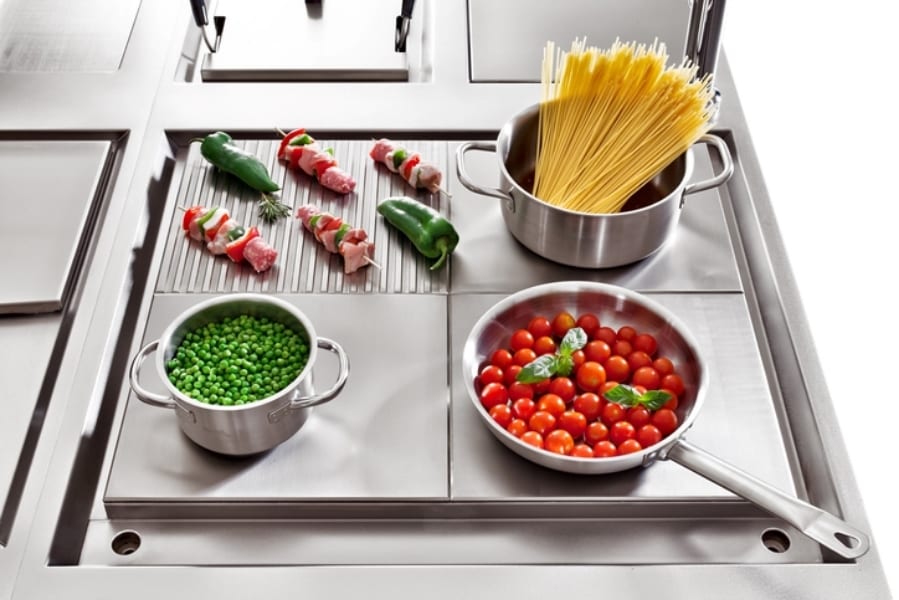 Adriano Frisanco/EyeEm/Getty Images Sandra L. Steiner-Houck, President and Senior Designer at
Steiner-Houck & Associates
 in Mount Joy, PA, agrees. "Industrial kitchens can be incorporated into any style home effectively," she says. "I would highly recommend working with a professional CKD (certified kitchen designer). This ensures that it integrates properly into the interior design of the home." But she believes it's possible to achieve an industrial feel in the kitchen that is cohesive with and respects the home's design. To Marc Hottenroth at
Café Appliances
, a GE Appliances brand, an industrial kitchen is based on two factors. "I consider what it looks like and how it performs," Hottenroth says. "Typically, a professional aesthetic defines the industrial kitchen. That includes robust knobs, heavy duty handles and stainless steel finish."
Heavy-duty appliances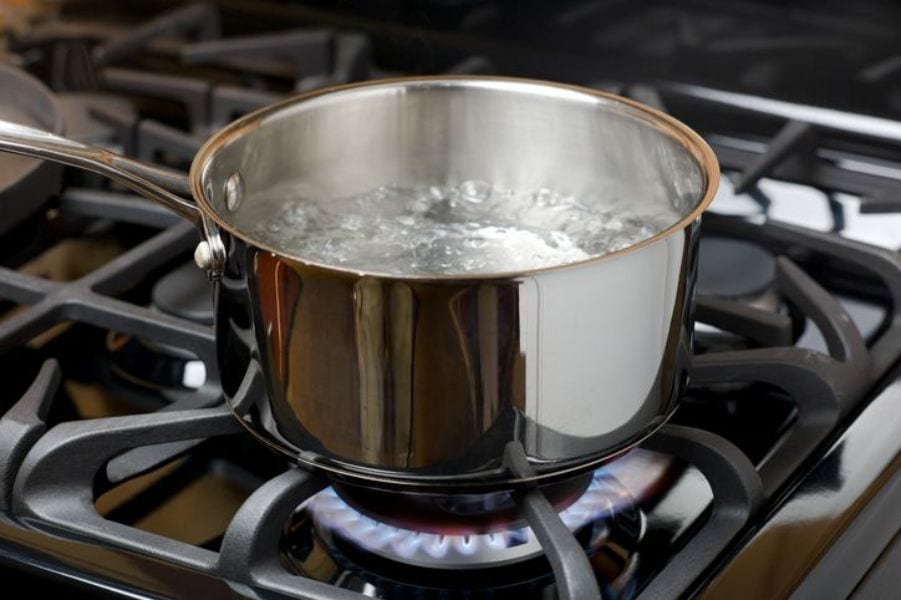 RyersonClark/Getty Images In addition to stainless steel, Steiner-Houck says industrial kitchens would also feature commercial or professional grade appliances. "They are designed to perform at a higher level, be extremely functional and incorporate very durable finishes and surfaces, much like a commercial kitchen," Steiner-Houck explains. In fact, heavy-duty appliances are a key feature of industrial kitchens. "These are the types of appliances that are designed to stand out in the kitchen and get noticed, like a 48-inch or 36-inch range," Hottenroth says. "These ranges cannot be truly professional grade because of residential safety regulations, but should have enhanced performance." He advises looking for burners that can deliver a full spectrum of heat settings, from an ultra-low 140 degrees F simmer to an intense 18,000 BTU output. "Also, consider dual fuel models with convection ovens and heavy-duty full extension oven racks."
Other appliance considerations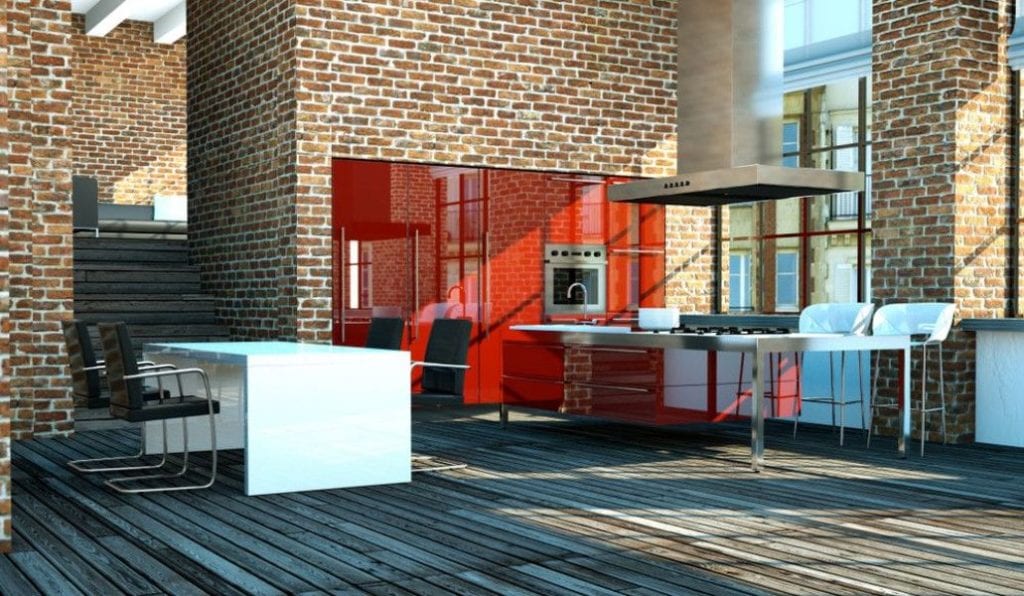 Virtua/Shutterstock Built-in refrigerators and dishwashers are also features of an industrial kitchen. "Consider multiple appliances like two dishwashers, one on either side of the sink or multiple undercounter refrigerators throughout the kitchen for easy access of specific meal prep needs," Hottenroth advises. He says that induction cooking technology is gaining popularity. "Look for induction cooktops with sous vide. This is a type of precision cooking in which food is cooked in airtight bags in a temperature-controlled water bath," Hottenroth says. "Precise temperature control makes
Monogram
induction cooktops ideal for sous vide and other precision cooking techniques." Another cool appliance to consider for an industrial kitchen: a pizza oven. "Can you imagine having the capabilities of the best restaurant pizza oven to create the perfect slice at home?" With the
Monogram 30-inch Flush Hearth Oven
, Hottenroth says you can obtain pizzeria-quality performance. "It combines the crisping performance of traditional coal- and wood-burning pizza ovens with the precision and ease of a sophisticated residential appliance," he explains. While stainless steel is immensely popular in industrial kitchens, Hottenroth says there's also a growing desire for
appliances that can blend more seamlessly with home decor
. "Consider Café Matte White with Brushed Bronze handles and knobs or Matte Black with Brushed Stainless Steel handles and knobs," he says. Café's collection also includes custom colored handle and knob kits with additional color choices of Brushed Copper and Brushed Black. "Now you can have the color and finish that looks great in your home and has the industrial style that makes a statement."
Sinks and faucets
Farmhouse sinks are quite trendy
, and Dan Worst at Elkay recommends the Crosstown Stainless Steel Farmhouse Sink. "It gives you the space and style options to incorporate that industrial feel into any kitchen," Worst says. "The size of the sink is large enough to tackle industrial-sized messes while also maintaining a stylish look." In addition, he says the tight corners provide a fresh, geometric and industrial design. "Also, the straight sidewalls and flat bottom provide a modern look and more usable space." Another useful feature in an industrial kitchen is a pot filler. "The Avado kitchen faucet collection by Elkay combines clean modern lines with commercial and industrial designs that look as great as they function," Worst explains. A wall mount faucet with a flexible hose in another great addition. "This faucet is growing in popularity given the balance between the semi-industrial style while still boasting a sleek and modern finish that fits in beautifully with today's residential trends."
Flooring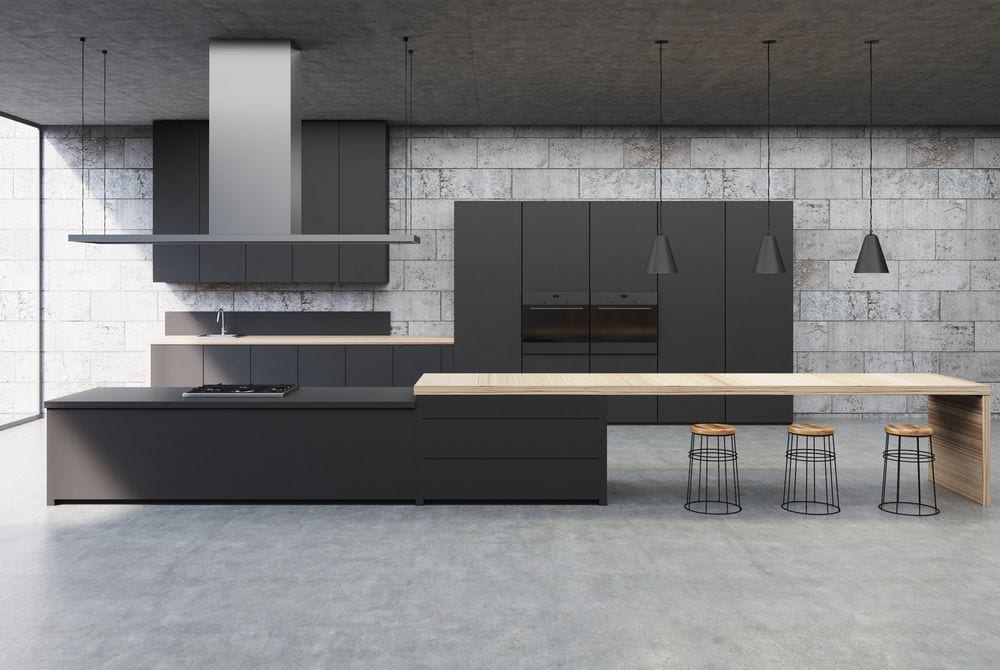 ImageFlow/Shutterstock Stained concrete is a popular choice for industrial kitchens. There's an unresolved debate regarding the use of
hardwood floors in kitchens
(and/or bathrooms), but many designers use hardwood or engineered wood or ceramic/porcelain stone tile in this type of kitchen design.
Colors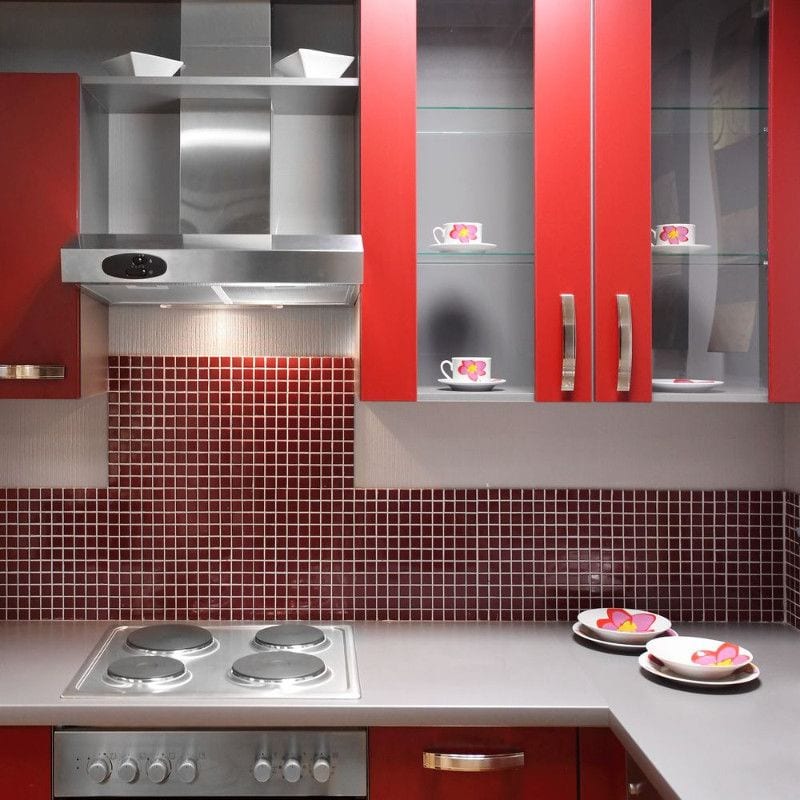 Kletr/Shutterstock Finally, we asked Jody Finglas, President of
Finglas Painting
 in Croton-on-Hudson, NY, for advice on choosing colors. "Industrial or commercial kitchens have a tendency to look somewhat clinical because much of the kitchen is filled with stainless steel," Finglas says. "We've also found that because most of the area is tiled to allow for easy cleaning and maintenance, it can be difficult to introduce color. But there are opportunities to make the space more exciting." He recommends introducing colored tiles like red and yellow on the walls. "These colors are very popular. They help to break up the space and allow the kitchen to look less industrial," he says. Finglas notes that painted surfaces like doors are also great areas to introduce color. "A beautiful red door in a kitchen is classic and appealing. Because it's an attention-grabbing color, you want to be thoughtful about where you paint red in the kitchen so you don't overdo it," he says.