8 Ways to Design Multigenerational Homes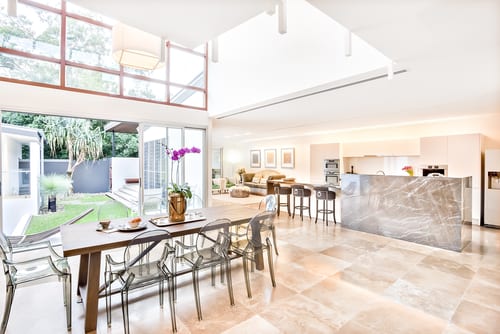 According to Pew Research, a whopping 64 million Americans live in multigenerational homes. Grandparents, parents, and kids all living under the same room has gained traction over the past few years, thanks to rising housing and healthcare costs. While packing more people into one house might seem less than ideal, it does have its perks. Whether it's saving money or offering care, there's something to be said for living with family. Of course, that's not to say there won't be any discomfort along the way. The trick to multigenerational homes is designing spaces that make sense. When a home is geared toward comfort, privacy and accessibility, living with family can be comfortable and convenient. Homes that are designed with more than one generation in mind means you can live with multiple generations without losing your mind. Here's how.
Think accessibility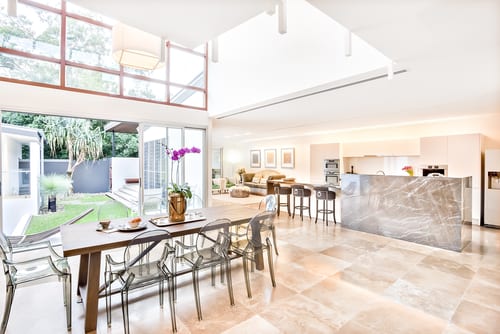 Open concept layouts make the most sense. Image: JR-stock/Shutterstock Shop These Products Now: Transparent Dining Chair – Serving Tray
Multigenerational homes require an eye for accessibility. Even if Grandma and Grandpa can get around easily now, thinking ahead can save growing pains in the future. Creating spaces that are wheelchair accessible means older residents will always feel welcome. Open concept layouts are great for getting around. And, configuring bedrooms so that everyone can reach their private living spaces easily (think putting older residents on the main floor) means everyone can remain as independent as possible.
Choose main floor bedrooms
When given the choice between the main and second-floor bedrooms in multigenerational homes, choose the main floor. Not only will they remain the most accessible as your family ages, but having one or two bedrooms on the main floor can create a natural separation between generations. While it might feel natural to put all of the bedrooms on the second-floor level, putting a few on the main floor offers extra privacy and some breathing room to keep everyone sane.
Design for dual purposes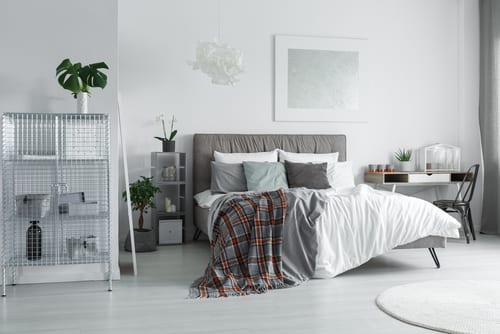 Create rooms that pull double duty. Image: Photographee.eu/Shutterstock Shop These Products Now: Desk Table – Comforter
Remember this rule of thumb: it's easy to convert a bedroom into another space, but it's not always possible to convert a space into a bedroom. Bedrooms usually require windows and a closet, so design your multigenerational home with this factor in mind. If you think of all your spaces as dual purpose, you'll have more flexibility along the way. Instead of having activity-specific rooms like an office or an exercise room, it's best to design as many bedrooms as possible and convert them when necessary. That way, you always have plenty of bedrooms that can double as other rooms.
Give enough space
When there's more than one generation living under the same roof, you'll need to offer enough space and privacy for everyone. How do you ensure that no one feels totally suffocated? Make sure that for each generation in a home, there is at least one dedicated living space. So, say your parents live with you and your children. Multigenerational homes that include a family room, a den and a playroom means everyone has a little breathing room and a place to relax.
Utilize every inch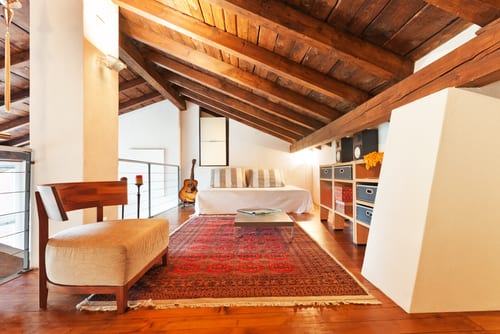 Every space can be utilized for family. Image: alexandre zveiger/Shutterstock Shop These Products Now: Printed Rug – Accent Chair
With several families living in the same home, every square foot comes at a premium. Get creative with all the spaces in the home and you'll be a lot more comfortable. Think about converting some of the less-utilized areas of the home, such as the attic, the basement, or over the garage. Rethink each room's purpose and convert storage spaces into comfy living spaces instead. You can always find other places to store your things and everyone will be happier when they can spread out.
Enjoy the suite life
If you're lucky enough to get to design your home from scratch, ask your architect to help you configure suites for each generation. Sharing bathrooms can be a major pain point in multigenerational homes and you can easily reduce those quibbles before they even begin. A private bedroom and bathroom suite for grandparents and parents, and a jack-and-jill bathroom for kids can reduce some of the pressure on the busiest rooms in the home.
Offer separate entrances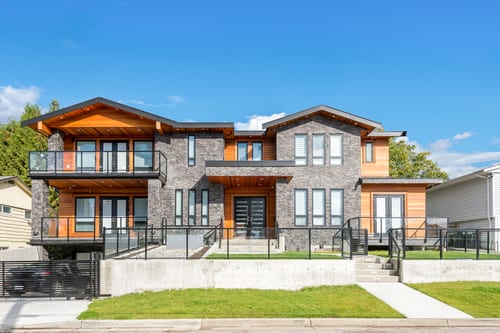 Separate entrances offer additional privacy. Image: ppa/Shutterstock Shop These Products Now: Door Paint – Grass Seeds
Another design consideration to make in multigenerational homes is how each generation will actually enter the home. If there's not a lot of overlap in schedules (early risers leaving for school versus night owls coming in late), it might be best to design separate entrances. Not only will this reduce traffic and chaos throughout the day, but it can provide your family with a sense of autonomy. Sure, living together ensures plenty of quality time. But being able to separate some of the coming and going can help each generation feel more independent.
Customize and adapt
Whether you're designing a home, renovating one or looking to buy, know that there's no such thing as a perfect solution. Living in a multigenerational home means customizing as much as possible and remembering to adapt when necessary. What works for other families might not work for you and you might even find that something you designed doesn't actually translate to real life. The trick to living with more than one family is to keep communication open and stay open to change so that everyone feels welcome and comfortable. Multigenerational homes are a reality for more and more American families each year. Living with family can definitely come with challenges. Still, if you plan ahead for issues and design your home accordingly, you can head off conflict before it starts. By considering needs, privacy, and accessibility, your multigenerational home will be one full of love.