Defining a House Style: What Is a Mediterranean Home?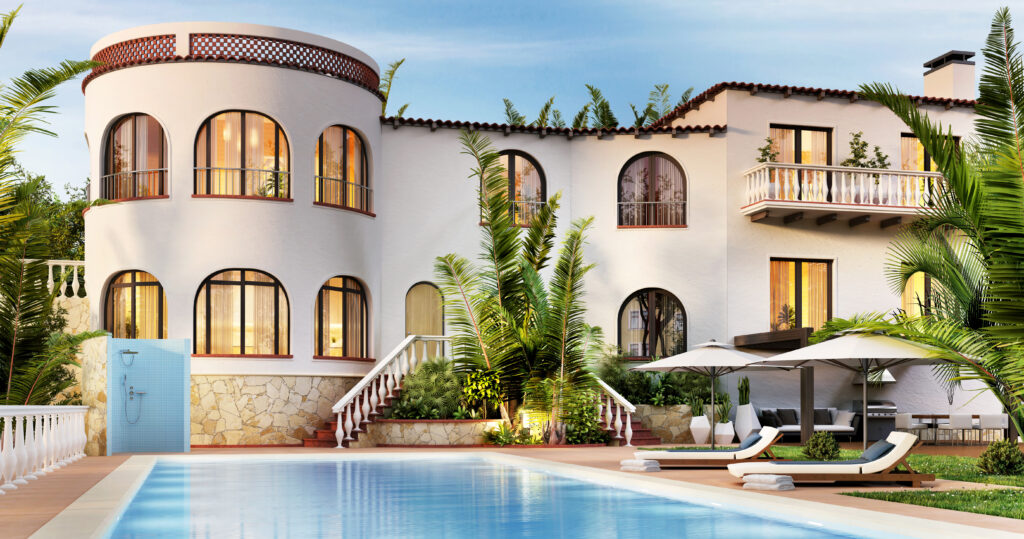 If you're a fan of luxurious living, there's no better architectural style for you than Mediterranean. These homes remind viewers of seaside villas and time spent on vacation. That said, have you ever wondered what exactly it is that makes the Mediterranean home so unique?We decided to take an in-depth look at what it is that sets Mediterranean homes apart. If you take the time to read over these distinctions, you'll be an expert on this style before you know it.
History of the Mediterranean home
Mediterranean homes as we know them today are based off an architectural style known as Mediterranean Revival. This style aims to emulate the feeling of being in a luxurious Mediterranean villa. It became popularized during the 1920s when a cultural obsession with wealth and leisure led to a boom in seaside resorts.Originally, the style was only used for public structures like hotels. However, eventually, architects like Addison Mizner of Florida and Bertram Goodhue of California saw that the style's breezy layout might be a good fit for their coastal climates. It still remains most popular in coastal areas today.
Types of Mediterranean homes
Mediterranean Revival homes are unique in that they borrow influences from a few different cultures in that geographic region. In particular, Italian and Spanish are seen most commonly. Below is an explanation of the differences between the two:
Italian Renaissance (1890-1930)
As the name suggests, Italian Renaissance homes borrow some of their inspiration from the 16th-century buildings of the Italian Renaissance. Specifically, this can be seen in their imposing scale, as well as architectural details like columns and rounded arches. That said, this style also borrows from its own time period, which began at the end of the Victorian era. Of the different styles of Mediterranean home, Italian Renaissance homes are the most ornate.
Spanish Revival (1915-1930)
Spanish Revival homes are based off of the architecture that the Spanish Colonists brought to America in the 16th century. This architectural movement was especially popular in warmer, coastal areas like California and Florida. Spanish Revival homes are a bit simpler than the other Mediterranean varieties. They feature cleaner lines, as well as a lower-pitched roofline that appears thicker and heavier.
Modern Mediterranean
Modern Mediterranean architecture can follow either Spanish or Italian design. It brings back a concentration on resort-style living. These homes borrow aesthetic details from the traditional Mediterranean home style with many of the comforts of modern living. These homes usually feature open floor plans, expansive, updated kitchens and an emphasis on indoor-outdoor living.
Defining features of Mediterranean homes
Though there are some distinct differences between the sub-types, there are a few defining features that tie them all together. They are as follows:
Exterior features
Sprawling, symmetrical façades
Stucco exteriors
Low-pitched, tile roofs
Arched windows and doorways
Wrought-iron balconies and window grilles
European-style gardens or courtyards
Interior features
One to two stories
Rectangular floor plan
High ceilings
Heavy use of wood and patterned tile
Designed to let breezes flow through the house