How to Modernize a Traditional Home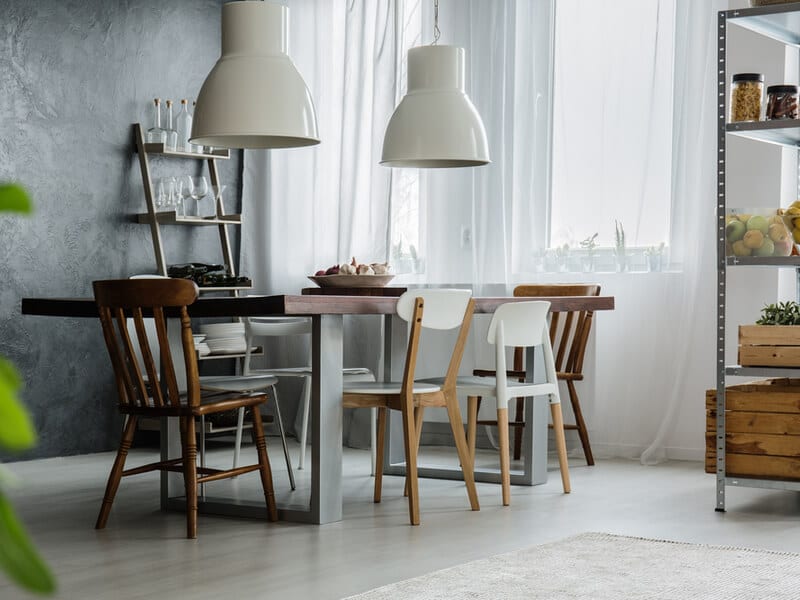 In 2019, modern spaces are trending. And why not? With less clutter and a zen feel, modern homes can help you unwind and really love your space. Of course, streamlined, modern design is probably a lot easier to find in newer homes and metropolitan areas. But what if your place is decidedly more traditional? If you love the modern design aesthetic but your home is more Waterford than Warhol, you might feel left out of the trend. Don't worry! Even the most traditional homes can have a modern twist. By bringing in some of the tenets of modern spaces, you can love your newly streamlined space.
Break up your furniture sets
We all know that breaking up is hard to do — especially when you've been conditioned to think of your furniture as a set. In fact, you might have even purchased entire rooms of furniture to match and coordinate, thanks to traditional style. But if you take a peek at modern homes, you'll notice that each piece of furniture is chosen thoughtfully to enhance the space, but it's not necessarily part of a matching set. By breaking up your furniture sets, you can help get rid of some of the heaviness of a traditional home while giving your space a little facelift. Want to keep your furniture together? Try reupholstering one or two pieces in a graphic fabric, or use throw pillows to change the color and texture of matching sets.
The added bonus of mismatched furniture? You can scour estate sales, yard sales, clearance buys and sales on one-off pieces to get the modern look for less.
Streamline your stuff
You probably grew up in a home where "stuff" was proudly displayed in places of honor. Whether it was portraits and diplomas on the walls or shelves of souvenirs, the idea of filling space with stuff is the opposite of modern. Instead, modern design helps you rethink the spaces of your home. Instead of filling every blank wall, shelf or cabinet, edit your favorite things to give your eyes rest. Besides the obvious benefits (goodbye, dusting!), keeping your home decor to a minimum keeps your place looking clean and uncluttered.
Highlight architecture and shapes
Modern design usually focuses on the architecture of the home as part of the decor itself. But, since we're not all lucky enough to have original moldings and Frank Lloyd Wright-style windows, your home's architectural charms might be harder to see. But even builder-grade homes have a few features you can highlight to get more architectural impact. Use an architect's eye to spot interesting shapes around your home. Love the way your kitchen is framed by an interesting ceiling? Use a modern lighting fixture to bring attention upward. Or use a bold color to direct the eye to your favorite nook in your entryway. You can even use mirrors to reflect your home's favorite shapes so they're more impactful.
Sharpen with color
Repeat after us: high contrast, unified palette. It's the simplest way to distill modern design into one color story. Looking at your favorite modern spaces, you'll notice that all rooms have a unified palette as they flow from space to space. Each room might have its own theme or features, but the colors coordinate throughout the whole house. This gives a home a streamlined feel, even if the architecture doesn't scream "modern."
At the same time, high contrast colors help give spaces that sharp, clean feeling so common in modern design. Ditch the muted beige and use black, cream, white and other bold colors to help give your home sharper edges. Adding black hardware to white cabinets, for instance, can update outdated cupboards. Or, bring in a few bold green houseplants to add a pop to a clean, white room. You don't need to fill a modern space with color but, when using it, make sure that it gives plenty of visual impact.
Think big picture(s)
Because modern design means using bare space to your advantage, you should have some space freed up for art and decor. In modern design, why use six pictures when you could use one? By opting for larger, more graphic pieces, you get rid of some of the clutter but don't miss out on the personality and visual interest. Swapping out your mismatched gallery wall for one big piece or even several of the same, smaller pieces can help you add interest to a space that might be lacking in the architecture department.
Keep textiles light
Heavy drapes were once the epitome of style, but modern window coverings feel a lot lighter. In fact, all the textiles in modern spaces are usually light, airy and impactful. Instead of heavy brocade or floral, light linen and cotton help a home feel updated. Look at the textiles and fabrics in your home and you'll find that it's an easy, inexpensive swap that makes a huge difference. Get rid of heavy drapes for linen shades or bright blinds. Ditch the overstuffed pillows and furniture for modern pieces that feature graphic prints and show off your furniture's design. Or get rid of your heavy wool rug for one made out of faux hide or even light seagrass.
Your home's architectural style might be totally traditional, but that doesn't mean you're stuck with your mother's decor. By adopting a more modern mindset, you can think beyond architecture and opt for a more streamlined, basic and bold aesthetic. As you edit some of your stuff and rethink your furniture, you can create a space that is simple, impactful and completely you.