10 Hot Trends To Bring Metallic Influences To Your Interiors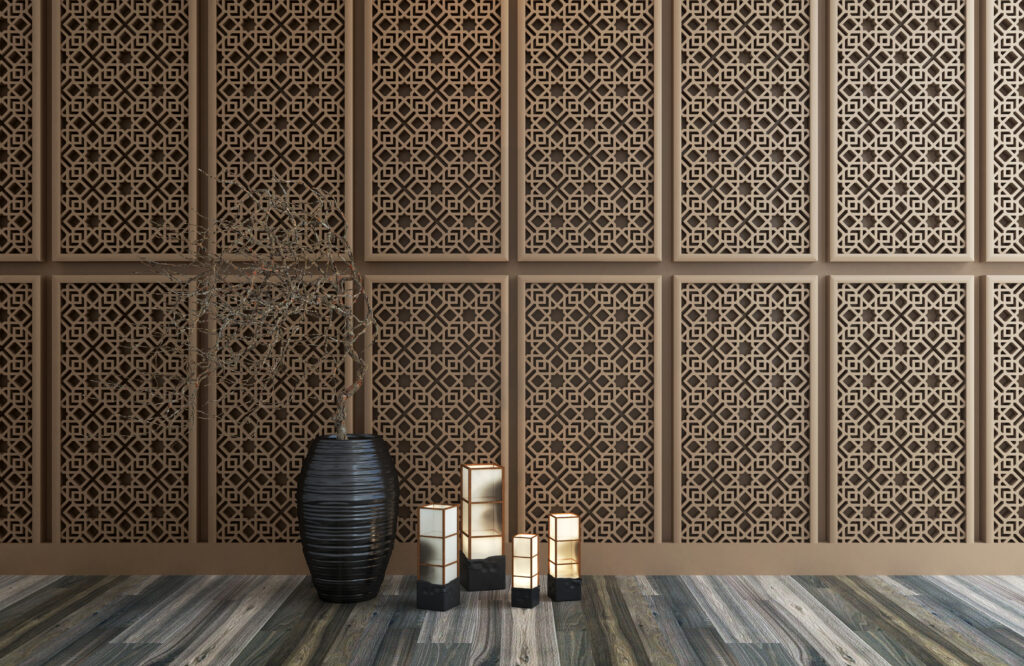 Bring metallics into your interiors – like this gold-tone wallpaper shop These Products Now: Metallic Wallpaper – Throw Blanket
This season is the best for bringing out metallic inspiration throughout your interiors. Everywhere you look metals are a hot trend – from the warm gold, brass, and copper accents to the cool chrome, nickel and stainless steel applications there is no doubting that metals are here to stay! If you've been trying to find ways to bring these colorful metals into your interiors, take a look at these 10 ideas that will have you wanting more metallic ideas in every inch of your home. Copper hammered countertops make this kitchen a dream
1. Warming your interiors with rich coppery shades:
Any season the allure of rich copper is beautiful but the autumn season seems to be the perfect time to bring out the golden hue in your kitchen. From hammered copper countertops to custom kitchen backsplash tiles, copper is the answer to your warm aesthetic questions in your head. Check your favorite tile store for a mixture of copper and mosaic tiles for the kitchen or bathroom.
2. Copper in your living room to compliment your fireplace:
While fireplaces are known for their natural rock, brick or tile surrounds there is an emerging trend to bring copper to your fireplace area as well. Consider using reclaimed copper sheets from other home renovation projects or seek out an artisan or kitchen range hood welder who may specialize in copper trim applications for your interiors.
Copper metal fireplace surround makes a focal point for this living room. Shop These Products Now: Ottoman Chair – Indoor Fire Place
3. Golden hues in interiors are hotter than hot
Remember in the 1980's when gold and brass were big interior metals and then the trend slowly faded away? Well they have returned in more subtle ways and wallpaper, furniture, and ornamental cabinetry pulls and decor are big for gold and brass. If you want to add glam to your bedroom, try adding golden metallic wallpaper that has a slight sheen behind your bed as an eye-catching accent wall. Gold-tone furniture and lighting are finding a new place in modern home interiors.
4. Gold and brass are still making a comeback
While you may be partial to wood and natural finished furniture, don't turn your nose up at gold-painted furniture or even gold-leafed painted decor to add creative accents to your decorative accent pieces. Lighting fixtures such as chandeliers, wall sconces, and pendant lights are showing off their new golden hues, and bringing these into your home along with darker hues will add a dramatic flair to your interiors.
5. A return to green living with corrugated metal
If your decorative style steers more towards the rustic and natural approach to metallic finishes, why not try the appeal of corrugated metal? In recent years corrugated metal has been used by designers for walls, ceilings, sides of cabinetry and creative accent walls in bedrooms, and even adorning masculine bathrooms. Try adding corrugated metal to bring out your love for recycled and repurposed materials. Love a rustic and repurposed look to your decor? Try corrugated metal for wall finishes
6. Architectural details with corrugated metal materials
When is the last time you've seen an architect make a statement with corrugated metal? While the appeal of using this versatile material, as a finish is popular, the ability to bend and mold the ribbed metal into curvilinear forms opens the imagination to new ideas you haven't considered. This ceiling shows you how one material can bring about a whole new sense of design with metallic finishes. Who said corrugated metal was only for roofing? Awesome architectural ceiling detail.
7. Cool silver metallic finishes are still top rated
When it comes to the most used and specified finishes of kitchen, bath, and interior designers it has to be the silvery metallic family of metals which include: nickel, chrome, aluminum, and stainless steel. These silvery metals are durable have high reflective qualities and come in a variety of finishes from a dull brushed finish to highly polished to sparkle in any light. Silver-tone plumbing fixtures and appliances are still head of the metallic finishes homeowners desire.
8. Plumbing fixtures and appliances take on a silvery attitude
Chrome and nickel are very popular now in plumbing fixtures in the kitchen and bathroom and remains the main staple in homes of modest proportions all the way to posh affluent homes.  Depending on your design style there's a variety of plumbing fixture styles to choose from whether it's traditional with ornate detailing to minimalist modern styles for your contemporary home. Stainless steel appliances still remain at the forefront of kitchen owner's wish list items for their gourmet kitchen applications. A return to Hollywood Regency style with mirrored furniture.
9. Mirrored furniture is all the talk of the town 
If there ever has been a reemergence of glamour added to interiors it is now! Mirrored furniture reminisces back to Hollywood Regency style with highly reflective furnishings, mirrored dressers, and tables and bold colors create the look of a modern Art Deco era. Bring in mirrored furniture to your interiors and add instant glam without even having to try! This metallic trend is one that is often forgotten but once you see it, you can't fathom how you ever forgot about this wonderful style. Ornamental wrought iron is gorgeous in a handrail detail.
10. Ornamental metal throughout your home
While metallic finishes are seen in large quantities throughout your home, don't forget about ornamental metals throughout your interiors that are just as important. Remember, attention is in the details, and wrought iron ornamental railings and banisters are a prime area to showcase this gorgeous metal. Also, look to cabinetry door pulls, door hardware, and even exterior door hardware for metal subtleties. You will be surprised how metallic finishes are trending in every part of your home. Freshome readers, we'd love to hear what metallic trends you are loving in home interiors right now!