10 Hot Trends for Adding Art Deco into your Interiors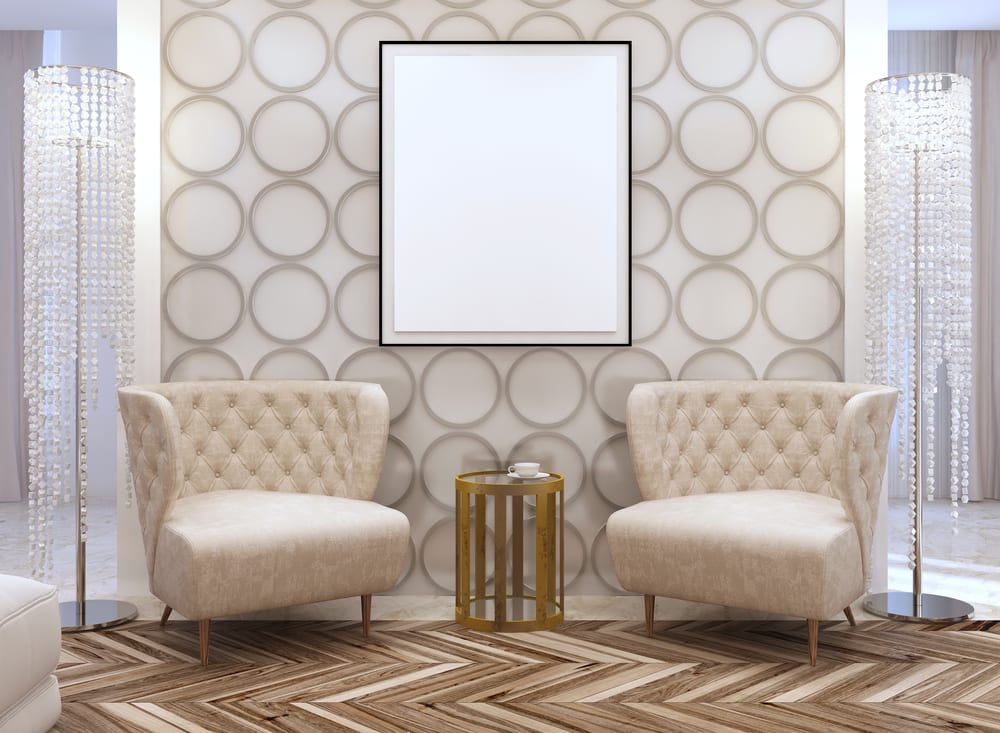 Shop These Products Now: Wallpaper – Modern Lamp
If you love the reemergence of Art Deco interiors into your home, you are not alone! Art Deco style is the visual and influential arts & design movement which first emerged in France after World War I. It features touches of French, Egyptian & Mediterranean culture with geometric patterns and often vibrant colors. From the exterior of your home to the interior – you will be surprised how easy it is to bring this retro look from the 1930's -1940's style into your home. Here are 10 hot trends for adding Art Deco style into your interiors.
1. Start off with bold geometric design:
The Art Deco movement had a strong tie to bold geometric shapes and designs. To bring the flair into your home, start off with bold wallpaper that has a strong geometric appeal. Rectilinear and curvilinear forms that instantly catch the eye are iconic for the Art Deco style era and will make your room come alive instantly.
Shop These Products Now: Antique Coffee Table
2. Bringing the lifestyle of Art Deco movement into your home
By the 1930's travel was becoming popular and tourism started to boom. African safaris were popular and animal prints, exotic finishes such as pearl and tortoiseshell started to show itself in home decor. The bold use of materials in glass, shiny fabrics, metallic paints and mirrors will complete the Art Deco look in your home.
3. Displaying artwork and sculptures in your Art Deco interiors
Just as the name suggests – the arts and entertainment world showcased their talents during the 30's and 40's and home decor mimicked the trend. Bold oil paintings, sculptural table lamps, ornate bedroom furniture and finely detailed furniture was commonplace. Bring these elements into your room for instant Art Deco appeal.
Shop These Products Now: Antique Console Table
4. Egyptian influences make every room feel regal 
When travel became commonplace the influence from Africa and especially Egypt was great. After the discovery of King Tutankhamen's tomb the influence of pyramids, hieroglyphics type symbols and sphinxes were added to many design elements in the home. Use these symbols in your furniture, textiles and when choosing wallpaper and artwork for an Egyptian-inspired Art Deco style.
5.  Bold colors in your Art Deco finishes 
The term "bold" is an understatement for many of the high-contrast color palettes iconic of the Art Deco area and using them in your finishes can bring on the art revival vibe in your home instantly. Bathroom and kitchen tile in monochromatic black, white combinations or with pops of red, and deep browns were gorgeous in this era. To bring the look to your home choose ceramic or porcelain tile that has a high gloss in contrasting colors. Beautiful mirrors and mirrored finishes will complete the look!
Shop These Products Now: Wall Mirror
6.  Cosmopolitan Art Deco touches add drama
In the grand fashion of art imitating life the Art Deco movement was all about adding visual drama and bringing it into a cosmopolitan lifestyle. Furniture had distinct lines and was adorned with bold fabrics with zigzags, stripes, chevrons and just plain textiles would accompany silky fabrics that exuded drama, similar to the Hollywood Regency style.
Shop These Products Now: Antique Love Seat – Coffee Table
7. Neutral finishes in your Art Deco interiors
An essential part of the Art Deco style was evoking drama and grandeur of the silver screen of movies and entertainment into your home. Early Hollywood used neutral color palettes but combined them with shiny fabrics, lighting that was subdued and an abundance of lavish and soft material that were luxurious for the eye and the touch. Hang fabric behind your master bedroom bed to bring out the Art Deco style of neutrals.
Products Now: Accent Chair
8. Bring out Art Deco styling from the metropolitan cities you love 
Although the Art Deco style started in Europe, the United States had a strong movement in architecture, interior design, and lifestyle during the 30's and 40's. Pastel colored buildings in Miami, Florida made the iconic "South Beach" the popular architecture style for Art Deco styled buildings.  New York and Chicago boasted highly stylized skyscrapers that featured industrial motifs of airplanes, cars, and cruise liners were very influential. Bring this look to your home by adding ornate geometries to your exterior home for an Art Deco style before you open the front door.
Shop These Products Now: Outdoor Wall Lamp – Tree Plants
9. Modern renovations with Art Deco additions 
There is a strong movement in interior design and architecture to revive older homes back to their original charm or to make new construction appear dated and retro. Kitchen renovations that want to use modern materials such as curved Corian countertops to evoke the "artsy" appeal of the Art Deco era and brink in simple mixes of modern flooring and retro style lighting fixtures is a great look.
Shop These Products Now: Microwave Oven
10.  Living the Art Deco lifestyle isn't just for the elite
While the influences of design in decor, fashion, and architecture had a glitz and glam appeal, the ability for mass production in the 1930's brought about a sense that anyone could achieve the Art Deco look.  Just like your interiors, the Art Deco style is for anyone who wants to bring the roaring appeal for arts and emergence of discovery and bold lifestyle choices into their interiors.Freshome readers we would love to know what Art Deco elements ylove!