Easy and Fast Ways to Modernize A Home for 2021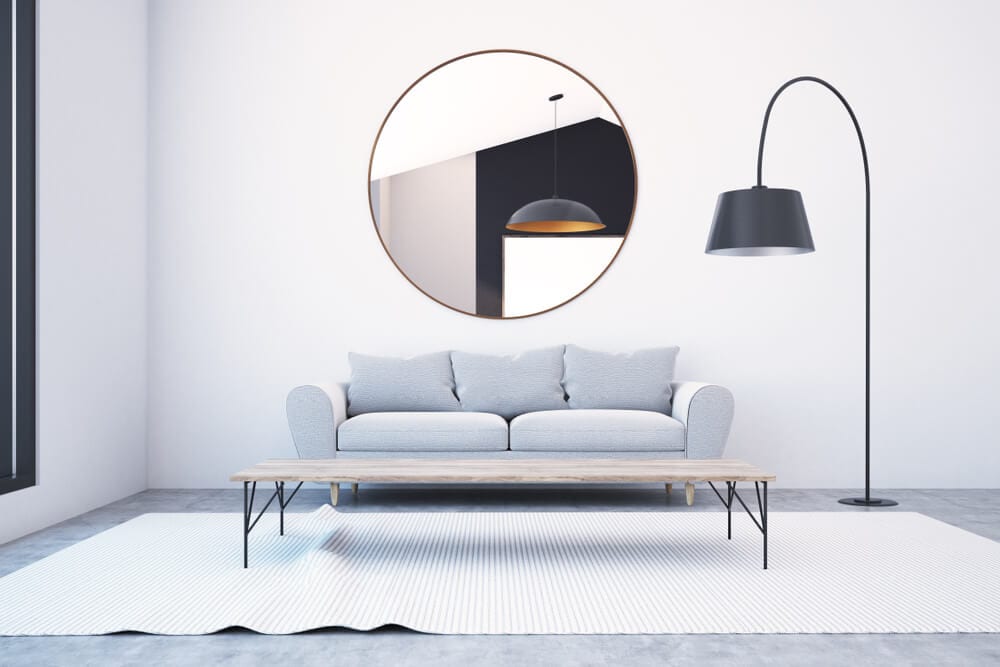 Do you wish you could breathe some fresh life into your home for 2021? Then you may want to add some elements to your home featuring some current design trends. But you might look at some of the trendiest contemporary spaces and feel those are out of reach. After all, many spaces incorporate a contemporary aesthetic in the way they are designed on an architectural level, meaning a complete remodel or new build to achieve those looks.
However, there are several easy ways to modernize a home that don't require a wrecking ball. Below are some added embellishments that can make your home look more updated for the new year.
Large, Contemporary Mirror
An easy way to add stark, updated geometry to a space is to look into the different mirror designs out there. An example in the photo above uses circular geometry to create a focal point in the room. It really adds some sleek geometry to the space.
Mirrors are an easy way to modernize a home. Any large mirror can be its own focal point. They're easy to source and hang. And a large mirror can do wonders in opening up a space, making it a good option for small spaces. Plus, the sleek texture of a mirror makes any space look more updated.
Modernize a Home with New Furniture
Large pieces of furniture tend to be their own focal point. So if you want to overhaul how a room looks, simply change the furniture.
If you want a look that is on the more contemporary side, try for sleek pieces of furniture, like in the photo above. Pieces that eschew the traditional sofa and chair shape have a more updated, almost futuristic look. The slightly open back on the sofa adds some interesting geometry to space.
If you're not looking to go too expensive, you also might want to think about more understated contemporary ways people are using furniture. For instance, neutrals tend to be popular right now, so that's an idea for updating upholstery. Brightly colored single accent pieces are also popular.
Geometric Light Fixtures
Another way to modernize a home is to think about the lighting fixtures. An intricate lighting fixture can breathe life into any room. An example is the geometric pieces in the photo above. The sleek caged design and industrial-style exposed bulbs make the style quite an eye-grabber.
A new lighting fixture is a good way to set the tone for a more updated look. You can go for industrial pieces, sleek metal pieces or even retro sunburst designs have made a comeback. Lighting fixtures are also fairly easy to replace, but they make it look like you did some major hardware overhauls in your space.
Change the Wall Art
You can also change the art on your walls. That's an easy way to update a space without doing anything too drastic. Like the other design elements above, large art tends to stand as a focal point, so changing the art can help set a new tone in the space.
One idea is to go for abstract art, like in the photo above. The bold geometry often gives a stark, updated look to a space. Many people associate the height of abstract art as being in the mid-20th century. Because of that, it tends to pop up in Mid-Century Modern styles often. However, a good piece of modern art can transcend the ages with its color, raw emotion, and eye-grabbing designs. Abstract art can also serve a design purpose. For instance, the piece in the photo above matches the white and blue colors in the rest of the space well.
Combine Neutrals
Neutrals are very popular in updated, contemporary spaces. They open up a space and tend to give a relaxed tone that won't go out of style too soon. So if you want to modernize a home, try going for neutral tones.
An example is the sleek space in the photo above. Space balances its neutral tones impeccably. The white of the rug is balanced by the white throw pillows. The matching gray furniture adds a certain geometry to the space. And the wood texture from both the floor and stairs is reflected well in the armrests on the sofa.