25 Dazzling Geometric Walls for the Modern Home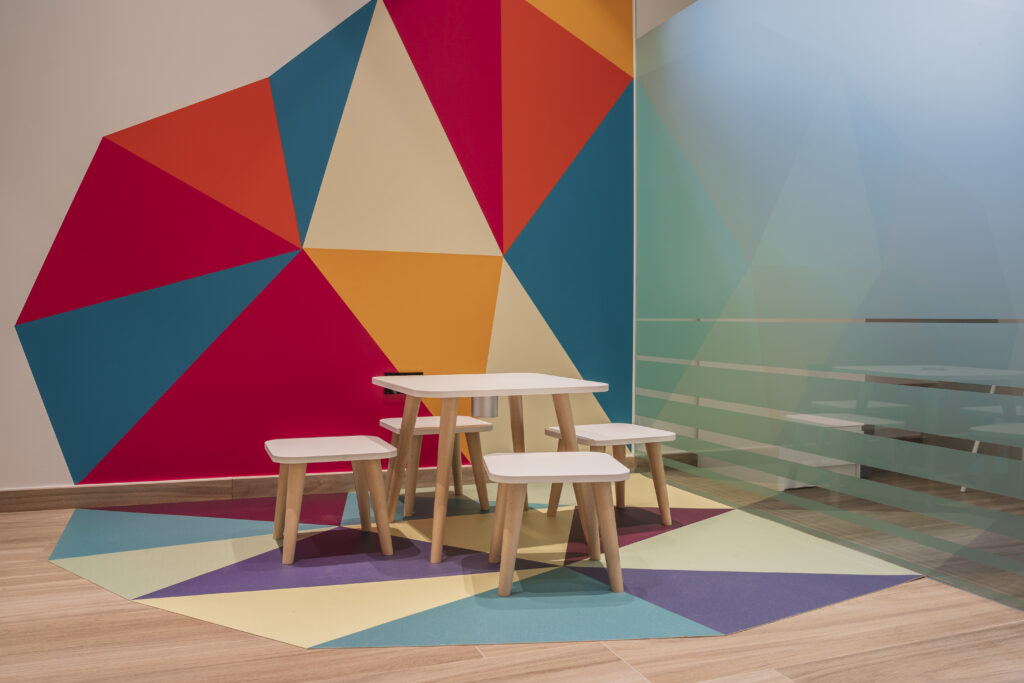 Geometric prints are taking over the design world. From runway fashion to company branding, we're seeing kaleidoscopic designs pop up in lots of places. You may have seen our articles last year about the rising trend of geometrics in interior design. Now, we're focusing on geometric walls loaded with triangles, rich tones, and modern accent pieces. These punchy prints in vibrant colors transform walls from the backdrop of a room to an eye-catching, mesmerizing focal point. Geometric walls give us a chance to playfully break design rules; they let us incorporate several bold colors and embrace asymmetry. We love the way the result can amplify modern furnishings or add a fun twist to mid-century modern design. Yes, geometric walls make a big statement. And that's OK! As these designs are made with wallpaper, paint, or art, changing them is an easy switch once you're ready for something new. Whether you're looking for a soft ombre pattern for a nursery or a bold splash of color and shape in your dining room, here are 25 ideas for inspiring geometric walls to get you thinking about your next project.
25 Ideas for Geometric Walls
1. Mossy Tones
Vibrant color doesn't have to mean neon. Soften the bold lines and angles of geometry by pairing them with colors found in nature.

[deals-hub-ad]
2. Cool Pastels
Calm down a space with a palette of soft blues and purples.
3. Dynamic Materials
Combining materials — such as paint, wood and metallic accents — on a single wall adds visual interest.
4. Mixed Media
Not ready to take the plunge on your wall itself? Hang a gallery wall of geometric designs.
5. Triangle Tessellation
Create a custom wall mural using triangles in different sizes and colors.
6. Graphic Posters
Geometry a la frame
7. Stripes
8. Neon Tiles
Create your own tessellation with these customizable cards from IXXI.
9. Pretty in Pink
We're peachy-keen about these feminine hues.
10. Peel-Off Patterns
11. Mesmerizing Monochromatics
Keep a neutral color palette interesting by painting a monochromatic geometric wall. We love the way this wall is paired with a metallic polka-dot ceiling.
12. Spring Greens
Combine a punchy wall design in a green palette with organic and rustic elements for a look that's fresh and modern while remaining comfortable and homey.
13. Dynamic Doors
These eye-catching doors pop thanks to a combination of bright colors and neutrals in a triangle tessellation.
14. Minimalist Mural
Can't commit to a whole wall? A partial-wall geometric installation adds a neutral focal point in this Scandinavian space.
15. Kaleidoscope Art
16. Mosaic Mural
Contrast design eras by adding geometric flair to classic architecture.
17. Bold Bathroom
A small space such as a powder room is a great place to try out a geometric design that might be slightly out of your comfort zone.
18. Muted Mural Wall
Soft blues and subtle clouds create the feeling of an abstract sky.
19. Royal Rays
Even simple geometric designs can make a big statement.
20. Busy Backsplash
Balance a bold geometric design with neutrals, such as these soft gray cabinets and natural wood tones.
21. CAD Wallpaper
Elaborate wallpaper created using computer-aided design makes a whimsical wall for a children's room.
22. Contrasting Beehive Tiles
Continue your geometric design from the wall onto the floor using tiles.
23. Patchwork Pastels
Incorporate several patterns and textures in a coordinating way with this dynamic design.
24. Vibrant Art Deco
A modern take on one of the most-loved design styles.
25. Triangle Wall Decals
Using triangle-shaped decals is a simple way to make a bold statement and add color to a blank wall.Want to take your pattern play even further? Check out our recent article 17 Bathroom Tile Ideas That Are Anything But Boring.