6 Tips to Get an Updated Color Scheme Without Painting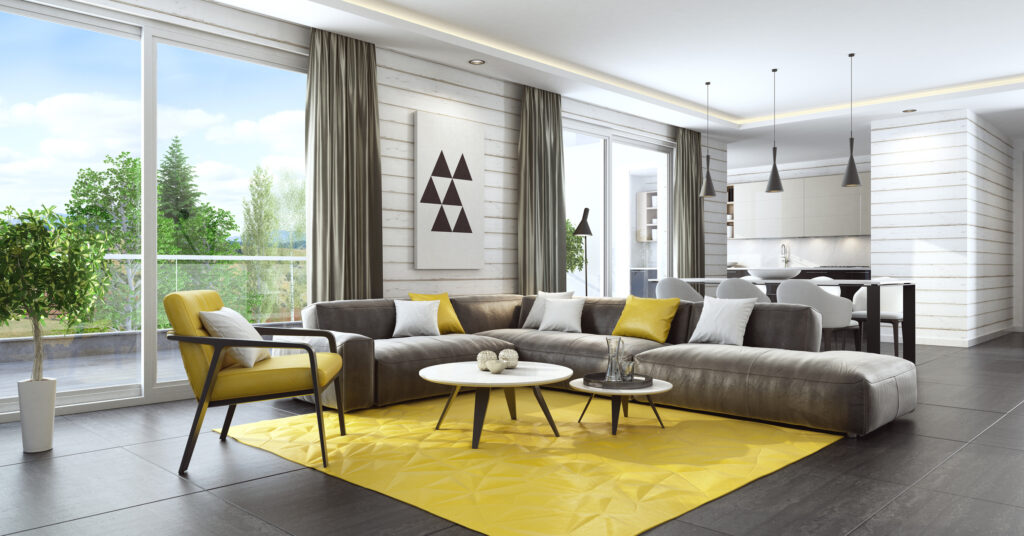 If you want to get a fresh look in your home for 2019, then you might want to try updating to a new color scheme. Playing with your room's color is a great way to breathe some new life into the space. But you may be picturing major changes, like having to completely repaint the room or get all-new furniture. There are actually several different ways to update the color scheme in your home that don't require a major overhaul. So take a look below for some easy ways to get a new or updated color scheme in your home for the new year.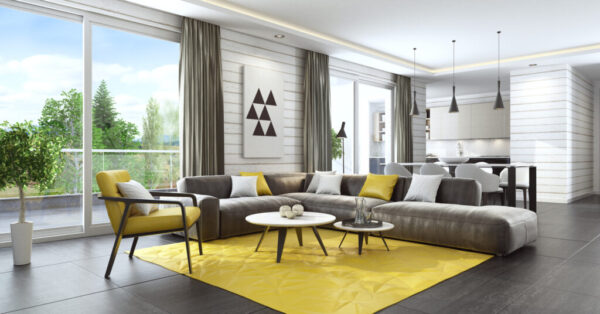 tulcarion / Getty Images
Two Accent Colors
If you already have an accent color that you worked perfectly into your space, you can still have an updated color scheme. One idea is to incorporate a second accent color into the space. You can see how the concept works in the photo above.
The blue and lime green are both well-balanced in the space. The green in the area rug is balanced by the blue of the scenery outside. Small elements like chair cushions, vases and throw pillows are equally shared between the two shades. By creating a similar balance, you can combine any two colors for a fresh look in your space.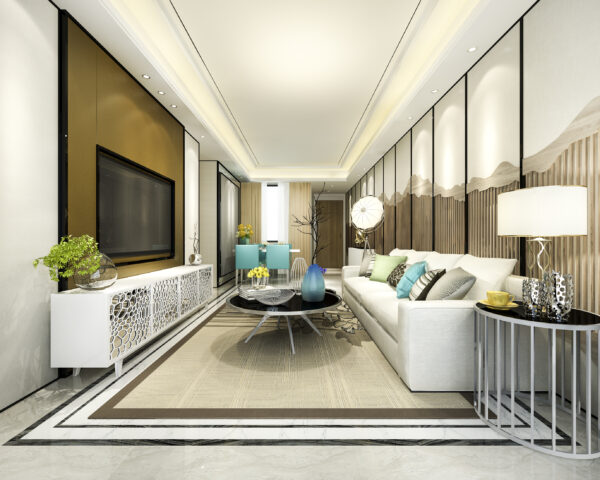 dit26978 / Getty Images
Throw Pillows and Blankets
Another idea for breathing some color into your space is to choose new shades in the throw pillows. The photo above shows how some simple throw pillows add a layer of color to the neutral room. These do a good job of creating layers of color in red, orange and pale yellow. And you really can't get any easier than placing some throw pillows.
Along the same lines, you can also use a large throw blanket over a sofa or chair in a bright color. That can breathe a good dose new color into the space and is also very easy to place.
sihuo0860371 / Getty Images
Tabletop or Shelving Accents for an Updated Color Scheme
You can get an updated color scheme in any space by wisely choosing what elements you have on the tables and shelves. The photo above shows how some bright aqua works into the neutral space above simply by placing the lamps, a bowl on the coffee table and some bright candles back by the mirror.
This photo also shows how well uniform throw pillows placed throughout the space help add balance. By only focusing on tabletops and shelves, the color may not reflect on the furniture, leading to less balance. But the throw pillows are, again, an easy way to make a new color work in a space.
zhudifeng / Getty Images
Painted Accent Furniture
Another idea for an updated color scheme is to simply paint some accent furniture or buy small pieces that have the new color you wish to introduce. An example is the orange nightstand in the photo above. Furniture pieces like this are easy to find new, used or you can paint them yourself. You could get colorful wooden chairs, coffee tables or end tables, as a few other ideas. They're a low-fuss way to get a new color in the room without having to do any major paint jobs or large-scale furniture replacements.
The photo also shows how well a colored furniture piece can work with colored tabletop accents. By choosing a shade that's slightly different between the furniture and table pieces, you end up layering the color in the space in an attractive way.
FollowTheFlow / Getty Images
New Wall Art
One major benefit of wall art is that it's easy to swap out as your whims change. If you'd like a new color scheme in a space, start by changing or adding in wall art that incorporates the new color. An example is the wall art in the photo above, which has orange tones that reflect the chairs and tones in the throw pillows.
The photo above shows that you don't have to be overbearing with your wall art, either. You can go for a more muted piece that features accents of the new color. Of course, if you'd like to go bold, you can also find art that features just your new shade.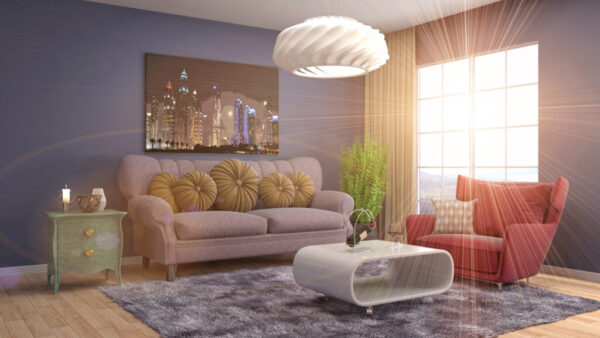 Stockernumber2 / Getty Images
A New Area Rug
Another easy way to get updated color in your space is to go for a new area rug. You get the color saturation on the floor without completely carpeting a room. And the look is more temporary if you like to update your space often.
The photo above shows the concept in action. The pink shades in the chairs, lighting fixture and ottoman are reflected in parts of the area rug. If you're going for bold color, you can choose a multicolored rug like this that matches the accent color in the rest of the room. It's a good way to get a multicolored look that still fits in with the room's overall design. Or you could get a solid-colored rug that just has the new shade you wito bring into the room.