5 Clever Ways to Get that Organized Basement for 2021
We hope you like the products we recommend. Just so you are aware, Freshome may collect a share of sales from the links on this page. 
It's easy to get a cluttered basement in no time. The basement is usually treated as a no man's land. It's rare for guests to go down there, unless the basement is furnished with entertainment areas or bars, so it can make a convenient place to throw things when you don't have room for them upstairs. Soon an organized basement seems like something from a distant dream.
However, with a little time in the basement and a clear organizational system, you can get your basement organized and usable once more. Cleaning the basement makes a great New Year's goal. It's a good home project for that time between Christmas and New Year's when many people have off of school or work. And at any rate, it's an easy way to ignore the cold temperatures outside. So below are some ideas for finally getting that organized basement.
Shelving Systems for an Organized Basement
One great way to finally get an organized basement is to make use of some shelving along the walls. The cubby system in the photo above is a great example. It shows how you can incorporate color and texture into the shelving itself.
Systems like this are great for fitting into any room style, too. The neutral white of the shelves themselves fits in anywhere, while the boxes themselves can be more customized to fit your room's style. As you can see, you can also use the box design, or keep the shelves open for things like books or knickknacks.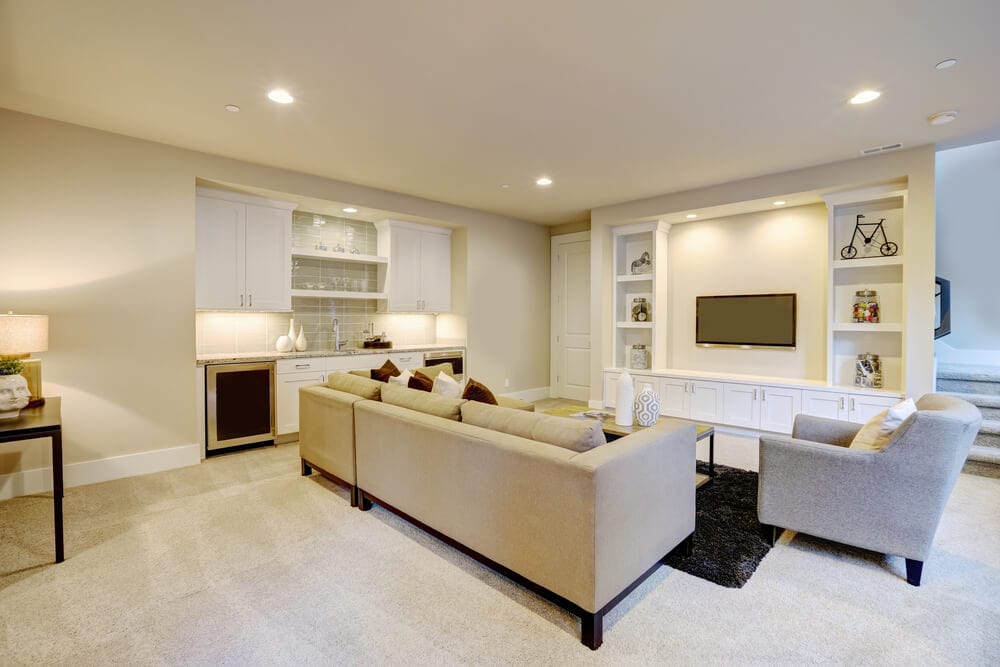 Visually Separated Areas
When organizing your basement, you may also want to think about how different areas work together towards the overall functionality of the space. An example is the space in the photo above. There's an internal logic to the space, thanks to how the furniture sits.
You might get a similar design by making one corner of the basement clearly a child's play area with a colorful rug surrounded in toy bins. Another corner could then be clearly a workout area, where all the workout equipment sits. Basements often don't have partitions, so this is a good way to give organization to an open plan basement design.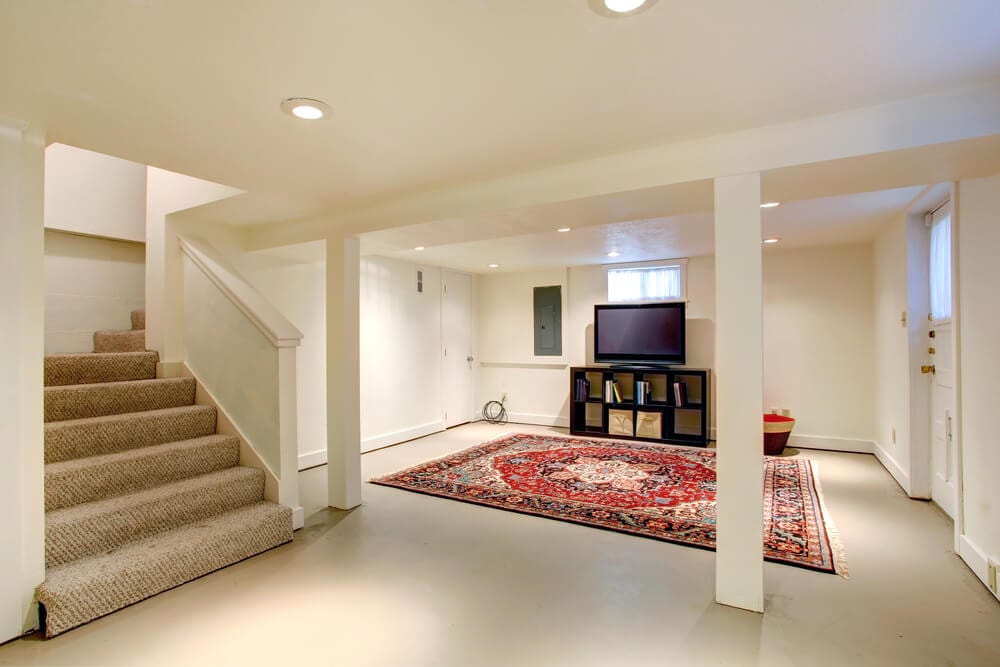 Basement Minimalism
Minimalism doesn't just have to be for the upstairs. This photo above shows a minimalistic basement style. The TV and rug define the space, without cluttering everything up. A light color scheme keeps the space looking bright and open, as well as imparting a stark minimalism. You could keep this space more as a play area, or add just a couple of chairs.
By thinking of your basement in terms of minimalism and minimalist lifestyles, you might be able to prioritize what to keep and what to throw away easier. A good rule of thumb is that if you either forgot you owned something or haven't used it in a year, it's ripe for throwing out or donating.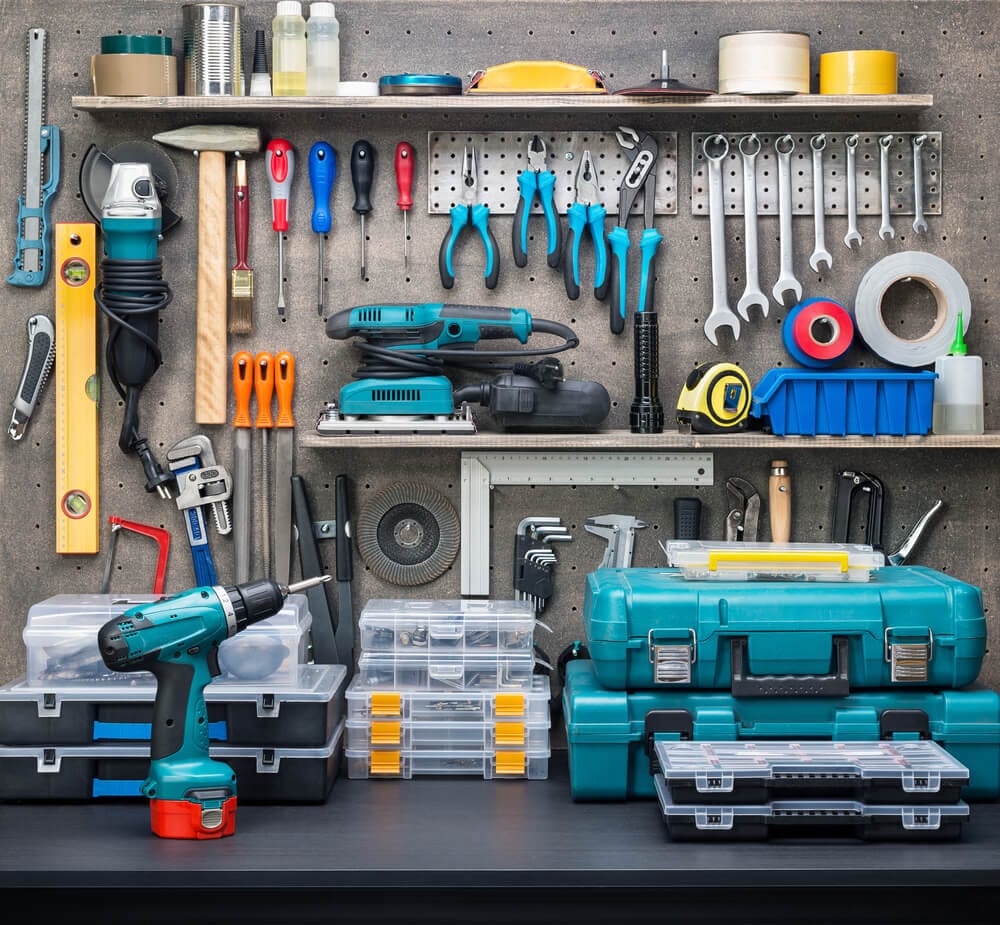 Organized Workstations
The basement workroom is one of the trickiest areas to get organized. Tools can jumble up, cords can get tangled and we somehow tend to end up with multiples of the same type of tool.
An organizational unit like in the photo above works well for holding small tools where you can easily grab them. It also helps keep things in neat containers and hangs larger tools from the wall for better organization. With a system like this, you'll get an organized basement in no time. You can either have these put in by a professional contractor or buy the components of systems like this.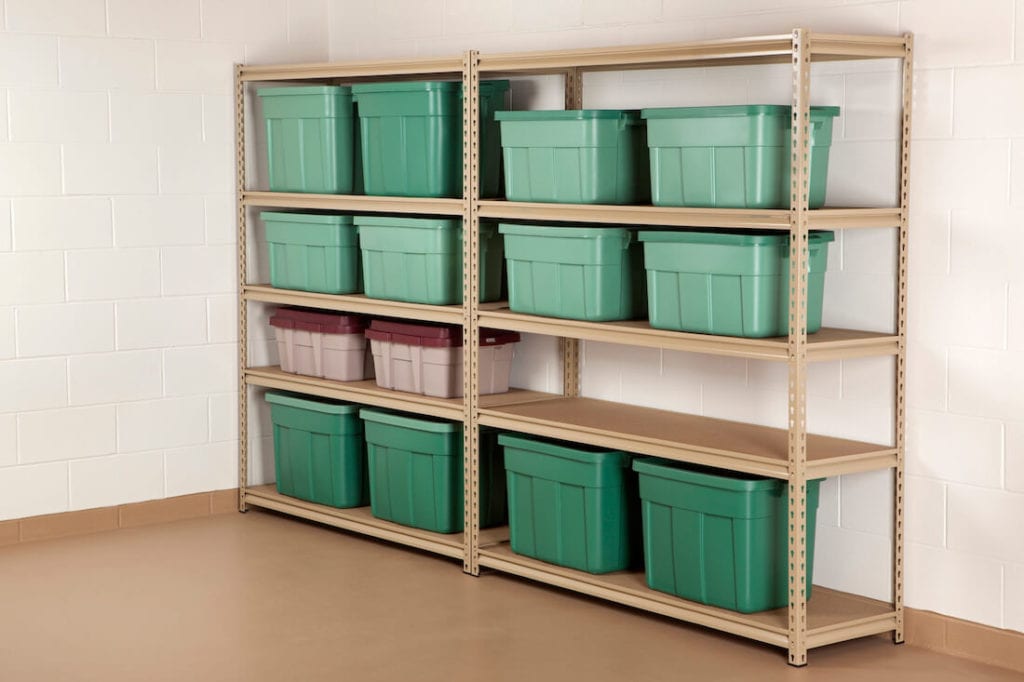 Plastic Bin System
A popular way to get an organized basement is to go for a bin system. The photo above shows a very common way to organize one using rubber bins. You can use this system to contain small children's toys, clothing, holiday decorating items, craft items and all the other things that tend to end up strewn about a basement.
And a great aspect of a bin system is that you can customize the size of the bins you need based on what you are storing. The photo above shows how well different bins can fit on a unit with adjustable shelf heights.
Achieving an organized basement may feel like a daunting task — especially if it's been a while since you last cleaned — but with these organizational tips, you can have a livable basement once again. Did we miss any of your favorite organizational systems? Let us know below,