20 of the Coolest Indoor Fireplaces
Indoor fireplaces have been a mainstay in homes for centuries. In the early days, they served purely functional roles in the home before modern-day heating systems. But now, even with automatic heating systems, the feeling of relaxing beside a fire is hard to resist.Today, fireplaces occupy a special place as a design element that also serves a purpose. In many living rooms, they act as a key focal point for the space, especially when TVs are placed above them. You'll typically see a few main materials used: stone, wood and metal. Combining materials also makes for some interesting designs. Below are some of the best-designed fireplaces in each material for your design inspiration.
Stone indoor fireplaces
Stone is a favorite for indoor fireplaces due to its customizability and durability. Back before central heating systems, stone was used to create fireplaces for its ability to withstand heat. If you're looking for a classic style for a fireplace, stone is the way to go.Your mind may automatically leap to brick fireplaces, but there are also modern styles that make use of light, sleek stone like marble. In that way, while stone tends to be classic, it is also easily adaptable to different styles. Take a look at some of the ideas below to see how stone works in a variety of room styles.
Light stone works well in transitional spaces. Image: Arjay BuildersShop These Products Now: Glass Round Table – Chandelier
Sleek, marble fireplaces enhance modern spaces. Image: Flue TechShop These Products Now: Indoor Fire Place – Wooden Flooring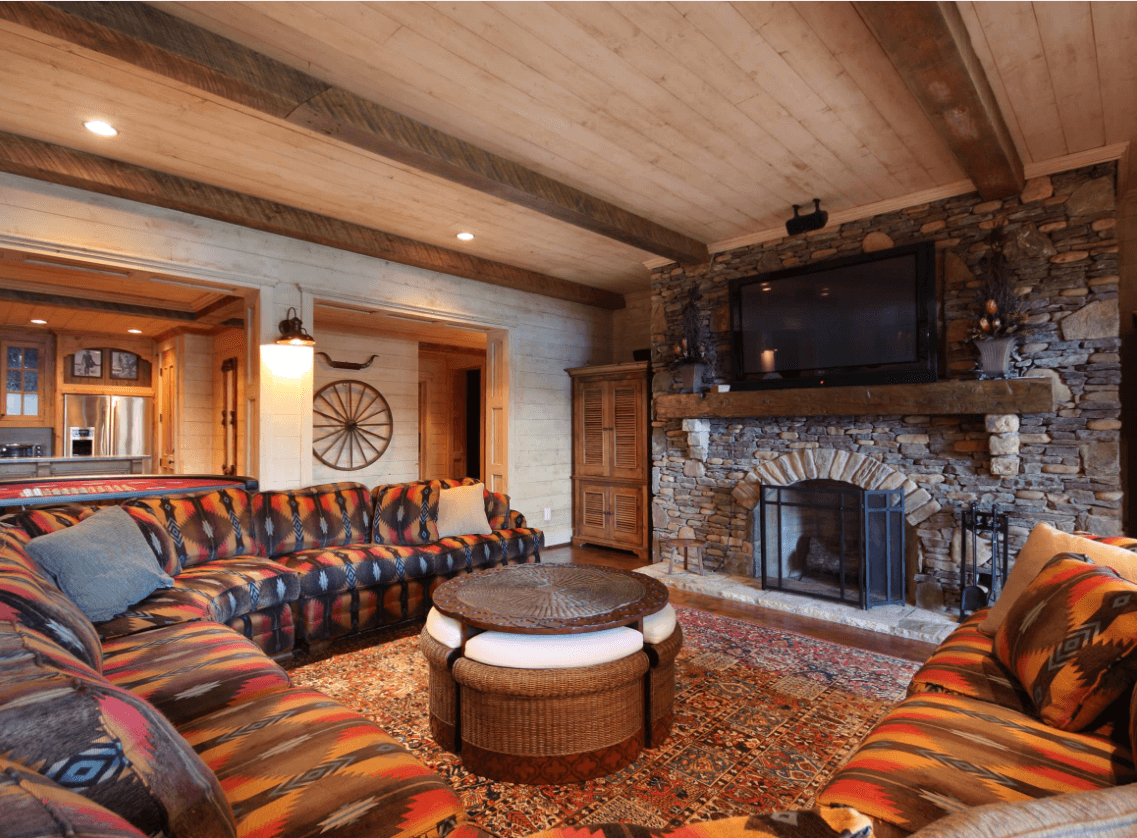 Differently sized stone goes well in rustic or country spaces. Image: Timberlake Custom HomesShop These Products Now: U-Shape Sofa – Modern Coffee Table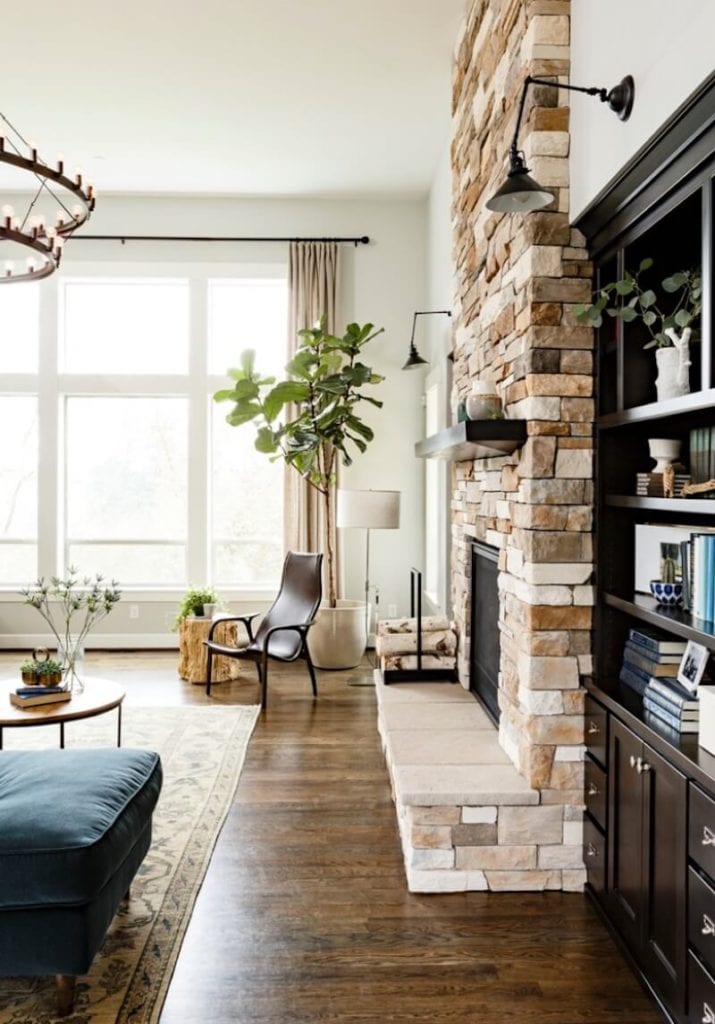 Different shades of neutral beige stone match just about any space. Image: Patrick Schmitt DesignerShop These Products Now: Wood Holder – Wall Lamp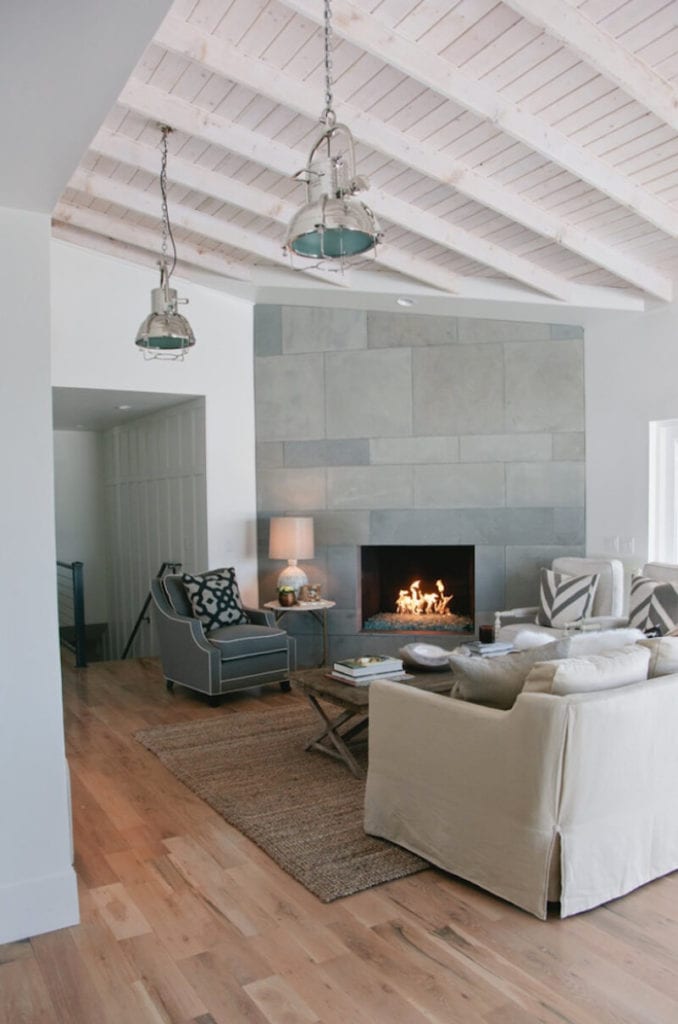 Light slab stone is a solid option for bright color schemes. Image: Liv Design CollectiveShop These Products Now: Table Lamp – Couch
Wood indoor fireplaces
Wood is another favorite for indoor fireplaces. It gives a cozy, warm feeling when used in a mantel design. It's also easy to carve different patterns into it, making it an artistic choice. Lean into this by installing shelving and art display areas directly into the wood. Often, wooden mantels are fashioned to match the walls and cabinetry of the rest of the room, leading to a more unified space. Take a look below to see how wood fireplaces fit into many different home styles.
A gray wood texture complements modern spaces. Image: Ward YoungShop These Products Now: Sectional Sofa – Indoor Fire Pit
An unconventional take on a mantel, this curved design is a perfect frame for the funky makeshift "fireplace" of candles. Image: Caroline BeaupereShop These Products Now: Daybed – Glass Flower Pot
A dark wood mantel adds contrast to a light color scheme. Image: Grand Home SolutionsShop These Products Now: Round Coffee Table – Throw Pillow Covers
Sticking to one color scheme helps the fireplace blend into the rest of the room. Image: Debra Campbell DesignShop These Products Now: Antique Candle Stand – Vase Decor
Wooden mantels can also be highly functional, as is this case with this shelving and display area. Image: JG HardwoodShop These Products Now: Antique Serving Tray – Antique Love Seat
Metal indoor fireplaces
On the more unconventional side of indoor fireplaces is metal. This material fits particularly well into industrial spaces. High gloss metal gives an attractive sheen that helps the mantel stay the focal point of the room. Some industrial designs even make use of exposed bolts for a more rugged feel.Metal also works around minimalistic, contained and modern fireplace spaces. The sleek design of the metal adds to the sense of minimalism. Take a look below for some of the top metal fireplaces and the home styles in which they work best.
Though technically mixed material, this overwhelmingly metal fireplace gives an industrial look to the space. Image: Studio80Shop These Products Now: Hammock Chair – Vase Decor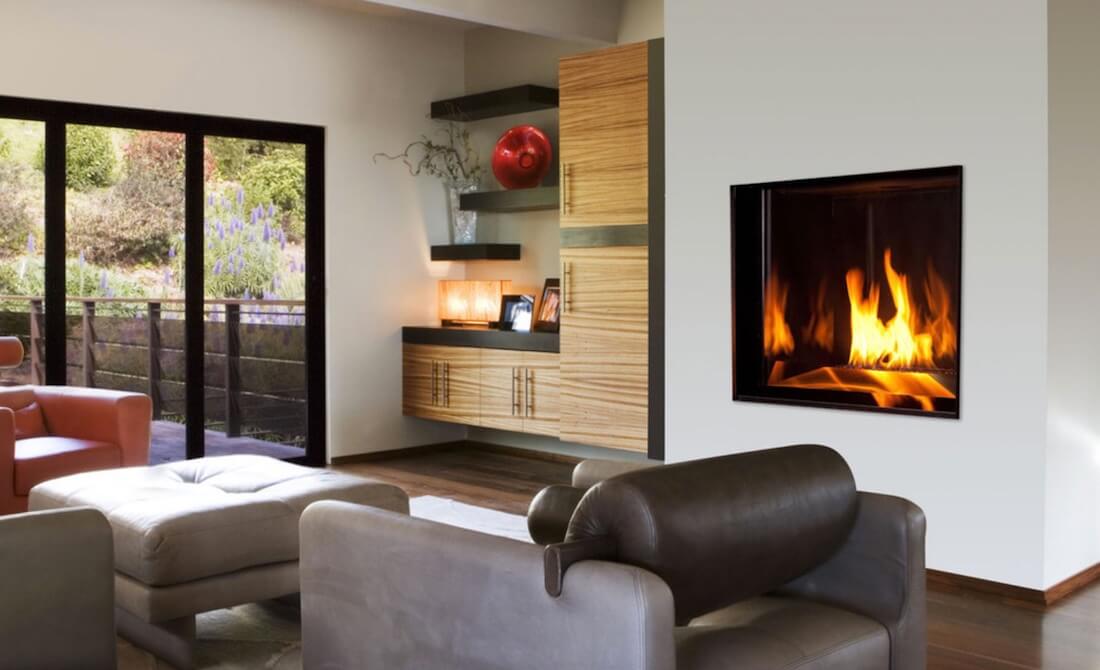 Sometimes a metal fireplace can be set into the wall to create just a hint of framing. Image: Fireplace Doors OnlineShop These Products Now: Ottoman Table – Sofa Chair
This funky modern space shirks traditional indoor fireplaces with a metal fire pit. Image: Miller DesignShop These Products Now: Indoor Fire Pit – Chaise Chair
A full-wall metal fireplace adds sleekness to the room. Image: Best HomeShop These Products Now: Dining Chairs – Candle Lantern
Sometimes a metal design can be a simple wall-mounted gas fireplace. Image: Design MilieuShop These Products Now: Wishbone Chair – Fruit Bowl
Mixed materials for indoor fireplaces
Mixing materials also works well for indoor fireplaces. For instance, the clean designs of painted wood and gray stone complement each other. Stone works well as an interior accent on a wood mantel. This style is all about combining different textures for either unity or intentional contrast.Outside of texture, mixing materials is also a great way to work with color. Some styles use gray stone and white wood for a muted neutral look. Others use a warm wood and light stones for added contrast. Take a look below for ideas on mixing materials.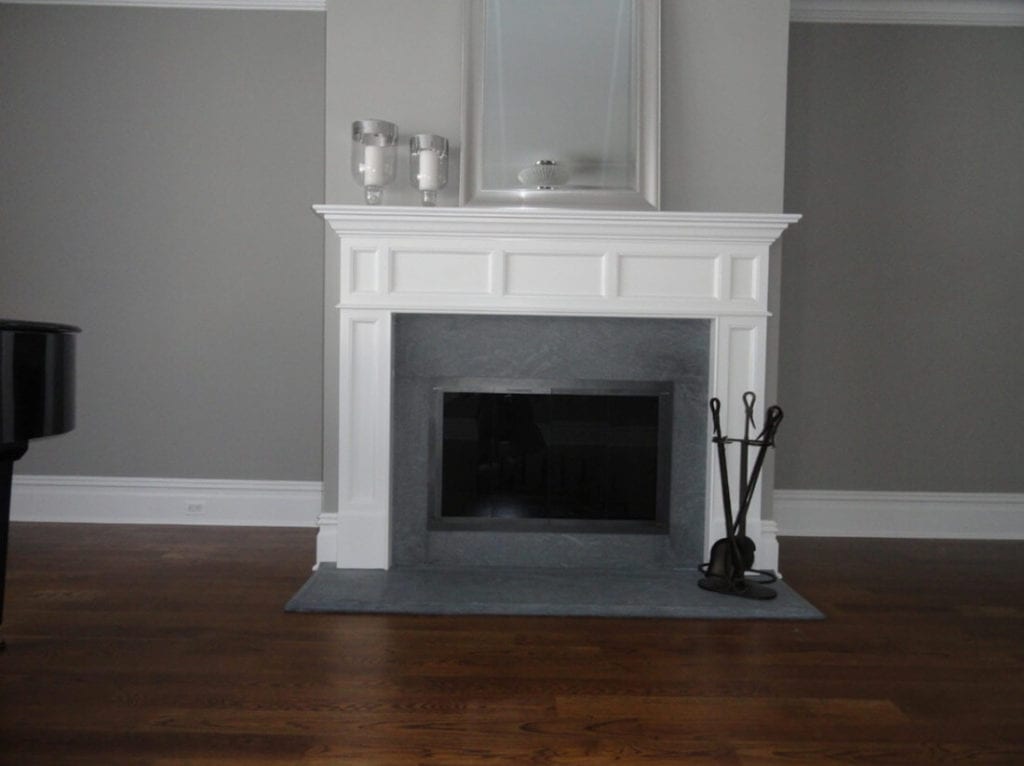 A neutral stone texture goes well with a white wooden mantel. Image: KJB FireplacesShop These Products Now: Glass Candle Holder – Decorative Wall Mirror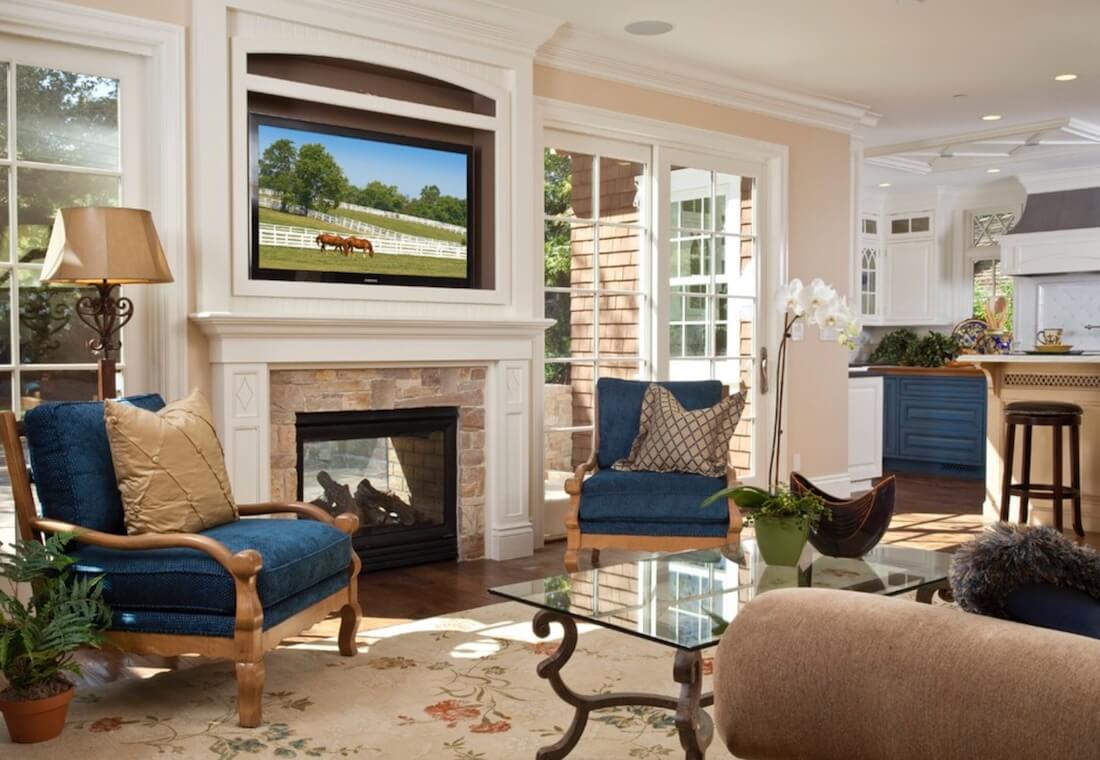 Textured stone is a wonderful accent between the wood and fireplace itself. Image: BrownhouseShop These Products Now: Wooden Accent Chairs – Glass Coffee Table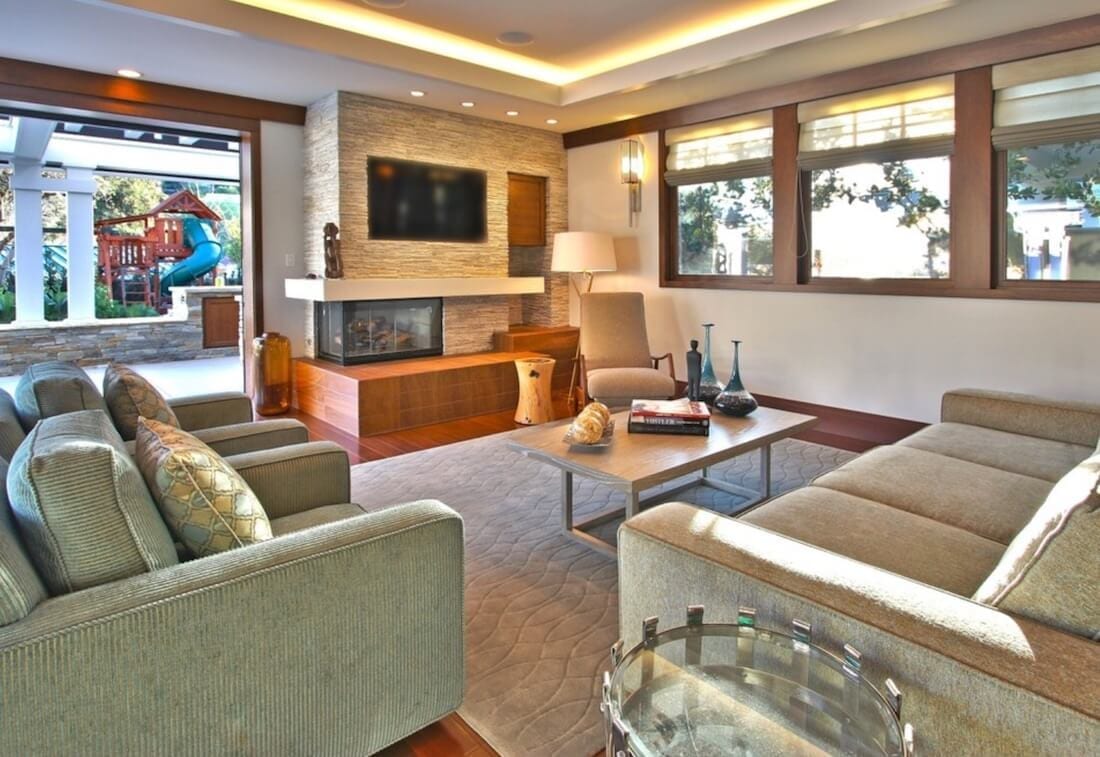 The combination of warm wood and cool stone creates exciting contrast in this off-center fireplace design. Image: Urban ColonyShop These Products Now: Vase Decor – Tripod Floor Lamp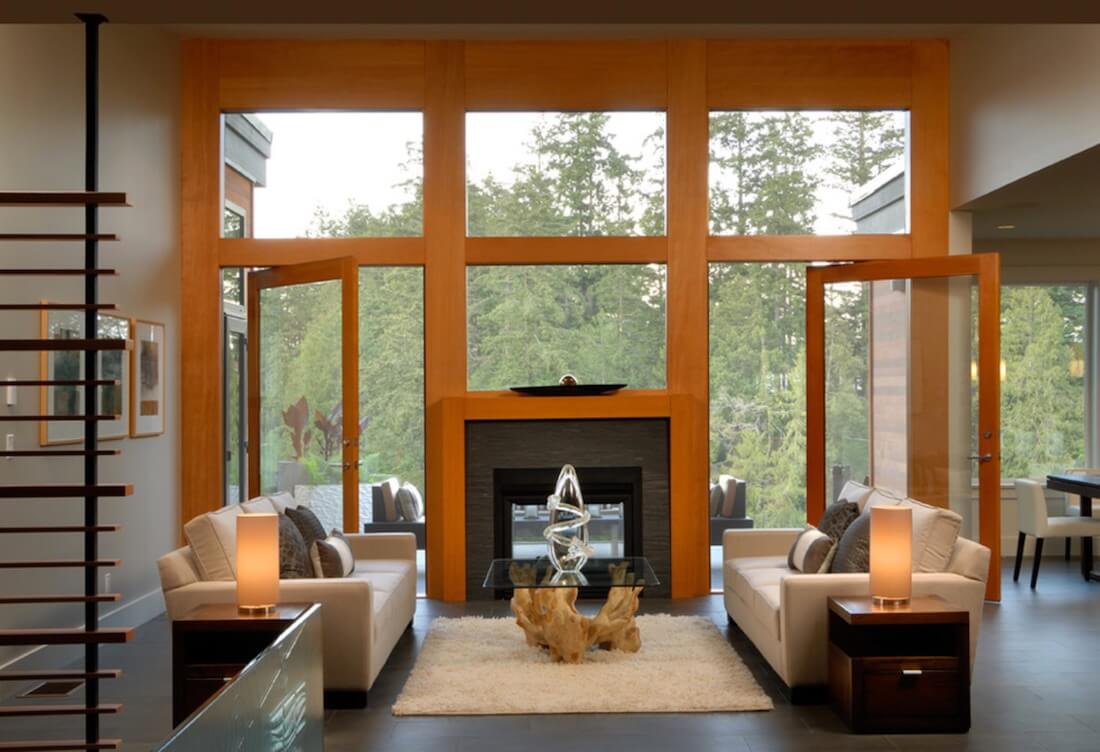 The contrast of dark gray stone texture and warm wood design creates interesting geometry in this space. Image: Christopher DevelopmentsShop These Products Now: Comfy Rug – Glass Top Coffee Table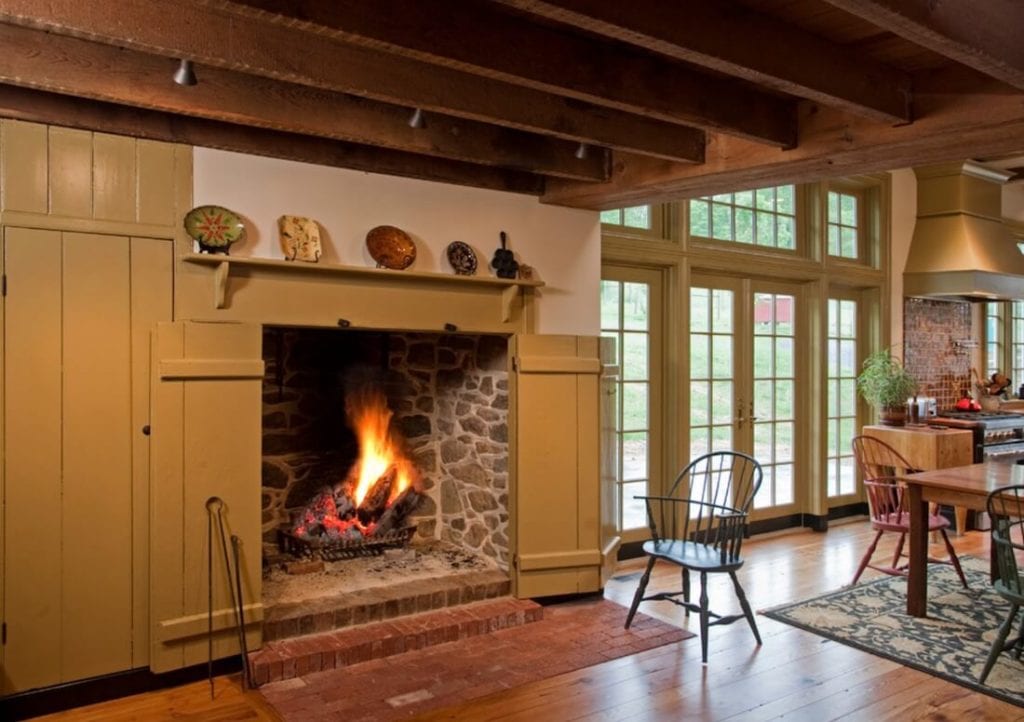 Mix and match styles by using rustic stone on the inside of a fireplace and smooth wood on the outside. Image: G.L. Gallow Building and RemodelingShop These Products Now: Iron Chair – Wooden Flooring
Do you dream of having a fireplace in your home? Or do you have an existing fireplace that you'd like to revamp?
---
Everything for your move, all in one place
Curate your personalized moving checklist, set up TV & Internet, and more with a free MYMOVE account.
Save on your move and tackle upcoming to-dos with your free MYMOVE account.