Free Up Counter Space with These Small Kitchen Organization Ideas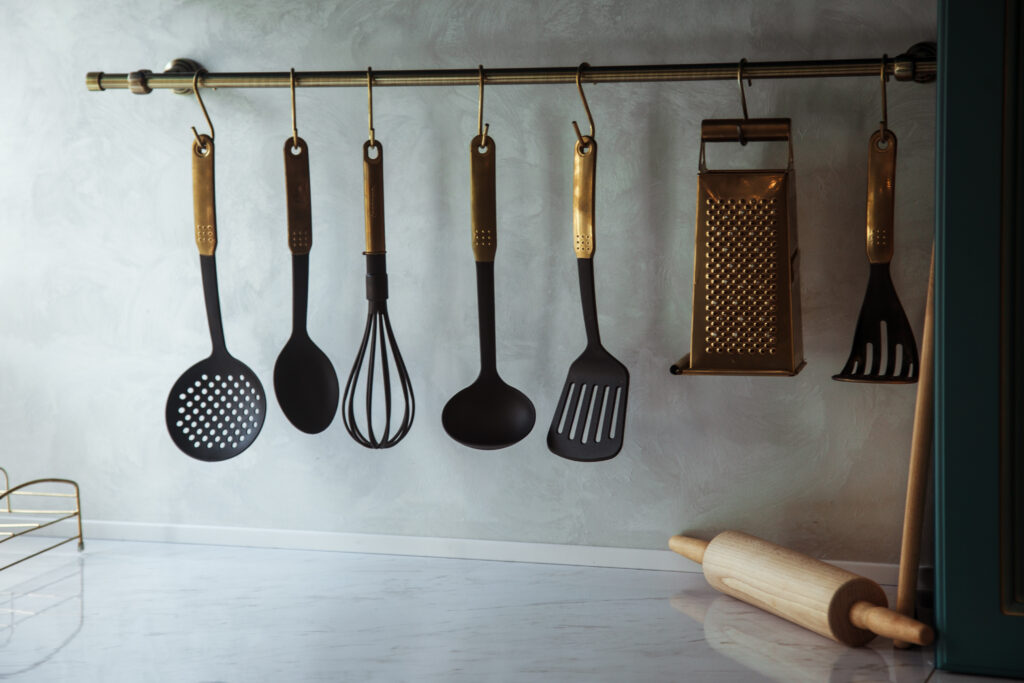 We hope you like the products we recommend. Just so you are aware, MYMOVE may collect a share of sales from the links on this page. 
Is cooking and entertaining in your small kitchen difficult? A studio-size kitchen is a challenge to work in, but a few small kitchen organization ideas and a couple of hours of your time can turn your teeny kitchen into a modern, minimalist dream for cooking and celebrating.
We've got five inspiring, small kitchens for you that rock. They're full of ideas on how you can declutter your kitchen in fresh, new ways. We've also included some small kitchen organization products that will help you reclaim or add new counter space and find a home for all the clutter that likes to hang out on your counters.
1. Light, bright and industrial small kitchen
First off, consider painting your kitchen in a light, bright white to freshen it up. Or cover the dark, outdated walls or cabinet doors with a fresh, new removable wallpaper.
Next, it's time to throw out those cans of hearts of palm you never use and decide what else stays or goes. Once you've got a good idea of how much you're working with, it's time to find a home for everything that's left.
Store what isn't attractive in your cabinets. The rest of the items can display on new, industrial, restaurant-style shelves, bars and hooks.
2. A contemporary small kitchen with floating wall shelves for storage
If you don't have enough kitchen cabinets but plenty of wall space, a clean, contemporary way to free up your kitchen counters is to display and store items on cool floating shelves or ledges like the kitchen above.
Want to give your kitchen a high-design look like the photo? Group the items by color and add some art objects or framed photos. Leave some areas of the ledges empty so they don't look too cluttered.
Another great design choice in the image above is the use of mirror on the backsplash. Add some mirror to a section of your wall behind the countertop to expand the space and reflect more light.
Shop These Products Now: Floating Shelves
3. Small modern kitchen featuring a modular, rolling island
In many small kitchens there isn't much counter space to work with. Basic appliances like a coffee maker or microwave can eat up the little space you have. There are solutions. Choose appliances that can be wall-mounted or under-cabinet mounted. Or add a heavy-duty wall-mounted shelf to hold heavy appliances like a microwave.
A small kitchen island can add extra counter space as well as storage — and even a breakfast bar. Small, round or square islands work better in smaller square spaces. Consider a longer narrow island for a rectangular space. A sofa console on wheels would be a great idea in a longer, galley kitchen. You can roll it into a kitchen as needed and then put it back behind your sofa when done.
Butcher blocks or bar carts are other great options because they often come with wheels to roll your island out of the way. A taller cart works well with barstools.
4. Small kitchen organization ideas featuring bookcases
Adding or replacing kitchen cabinets can be expensive. And if you rent, the project may not even be allowed. Why not buy some good, inexpensive bookcases and make a storage wall for all your kitchen items?
Look for taller but narrow bookcases and mix and match doors to hide some of the items. Or a selection of baskets can serve as drawers in your bookcases, ready to catch all the smaller items and linens.
Another interesting small kitchen idea in the image above is the hooks over the window for hanging pots and pans. Pots and pans take up a lot of space and hanging them from a pot rack or hooks is a good way to free up a cabinet or counter.
5. A minimalist kitchen that brings many small apartment organization ideas together
This beautiful and clutter-free kitchen works because most elements are multipurpose. A low bookcase with a mounted countertop creates an island with storage and counter surface. The cubbies can even hold small appliances. More than a dozen knives are kept in a small knife block on the counter.
A wall-mounted stainless steel bar can hold cooking utensils and with hooks, even coffee mugs or smaller pots and pans. The wall-mounted wine glass holder can also serve as a floating ledge.
How will you organize your small kitchen and take back your counter space?