Small Kitchen Island Ideas for Every Space and Budget
A kitchen island is a useful and multifunctional component. No matter how small your space is, get inspiration from our small kitchen island ideas and tips to add more function to your kitchen.Even the smallest kitchen island has the potential to offer many uses. When considering small kitchen island ideas, select an island that has the five following abilities:1. Creates extra counter space2. Can be used as an eating counter or breakfast spot3. Has additional storage via drawers, shelves or hooks4. Is sized correctly to not interrupt your kitchen work flowA practical eating counter island needs open shelving where knees can tuck or an overhang on at least one side for low-profile, backless bar stool to tuck in.If you find a good kitchen counter that is missing an overhang or open side, you can always add a larger, new top to your find. Make sure the new top is large enough to allow at least a 6" ledge on one side and that the new top is durable enough to withstand kitchen use.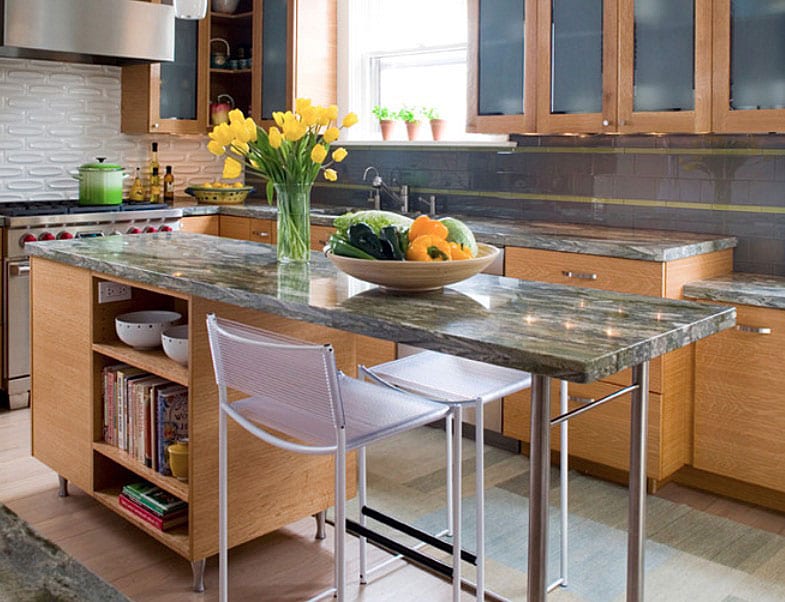 Shop These Products Now: Bar Chair – Kitchen Cart – Fruit BowlSmall Kitchen Island Aisles and ClearancesOnce you've decided that you'd like to add a kitchen island, how large should your island be? According to the book The Architect's Studio Companion: Rules of Thumb for Preliminary Design, allow an aisle of 36" wide or 42" wide if the island is facing an appliance door.Good places for islands include the center of a kitchen or to enclose an open floor plan kitchen in an L shape formation.While the standard aisle width guideline of 36" allows two people to pass, you could have a clearance as small as 32" if the spot is not high traffic. Take newspaper or painter's tape and plan a floor outline of where you'd like your island to sit with proper clearance. Test your floor plan and adjust accordingly.If you find that your kitchen doesn't have the space for a permanent island, choose an island that can be rolled, tucked away or moved to another area as needed.You don't have to specifically go out and purchase or custom make a kitchen island. There are a variety of small kitchen island ideas that may work better in your small space than a permanent cabinet piece. Here's our favorite small kitchen island ideas.
A Restaurant Grade Small Kitchen Island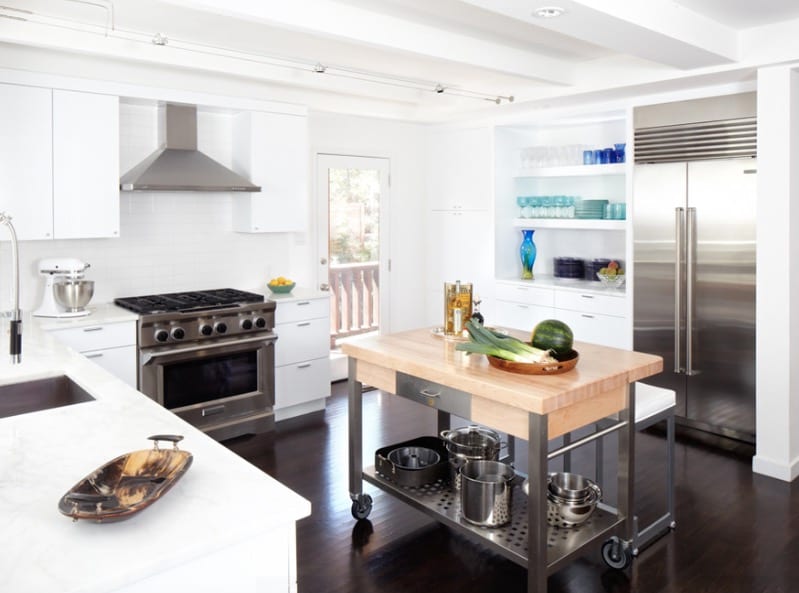 Shop These Products Now: Kitchen Cart – Range Hood – RefrigeratorVisit a restaurant supply store and pick up an industrial, commercial stainless work table. They're lightweight yet sturdy, durable in stainless steel, come in a variety of sizes as narrow as 16" and are fairly inexpensive.For the most use, select one that has a towel bar for hooks and textiles and open shelving below. Locking wheels are helpful if you plan on moving your island often, although restaurant grade work tables are often lightweight enough to move without needing wheels.
A Butcher Block Kitchen Island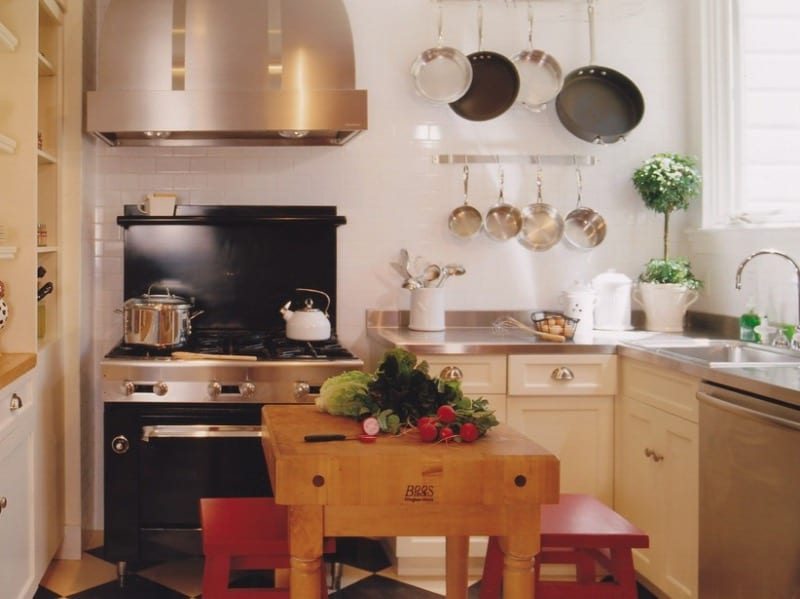 Shop These Products Now: Kitchen Table – Wall Mount Rail – Pressure CookerA butcher block is a perfect island alternative. The surface is ready for kitchen use and you can usually add a couple of stools to create a snack counter.
A Repurposed Furniture Kitchen Island
A cheap and effective way to add an island to a small kitchen is by repurposing a furniture piece as an island. Some furniture as small kitchen island ideas include:
A sofa table
Shop These Products Now: Kitchen Table – Magnetic Knife Strip – Cup HolderSofa tables are designed to be narrow enough to sit behind a sofa or in an entry way. Available in a variety of sizes and styles and normally around 30" high, they make a good kitchen island option.
A cabinet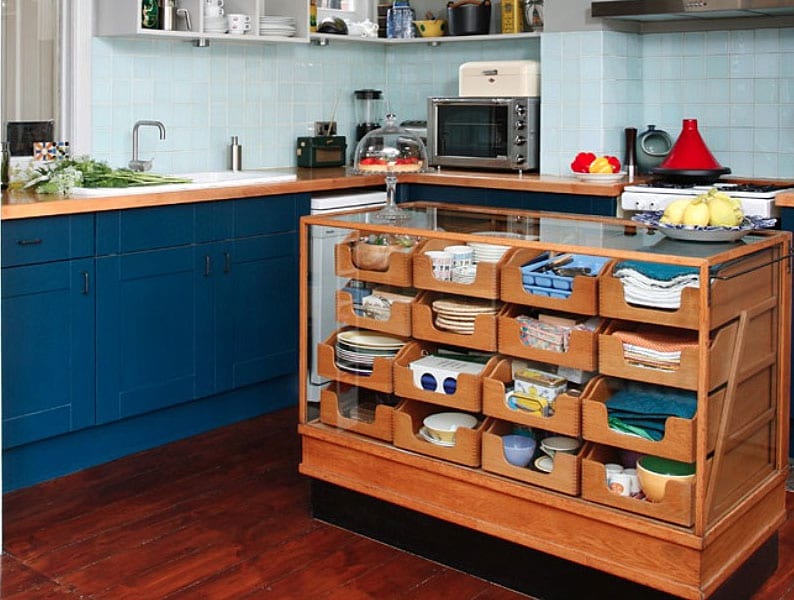 Shop These Products Now: Kitchen Cabinet – Fruit Bowl – Microwave OvenRecycle an old or vintage cabinet as an island. Look for ones that have plenty of shelving, drawers or other storage options. The one in the image above was once a clothing store display cabinet.
A bar height dining table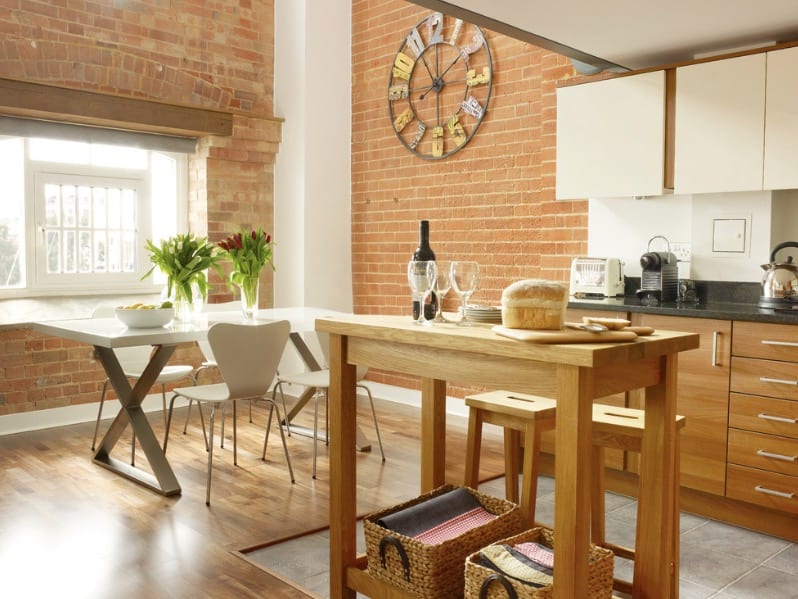 Shop These Products Now: Dining Table – Wine Glasses – Fruit BowlA tall dining table in the right proportion can be the perfect island for dining, prep and counter space. Add hooks to the side for extra storage.
The Drop Leaf Kitchen Island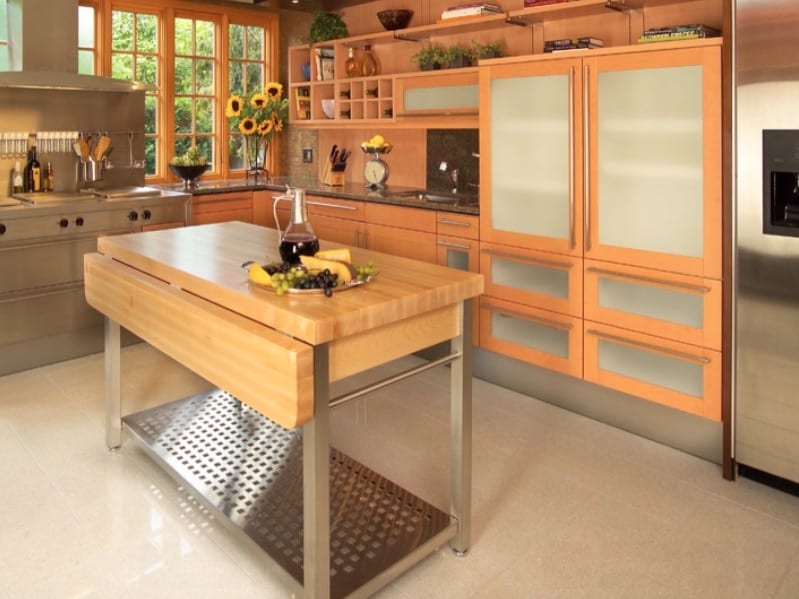 Shop These Products Now: Kitchen Table – Pitcher – Utensil HolderA smart way to add extra counter space to a kitchen involves the drop leaf. Pop it up when needed and drop down for ease of movement in a small kitchen.If adding an island is not possible, take inspiration from the drop leaf island and add a drop leaf at the end of a kitchen cabinet or kitchen wall. The extra counter space could serve as an eating nook or extra prep area that can be stored when not in use.
A Floating Island Ledge
Find a space where a simple butcher block ledge can serve as a kitchen island. If a ledge isn't possible, create an enclosure with a minimalist island design. Take inspiration from these two kitchens: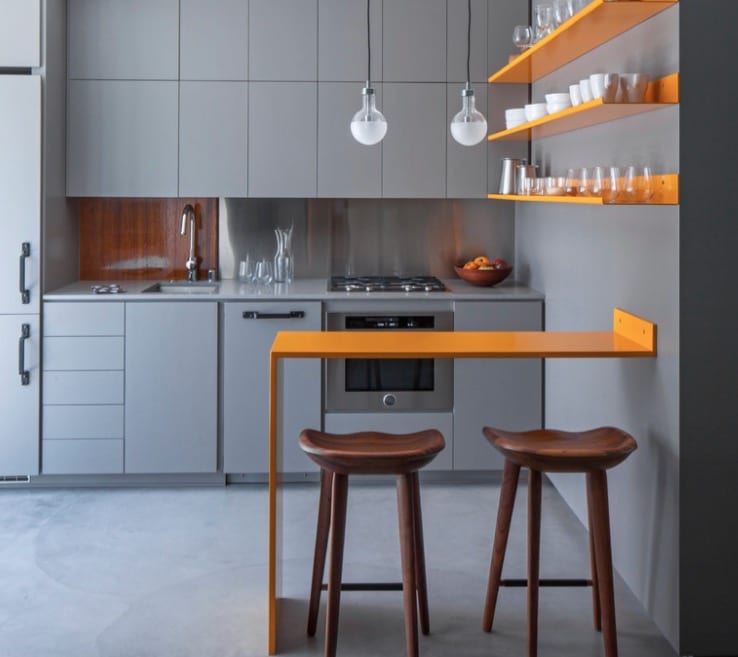 Shop These Products Now: Stool – Wall Shelves – Fruit Bowl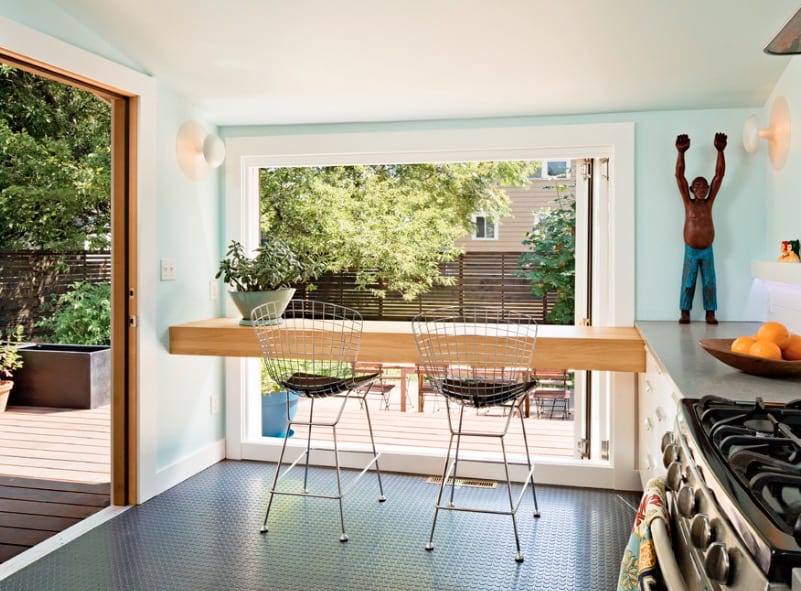 Shop These Products Now: Bar Chair – Fruit Bowl – Towel Bar
A Storable Kitchen Island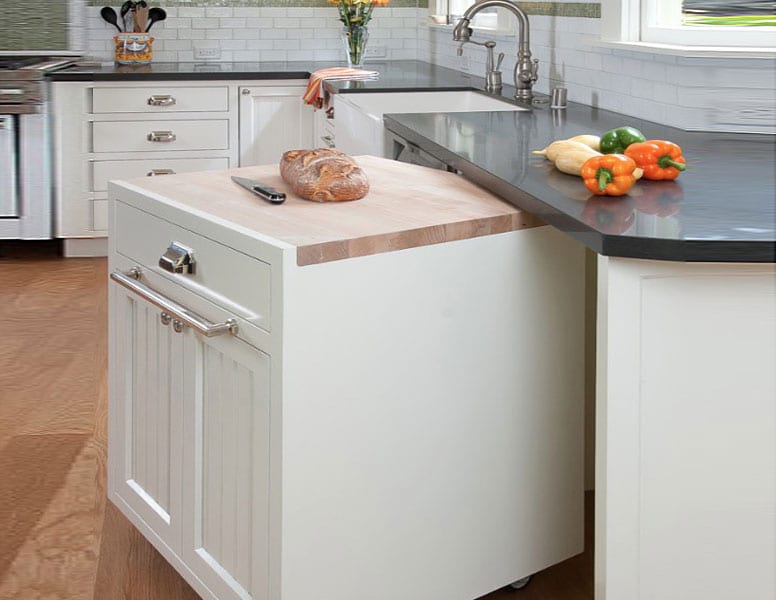 Shop These Products Now: Storage Cabinet – Faucet – Towel BarIs there an open spot where an island can store when not in use? Design a kitchen island that will fit in the dimensions of the opening. Better yet, if you're designing a kitchen, include one cabinet piece that can roll out and be used as an island or extra counter space in a different spot.
A Rolling Kitchen Island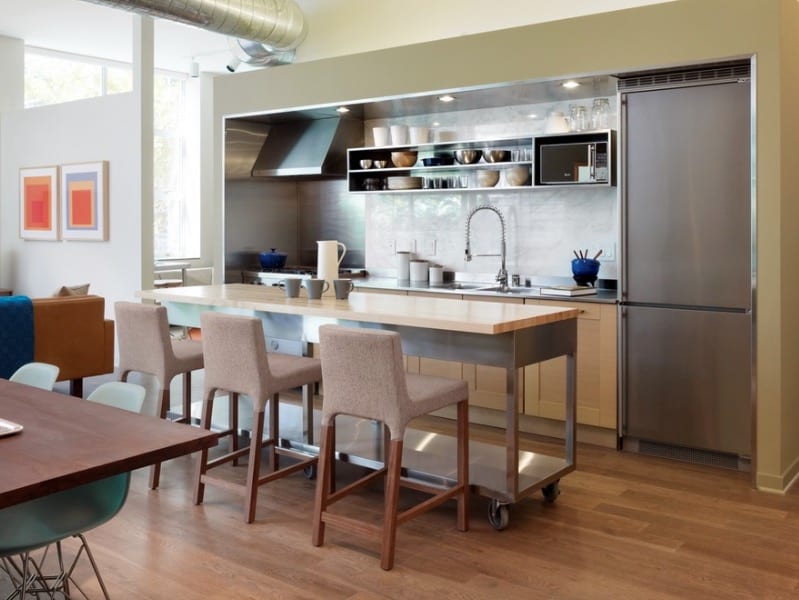 Shop These Products Now: Dining Chair – Tea Cups – Kitchen ShelvesRegardless of the island you use, if you need the island to be mobile, adding high quality wheels to one is an easy upgrade. Choose high density polyurethane wheels that have a locking mechanism that keeps the island from moving.If you have a larger kitchen and more space to work with, be sure to check out these 60 beautiful kitchen island ias.
---
Everything for your move, all in one place
Curate your personalized moving checklist, set up TV & Internet, and more with a free MYMOVE account.
Save on your move and tackle upcoming to-dos with your free MYMOVE account.