5 Ways To Redo Your Kitchen Backsplash (Without Tearing It Out)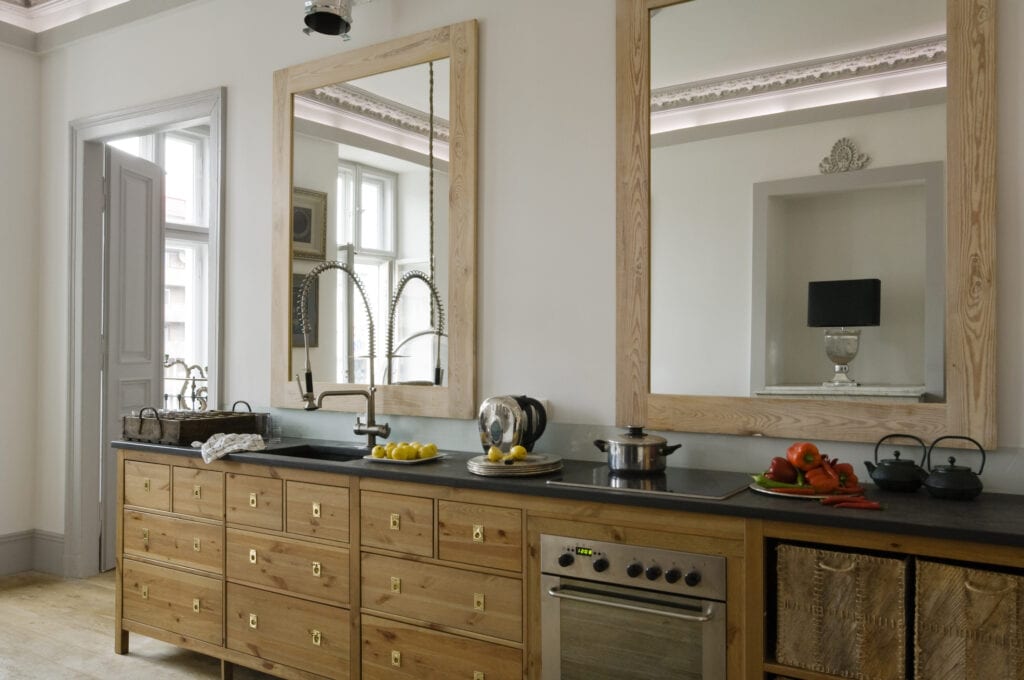 The kitchen backsplash can be one of the best opportunities to get creative with your kitchen design. It's a chance to play with a variety of colors, textures, and patterns that may come off as overwhelming when incorporated into other elements of the room. Exciting, right?
Here's the catch: just because it isn't a seemingly vital piece of your kitchen doesn't mean it's an easy swap. In fact, undoing the customization and permanence of a kitchen backsplash can feel overwhelming and daunting. Add a few mental images of chipping away at stubborn backsplash tiles and you may have one the messiest kitchens you can imagine.
If you're due for a makeover, don't feel stuck with your current backsplash (even if it is literally stuck). We've compiled 5 ways to redo your kitchen backsplash without tearing it out. These easy DIYs will give your space an entirely new look at a fraction of the time, cost, and effort of a true replacement.
Melis82 / Getty
1. Add A Coat Of Paint
Sometimes, the simplest approach is best. That can feel particularly true when it comes to reimagining your backsplash. If you're satisfied with the material you've used in the past, just not the particular shade or aesthetic, a coat of paint is an easy and affordable way to give your kitchen an entirely new look.
Our favorite part of going with a paint solution is that there is a variety of styles to coat a variety of materials, ranging from wood to tile to glass. You can keep the new style simple by just sticking to one shade or add a bit more flair by using a stencil to create a design in a secondary accent color. Choosing between matte, satin, and high-gloss styles also offers a variety of looks within a single hue.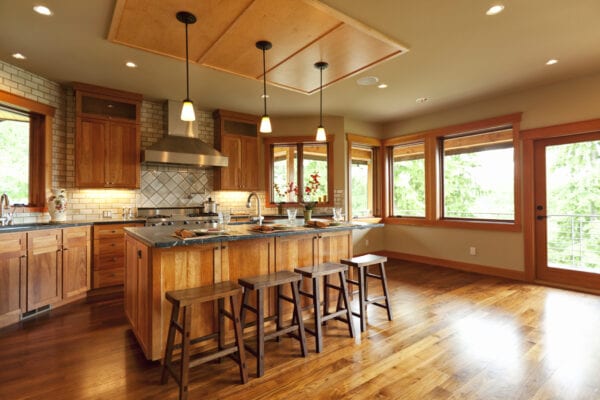 ChristinaKurtz / Getty
2. Go Rustic With Wood
For those who love the idea of a rustic kitchen, there's no better way to go than a wooden backsplash. All you need for this remodel is a wood of your choice and liquid nails to help adhere the new planks over your existing material.
Of course, different styles of wood can achieve completely different aesthetics. If you're looking for your final project to have a more streamlined feel, you'll probably want to opt for the manufactured tongue-and-groove pieces that are sold at home improvement stores. But if your dream backsplash consists a truly unique and aged look, you can create a one-of-a-kind design from reclaimed wood pieces.
Whether you go for more contemporary or more country, remember that both as still in the kitchen. So consider staining the wood to protect it from eventual cooking wear and tear.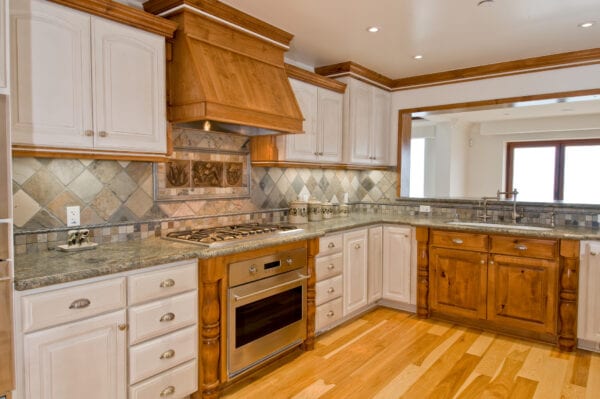 cesarandre / Getty
3. Give Glamour With Tin
In the past, tin was an incredibly expensive material. It was viewed as a sign of wealth for anyone who was able to incorporate it into their home designs — think about the revered tin ceilings found in restored buildings. These days, faux tin sheets are easy to obtain and offer the same look at a fraction of the price. This is also a great choice to replace tile as the texture of the tin finish will make any grout lines disappear.
However, the key to using tin successfully is moderation. Since the designs imprinted on the finish are often very detailed, too much of this material can feel overwhelming to the eye. For best results, treat tin like a focal point. Use it in places where you'll want to draw extra attention — behind a high-end stove, or over a wide sink.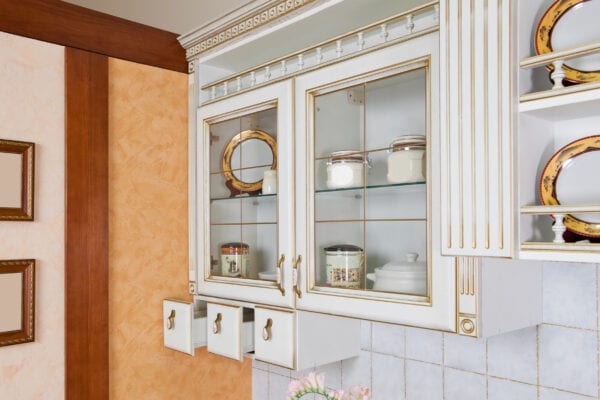 Pirotehnic / Getty
4. Warm Up With Beadboard
What's more inviting than being welcomed into a cozy country kitchen? One of the easiest ways to achieve the "down home" aesthetic is by adding a beadboard backsplash. All application requires is the same liquid nail solution you'd put down for wood paneling, and a few finishing nails around the perimeter for you to create a space fit for the rolling hills.
Since beadboard is often sold in long strips, you'll likely need to cut pieces down to size. Be sure to measure beforehand and to lay out your design before gluing to ensure that you'll be happy with the final design. Don't hesitate to add some paint or stain to make the look pop. Dark gray and muted teal are both beautiful choices when going for more than white.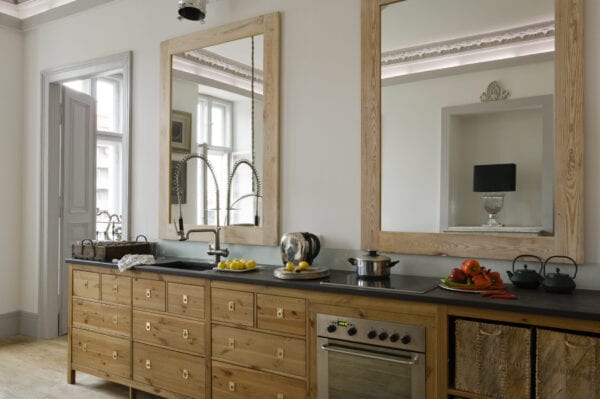 Einseidel / Getty
5. Mirror A Modern Look
When it comes to modern spaces, open any home design magazine and you'll see many of the same materials: cool metals, smooth stone, and reflective glass. This makes the shine of a mirrored backsplash an easy choice for those looking to achieve a sleek design.
In this case, there are two options. Mirrored tiles are often sold in adhesive sheets that can be easily applied over an existing textured design. However, those with a smoother surface to work with should look for an opportunity to buy the mirrored product in one larger slab. It's a more minimalist, modern approach to mirrors — which can sometimes look dated in the wrong setting.
Updating something as simple as your kitchen backsplash can greatly alter the overall appearance of your kitchen. Before you reach for the chisel, consider these backsplash ideas that don't require demo. We hope you find that the end result can be just as impressive as a full-scale renovation.
How do you plan on updating your kitchen backsplash? We'd love to hear from you, so reach out to us on social media, or in the comments section below!