10 Rustic Kitchen Designs That Embody Country Life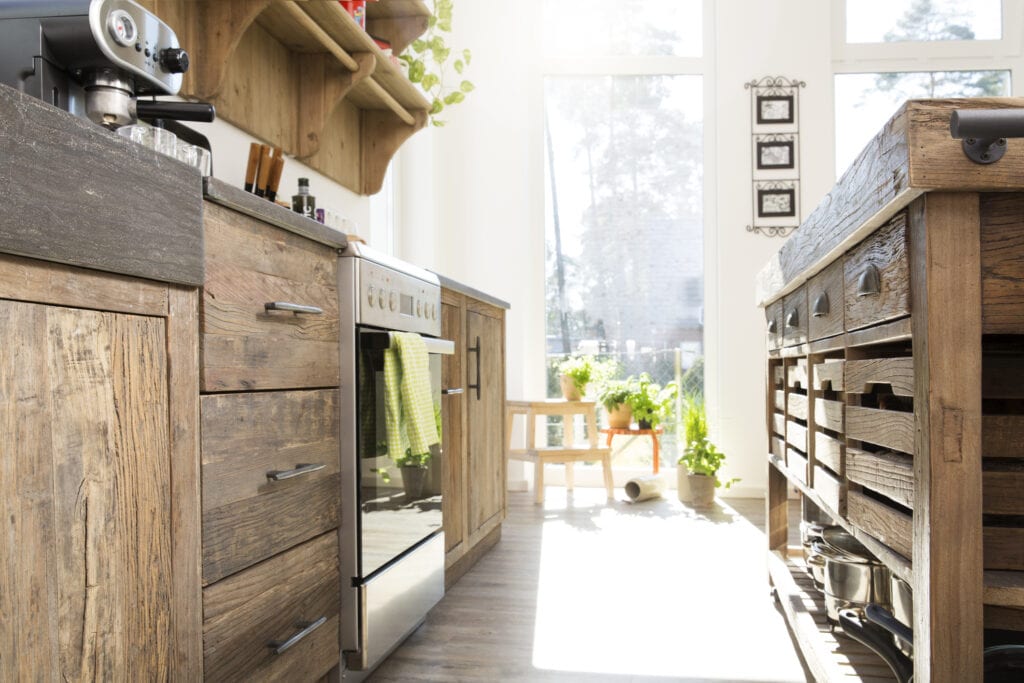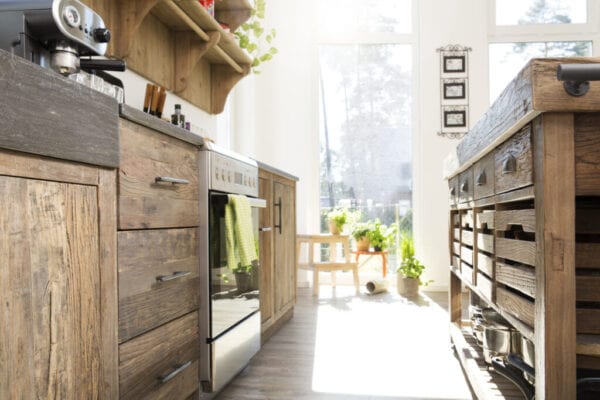 Westend61 / Getty Images
You're standing in your cozy rustic kitchen admiring the warm glow that only aged wood cabinets and a natural fireplace can emit, and the smell of pine trees surrounds your senses. You drop into your favorite plaid-covered chair, resting your stocking feet close to the open flame of the wood-burning stove — just close enough to warm your cold toes. The logs in the fire seem to pop to the tune of the kettle boiling on your huge cooking stove…..Were you there for just a moment? Escaping the hectic fast-paced city life and dreaming of what a quiet country life would be like.  In this article we are not talking about a country kitchen where toile fabric covers every corner and ceramic roosters perch on your window sills and countertops. Rather, here you will find images and descriptions of rustic kitchens that feature amazing natural wood elements, old stones that have tumbled through time, rough hewn wood beams, and a few unexpected modern elements that mix surprisingly well with rustic life.  If the rustic-style is not for you, then consider reading our 10 Amazing Modern Kitchen Cabinet Styles. Let's take a look at these time-worn treasures to see if we can create this intimate aesthetic in our own home:
1) Dark Wood and Pops of Red
Wide wooden floor planks, wood ceiling beams, time-worn wood cabinets — all of these wonderful wooden elements bring nature inside your rustic country kitchen. If you love wood-based designs then also read Timber Architecture: 10 Benefits of Wood-based Designs.The knots in the wooden pine wall show where tree branches once grew, the grooves in the ceiling beams show where blistered hands once scraped the wood clean of bark, and the floor boards creek with age under your feet.  In order to achieve the aesthetic of a rustic kitchen, wooden elements are a must.The intimate kitchen in the image below features plenty of dark wood that seems to radiate warmth. The hint of barn-colored red in the island adds a nice country touch, as well. Mimic this design to achieve your own cozy country kitchen.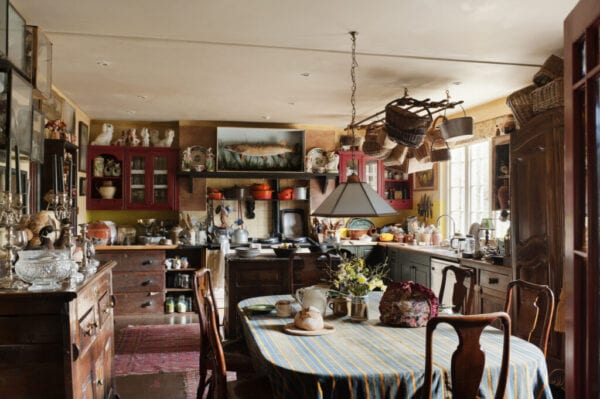 Von Eisiedel / Getty Images
2) Elements Of Stone Are Perfect In A Rustic Kitchen
Nature has more to offer other than just wood. Stone can be an amazing feature to add to your rustic kitchen. Whether you add hints of stone in a fireplace hearth, or cover an entire wall with large tumbled river rock — consider adding some element of stone to your kitchen.If a wooden floor in your kitchen seems like too much , then maybe consider adding a flagstone floor throughout. This would certainly add a nice bit of aggregate to your home— just be sure to add a few area rugs for a warm layered look. Other rock elements could be used in your kitchen counter tops, such as quartz or granite. Essentially, any natural mineral is a fine choice for a rustic kitchen design.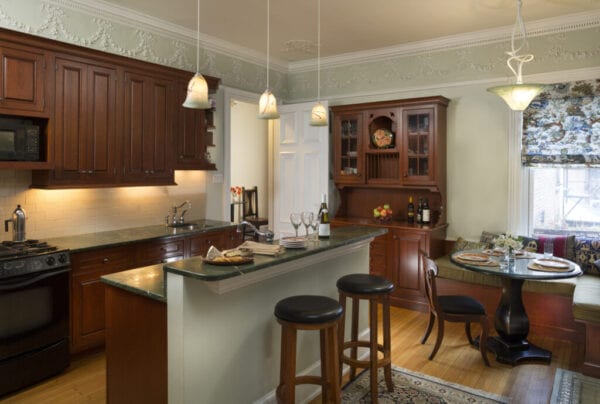 Lovette / Getty Images
 3) Rustic Mixes With Modern
Maybe an entirely wood-covered kitchen is not your style, but you still crave some small elements of the natural rustic aesthetic.Take a cue from the modern kitchen featured below. Its main design is that of a contemporary kitchen with clean white cabinets, black walls and shiny stainless steel. Then look around the kitchen a bit more and you begin to notice natural wood floors, wooden stools and an amazing wooden ladder incorporated into an otherwise modern light fixture.This kitchen design mixes modern with rustic in smart manner, allowing the homeowners to enjoy the best of both (seemingly opposing) design worlds in one cohesive kitchen.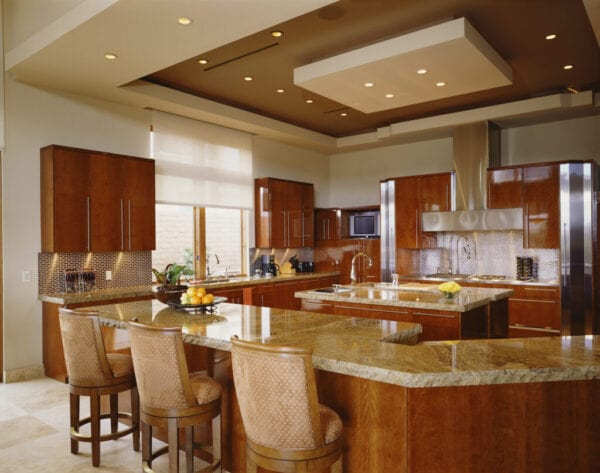 Van Dyke / Getty Images
 4) Wood Can Be White, Light And Airy
Dark wood can seem too imposing for some smaller, dimly lit kitchens, so consider adding painted or bleached white wood instead.The wooden ceiling beams in the kitchen featured below are solid wood, but are bleached with a white stain, allowing the room to seem rustic, yet large and airy, too. The cupboards are made again of solid wood, but a light-colored pine wood that is far from dark or dreary.Everything still feels rustic and countrified, yet somehow open and modern, as well. This may be a look you could love for your rustic kitchen design.

sl-f / Getty Images
 5) Primitive Paint
Time-worn, aged and chipping paint is essential in any rustic kitchen design.  This is not a look for all those Type A personalities that love a perfect, chip-free home (who can blame them). Instead, it's a relaxed look that says, "My home is your home. Go ahead, put your feet on the coffee table."Primitive painted pieces are easy to find at most flea markets, so go on a treasure hunt for the perfectly worn table or cabinet for your relaxed-style kitchen.If the chipped paint is too much for you to bear, then consider repainting a few pieces, but keep the grooves, dents and dings in order to keep that rustic vibe.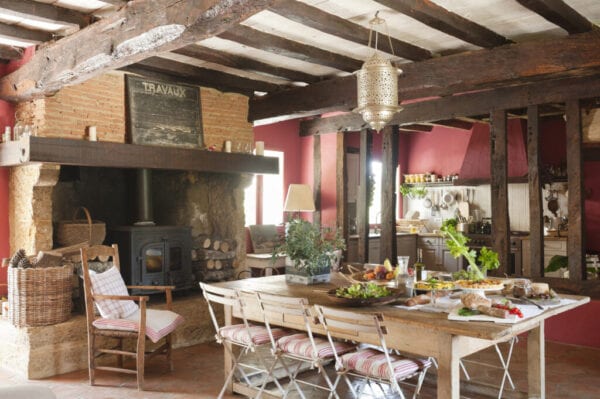 Von Eisiedel / Getty Images
6) Add Accessories To Your Rustic Kitchen
Ask any designer and they will agree that accessories can make or break a design space. Initially, when imagining a farmhouse-style kitchen, one may think of ceramic country roosters pecking on window sills, but this look is becoming outdated.Instead, surprise the eyes with accessories that are anything but country. Look at the kitchen featured below, it is accessorized with ornate, carved mirrors and stone pineapple statues. What a neat design idea!If you want to stick with a rustic style, then consider accessorizing your kitchen with navajo rugs, woolen textiles and twig-style furnishings.  Have fun, and don't be scared to play up your kitchen with fun, quirky decor items.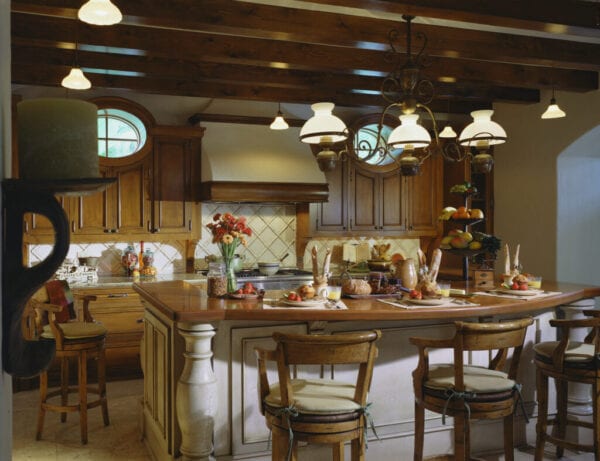 Forer / Getty Images
 7) Add A Fireplace In The Kitchen
What emits warmth and glow better than a real wood-burning fireplace?  Pay tribute to days-gone-by with an actual wood burning stove in your rustic kitchen.You can add a true heirloom stove, or consider installing a new wood-cook stove that may be more practical. Either way, you will achieve the country aesthetic you crave. Imagine the baking and cooking you can do over open flame, filling your kitchen with the scent of rising pizza or bread dough.The wood stove in the image below is one to take a look at. Its floor-to-ceiling stone surround emits a real rustic vibe that is worthy of copying.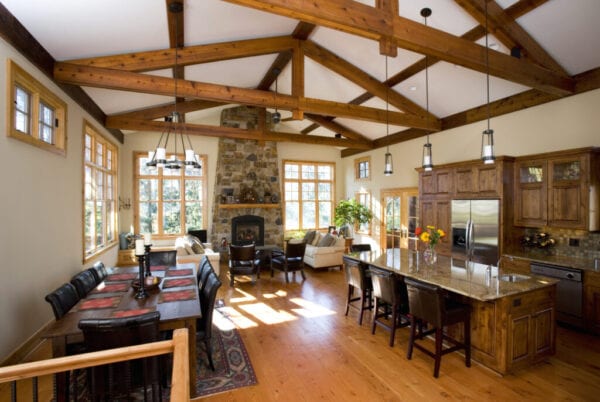 JMichl / Getty Images
8) A Rustic Kitchen With Feminine Flair
Up until now, most of the rustic designs we have looked at have been quite masculine in nature.  They have been woodsy, manly and maybe emit too much testosterone for us females.The kitchen featured below is one that still maintains its countrified side, yet has a female, sophisticated flair to it, as well.  This design can be achieved quite simply by adding some prettier textiles such as fabric-covered chairs, curtains and a pretty area rug. Plus, some of the cabinets are white, new and more modern in design.Meet in the middle by uniting the manly with the womanly in your rustic kitchen. The two mesh very well together when done properly.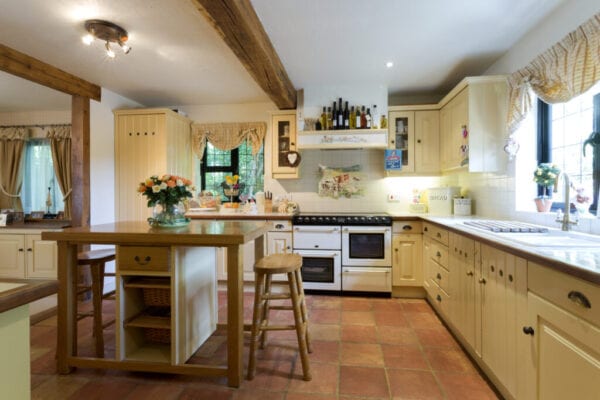 Mint Images / Getty Images
 9) Add A Hanging Pot Rack
Nothing says, "Welcome to my cozy rustic kitchen," more than a huge wrought-iron pot rack with gleaming copper pots dangling from the ceiling.Pot racks can be made of all sorts of inventive materials— you don't have to buy an expensive one from the store.  Consider repurposing old window frames, hanging one from the ceiling with chains and adding large S-hooks around the frame for pot holders. Or repurpose a large piece of driftwood as a woodsy, nature-inspired rack. Or an old barn ladder would be great, too.Essentially, use your imagination and you can come up with an inexpensive rustic-inspired pot rack, adding a must-have element to your country kitchen.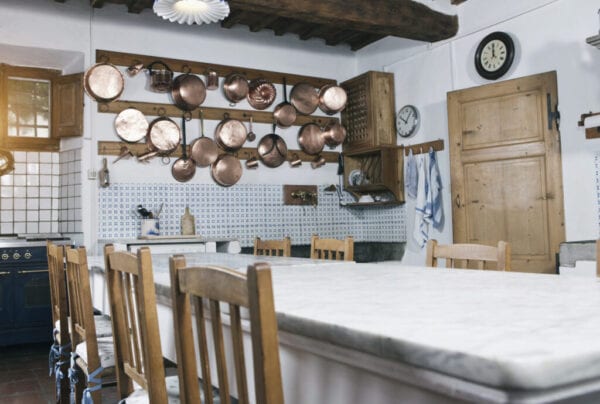 Westend61 / Getty Images
 10) Painted Wood Cabinets
Not every rustic kitchen has to be covered in bare wood. You can still achieve the design with elements of color. In fact, in the kitchen below, the only bare wood to be found is in the flooring—everything else is painted a deep country blue. Yet, it still gives the impression of a rustic inspired kitchen.The trick to maintain this aesthetic is to paint walls and cabinets in a country-color. Certainly, a bright lime green would not achieve the same outcome. Check with your local paint store to see if they have a line of paints that are considered heritage or nature-inspired.Colors from the out-of-doors would certainly work well. Think browns, greens and barn-red. If you are unsure of your color choice, then cover a few walls in paint swatches and live with it for awhile to see what works best, and refer to How to Choose The Right Color Palette For Your Home.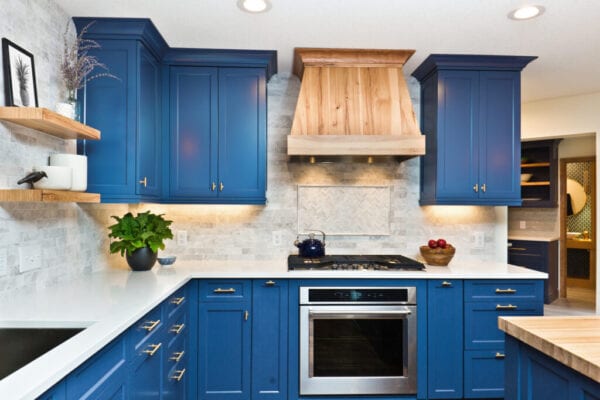 YinYang / Getty Images
Whether you live in a bustling city or in the middle of nowhere, the country life can be yours through a rustic-inspired kitchen—You don't have to live in the country to have one.Simply add nature-inspired elements to your kitchen through wood, stone, accessories and color. Oh, and don't forget that amazing wood-burning stove. Rustic kitchens can be so cozy, welcoming and warm. The kitchen truly is the heart of the home, so consider creating this inviting environment in your home today.What would you like to see in your rustic kitchen,