Inexpensive Ways to Transform Your Countertops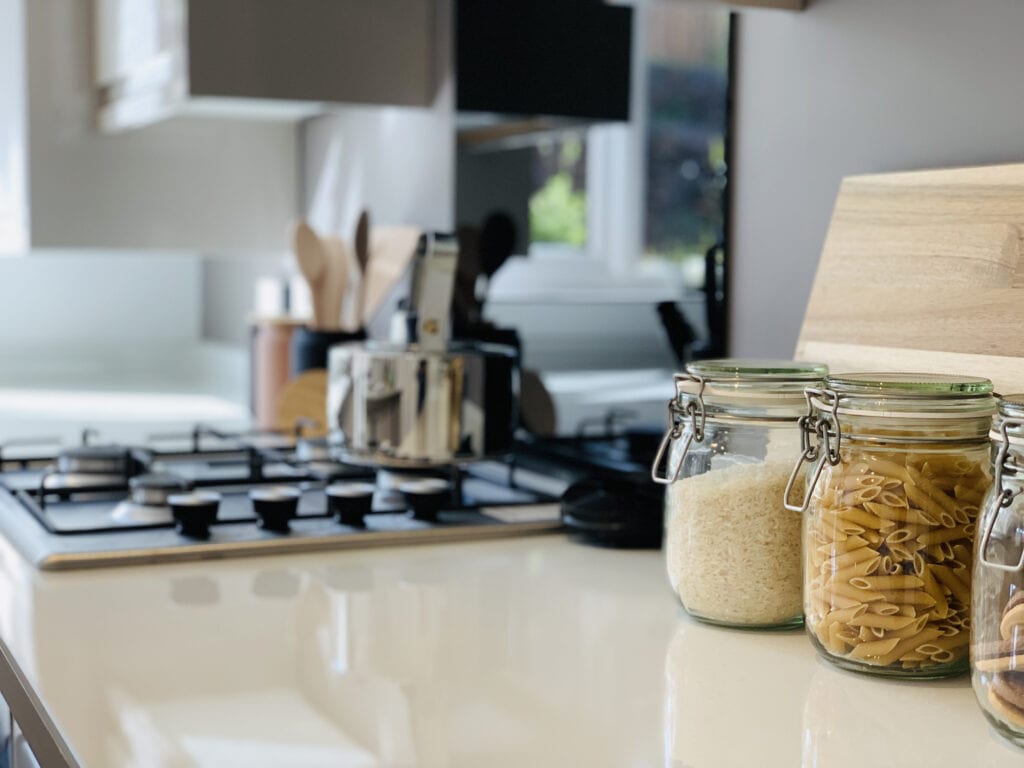 If you hate your countertops — kitchen, bath, bar, or garage — but you're not ready to pony up the money required to get granite, take heart. There are other alternatives, probably cheaper than the tax you would pay for granite, to transform countertops.
And the news gets even better. You don't have to be a professional to transform your countertops yourself. We found several products that can make your countertops look a whole lot better with just a minimum amount of effort.
Daich Countertop Finishing Kit
Kevin Jackson / EyeEm / Getty Images
You'll need a paint brush or paint roller to use Daich's products, but don't let that fool you. "The SpreadStone Mineral Select Countertop Finishing Kit is actually not paint at all. But it is applied with a roller or brush for an easy, paint-like experience," explains Peter Daich, President of Daich Coatings in Hamilton, ON. "It is actually a real blended stone resurfacing material that can be easily rolled onto existing kitchen countertops, bathroom vanities, bar tops, tables, etc.," he says. Daich explains that this allows consumers to add the decorative elegance of a real estate upgrade while only paying a fraction of the cost.
He says the Daich Countertop Finishing Kit contains everything you'll need, including the tools, coatings and accessories. Each kit covers 30 to 40 square feet.
You can use the refinishing kit on laminate, wood, concrete, stone and other solid surfaces. Daich says that it is a water-based, natural stone material that is odorless, dries fast, resists staining and resists damage from hot pans and daily use.
The kit comes in 10 popular countertop colors: Oyster, Natural White, Onyx Fog, Canyon Gold, Volcanic Black, Mantle Stone, Lodestar, Sundance, Ironstone and Yosemite.
mtreasure / Getty Images
Applying the Daich Countertop Finishing Kit
So, what level of expertise do you need? "Anyone can use this product," Daich says. "It is a stone mixture that is simply rolled on like paint," he explains. "No special tools or artistic skills are required to achieve an attractive result."
In fact, he says you don't really need to worry about messing up. "If a spot gets missed, just brush or roll some into the surface to fix it or just dab some on with your finger."
The three phases of refinishing your countertops are as follows:
1) Roll on a bonding primer
2) Roll on two coats of stone
3) Apply clear coat the following day
So, how long does the process take? Daich says it's a good weekend project (two days). "The coatings in the kit roll on quickly and dry in as little as 30 minutes," he explains. "Primer and Stone coating steps are usually completed on day one, followed by application of the clear coat the following day."
Giani Countertop Paint Kit
Alexey Shipilov / Getty Images
Giani Countertop Paint Kits are another solution to your lackluster countertops. "You can paint right over your existing countertops and transform them into the look of natural stone," says Ami Gruenenfelder at Giani Granite. She explains that it's a simple three-step process. First, roll on the black primer. Then sponge on the three corresponding mineral colors. Finally, roll on the topcoat.
The kit includes all of the paint and applications, and one kit covers 35 square feet. Since Giani Granite is water-based, it's low odor and safe to use. Because you paint over your existing countertops, Giani's kit hides any of your previous stains, burns or scratches. And  the high-gloss, durable, automotive-grade acrylic topcoat protects your new countertops.
The countertop kit is available in several colors, including Marble, Chocolate Brown, Sicilian Sand, Bombay Black, White Diamond, and Slate.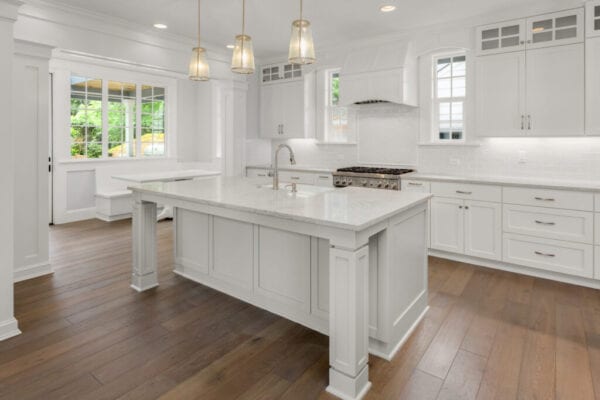 hikesterson / Getty Images
Applying Giani Countertop Paint
So, what's the level of expertise required? "We've designed our kits to be a simple 'paint-by-numbers' DIY project that anyone of any painting skill set can complete," Gruenenfelder explains. In addition to written instructions, there are also specific how-to videos. And since the paint is layered, you can change the finish until you reach the look that you want. That means you can actually change the color as you go along, or even add veins. Gruenenfelder says the customer service department can respond via phone, live chat or email if you have any questions or want someone to walk you through the process.
How long does this process take? You should be able to complete it in a weekend. "Your actual painting time will be approximately four hours and drying time is around 16 hours," Gruenenfelder says. "Typically, you would prep and prime on Friday, sponge on the mineral paints and apply the first layer of topcoat on Saturday, then apply the final layer of topcoat and clean up on Sunday."
In June, Gianni will also release a DIY Butcher Block that's made with wood tone burnt umber pigments and acrylic resin. It is impervious to moisture, and scratch and stain resistant.