The Psychology of Achieving Balance In Interior Design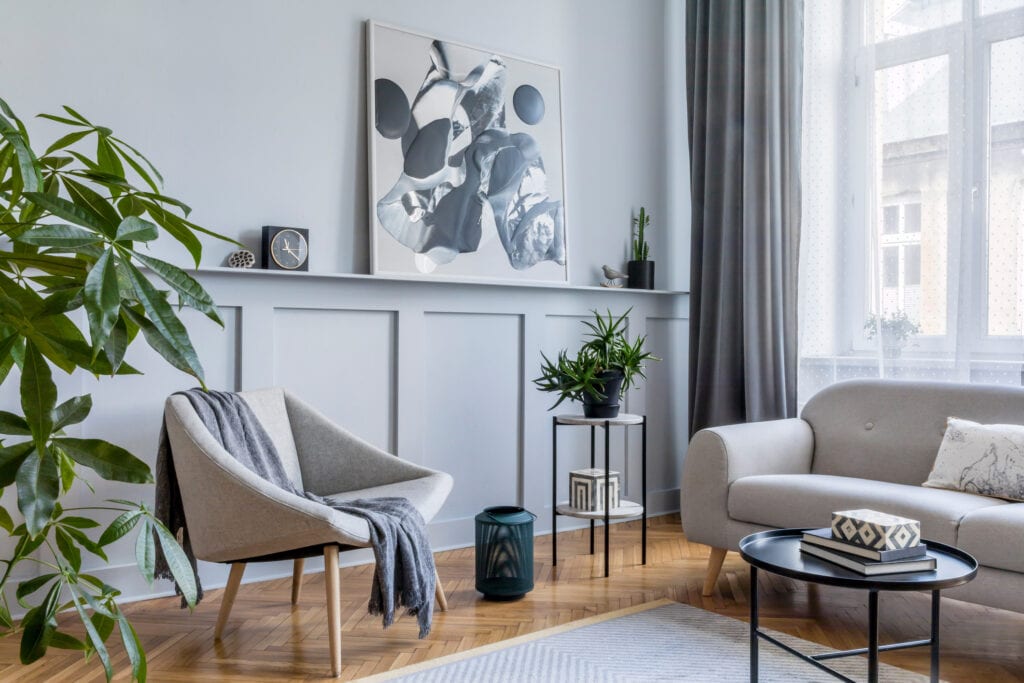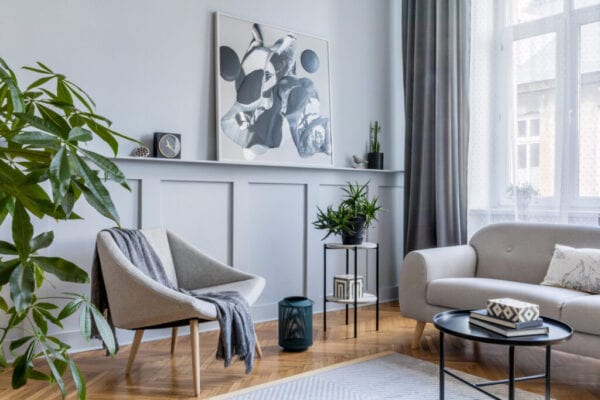 FollowTheFlow / Getty Images
When it comes to interiors balance can have pleasing psychological effects. Image Via: Culligan Abraham Architecture
Interior design is about so much more than sense of style. We've already talked about your design choices are influencing your subconscious, but that's just scratching the surface. Even the way that you employ symmetry in your home has an impact on your psyche.
Does it seem like a stretch to say that proper furniture placement can make you happier? How about more intellectually engaged? Whether you buy into these ideas or not, these are just a few of symmetry's possible effects.
See the ways in which symmetry can change the atmosphere of your home, as well as how you can easily bring these principles into your interiors. We bet you'll be itching to do a little rearranging by the time you get to the bottom.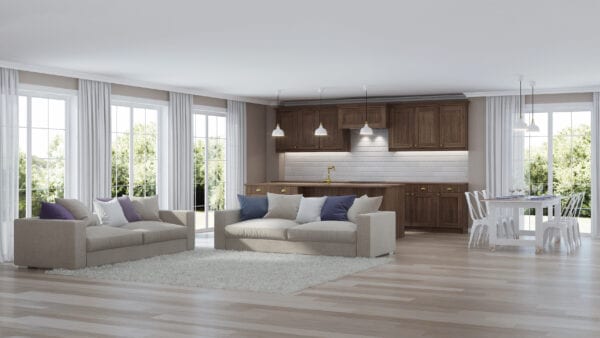 Artem Perevozchikov / Getty Images
Symmetry Makes Design Simple:
We've all experienced the feeling of looking at a room and having our breath taken away by its beauty. No doubt you want to achieve that effect in your interiors. But, how can you be sure that a room will come together well when each project is the some of so many different parts? Achieving a symmetrical design is key.
According to the Gestalt Psychology, though our eyes take in separate pieces of information, our brains boil all of it down into a singular, simpler, recognizable pattern. As far as interiors are concerned, this means that we see rooms as a whole – a kitchen, a living room, a bathroom – before we can focus on the individual design elements themselves.
We love balanced designs because they keep that the amount of information that our brains need to process to a minimum. By picking up on a repeating a pattern, we are able to process the individual elements faster. Since we are easily able to understand symmetrical spaces, we often think of them as more aesthetically pleasing.
Try to work at least one pattern into every design project. Your bedroom could feature a pair of matching nightstands or reading lamps. Three evenly spaced bar stools could add a sense of symmetry to your kitchen island. Even if it's as simple as placing a couch on either side of the coffee table, give the brain a symmetrical element to hook onto and you'll increase your chances making your guests gasp in delight.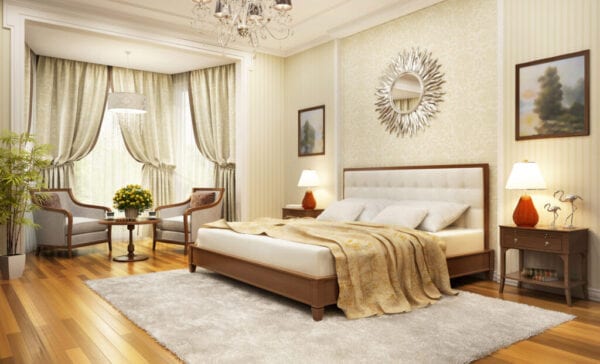 sl-f / Getty Images
Balance Keeps Us Happy:
As one of Freshome's readers, you should be very familiar with the idea that well-designed spaces have the ability to inspire happiness. We've all experienced the rush of joy that comes along with deciding on the perfect shade to make our colorful interiors truly pop and the feeling of accomplishment that comes along with finding that accent piece we've been searching for forever. Did you know that symmetry has the same effect?
Department psychologists at the Universities of Rome and Liverpool have found a link between symmetry and positive response. In one study they found that participants were quicker to associate symmetrical images with positive words than negative ones. They found that the reverse was true with unbalanced photos. In a second study, they measured activity in the facial muscles used to smile and found that it was most active when their participants viewed balanced images.
The same researchers also found that those responses were most pronounced when the participants viewed reflexive symmetry – the kind that showcases mirror images – so be sure to use this type of balance in areas where you need the biggest jolt of happiness. It's worth considering to help with hectic kitchens, right?
CreativaStudio / Getty Images
Mirror Images Provide Functional Clues:
The first time that we step into a new interior, our brains automatically process two things: Aesthetics and Function. The best design projects will mix both in a way that is so subtle and integrated that you'll have trouble distinguishing the two. But, you don't need to have years of training under your belt to accomplish this task – all you need is a little symmetry.
First, you need to decide on the room's focal point. This should be the one object that immediately draws the eye and, ideally, should provide a crucial clue about the space's function. An elegant table clearly marks any dining room just as handsome desk defines a home office and a sprawling bed completes any master suite.
Once you've established your room's focal point, use it as the center of your symmetrical design. Build a cozy circular seating area around the fireplace in your family room. Flank a bathtub with his-and-hers vanities for a bold statement in your master bathroom or highlight a piece of art with twin bookshelves in your study.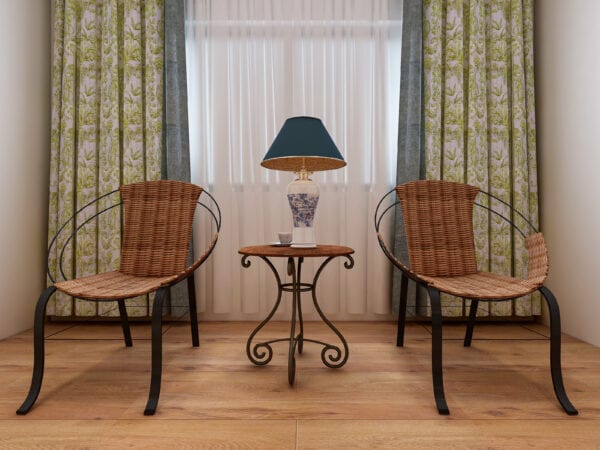 Download it / Getty Images
Asymmetry Helps Us Stay Interested:
For all this talk about the virtues of symmetry and simplicity, we can't forget to mention one last thing: There is such a thing as too much. Before you rearrange your spaces to create matching mirror images, take a second to consider shaking things up with a little asymmetry.
Asymmetrical balance will give depth and visual interest to your rooms. It often comes off as feeling more authentic and relaxed than more traditionally ordered spaces, do it's a great feature to use when you really want to drive home a homey, cozy feel.
When it comes to achieving asymmetry that works, focus on choosing design elements that, though distinct, are still similar in mass and form. Make sure that they are placed equally distant from the room's center point. As you work on positioning, don't hesitate to trust you gut. Place the objects where you think they should be and then take a step back to view the room as a whole. You'll instantly get a sense for the flow of the space and be able to tweak your asymmetrical element so that it shines.
Keep in mind that asymmetry can be big or small. Pivot a chair to add an intimate touch to any seating area, highlight your children's artwork in a gallery wall in your kitchen, or even artfully arrange a few coffee table decorations.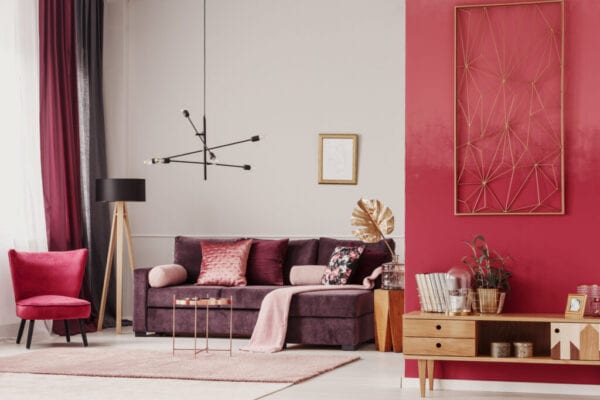 KatarzynaBialasiewicz / Getty Images
It's no secret that we all feel drawn to symmetrical setups. But, who knew that something as simple as positioning would have such profound psychological effects. If you have the ability to make your family happier and more relaxed by moving a few design elements around, why not do it? Give symmetry a try in your own interiors and see if you notice any difference. You deserve a home that soothes your body and mind.
Do you believe in the psychological effects of symmetry in design? If so, have you incorporated it into your interiors? Tell us how in the comnts.