The Defining a Style Series: What Is Modern Farmhouse Design?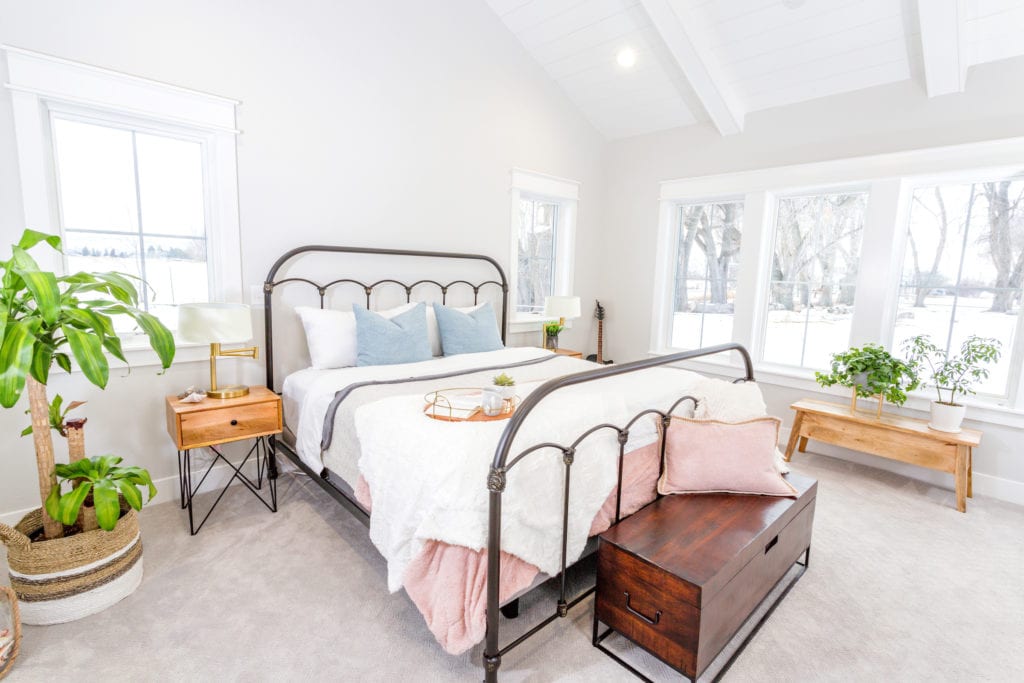 Bedroom Plants – Table Lamp – Blanket – PillowsWe hope you like the products we recommend. Just so you are aware, Freshome may collect a share of sales from the links on this page. There's a reason why so many of us continue to fall head-over-heels for farmhouse style. Its unique take on comfort and simplicity creates an aura that could make anyone feel at home, even if they've never set foot on a farm. However, some people shy away due to the assumption that this aesthetic can feel a little outdated.We're going to prove those people wrong. Below is our guide to pulling off modern farmhouse design. Read over these tips and keep them in the forefront of your mind as you work on your own interiors. With any luck, you'll achieve the perfect balance between classic comfort and modern flair. Shop These Products Now: Dining Table – Hanging Lamps – Bookshelf – Area Rug
Put practicality first
When you consider the ins-and-outs of farm life, it's no surprise that practicality reigns supreme. While you should always consider functionality and usage as an integral part of any design, in this case, it needs to be your first point of consideration.As for how to make that happen, planning is key. Before you start getting into the nitty-gritty of your redesign, take some time to look at the space. Consider details like the flow of the room, the lighting, and the furniture arrangement. Consider what's working and what isn't, as well as what changes you can make in order to make ease-of-use your first priority.Then, once you're ready to start gathering your design elements, remember that function should be your primary focus. Let your furniture and storage options take center stage in the room, above any decorative elements.

Shop These Products Now: Refrigerator – Ceiling Lamp – Fruit Bowl – Kitchen Cart
Choose a neutral palette
The colors you choose will be crucial to making this look work. Gone are the sage greens and buttermilk yellows that harken to older farmhouse styles. These days, a neutral color palette is a crucial part of any modern design, and including one in your farmhouse-inspired space will be the thing that helps keep your fresh, clean, and totally current.As always, you'll want to keep the 60-30-10 rule in mind. Here, white is the natural choice to fulfill the role of your dominant shade. For your other two colors, think about using earthy shades like grays, tans, and browns. Bear in mind that your accent shade should be the boldest of them all.In a farmhouse design, the finishes you choose will also play an important role. Rather than choosing crisp, bright shades like you would in a truly modern design, you may want to consider choosing colors that have a bit of a vintage or antique feel to them. This will provide a small nod to classic farmhouse style without feeling too over the top.

Shop These Products Now: Tv's – Center Table – Sofa – Table Decor
Mix and match furniture
Next up, it's time to focus on furniture. Traditionally, farmhouse designs relied heavily on simple wooden furniture to fill up the bulk of their interiors. You should include that in your space as well. The type of wood and finish that you use is up to you, but whenever possible, opt for pieces that feature clean and simple lines.To give the look a more modern twist, you'll want to infuse another layer of comfort into the space. Think about balancing out the natural materials in the room with things like plush couches, comfy accent chairs, and cushioned bar stools. You can also enhance the feeling of the room by layerings items like throw pillows and blankets into your design.

Shop These Products Now: Wall Mirror – Wall Lights – Towel Hanger – Sink Faucet
Add industrial accents
Lastly, you'll want to think of the purely decorative elements your design. Here, we'd suggest leaning strongly on industrial-inspired pieces. Not only are industrial pieces commonly based on the machinery used for farming, but they also happen to be experiencing a spike in popularity right now, making them the perfect common thread to finish off your look.With that in mind, keep an eye out for hanging barn doors, wooden mantles, iron-inspired light fixtures, and galvanized metal storage buckets. In farmhouse design, the best accents are the ones that also play a functional role, so look for pieces that serve a purpose.

Shop These Products Now: Curtains – Wall Lamp – Bed Sheet – Drawer StorageFarmhouse style has been around for decades, but that doesn't mean it has to be synonymous with grandma's house and days gone by. Take this guide on modern farmhouse design as your inspiration. The tips and advice in this post are the keys to creating a farmhouse-inspired space that feels equal parts warm, welcoming, and current.What do you think of modern farmhouse design? Would you be willing to try out the look in your own home? Share your opinions with us in the comments below.
Shop These Products Now: