Defining A Style Series: Industrial Design? The Perfect Blend of Old and New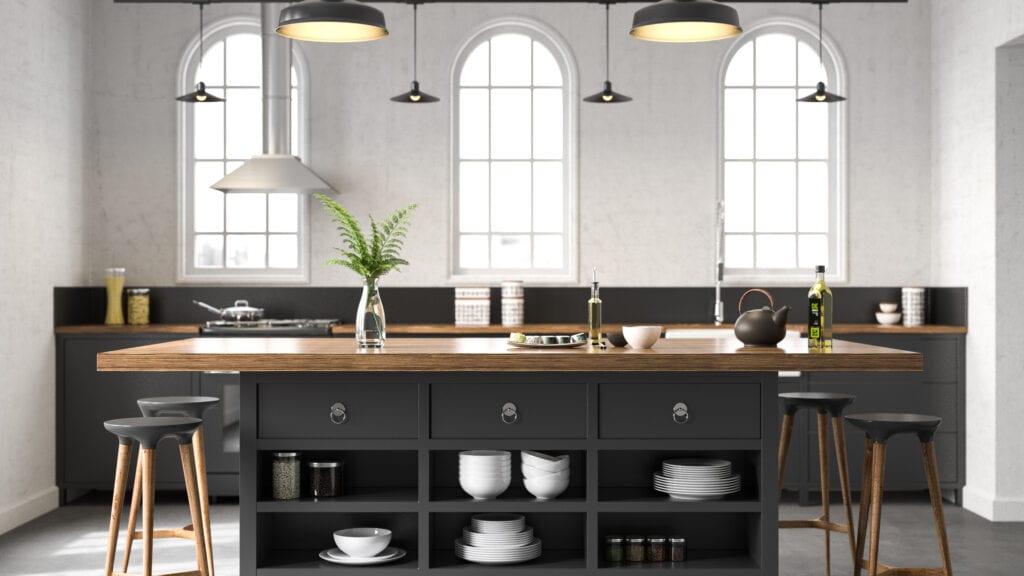 We hope you like the products we recommend. Just so you are aware, MYMOVE may collect a share of sales from the links on this page. 
Shop These Products Now: Bookcase
In the past few years, industrial design has become increasingly popular and it's easy to see why. The look is based on combining the best aspects of old-world charm with modern sleekness. In essence, it's a perfect compromise. However, there's one big misconception keeping this style from becoming a household staple.When picturing these designs, we typically think of lofts with big open windows and lots of exposed brick. Those who live in less urban environments may feel they don't have the right surroundings, that their living spaces are too traditional to really pull off this look.We're here to tell you that couldn't be further from the truth. Let us prove to you that every room can benefit from a dose of industrial style. Continue below to learn more about why this look works and how you can bring it into your own interiors. Before you know it, you'll be ready to create an industrial design of your own.
Start with a neutral color palette
One of the first things you'll notice about industrial spaces is that there aren't a lot of bold pops of color. Instead, this style relies on using a combination of neutral shades to create a clean look. Keep this in mind as you choose your color palette.That said, not all neutrals are created equal. In contrast to the starkness put forth by more traditionally modern spaces, industrial interiors tend to have more of a warm and inviting feel to them. This is because, rather than favoring black and white hues to create a harsh contrast, they incorporate a variety of browns and tans. Use these shades as your dominant colors with other neutrals serving as accents.Don't forget that natural materials also count as neutrals. If you're lucky enough to live in a home with brick walls or exposed duct work, those should absolutely take center stage. Even if not, you could also consider incorporating a variety of wood, stone and metal pieces into your design.
Shop These Products Now: Counter Chair – Range Hood
Create an open layout
Since we typically think of that urban loft space as the industrial ideal, it is important to try and re-create that feeling regardless of your surroundings. If you have the square footage, go all in on an open concept layout. If not, focus on making the room feel as open as possible.If you're a regular reader of Freshome or MYMOVE, you know this means making sure your design includes plenty of negative space. Instead of filling the room with lots of clutter, make sure its function is the focus. Keep any pathways to travel around the room as wide as you can and try to limit any purchases with pieces that pull double duty in terms of usage and aesthetic value.
Mix wood and metal furniture
Industrial spaces are all about mixing the old and the new. One of the simplest ways to drive home this contrast is through juxtaposing different types of wood and metal throughout your design, much like in the picture above.When shopping for wooden pieces, there's a certain look you'll want to go after. Instead of searching for new, totally finished items, concentrate on finding furniture that looks like it has a history. This weathered look can be achieved in a variety of ways. While you'll pay a premium for it in stores, you can save by following a tutorial or combing through yard sales and secondhand stores to find hidden treasures.Where metal is concerned, you have a choice. The finish you choose will play a pivotal role in your overall aesthetic. If you want the room to have more of an antique feel, opt for a brushed or oiled finish. However, if you want the space to feel super on-trend, polished chrome is the way to go. Additionally, remember that metal isn't just for fixtures. In this case, it can be used for anything from shelving units to kitchen bar stools.
Add in industrial accessories
This may seem a bit on the nose, but the key to cementing your industrial design is finding ways to make it feel as though you really are inside a turn-of-the-century factory. Since few of us are able to actually live in one of these sought-after converted buildings, we have to add in these touches ourselves. Accessories are a great way to do so.By accessories, lighting fixtures that feature Edison bulbs, parts from factory machines, distressed leather items and vintage photographs all fit the bill nicely. That said, we suggest searching online to find design inspiration that fits your personal preferences. Anything that looks like it's from that time period will do the job.As usual, you'll want to make sure to incorporate these touches in a variety of ways throughout the room. Think about incorporating them into your textiles, your wall art, your lighting and in décor items.
There's no questioning why so many people have fallen in love with industrial design. It allows us the freedom to embrace antique beauty while still enjoying modern conveniences. However, it's important to remember that this look isn't reserved solely for city dwellers. Use these tips as a guide and you'll be able to re-create this aesthetic, no matter where you live.What do you think of industrial design? Do you have any tips you can add? Share them with us in the comments!