DIY: Upgrading Your Outdoor Space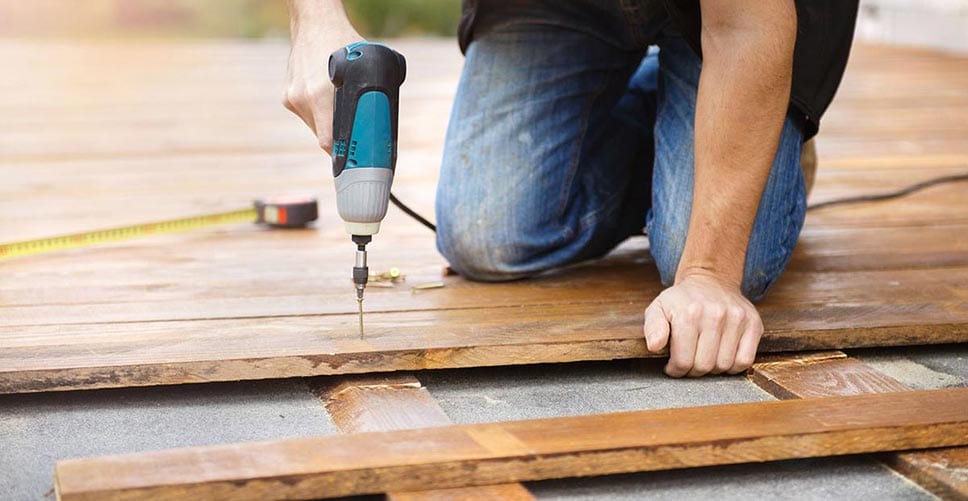 Updating the exterior portion of your home is a surefire way to raise its potential resale value. Investing in landscaping, gardening, painting, and other additions may not only secure a faster sale, but it makes life at home more enjoyable while you're there.
If you're looking for some fun DIY backyard ideas to spruce up your home's curb appeal, here are 10 top DIY outdoor projects that will make your home more beautiful.
10 DIY backyard ideas
Garden
Whether it's a vegetable, flower garden, or both, you can immediately liven up your space by starting a DIY garden. It's important to plan out not only what type of garden you want, but how much time and money you're willing to invest.
The most important step is successfully designing what you want. To get an idea of what you should plant, watch some YouTube videos and do some research to see what grows best in your area.
Most small, urban gardens use raised beds for plots, so plan on building your own raised beds with added topsoil for ultimate growth.
What you'll need:
Garden design
Vegetable or flower plants
Plywood for raised beds
Flower boxes
This is a good DIY project if you don't have much time on your hands but still want to do a little gardening. Flower boxes are an easy way to add a vibrant pop to your home's overall aesthetic.
To make the most of your investment and keep it thriving, go to your local garden store or talk to a gardening professional to see what would grow best in the box and how to maintain it.
What you'll need:
Plants or seeds for window boxes
Build a firepit 
Fire Pits are the perfect DIY backyard idea for those who love to host. There are plenty of videos on YouTube that will guide you through the process of building your own fire pit.
It can cost a small fortune to hire a professional crew, but if you're willing to make a rudimentary one, don't hesitate to take this on yourself. But much like a garden, you'll need to design your project before diving in. While you're at it, some DIY backyard seating might complement your new firepit.
What you'll need:
Firepit design
Stone of your choice
Cement
Fire Pit ring
Power washing
Splash-back from rain, wind, and fluctuating weather can leave your home's exterior stained and messy –– and maybe even a little green. Over time, it will make your house look older than it is. You can clean up this mess relatively easily with a power washer.
For roughly $150, you can buy your own power washer and use it through the years. It's a solid investment that immediately dresses up the look of your home from the outside.
When power washing, don't forget to spray the patio, deck, and sidewalks as well for an extra-clean look.
What you'll need:
Paint
After you power wash, you might notice that your paint job could use a touch-up. Repainting the shutters, window trim, and peeling spots can do wonders for both appearance and resale value. Paint when the weather is predicted to be dry and temperate for at least a few days.
Hiring a crew can be wildly expensive, especially if you're repainting the entire house. You can save some money by going DIY. But, this is a massive undertaking that could take a lot longer for you than for a pro. Do your research, and expect to spend at least $1,000 on paint and supplies for yourself.
Last but not least, choose a neutral shade for your home if you're planning to sell. Neutrals like white, gray, and greige appeal to a wider range of buyers. If you do love popping colors, try painting just your front door a bright red, yellow, or orange.
What you'll need:
Quality house paint
Paint buckets
Painter's tape
Paint roller
Sand roller
Extra roller brushes
Extension ladder
Paint scraper
Sander (electric)
Paint tray
Paintbrush
Rags/cleaning cloths
**While most of this can be found on Amazon, we suggest you go to your local hardware or home improvement store to get in-person, professional guidance on the right products.**
Update fixtures
A porch light that flickers on and off, old gutters, and an "out of service" doorbell are important fixtures you shouldn't skip updating. Here are some common items that are surprisingly impactful:
What you'll need for this step:
Refresh your landscaping
Landscaping is one of the smartest investments you can make to your exterior. Some of the best DIY backyard ideas for resale involve landscaping – and are the simplest. Privacy shrubs, for instance, will boost the appeal of your home and provide added privacy. If you're redoing flower beds in the front, stick with low-maintenance landscaping plants to save both time and money. Make sure what you are using grows well in your area and that you water it regularly to keep it looking its best through the sale.
What you'll need:
Landscaping plants/shrubs
Gravel
Add a deck
Decks are especially good DIY backyard ideas for mild climates where you can sit outside all year 'round.
Like painting a house, building a deck from scratch is a big project. Do some research on YouTube to fully understand what kind of task you're taking on. Also, muchhalf the suggestions on this list, you should have a full design in mind before you start the actual building process.
What you'll need for this step:
Wood of your choice
Cement
Nails
Build a patio
Much like a deck, a patio can be a valuable, if more understated, way to expand on your backyard's design. Choose intricate stone and have fun with the overall layout to expand your DIY backyard seating space.
What you'll need:
Stone of your choice
Cement
Gravel
Build a fence
Last but not least, if your yard doesn't already have one, build your own fence for a sense of privacy and added sales advantage (dog owners tend to look for homes that already feature a fence). This DIY backyard idea is a project for those that want something that isn't too hard but is still a bit of a challenge, depending on the materials you opt for.
Find free guides and videos tutorials on how to plan for building your own backyard fence. But be sure to tell any neighbors you share a property line with. They may even be open to splitting the cost.
What you'll need:
The bottom line
There are plenty of easy DIY home projects you can tackle to polish up your house. These top 10 outdoor projects give you the most bang for your buck in terms of resale value. Your home will get a nice face-lift, and you'll have an excuse to spend more time outside.