5 Teen Bedroom Ideas You'll Love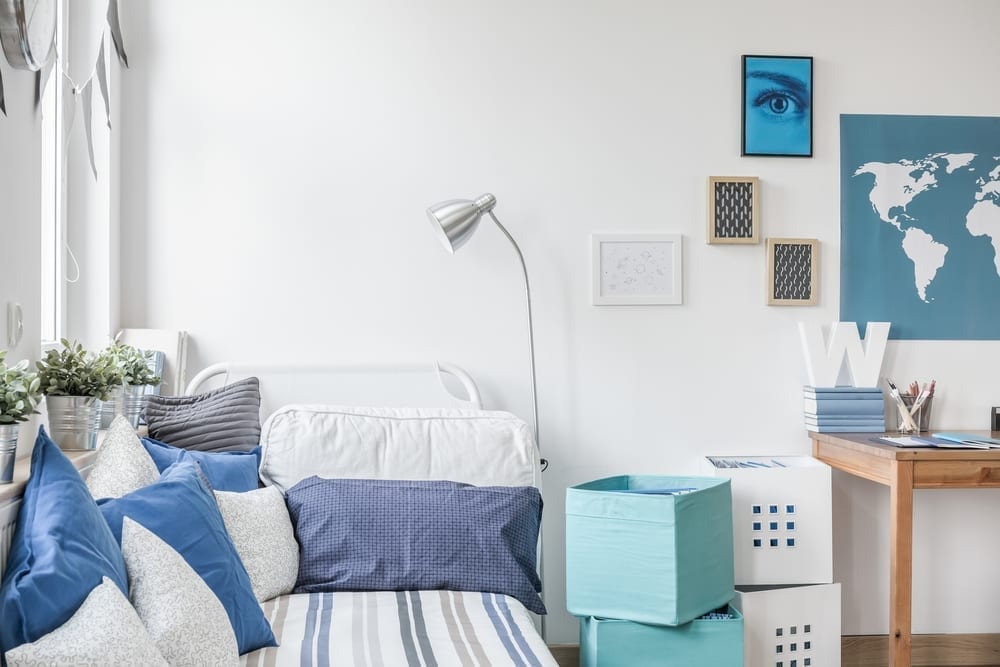 If you're searching for teen bedroom ideas, think about what your teenager loves, and try to see their bedroom through their perspective. It's more than a place to sleep. The bedroom is where your teen escapes from the world of grown-up demands and rules. There are few places where a teen can fully express themselves, and the bedroom is usually their top choice.

When designing a teen bedroom, consider current cool bedroom ideas as well as your teen's personal taste. Some cute room ideas might include fun wallpaper and functional furniture. Brainstorm with your teen the ways you can let them express themselves and have fun inside their room. 

[deals-hub-ad]
Teen bedroom ideas should represent who they are.
Today's teenagers are design-conscious and up to date on the latest trends. But they're torn between childhood and adulthood. Most teens have beloved toys they're not ready to give up, but look for a room that's older and more sophisticated than their childhood room. A teen will most appreciate an approach to their room as their mini, self-contained apartment where they can spend most of their time comfortably.
Regardless of size, a teen's bedroom needs to be versatile enough for them to spread out and get homework done, hang with friends, lounge, and sleep, all while reflecting their personality. Teen bedroom ideas should include functions specific to their age, as well as a cohesive look. While adults prefer a space that's calm and understated, teens often appreciate vibrant, high energy rooms. Keep the following teen bedroom ideas in mind.
5 cool bedroom ideas your teen with love:
Design a functional, multi-purpose room.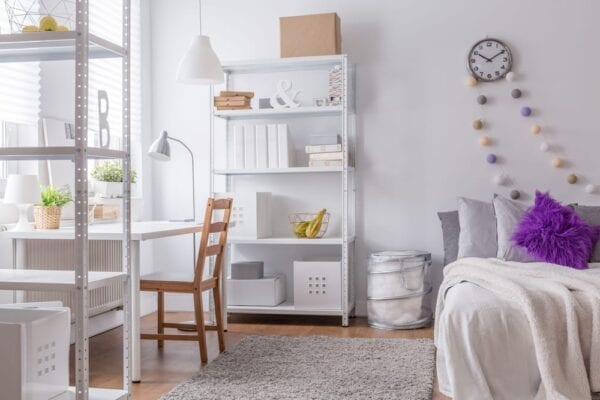 A teenager's room is more than just a sleeping space. As they begin exploring their independence, having a room where they can hang out, study and lounge with friends is almost as important as sleep. And the social aspect of a teen room decor is big. A survey of global teenagers found that the #1 thing a teen would add to their room is a poster of themselves with their friends. Work with your teen to creatively include the following areas in their room:
Cozy sleep area
Customized study area
Place to lounge with friends
If your teen's bedroom is a small space, use creative approaches to meet their multi-purpose room needs. Try these space-saving ideas to design cool room decor:
Incorporate bold wall designs.
The best teen room ideas include vibrantly colored, high energy rooms. Decorating a bedroom wall makes a big impact. Check out these ideas for making a wow wall that stands out:
Bright colors and geometric designs
Custom-printed wall treatments
Removable wall decals
Hand-picked paint, chalkboard paint, or a graffiti wall for an urban style
Favorite words in neon or lighted marquee signs
Consider these cool bedroom ideas.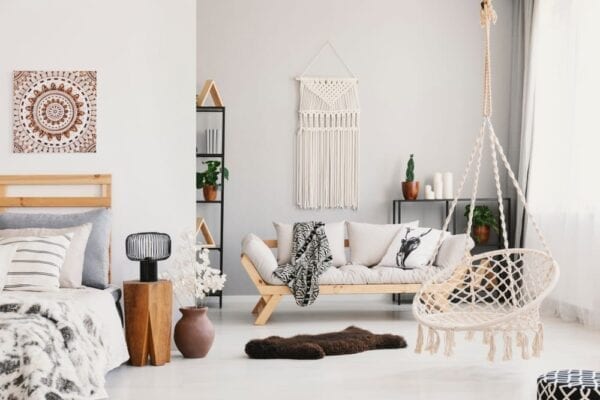 Teenagers love hanging out in a bedroom that's fun, creative, and one-of-a-kind. Bold and imaginative elements are the secret to making your teen excited about creating a cool new bedroom space. Add a few of these unexpected features to get a positive reaction.
Incorporate cozy textures for lounging.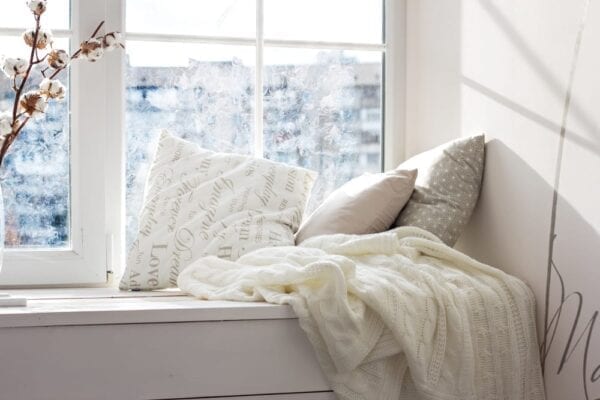 Teens love spending time in their rooms because they feel safe and comfortable. This is especially true for a teenage girl's room. They're naturally drawn to feel-good fabrics, cute designs, and soft textures. Consider some girls bedroom ideas like these:
Flocked velvet wallpaper
Faux fur rug
Gauzy or patterned curtains
Plush bedding
Hanging fringe
Fuzzy or soft throw pillows
Invest in storage to reduce clutter.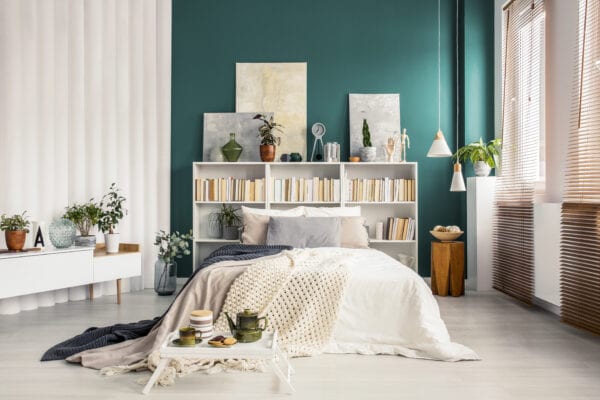 Let's face it, teenagers and organized rooms are a rare combination. Messy bedrooms seem to be a teenager's rite of passage. Smart storage options are one feature they probably didn't think of, but will totally appreciate. Help them keep their bedroom tidy and functional with these must-have storage items:
Dressers
Shelving
Under-the-bed storage bins
Storage benches or storage ottomans
A cabinet wall around the bed
Be sure to make storage fun, just like you would for all of these cool bedroom ideas. Combining functionality with personality is the key to designing a space they will love for years. It doesn't matter if you boy or girl teens at home, they can all appreciate cool bedroom decor. Invite them to brainstorm ideas with you to design a creative space that's comfortable, functional, and suits their unique teenage style.
The bottom line
As you're designing a teen bedroom, keep your children involved throughout the process. Teens are old enough to make their own design decisions, and you can always offer feedback based on cute room ideas and budget. The best teen room ideas should reflect their personality while combining enough elements for comfort, storage, and functionality. Designing a teen's room should make them feel empowered and give them a space to learn, grow, and play.
Frequently asked questions
Q:
What is the best color for a teenage girl's bedroom?
A:
The best color for a teen girl's bedroom will vary depending on her preferences. These days, the classic girly pink isn't as popular. Teen girls may gravitate toward a variety of colors, including blue, green, and purple.
Q:
How can I make my teenage room look cool?
A:
If you want to design a cool teen room, pay attention to current trends. Since teenagers use their rooms as a sanctuary, furniture plays a big role in making a room look cool. Invest in fun furniture that's just as functional as it looks great.
Q:
What are some teen bedroom ideas for small rooms?
A:
Small bedrooms for teenagers need to incorporate functional furniture that can double as storage. The key to managing a small space is reducing as much clutter as possible. You can also open up the room by using mirrors and more neutral colors that make the room feel bigger.