4 Simple Ways To Use Wallpaper In A Bedroom To Create A Fresh Look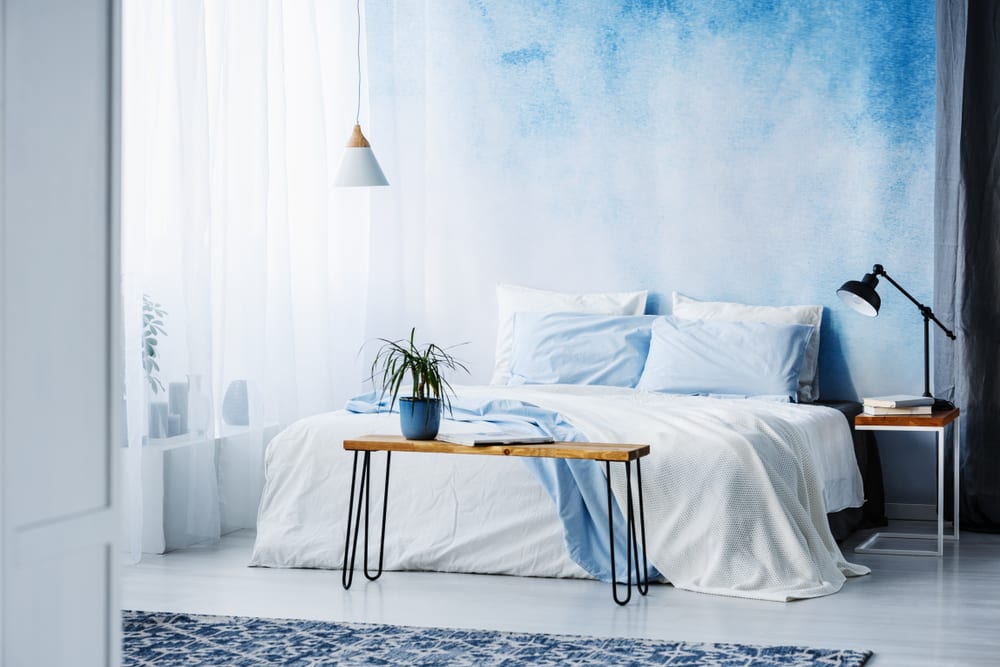 Lots of people have tried to use wallpaper in a bedroom, but only a few know how to utilize this material to its fullest potential. Wallpaper shouldn't just be thrown up as a way to do away with blank walls. Rather, it should be a major player in the design of the room as a whole.
To that end, we've brought you four fresh and simple ways to use wallpaper in a bedroom. Look them over to see which suggestions will work best in your bedroom's design. With any luck, the wallpaper may just become your favorite feature of the whole room.
Set the color palette
One way to use wallpaper in your bedroom is to have it set the color palette for the entire project. For example, you can see that the picture above features a chic monochromatic palette. In it, everything from the wallpaper to the blankets, bedding and throw pillows come together to form a cohesive look.
If you decide to go this route, the key is to pick out a wallpaper that you love first. Then, build the rest of the room around it. While you can, of course, go with any aesthetic that you'd like, remember that the size of the pattern is important. It should be in proportion with the size of the room. Bigger rooms can handle bigger patterns and vice versa.
Create an accent wall
Since wallpaper tends to be a style statement, it's a natural fit to adorn an accent wall. Accent walls are meant to draw the eye, so this should be where you use your biggest patterns and boldest shades. Don't hesitate to go all out here.
In this case, the placement of your wallpaper is your most important consideration. Ideally, you'll want your accent wall to highlight the focal point of the room since it's bound to capture viewers' attention. Most of the time, in a bedroom, this means choosing the wall at the head of the bed. However, as you see in the photo above, sometimes exceptions can be made, especially if you're going with a more mural-like pattern.
Make a makeshift headboard
Let's face it, furniture is expensive. If you're not quite ready to go out and invest in a quality headboard, wallpaper could be a cost-effective solution for you. Rolls of wallpaper cost pennies on the dollar and this material can be used to fit a variety of aesthetic tastes.
In this case, the actual application is your biggest concern. First, you have to size it correctly. You should measure out the wallpaper so that it is slightly larger than the width of your bed. A good rule of thumb is to leave a two- to three-inch border on either side. Then, there's the placement. Do your best to apply the wallpaper on a wall that's smooth and without pockmarks. Doing so will decrease your chances of finding annoying air bubbles in the final product.
If you're renting and don't want to have to deal with taking down wallpaper at the end of your lease, don't worry. This DIY project is still an option for you. You'll simply want to use removable wallpaper instead.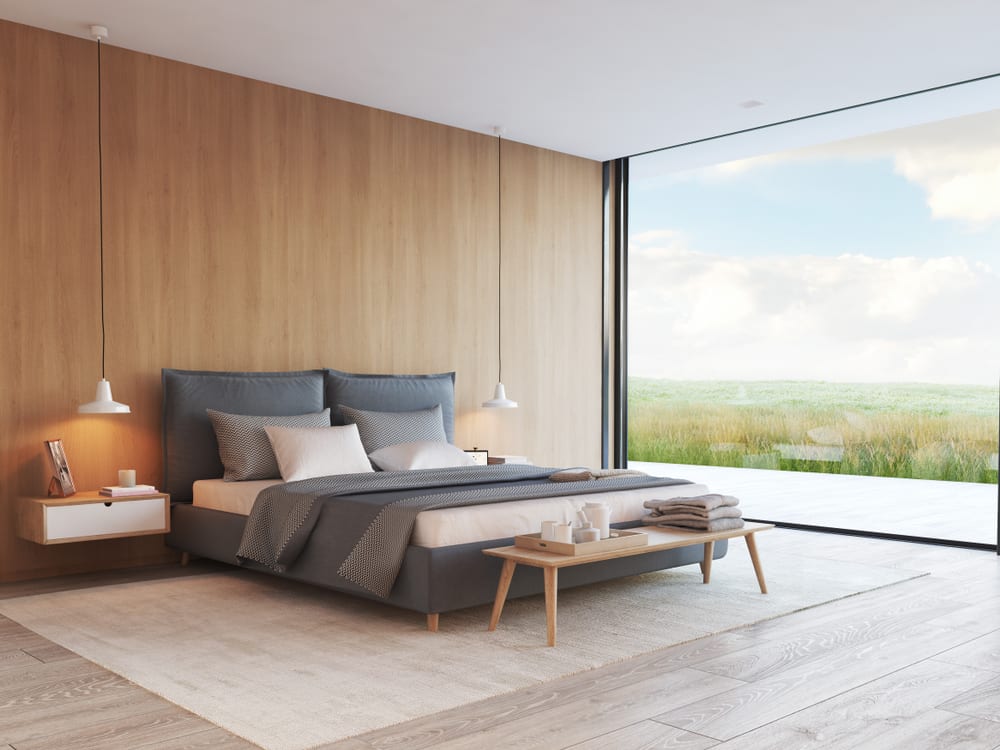 Add some texture
Finally, wallpaper can be used to add a much-needed dose of texture to any room. Remember, in interior design, texture refers to the way that something looks like it feels. Incorporating a variety of textures into a room is one of the major tenets of interior design because it makes the room more visually interesting.
No matter what type of print you use in your bedroom, your wallpaper will have a texture. This is due in part to the materials used in its construction. However, you can certainly amplify the feeling of texture by choosing a rough-looking pattern like the one shown above.
For this, we recommend going with a print inspired by natural materials. Natural-looking prints like wood and stone are very on-trend at the moment and will serve you well in creating a look that's both modern and nuanced.