Why You Should Consider A Monochromatic Color Scheme (Plus, How To Pull It Off)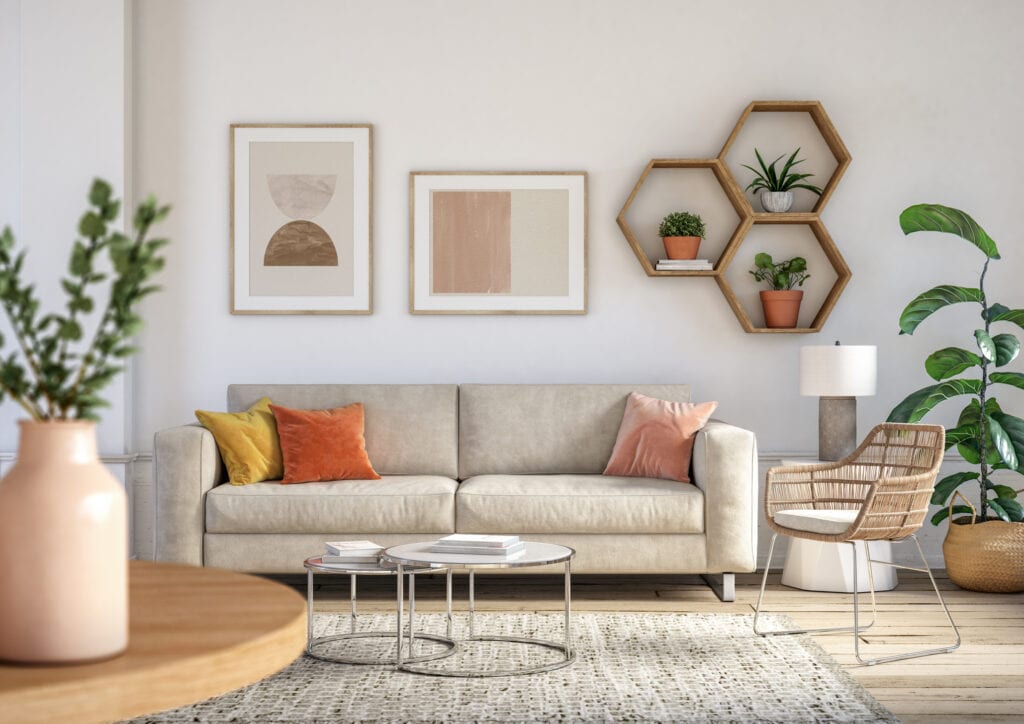 Shop These Products Now: Wall Paint – Accent Chair
Sometimes, even the most seasoned design aficionados among us need a little helping hand. It takes countless components to put a room together, so there's no shame in searching for ways to make the process a little easier. If you're in need of an assist and a little inspiration, here you go: how about using a monochromatic color scheme? If you're interested in learning more about how this color scheme works, read on. We'll tell you why it's so effective in making a room look effortlessly pulled together, and we'll provide a few practical tips on how you can make this look work in your home.
Shop These Products Now: Glass Candle Stand
Why monochromatic color schemes work
Monochromatic color schemes work because they streamline your design. Typically, you'd have to put effort into purposefully including a few common threads throughout your design to ensure that the entire look ties together. In this case, as long as you work within the color scheme, unity and harmony are already taken care of. Unity is important because it's what helps the eye "make sense" of a room. According to Gestalt Psychology, whenever we enter a new space, our brains rely on pattern recognition to give the room context. The more patterns we can find—repeated colors, for example—the easier the room is for us to process. The quicker we're able to make sense of a room, the more aesthetically pleasing we're likely to find it.
Shop These Products Now: Curtains – Area Rug
Choose your colors
The first step to putting a monochromatic look together is to choose the colors that you intend to use. In this case, we suggest utilizing three colors, in total. Obviously, you'll want them to come from the same color family in order to create a cohesive look.We suggest starting with your base shade, the one that will define your design. Then, round out your color scheme by choosing one color that's lighter than your base shade and one color that's darker. If you need help narrowing down your options, we recommend looking at paint samples (the kind with multiple colors on one sheet) and using those as your inspiration.
Shop These Products Now: Throw Pillow – Comforter
Add patterns and textures
Though unity is one of the benefits of a monochromatic color scheme, sometimes it's possible to have too much of a good thing. If the design elements in your space are too similar to each other, they run the risk of making the room feel boring. Including pattern and texture are easy ways to add in some much-needed visual interest.In the photo above, notice how, without being in the room, you can almost feel the textures: the soft, plush fibers of the area, the rough, wooden surface of the nightstand, and the smooth texture of the bed linens.You should aim to achieve the same tactile sense in your design. As you look for elements to fill the space, make a conscious effort to include a variety of different textures. Patterns that fit well within your color scheme will also help achieve this goal.
Shop These Products Now: Textured Rug – Modern Coffee Table
Get creative with accent materials
Here's where things get interesting: even though the majority of elements in monochromatic rooms should fit within your prescribed scheme, there's no hard and fast rule that says everything has to match. Your accents and accessories give you a chance to color outside the lines a little bit.In the photo above, notice the coffee table has a metal finish to it. That finish is then carried through the rest of the room via decorative vases, lamps, desks, and even in the frame surrounding the wall art. You can do the same with your design, or use another natural material, such as wood or stone.Other accessories, such as wall art or throw pillows, are also a great way to sneak variety into your design. If you go this route, though, make sure that the items you choose to fulfill this role include your base color in some way. This technique keeps your design looking cohesive, even if it bends the rules a bit.
Shop These Products Now: Towel – Faucet
Creating compelling interior design is a labor of love, but that doesn't mean you can't take a few shortcuts to make the process a little easier. We've outlined a few practical tips to help you pull off the monochromatic look the right way. Have any great tips of your own? What do you think about monochromatic color schemes? Will you be trying this look in your home? Share your thoughts with us in the comments below!