'Go to Your Room' Isn't Punishment With These Kid's Bedroom Ideas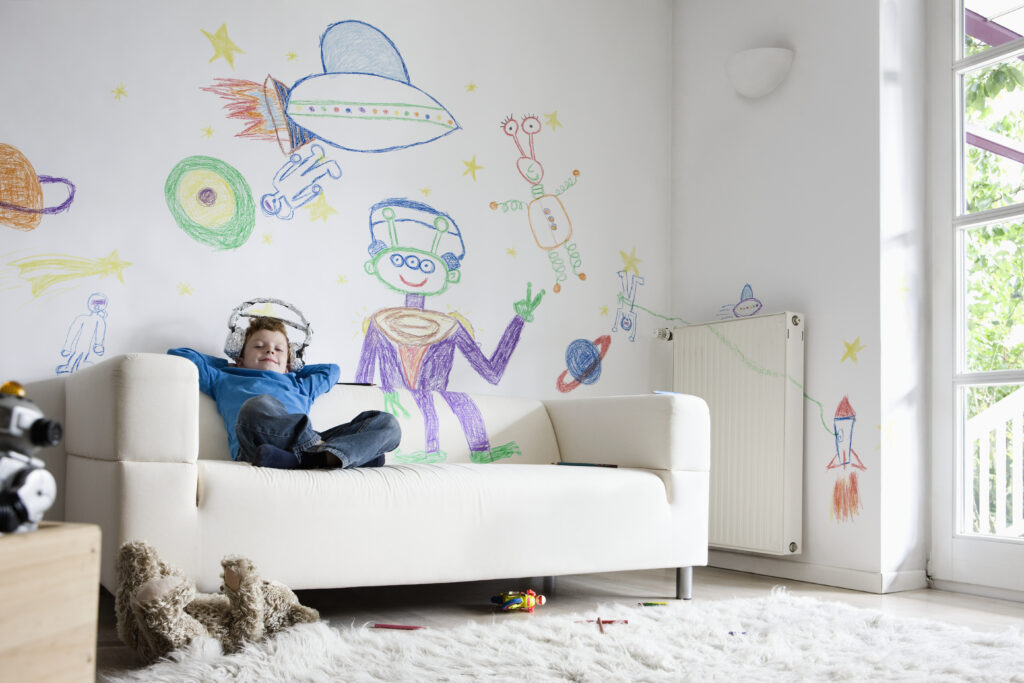 A kid's bedroom is more than just a place to sleep. It's a place to dream, play and think. You can nourish your child's imagination with a creatively designed bedroom. We've included a few examples below, but be advised, these rooms are so cool that sending your kids to their room will no longer be viewed as punishment.
Loft bedroom
Contractor, carpenter and DIY podcaster Mark Clement of My FixItUp Life says it may be the carpenter in him – or it could be the Peter Pan boy inside the man – but it's hard for him to think of anything better for a kid's room than a loft. "The bed goes up, a desk goes underneath and it becomes a room within a room." However, Clement says you really need a nine-foot ceiling to support this style. Also, he says that rails are very important and recommends placing them about 12 inches above the mattress height.
Shop These Products Now: Stairway Loft Bed – Basket
Deluxe loft
With a loft-style bedroom, Clement says that it's important to include storage up top. "Think about places to put things like electronics, a light, a cup of water – you can even run a plug up the loft area." Below, he recommends bookcases and storage, in addition to the desk.
Shop These Products Now:  – Black Board
Double duty bedroom
If your kids hate to make up their beds, it won't matter with these Murphy beds. Since they fold into the wall, no one will ever know that the bed isn't made. In fact, no one will even know there are beds in the room – unless you tell them. Murphy beds create more usable floor space during the day, and when folded up, these beds also provide shelf space, chalkboards and room for your child's favorite design.
Shop These Products Now: Printed Rug – Teddy Bear
Themed bedroom
A themed room is another fun idea for a kid's bedroom. If you don't know how to get started, Clement recommends picking your child's favorite book and video. He and his wife, Theresa – who is a designer and contractor – did a Minecraft theme for their son's room. "We trimmed and painted his room – kind of long-lasting – so think in terms of how long you want [the design], how much you want to put into it and if you see yourself changing it."
Shop These Products Now: Colorful Curtains – Writing Desk
Color considerations
Choosing a color is a major part of creating the right bedroom. Misty Yeomans, senior color marketing manager for the Glidden paint brand, says that a kid's bedroom should reflect their creativity and what inspires them. "Make picking your son or daughter's new paint color a collaborative process by asking their input. For example, you can ask them which of their favorite characters inspires them the most," she recommends.  Their favorite character can become the inspiration for their new favorite paint color.
Shop These Products Now: Decorative Wall Mirror – Pouf
Your child may already have a color in mind. But if not, look to their interests. For example, if your child likes "Toy Story," Yeomans recommends adding a pop of color with Glidden's Space Ranger Purple, a violet color that evokes happiness and imagination. "You can also create a kingdom fit for a queen and inspired by the movie "Frozen" with Arendelle Sky, a deep-toned periwinkle that will not only bring magic to their space, but also help them create magic of their own, as blues help spark creativity."
Shop These Products Now: Bunk Bed – Printed Bed Sheets
Climbing wall bedroom
If you have an active child, perhaps you need a bedroom that helps fit their personality. "The coolest and smartest thing I've seen in a kid's bedroom is a climbing wall," says  Jonathan Self, a real estate broker for Center Coast Realty in Chicago. "This is not only rather cool – it's also a great way to wear down your kid's battery and help develop their body."
Shop These Products Now: Desk Chair – Wall Mural
Artistic expression bedroom
Consider taking one of your kid's drawings and making it a wall mural. Self also recommends gallery walls made from children's art. "You can't put it all on the fridge," he says. "This keeps things clean and encourages your child to value what they create."
Shop These Products Now: Bunk Bed with Slide – Bedroom Lights
Playground bedroom
Unlike the living room or other more visible areas, a kid's bedroom is a relatively low-pressure design area. "You can take some chances and create something super inspirational or cool," Self says. "It's a safe place to really get personal."But what about resale value? He says buyers usually aren't bothered by what they find in a kid's bedroom. "I don't find buyers ever dock points for kids' rooms," he says. Would you have wanted any of these rooms when you were a kid? Let us know your favorites below.