Think Wallpaper is Outdated? It Can Actually Update Your Bathroom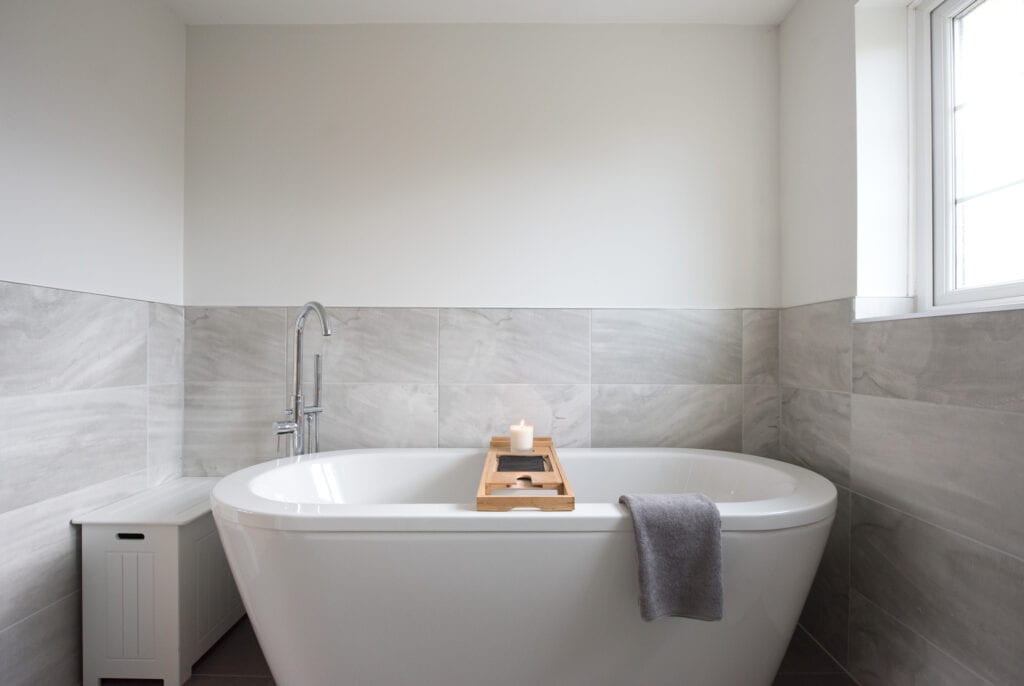 Wallpaper. Just the sight or sound of that word usually evokes 18th Century scenic or floral images or, worse, the gaudy, headache-inducing designs that were widely – and wildly – popular in the 1970s. However, wallpaper is making a comeback. Maybe "reincarnation" is a better word since, thankfully, the new trend in wallpaper looks radically different from the styles of yesteryear.In fact, wallpaper can actually be used in the bathroom to create glamour, elegance, drama and even fun. Below are some of the various options to consider:
Half-Wall Application
John Keeble / Getty Images
You don't have to wallpaper the entire bathroom. Used sparingly, like the wallpaper applied below the chair rail molding in the photo above, it can still create a powerful impression. "Wallpaper done tastefully can add character to any room, especially bathrooms and bedrooms," says Angela Williams, a Birmingham, AL-based realtor at Extreme Agent Realty. "I don't suggest papering an entire room, but accent walls are trendy," Williams says.
Updated Classic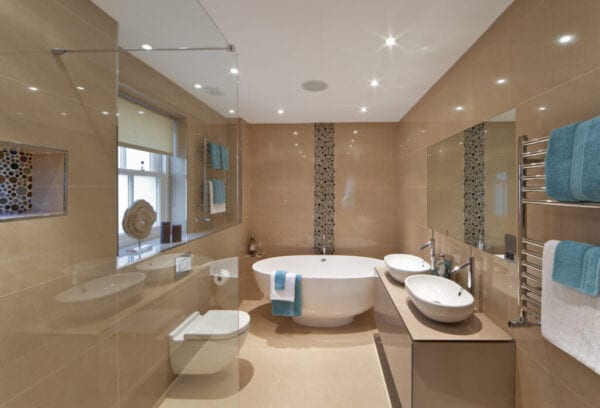 phototropic / Getty Images
Glam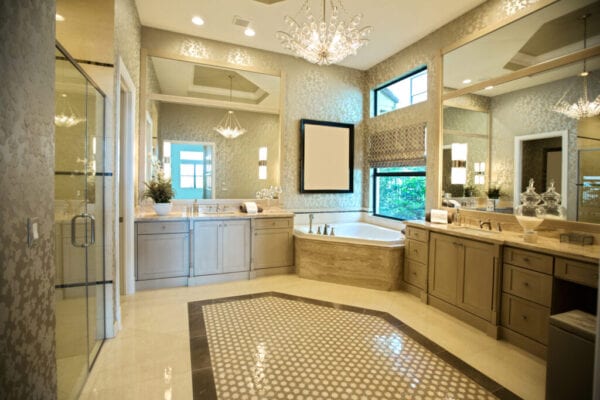 JodiJacobson / Getty Images
This hand-painted, patterned wallpaper brings out the metal in the console, sconces and faucet. When combined with the chandelier, it creates a glitzy bathroom design. "Wallpaper has really transformed over the last decade," explains Kimberly Schmunk, an interior designer at Focus Builders. "There are several new designers that have a variety of fresh and graphic designs and textures."
Understated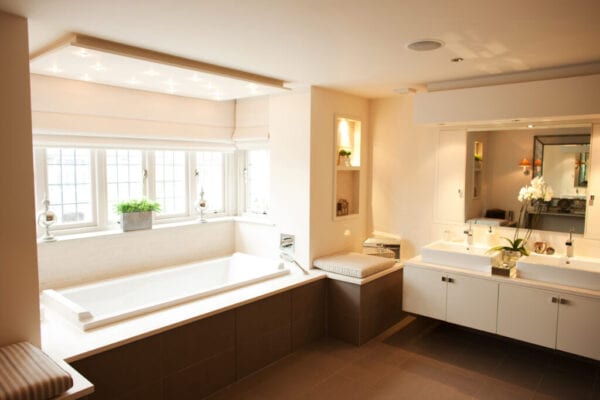 Paul Bradbury / Getty Images
The aqua linen wallpaper in this Miami master bath complements the grays and whites in the design.
Dramatic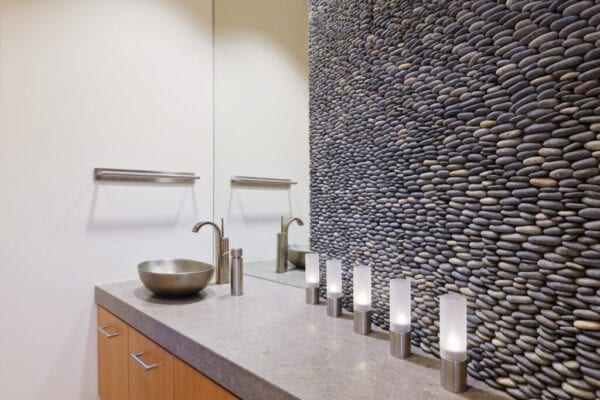 Mint Images / Getty Images
If you have a flair for the dramatic, you can definitely express it in a beautiful and vibrant wallpapered ceiling. This particular design is called Circus Mural and is made up of several strips of wallpaper.  "I am a big fan of mural wallpaper or 'photo wallpaper,' which is wallpaper on a very large scale," Schmunk says. Other popular types of wall murals and photo wallpapers include such options as brick effects, marble, underwater images, sports themes and graffiti.
Whimsical
EyeWolf / Getty Images
This wallpaper design is an ode to the fact that many people spend most of their reading time in the bathroom.However, keep in mind that Williams isn't the only realtor not completely sold on the merits of wallpaper. "In my experience, wallpaper, while not a deal breaker, generally affects a sale adversely," says Sheila Trichter, an agent at Warburg Realty. "The first thing many buyers ask is, 'How expensive and difficult is it to remove the wallpaper?' No matter how beautiful."Mark Ferguson, a real estate agent, investor and the author and creator of Investfourmore.com, agrees. "I have never been a fan of wallpaper and that may be because it is such a pain to take off and we have to remove a lot of it," he says. "I have seen it start to come back and I think it is crazy – I would not put it in a house I was rehabbing because I think it would only appeal to a small portion of the population."
Peel and Stick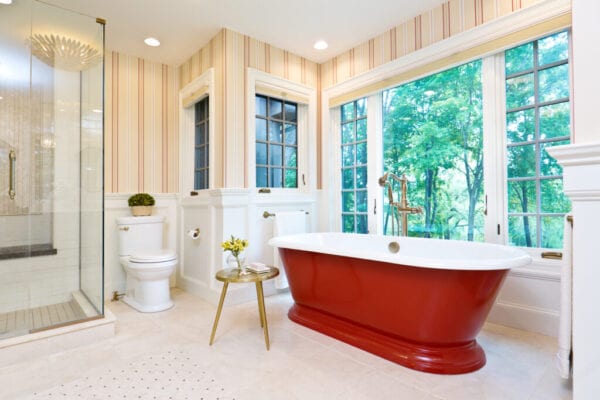 YinYang / Getty Images
If you think you might want to try a wallpaper design in your bathroom, but you're not sure if you'll like it or not, you might be more comfortable using removable wallpaper. Since you just peel off the back and stick the paper on the wall, it's easy to remove or reposition it.