Marrakesh Bathroom Design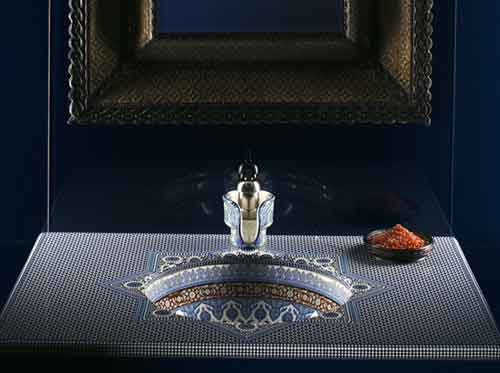 Dare to be different. This is the message behind these bathroom products. These beautiful decorated faucets and lavatory basins with stunning patterns, colors and textures, are decorated with a special technique that creates raised ruby-like flowers and 24k gold tendrils make me feel like a king.
Named for the ancient capital of Morocco and home to The Blue Mosque, Marrakesh was inspired by Moorish architecture found in this magical city that once served as a stop along a major trade route to the famous Timbuktu. Specifically, Marrakesh's top found inspiration from mosaics found in a quaint Moroccan courtyard, while the intricate and abstract floral pattern that embellishes the lavatory basin was inspired by artwork found in The Blue Mosque itself.