10 Marble Bathroom Design Ideas Styling Up Your Private Daily Rituals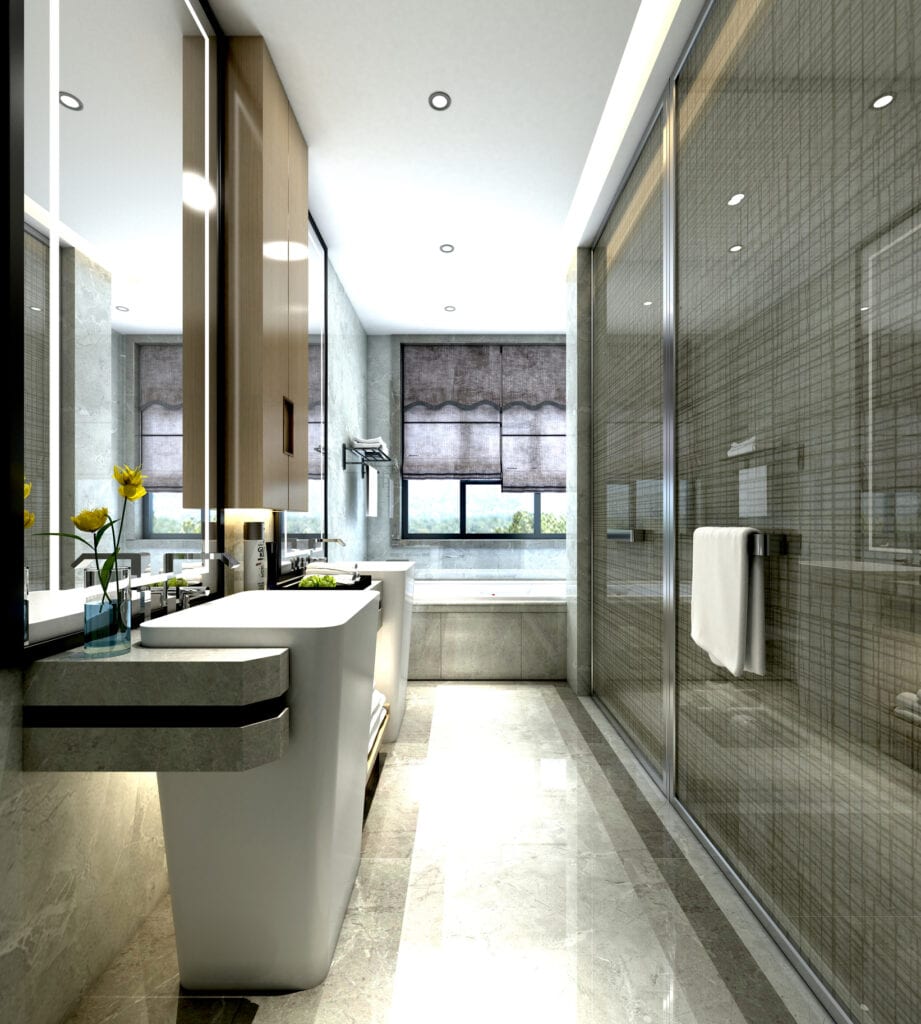 Marble has seen its fair share of creative handling and has become a favorite in many upscale residences throughout the years. Modern bathrooms can surprise you with materials and shapes you never though matched, but also with a fascinating suite of different types of marble cut and shaped into a myriad modern ways.
In addition to the 30 Modern Bathroom Design Ideas For Your Private Heaven, we selected a handful of modern bathrooms that display an iconic material for luxury: marble. Richly veined or showcasing a contemporary straight line design, light-colored or dark-colored, this material oozes luxury and commitment to quality. Different kinds of marble give different moods and it depends on the artist's vision and interpretation to create either stunning artistic statements or perfectly balanced spaces for personal hygiene.
Vilman / Getty Images
Marble bathrooms are not only decadently beautiful, but also an example for guests that good materials find their way back into our homes in every style. If you want to make the most of a marble bathroom design, appeal to a specialist who knows how to combine your ideas with the expansive world of possibilities out there.
dit26978 / Getty Images
A highly modern marble bathroom design can showcase a very inspiring combination of horizontally-veined marble. The Marmara White marble (or Marmara Equator) is an unique type of marble featuring dark colored parallel veins and looks exquisite in a modern bathroom like the example above. You can make your home look and feel like a luxury hotel by emphasizing its elegance with marble.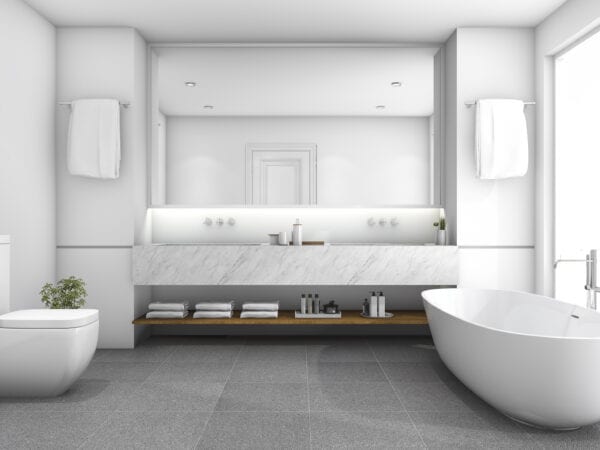 dit26978 / Getty Images
Inspiration for a luxury marble bathroom comes from different sources, like the one above seen in the Penthouse Suite Garden Court Hotel in Palo Alto. Every detail decorating this fabulous bathroom adds depth and a sense of comfort. Candlelight and roses alongside fresh, puffy towels are something you'd want to see permanently in your bathroom.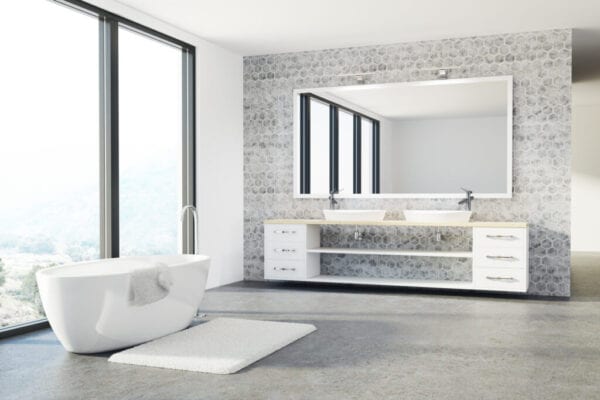 ismagilov / Getty Images
We've seen the creative snap-together marble tables that can definitely spruce up a space, and this spacious marble bathroom is yet another example of how marble can be used in modern homes. Make your bathroom feel like a spa with the helps of materials, space planning and details and always remember to do it your way.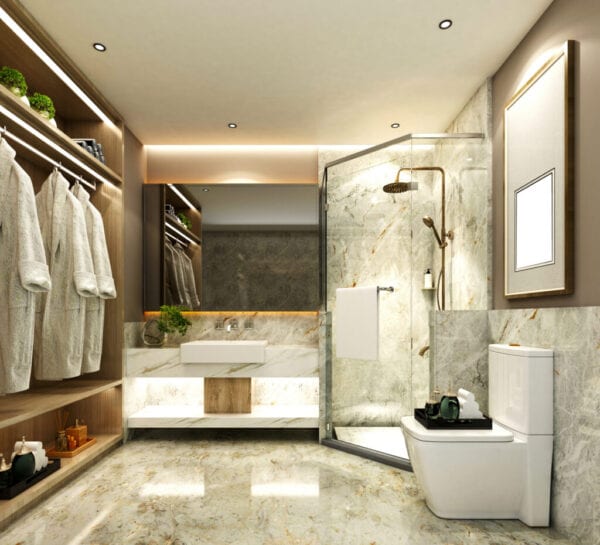 Explora_2005 / Getty Images
This fantastic Melbourne residence showcases a stylish marble bathroom imagined having a set of rounded design lines on a marble background. Just one marble wall changes the overall design, adding depth and a focal point in a bathroom based on simplicity.  By adding dramatic lighting, the effect of design is enhanced and a cozy atmosphere emerges.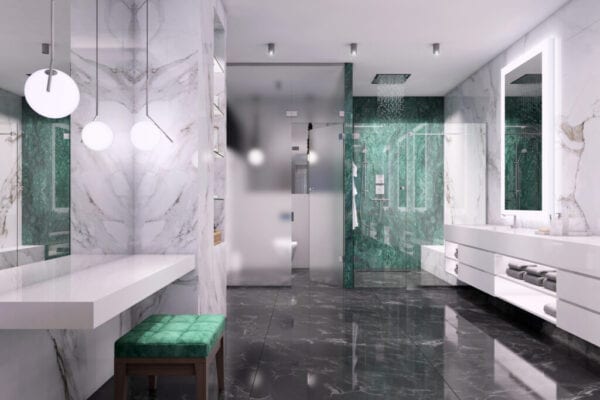 ExperienceInteriors / Getty Images
Richly-veined marble in the bathroom can split the space like an artistic statement. By adding warm wooden cabinets, this effect is diluted into a warm and inviting feeling. The zebra art on the wall gives the space a wild feel, while the overall vibe is immersed in bright natural light. You'll be surprised to see how many stunning details can be found in the luxurious penthouse this bathroom belongs to.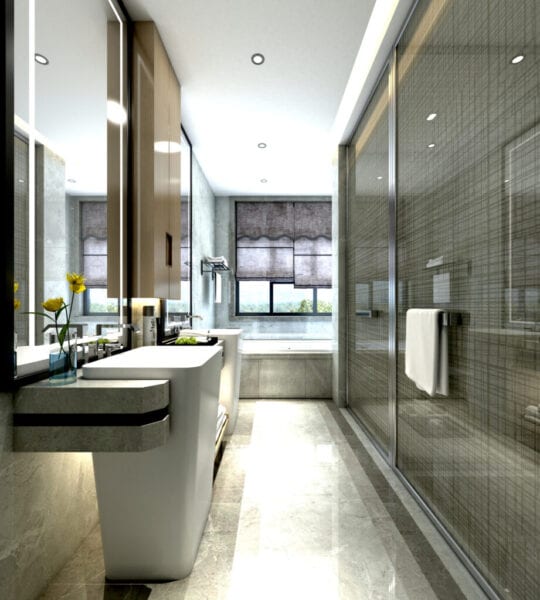 Tellioglu / Getty Images
A marble bathroom separated from the bedroom by only a glass wall is not for everyone. Many people feel that privacy lacks in these spaces, but they have the power to undress you of preconceptions. This beautifully lit marble bathroom in this Lake House designed by architect Igor Sirotov serves as inspiration for those who prefer an open contemporary design.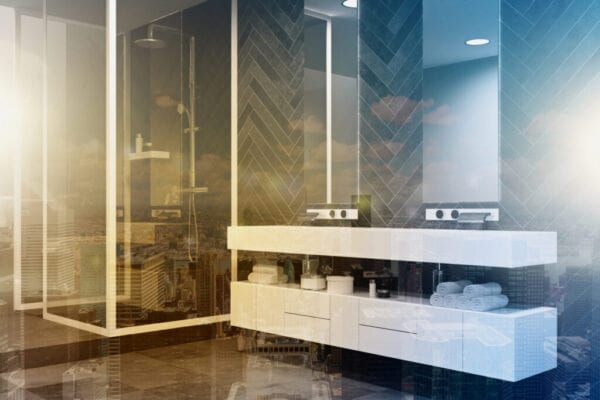 ismagilov / Getty Images
Marble bathroom design in soothing colors can be found in resorts, as well as private residences. The example above is from the interiors of the opulent Villa Kishti and it teaches us that spacious bathrooms can look amazing when dressed in marble by someone with an eye for detail. Relaxation and a good health are heavily influenced by the choice of materials, colors, patterns and light.
Vilman / Getty Images
A tranquil marble bathroom doesn't need to be spacious to care for your every need. It just needs to be smart. You can make the most of your bathroom layout by placing the bathtub and shower close together. Use this infographic to navigate layout ideas and consider marble as the focus material – it's amazing how this material can enhance your relaxation and tranquility!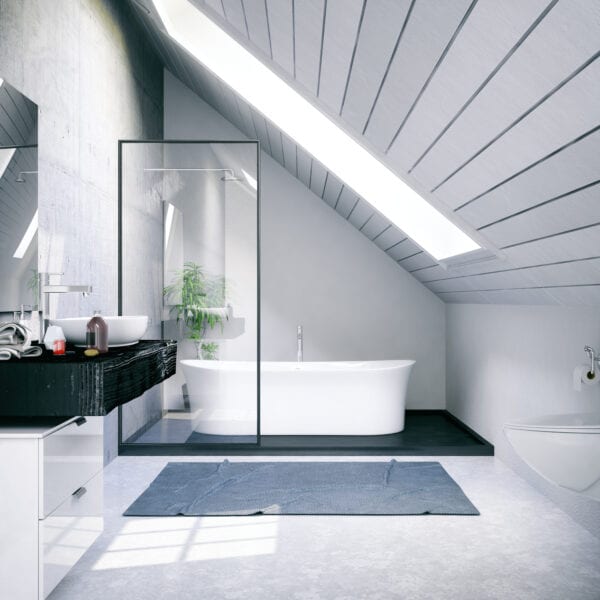 asbe / Getty Images
Within a fantastic penthouse apartment in London, this marble bathroom above acts as a private retreat where the body receives the blessing of cleanliness. Dressed head-to-toe in marble and featuring a welcoming marble shower, this bathroom design incorporates a radiant design worthy of modern living.
Enjoy and let us know which one is your very favorite!