25 Modern Bathroom Ideas to Create a Clean Look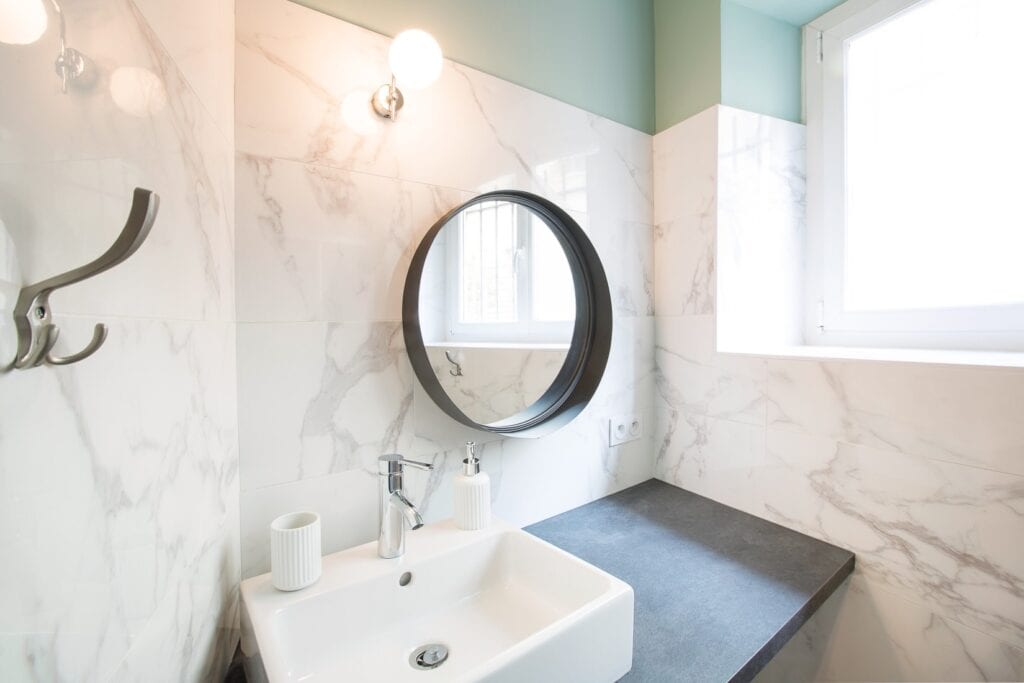 Since the bathroom is often thought of as one of the most valuable rooms in your home, it's only natural to want to think long and hard about how to make the best design changes. Those looking into modern bathroom ideas will want to strike a balance between creating a sharp-looking space and making sure it doesn't feel too sterile.The challenge is achieving that middle ground. How do you infuse warmth into the space while still benefiting from stylistic contrasts, and how do you keep it from looking too clinical? Take a look at our suggestions below; we're confident that you can put together a space that's as comfortable as it is stylish.
Modern Bathroom Ideas
Shop These Products Now: Wall Mirror – Towel Bar
Go Monochromatic
One of the easiest ways to create a modern look in your bathroom is by largely sticking to a monochromatic color scheme. This classic combo looks sleek and sophisticated, and never goes out of style.You don't have to incorporate every shade of the monochromatic rainbow. It's possible to focus on creating an ultra-clean white space or to experiment with various hues of gray. Just mix up the space with a few different prints and patterns to keep the room from seeming too one-note.
Shop These Products Now: Shower – Lights Over Mirror
Add Natural Materials
If a monochromatic look seems a little too intense for your home, there's an easy way to brighten up the space while adding more visual interest: Just add natural materials such as wood, stone or metal. Choose one or incorporate a variety.While these three may be the most common, other natural elements can also help round out your bathroom design. Try to let as much natural light into the room as possible; if you have control over the home's layout, consider making the bathroom a room with a view. On a smaller scale, try incorporating greenery into the space.
Shop These Products Now: Towel Hook – Modern Bathtub
Choose Furniture with Clean Lines
Modern interior design came about as a reaction to the ornate and almost baroque styles that came before it. As such, the main focus of this school of design is to act as the antithesis of of those other looks. Rather than having lots of details and embellishments, modern furniture relies on clean lines and stark contrasts. Traditionally, choosing furniture for a modern space meant staying within the Art Deco, Shaker or Mission styles. More recently, Scandinavian-inspired products have also been included in this category. Whichever design your bathroom furnishings are, try to ensure that they are as simplistic as possible and have a clearly defined shape.
Shop These Products Now: Mirror Lamp – Modern Faucet
Cozy Up to Negative Space
Less is truly more when it comes to modern spaces. In this school of design, rather than thinking of negative space as something empty that needs to be filled, it's seen as an active detail in creating a minimalist aesthetic. The key to pulling off this look is making every design element count.When designing a modern space, the first step is to get rid of (or at least hide) any unneeded clutter. Once the room is cleared, add a few multifunctional pieces. Be sure that every element you bring in has a clearly defined purpose in addition to driving home your modern aesthetic. Carefully distribute items throughout the room so that it feels balanced.
Shop These Products Now: Bathroom Tray – Floating Vanity
Layer Textures to Add Warmth
Since many of the materials used in modern design have a tendency to come off as cold or even a little harsh, it becomes necessary to infuse a sense of warmth and comfort back into the room. One easy way to do that is by layering different textures throughout the space.Fortunately, a bathroom naturally lends itself to lots of texture. Start by anchoring the tub or shower with a plush rug or mat. Make sure the space includes multiple layers of soft towels. Top off the room with a few spa accessories such as fluffy robes to make it especially luxurious.
Shop These Products Now: Rain Shower – Bathroom Tiles
Especially when creating a modern design in your home, it becomes important to strike a balance. You want a look that is aesthetically striking yet won't feel too industrial to be comfortable on a daily basis. Use our modern bathroom ideas as a starting point for your next project and we're sure that the end result will be a perfect mix of trendy and welcoming.Would you consider adding a modern bathroom to your home? Which design elements do you think matr most in these spaces? Tell us in the comments below.