Expert Tips for Repairing Your Walls Before You Move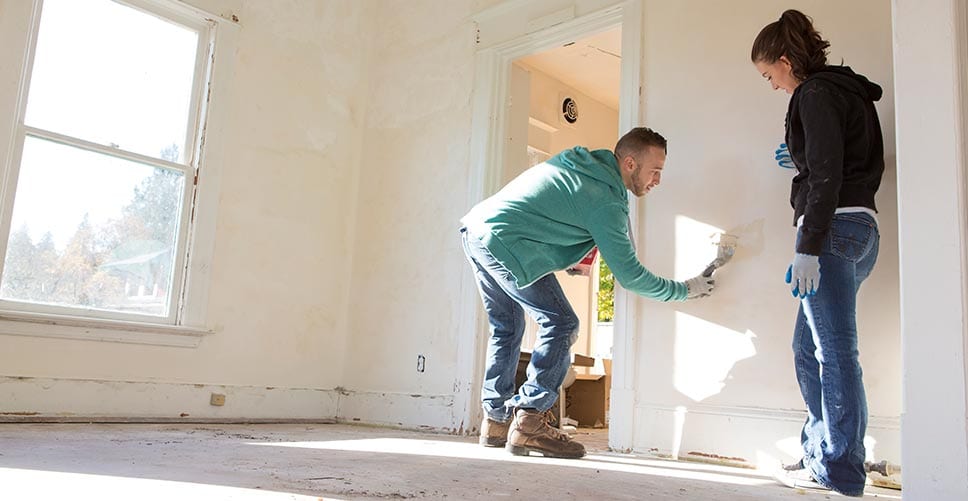 It doesn't matter if you're a renter or a homeowner: If you've been living in your home for more than a quick minute, you've put some holes in the walls (unless you had the amazing foresight to read MYMOVE's guide to wall hole-less art displaying). And, be honest with yourself: when you were rearranging your bookcases, you definitely dented the wall. A home isn't a home without a few picture frames and some artwork, so there's really no way to avoid wall damage. What you can do is fix the damage before you go. We spoke with some experts to bring you some top tips on how to fix holes and dents in drywall, so you don't lose your rental deposit, or have homebuyers asking for a credit to repair the walls themselves.
What You Need to Repair Your Walls
First things first: spackling holes in the wall with toothpaste isn't going to cut it. As professional home painter Albert Ridge of NYC explains, toothpaste doesn't adhere to the surrounding area, and it is likely to crack. So, what can you use if this age-old dorm room trick doesn't work? Before you set about fixing the holes in your walls, you should assemble:

[deals-hub-ad]
100-grit sandpaper
A soft rag
Self-adhesive wall patches
A putty knife
Patching material
Matching paint
Now, let's get started.
Preparing Your Walls for Repair
Once you have your repair kit in order, you're ready to assess the damage. Do you have pinholes from hanging pictures? Or did a skateboard leave a 2-inch hole in the wall next to the front door? No matter the size of the damage, you should begin by sanding the hole or dent-as well as the surrounding area. Next, wipe away any dust with a damp rag. You might want to put down an old towel or sheet to catch debris and excess plaster that may accrue in future steps.
Patching Holes and Dents Quickly
When the sanding is done and the area is dry, you're ready to repair. Better Homes & Gardens recommends dampening the edges of the large holes in your plaster with a bonding agent. This helps the new plaster stick. Next, you have a few options. Better Homes & Garden says even large holes can be filled with plaster alone. Apply one layer using a putty knife, then score it with a nail in a crisscross pattern to help the second layer stick. A second smooth layer of plaster can be applied within the day and then sanded until it's even with the surrounding wall.
If the hole is deep-or if it's strangely shaped-you might want to try a self-adhesive wall patch. These light-weight mesh patches are often easier to apply then trying to get plaster to stay in place over the hole or weirdly-shaped dent. BEHR (the paint company) recommends that you cover the entire hole with a patch and press down firmly along the edges. Use a putty knife to apply 4 inches of plaster around the perimeter of the patch, leaving the center without plaster for the time being. Once it's dry, fill in the entire patch with plaster and feather (or smooth out) the plaster six inches beyond the edges so the area blends in.
No matter how you fill the hole or dent, you can finish the process with one final sand. Finally: paint over the repair, and it's as good as new.
Repairing your walls can be a bit tedious, but once you have the process down, it's painless. And it's likely to save you some money. Trust us, it's worth it.