Five Ways to Display Art Without A Single Nail Hole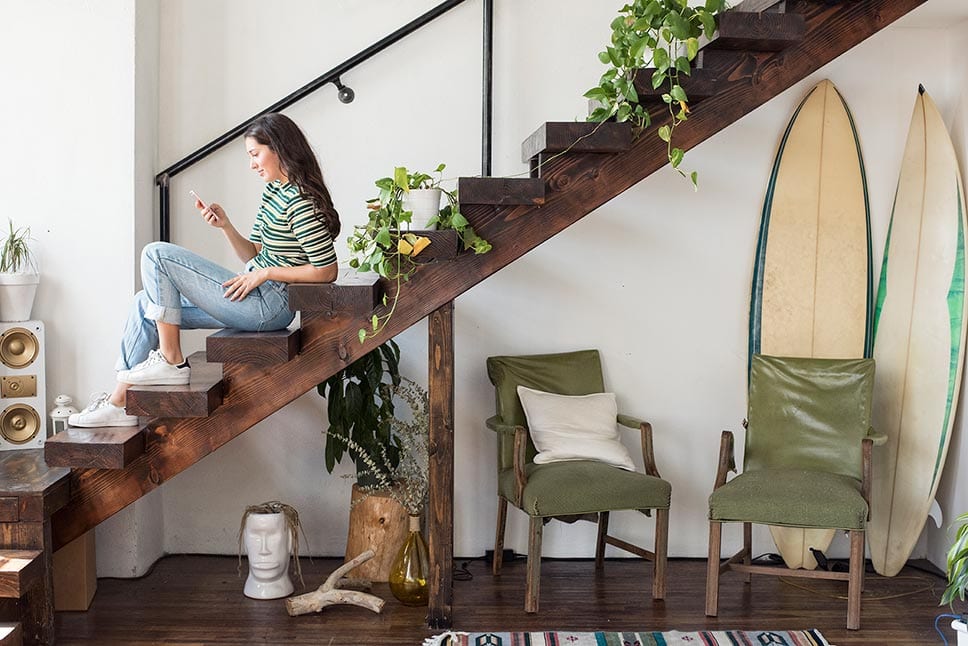 The walls of your home are a blank canvas awaiting your artistic touch. You enthusiastically hang a few abstract pictures here, a gallery wall or two over there, and suddenly your walls are-maimed with more holes than a colander? Just us?
Regardless of whether you rent or own a home, habitual art hanging-especially if you're indecisive-can turn your walls into throbbing eye sores. Or so we've heard from a friend.
Think outside of the toolbox and ditch the nail holes with these 5 art alternatives.
Cultivate a Lush Indoor Plant Haven
You can bring a room-and mood-to life simply by showcasing an assortment of plants on a multi-tiered shelf. The coalescence of hues, heights and textures will add vibrance, coziness and dimension to any space in your home. Bonus: house plants can help purify indoor air and even decrease stress levels. For best results, use plants with leaves of varying shapes and sizes, sporadically intermingling different types of plants at each shelf level. Greenery with a cascading effect-such as String of Pearls and its cousin the String of Bananas-can add volume. For a rustic look, lean a vintage ladder against your wall and stack plants on its steps. Your space will immediately be a breath of fresh air.
Uncover an Instant Feature Wall
If you're looking for an instant and imaginative transformation that won't leave behind even the smallest trace, removable wallpaper can punch up the dramatic impact. Online shops such as WallsNeedLove have a bounty of designs that can envelope your home in vibrance and personality. If it's a feature wall you're after, opt for the bold backdrop of a removable mural. Unlike wallpaper from past eras, peel-and-stick wallpaper is much less intimidating and cumbersome to apply and remove than it once was. It's durable, washable and-best of all-reusable. You can re-apply it repeatedly in other rooms that might need a little love. It's art that will lift you up without bogging your creativity down.
Up Your Ante with a Dramatic Statement Ceiling
If you're feeling down on your space, just look up for inspiration. Your ceiling's canvas awaits. Through strategic color choices, a painted ceiling can elongate the height of a small room, or make a spacious room feel more intimate. Apartment Therapy breaks down strategies for selecting ceiling colors based on the desired result. Ceiling painting may appear labor-intensive, but the statement it makes is well worth the effort. Proof: this stunning turquoise bathroom ceiling. If you're still daunted by the dizzying heights of colored ceilings, seek guidance through this ceiling painting guide from master renovator (and Home Improvement star) Bob Vila. It can only go up from here.
Let Your Feet Bask in the Beauty of an Artistic Floor
On the flipside, the most unexpected canvas could be right beneath your feet. Floors typically blend into the background of our homes, but with a creative vision and a little bit of paint, your floors can go from forgotten to front-running favorite. Painting them also offers an affordable alternative to professional refinishing-which can cost upwards of $1,500 to refinish hardwoods and $1,700+ to lay ceramic tile-if they're in need of some TLC. Having trouble envisioning the possibilities of this unique approach to art? Check out these ingeniously eclectic floors hand-painted by The Beautiful Savages blogger Amber Chambers-who simply ripped up her old carpet, sanded the floor and went in with her own design. Its abstract, avant-garde aesthetic sweeps us off our feet.
Wash Away Your Creative Block with Wall Tape
Another way to dress your wall without denting it in is to unroll the unlimited possibilities of wall tape. This self-adhesive tape-otherwise known as washi tape-can allow you to completely customize your own design. Think stripes, geometric patterns, zig zags and shapes. For inspiration, check out the washi tape wall in this western modern glam apartment. Because washi tape can be easily applied and removed-much like peel-and-stick wallpaper-it's perfect for renters or commitment-phobes. If an entire wall is too drastic for your style, try adding a pop of pizzazz to a smaller canvas. Think chairs, closet doors, dressers, laptops and more. You'll be on a roll in no time at all.