The Best Way to Clean Windows, Step By Step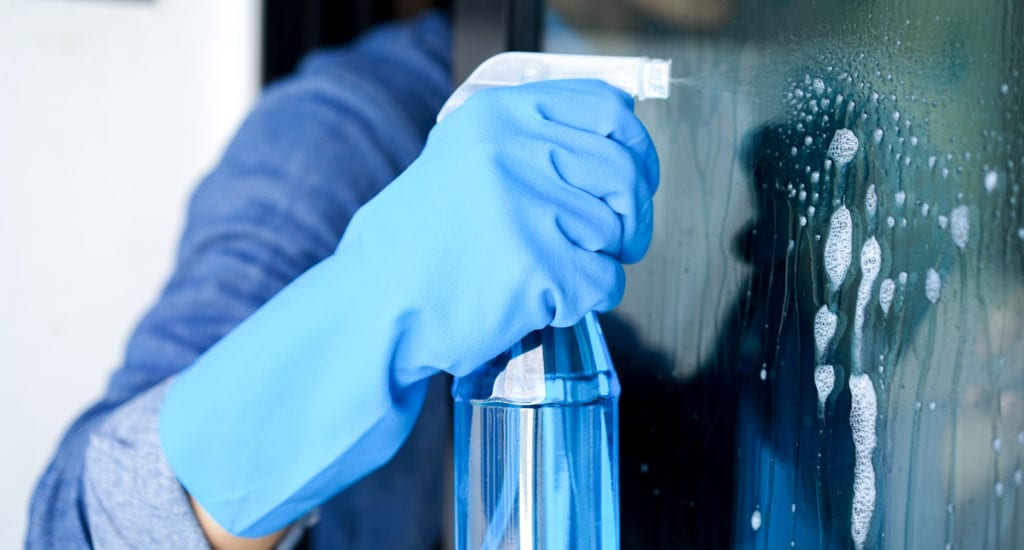 Follow these three steps to follow to transform your dirty windows:
Step 1: Gather your window cleaning supplies. Before you get started, have everything on hand to streamline the process. Prepare your vinegar and water window cleaning solution, then grab paper towels, microfiber cloths, and any other items you need to clean.
Step 2: Apply the solution to the window. Use a spray bottle or dip your sponge into a shallow bowl of solution. Cover the surface of the window.
Step 3: Dry the window. You can use a paper towel, squeegee, or lint-free microfiber cloth to dry the glass. Use long and even strokes, and go over the window multiple times to clear away any leftover solution. Be sure that the item you use to wipe off the window cleaning solution doesn't leave behind fibers.
Try cleaning windows with vinegar for a natural solution
A homemade water and vinegar window cleaning solution is a budget-friendly and non-toxic alternative to store-bought cleaners. Cleaning windows with vinegar gets rid of grime and streaks naturally. Vinegar's acidity breaks down the streaks and grime that regularly accumulate on glass, without requiring harsh chemicals. A vinegar and water solution is an economical, non-toxic, and anti-bacterial cleaner that's safe to use around pets and small children. Plus, you'll leave your windows looking squeaky clean!
Since vinegar is highly acidic on its own, it's important to water it down to dilute its power. While vinegar is safe enough to be used in cooking, it's important to prepare it properly, so it doesn't damage any surfaces that you clean. This simple DIY recipe is easy to follow and requires little time. Just combine:
Equal parts water
Equal parts white vinegar
Mix the ingredients by putting them into a spray bottle, and apply your homemade window cleaner to the glass. Then, wipe the glass clean with a microfiber cloth or squeegee. If you need less or more solution, simply cut or double the recipe. This all-natural solution can be replicated as needed to clean all your smooth surfaces and to disinfect without using chemicals.
Pro tip: You can use this same solution on your stainless steel cutlery to leave your forks, spoons, and knives sparkling.
All of the products and tools you'll need to clean windows
Everything you need to clean your windows with vinegar is easy to find in any typical home improvement store. You won't need all of these items, but rather, your preferred combination of a few.
Spray bottle: Make sure that this hasn't been used with other cleaners because it can add extra scents or chemicals that can interfere with the cleaning effects.
Sponge: Any standard dishwashing sponge will do, but sea sponges and natural walnut-sourced sponges also work well and are good for the environment.
Squeegee: The car wash's best friend is also your ally when washing windows —  especially large ones. Spray the solution on the window and wipe until the surface is dry and clear.
Microfiber cloth: This lint-free, highly absorbent cloth is an eco-friendly dream. It can deftly wipe away grime and leave behind squeaky clean glass.
Dishwashing detergent: When there are extremely tough stains and grime, wash the windows first with a blend of water and dishwashing detergent, then use the vinegar solution and wipe everything clean.
White vinegar: This naturally-effective formula simply needs to be mixed with water to become a multi-purpose cleaning solution.
With these items on hand, you'll make your windows gleam in no time!
Tips to help avoid streaks on your window
Streaks on windows are among the biggest pain points of cleaning glass. But by following these tips, you can eliminate those stubborn nuisances once and for all:
Get rid of tough grime first: If the window has grime that's beyond the scope of a vinegar solution's power, first clean the surface with some dishwashing detergent. This clears away the stubborn stains and allows the vinegar solution to work at its best.
Always dilute the vinegar: Vinegar on its own is highly acidic. By diluting it with equal parts water, you can create a safe consistency that's gentle and effective on glass and other household surfaces. This ensures streak-free results!
Wipe the surface completely dry: If there's any water or vinegar left on the glass, there's a good chance of streaks forming. Use a squeegee, paper towel, or a microfiber cloth to completely dry the window to eliminate future streaks and to achieve a sparkling clean window.
The bottom line
When you know how to clean windows using simple household items, you can achieve a desirable, clear, and streak-free appearance. Cleaning windows with vinegar is a natural way to disinfect and remove grime from glass. Also, a homemade window cleaner made with vinegar and water is safe enough to eat and is therefore approved for homes with pets and small children.
Another added bonus? The best window cleaner doesn't have to cost a lot. With the average bottle of white vinegar costing under a dollar at most grocery stores, you can create a lot of this homemade solution on a tight budget.
Frequently Asked Questions
What's the best way to clean windows without streaking?
The best way to clean windows without streaking is to avoid alcohol or ammonia-based cleaners. Cleaning windows with vinegar and water is a gentle and effective alternative. Use a microfiber cloth to fully dry the glass and remove any remaining solution to create a smooth and streak-free appearance.
What is the best homemade glass cleaner?
The best homemade glass cleaner should work effectively and align with your values. Cleaning windows with vinegar is the most eco-friendly and economical choice.
When should you clean your windows?
While you can clean your windows at any time of the year, spring is often the best time because windows become dirty from pollen and leftover grime from the winter months. If you've had rain in recent days, wait for the weather to subside and for your glass to dry before cleaning your windows — you don't want all of that hard work to go to waste!
How do you clean the inside of a window?
Clean the inside of a window by spraying a homemade vinegar solution onto the glass and wiping away the grime. Then, wipe the window completely dry so that no streaks remain.