The Best Trash Cans According to the MYMOVE Team
Like prom dresses and Myspace profiles, some things are best left in the past. Whether your old trash can doesn't fit in your new kitchen or you just don't want to pack up your smelly old bin, moving is the perfect time for a fresh start. Instead of making an emergency run to the store on moving day, it's worth finding a trash can that you can love for years.  
But what's there to love about a trash can? A lot, according to the MYMOVE team. We asked our co-workers to share their favorite trash cans, and found them raving about things like bag dispensers, opening mechanisms, and odor filters. One person even liked their trash can so much they bought two.
Whether you want all the latest features or just a place to put the garbage, these six trash cans have something to love for everyone. 
---
Our favorite trash cans
---
Simplehuman Rectangular:
Best foot pedal trash can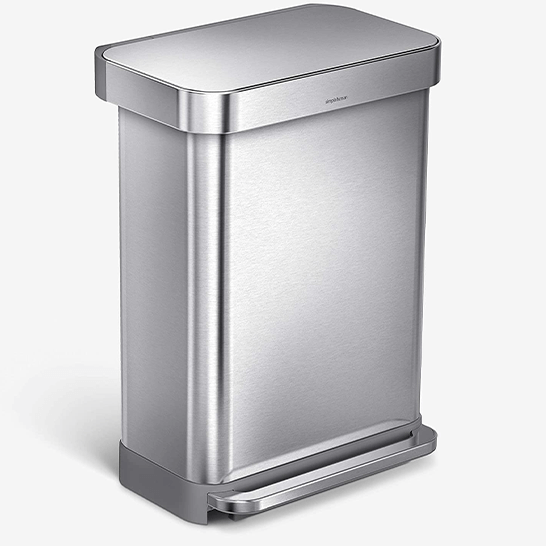 Trash can features
Foot pedal with slow, silent close
Liner rim holds bag in place
Antimicrobial coating
Removable inner bin
10 year warranty
The Simplehuman Rectangular Step Can is a bit of a rock star in the trash can world — Wirecutter, The Spruce, and Insider all picked it as their best trash can overall, and it's not hard to see why. It has a silent opening mechanism, a built-in bag dispenser, and the lid closes tightly to keep any unsavory smells inside. 
iTouchless Stainless Steel:
Best motion sensor trash can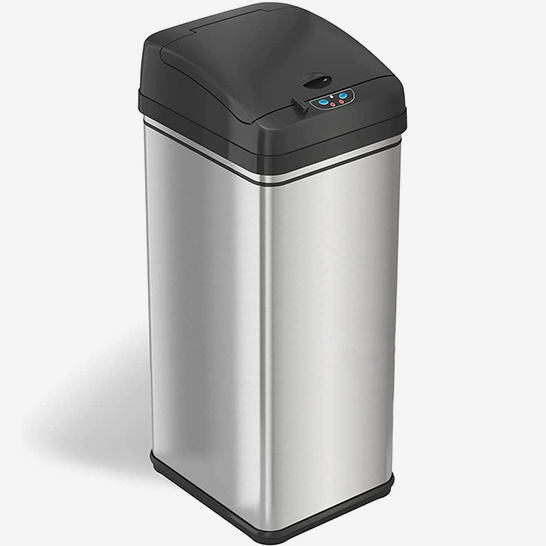 Trash can features
Air vents for easier bag removal
Powered by batteries or AC adapter
Carbon odor filter included
One year warranty
If you like the idea of opening your trash can as if by magic, iTouchless specializes in motion sensor bins. You can use four D batteries — they last about two years — or plug it into an outlet. Just wave your hand in the vicinity of the lid to open, and the iTouchless closes automatically once you're done. (Abracadabra optional.)
Brabantia Bo Touch Bin:
Best looking trash can
Trash can features
Opens by touching the top
Available in multiple sizes and colors
Removable inner buckets for separating waste
10 year warranty
If you want to avoid stainless steel overload, the Brabantia Bo Touch Bin is one of the few trash cans you could call "beautiful" with a straight face. It comes in a variety of models, and many even have separate compartments for sorting trash and recyclable materials. There's also some space under the bin, so it's easy to collect the "tumbleweed" dog hair that can sometimes gather behind a trash can.
iTouchless Wings-Open:
Best for pet owners
Trash can features
Split door opens when motion is detected 
Carbon odor filter included
Lock prevents pets from opening lid
1-3 year warranty
Another hands-free bin from iTouchless, this trash can uses "winged" doors instead of the single lid you usually see. You can even switch a lock on to make sure your pet doesn't get into the trash while you're not around. 
Simplehuman Semi-Round:
Best for kitchen islands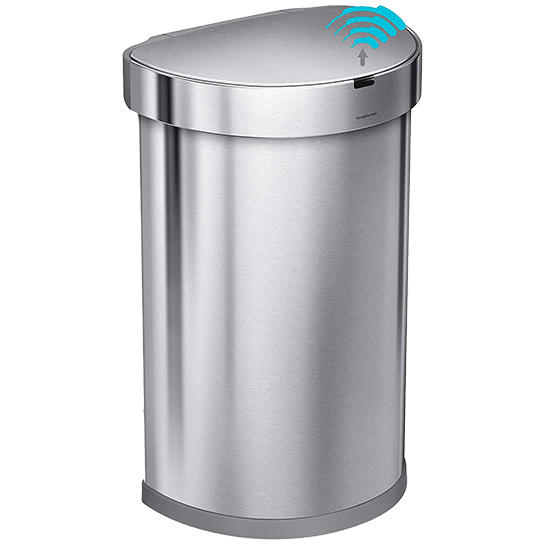 Trash can features
Motion sensor opening
Antimicrobial coating
Bag dispenser on back of can
5 year warranty
The semi-round design allows it to sit flush against an island while still allowing the can to fit larger items that might not fit in a rectangle design. Like other Simplehuman bins, all you need to do is wave your hand near the lid to open it quickly and quietly. 
Rubbermaid Dual-Action:
Best budget trash can
Trash can features
Inexpensive
Lid swings in or lifts up
Plastic construction
Sometimes a trash can is just a trash can. If features like motion sensor, bag compartments, and odor filters make your eyes roll, the Rubbermaid Dual-Action is the bin for you. You probably won't find your dinner guests talking about it, but it gets the job done without breaking the bank. 
The bottom line
The average American throws away 4.9 pounds of trash every day. The trash can gets more use than almost any other item in the house, but most of us only notice it when something goes wrong. To keep your kitchen running smoothly and cleanly, give yourself a housewarming gift you'll love for your new home.