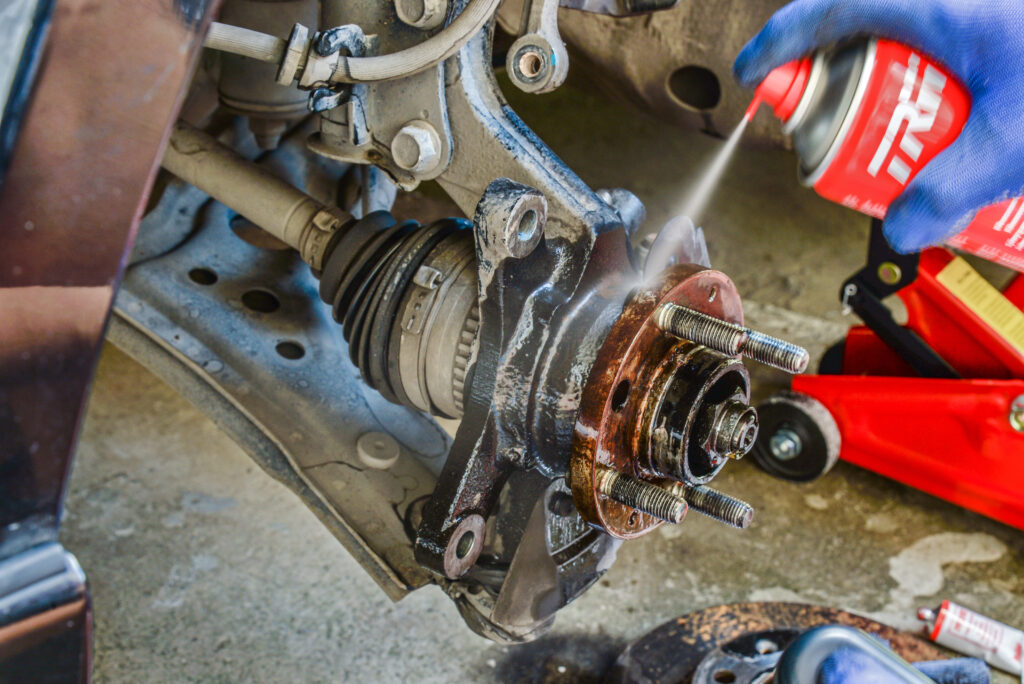 At MYMOVE, our reporters create honest, accurate, and objective content to help you make more informed decisions. To support our work, we are paid for providing advertising services. And this article may contain clickable links to advertisers' products or services and may result in us earning a fee.
Discovering rust on your car, metalworks, or anywhere in your home is irritating at best — and can cause significant damage at worst. Rust is the household name for iron oxide, which can form on metal after a while, especially when there is moisture in the air. Once rust takes hold, it will eventually break down the metal and make it disintegrate.
Which is why rust remover is a must-have. Rust remover is a product specially designed to remove rust and other forms of corrosion from metal. It works by reacting with the rust to dissolve it and prevent further damage to your belongings.
The best rust remover
The best overall: Evapo-Rust The Original Super Safe Rust Remover
The best on a budget: Whink Rust Remover
The best multipurpose: WD-40 Specialist Rust Remover Soak
The best for household: Iron Out Spray Rust Stain Remover
The best for heavy duty: Corroseal Water-Based Rust Converter Metal Primer
Evapo-Rust is an industrial strength rust remover that allows you to get the job done quickly and safely. The great thing about Evapo-Rust is that it is nontoxic and harmless to your skin — great to use in the house as it is safe around children and pets.
The formula is acid-free and removes heavy rust from tools and other items like bicycles and cars. It is also biodegradable, so it's easy to dispose of safely. In comparison to other removers, Evapo-Rust is on the pricier side, but its versatility and nontoxic formula make the extra cost worthwhile.
Customers often are fond of this rust remover for its versatility, and lack of chemicals and odor. Whink Rust Remover: Best on a budget
The great thing about Whink is its versatility. Because it's made with  hydrofluoric acid, it can be used to remove heavy rust, but it can also be diluted and used on soft furnishing, carpets, and even your bathroom to remove tough stains. Be careful not to use it on anything too delicate, though, as this is an acid-based remover and  harsher in comparison to others on our list of rust removal products.
This is an extremely affordable rust remover that dissolves stains — meaning minimal scrubbing on your part. This rust remover comes highly recommended; customers praise the versatility and affordability.
This is an extremely effective rust remover that quickly and easily allows you to remove any type of rust from any surface, making it a great universal rust remover.
It is extremely effective at removing rust due to its advanced formula and various additives. It is biodegradable and doesn't use any acid or harsh chemicals to remove the rust. Because of this, you don't need any special equipment and it's safe if it gets on your hands. However, you may have to apply more of this rust remover than you would other formulas to have the necessary concentration to get the job done.
Customers rave about this product and comment on its versatility — but be aware many reviews refer to the odor, saying it can take a while for it to disappear after application.
Iron Out is an all-around rust remover that performs well across the board. It can be used to remove water stains from surfaces, stains from chrome accents around the home, and marks from stainless steel refrigerator doors.
The bottle states that it is great in bathrooms, kitchens, carpet, and on fabric, and works particularly well with chrome. The rust remover spray is easy to use and produces very little odor — good for small indoor spaces. With overwhelmingly positive customer reviews, we aren't alone in thinking this is a handy product to have under your sink.
When something is completely covered in heavy rust, normal household rust removers just won't cut through. Rust converters, as the name implies, change the rust chemically into another material that protects the material under the rust.
Corroseal uses an industrial-strength formula appropriate for a variety of materials and is especially good on cars. Even though this is an industrial product, it is non-corrosive, non-flammable, and safe to use within the household.
Note: If painted over rusted areas, the area will turn purple-black to black and will form a clear film over old paint. Be aware before use that you may have to repaint over the Corroseal if discoloration occurs.
Corroseal is designed to help remove the heaviest of rust patches. The product is well rated and nearly 1,400 reviews cite the effectiveness, price, and ease of application as the main reasons to purchase.
Other rust removers we researched:
CLR – Calcium Lime Rust Remover
Star Brite Rust Stain Remover
Goof Off Rust Stain Remover
PB B'laster Penetrating Catalyst
Metal Rescue Rust Remover
Quick Glo Chrome Cleaner
We selected the above rust removers by listing the advantages and disadvantages of each product, the cost, the ease of application, and then comparing customer reviews to see which scored the highest and then categorized them based on their main advantages.
The bottom line
A nontoxic rust remover is a great item to have in your household cleaning cabinet. It can save your belongings from permanent damage and give them a new lease on life. The severity of your rust issue, or what you want from your rust remover, will determine the best product for you.
Remember to keep everything clean and protected against moisture if possible, to minimize the metal oxidizing. But, if and when rust does begin to creep into your household, on your car, or your tools, there are numerous rust removers at your disposal.
Other frequently asked questions
Can I make my own rust remover?
You can make rust remover at home using common household ingredients such as baking soda and vinegar.
Will rust remover damage paint?
Acid is known to dull or remove paint, so make sure you purchase a water-based or mild acidic remover to prevent damage.
Is rust remover safe to use on kitchen utensils?
Yes, it is. But make sure you opt for a non-toxic remover that is biodegradable, and that you give your kitchen utensils a thoroughly good wash before using them.