The Complete Guide to Window Cleaning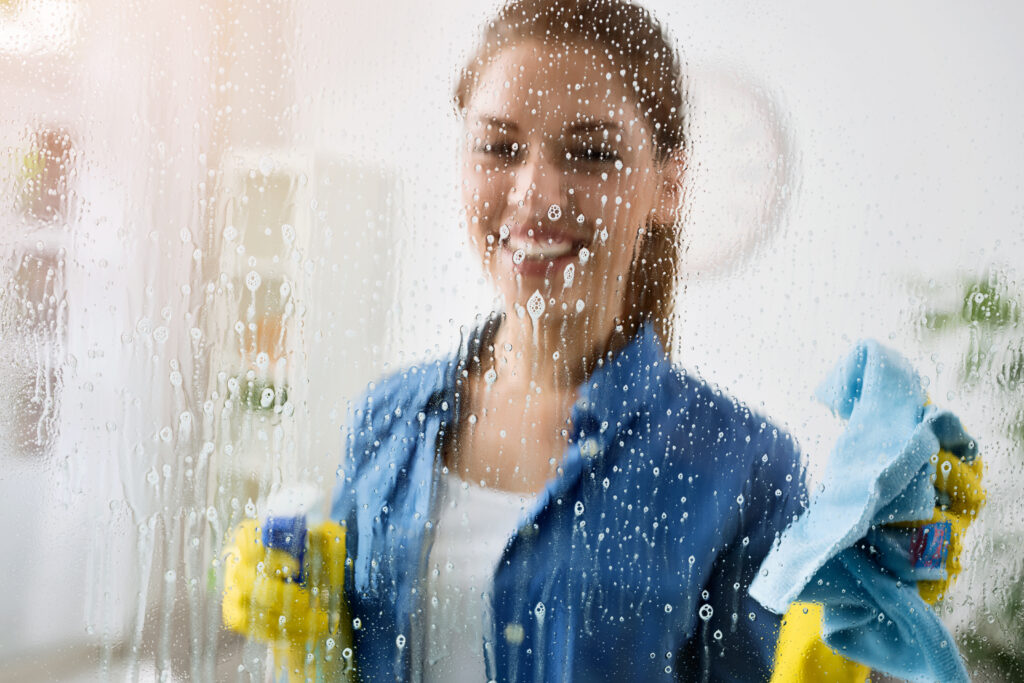 If your home's windows have dirt, dust, water spots, and other debris covering them, you might not be getting as much natural light as you would like. The best way to bring in additional light (and enjoy the view) is by keeping them clean. If window cleaning isn't at the top of your to-do list to keep your home clean and maintained, perhaps it should be.
Window washing might seem like a straightforward process, but it's one that people often do incorrectly without realizing. To learn how to clean windows efficiently, you also need to pick out the right tools, methods, and window washing solution. Let's dig in!
How to clean windows in 5 simple steps
Gather your tools and equipment
Pick the best time for window cleaning
Get the bucket ready
Wash the window
Dry everything off
Step 1. Gather your tools and equipment
The best way to clean windows is to have a plan of attack, and that starts with assembling your tools. You can get your windows as clean as the professionals when you assemble your kit ahead of time. Professional window washers use a squeegee to prevent streaks. Because they're longer than a standard bucket is wide, I recommend using a window washing bucket for cleaning and storing supplies.
What you'll need for this step
Step 2. Pick the best time for window cleaning
The best time for window cleaning is when it's cloudy, or you're cleaning windows in the shade. If you clean windows that are facing the sun, that could cause streaking no matter how hard you try wiping them off. The heat from the sun warms the window too much, causing the window cleaner to dry too quickly. Prepare the window by dusting it down and then placing a cloth on the windowsill to protect it, and catch drops and spills.
What you'll need for this step
Step 3. Get the bucket ready
Add a small amount of window cleaning solution to the bucket, and then add warm water. If you're wondering how to clean windows with vinegar rather than with chemicals, mix one-part vinegar and two parts water. Avoid using water that's too hot, or it'll evaporate from the window before you can squeegee it off. Put on a fresh set of rubber gloves and then dip the squeegee into the water.
What you'll need for this step
Step 4. Wash the window
After getting the squeegee wet, apply it to the window. Scrub away all dirt and debris, working from top to bottom. If you have stubborn spots, use the scraper to remove them and then squeegee over that spot again. Once you finish applying the window cleaning solution to the window, squeegee it off by drawing it across the window in straight passes. At the end of each stroke, curve the squeegee downward.
What you'll need for this step
Step 5. Dry everything off
After passing the squeegee over the areas you washed, wipe the rubber dry using the microfiber cloth. Not only does this prevent water from running down the window, but it prevents drips on your flooring as well. Once you finish squeegeeing the entire window, use the microfiber cloth to dry all other wet spots you see on the glass.
What you'll need for this step
Pro tips
Pro-tip #1: You can get a lint-free shine by using an old T-shirt if you don't have microfiber cloths.
Pro-tip #2: Use crumpled newspaper if you don't have a window squeegee to scrub away dirt. Be sure to wear rubber gloves to prevent newsprint from transferring onto your hands.
Pro-tip #3: Remove build-up in the corners of your windows using cotton swabs.
Pro-tip #4: Clean the window frame and track first, where grime tends to accumulate. This prevents a muddy mess.
The bottom line
Window cleaning doesn't have to be a grueling chore when you have the right tools and equipment ready to go. Get sparkling clean windows by washing everything down first, and then running a squeegee across the glass. Be sure to work from top to bottom and dry the squeegee off after each pass. If you prefer not to use a squeegee, newspapers or an old T-shirt also produce excellent results.
Frequently asked questions
What is the best way to clean windows without streaking?
The best way to clean windows without streaking is by dusting off all excess dirt and debris from the glass, window frame, and windowsill. Use window cleaning solution or vinegar mixed with warm or cold water to wash down the windows. Use your squeegee to remove the cleaning solution from the window. Make sure you're drying off the squeegee after each pass. Then dry the window off using a microfiber cloth, old T-shirt, or crumpled newspaper.
What do professional window cleaners use?
Professional window cleaners use a squeegee and a bucket of water mixed with dish soap. The dish soap cleans everything off, and the squeegee ensures a streak-free shine. To guarantee spot-free results, they typically don't use ammonia, chemical solutions, or vinegar. But they do usually use a high-quality squeegee.
Can I use newspaper to clean windows?
We might have seen our grandparents using newspaper to clean windows with vinegar or cleaning solution – and for a good reason. These pieces of newsprint work efficiently due to their thick fibers and composition. You can scrub with them without them falling apart using either vinegar or cleaning solution. After wiping glass down with newspapers, there are no lines or streaks left behind, like when using other microfiber cloths. Compared to paper towels, newspapers are more absorbent. Therefore, they don't create as much waste because you're recycling the newspaper and using less to clean your windows.